Legend (i.e. Related to…)
[A] Updating the plugin
[B] Imports / Exports
[C] Memory warnings
[D] Hosting provider / server related
[E] WordPress installation related
1. Upload folder writable [A, B, D]
The plugin's "revslider" directory folder should have its permissions set to "755". This can be done using an FTP program along with these instructions.

2. Memory Limit [C, E]
Default WordPress Memory useful for the plugin's admin to work smoothly. Memory can be increased by editing your "wp-config.php" file.

3. Upload Max. Filesize [B, C, E]
Important for the ability to upload large image files, and also import templates. Click here to learn how this can be increased.

4. Max. Post Size [B, C, E]
Important for the ability to import templates. Click here to learn how this can be increased.

5. Max. Allowed Package [B, C, E]
Default MySQL max_allowed_packet variable is 16MB Click here to learn how this can be increased.

6. Zlib Library [B, C, E]
This library is required, and it's been a part of PHP since 4.0.1 Click here for more information.

7. Object Library [D]
Outbound communications (i.e. "dialing out") to the following urls are necessary for loading the plugin's Object Library. Contact your hosting provider for help with white-listing the following urls:

*.themepunch.tools
* .themepunch-ext-a.tools

8. ThemePunch Server [A, B, D]
Outbound communications (i.e. "dialing out") to the following urls are necessary for automatic updates and importing premium templates. Contact your hosting provider for help with white-listing the following urls:
*.themepunch.tools
* .themepunch-ext-a.tools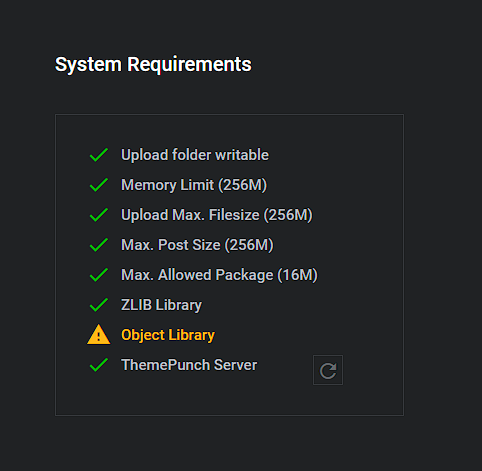 Supported Browsers
– Internet Explorer 11 (IE11)
– Mozilla Firefox
– Safari
– Opera
– Google Chrome
– Edge
Server Requirement
Refer to official WordPress requirements:
– Recommended PHP 7.2 or higher.
– MySQL version 5.6 or higher
– HTTPS support
The Best WordPress Hosters For Slider Revolution
Are you looking for a reliable and trustworthy hosting company, that offers the best compatibility and performance with Slider Revolution?
We partnered with the leaders of the WordPress hosting world to provide you with the best possible hosting experience.