Ever stumbled upon a rad tattoo design and thought, "Where on earth did they find this masterpiece?"
Well, I've been there. And the secret? Tattoo websites. Yeah, that's right! Not just for ink inspo but for everything tats – from the history, artists, to the latest in tattoo tech.
Now, I'm not just saying this because I've spent endless nights (and too many coffee cups) designing these cyber canvases. But because I genuinely believe the digital ink realm is as crucial as the physical one.
Awesome Tattoo Websites To Check Out
Tattoo Event Website Template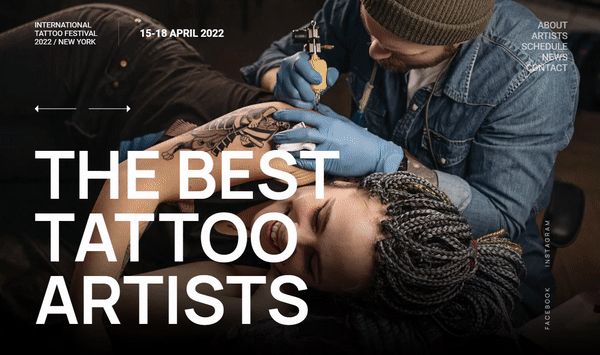 This contemporary, type-centric, single-page website template is ideal for any event landing page.
Whether you're in search of a WordPress event site template or a conference page design, Slider Revolution ensures you stand out in event web design.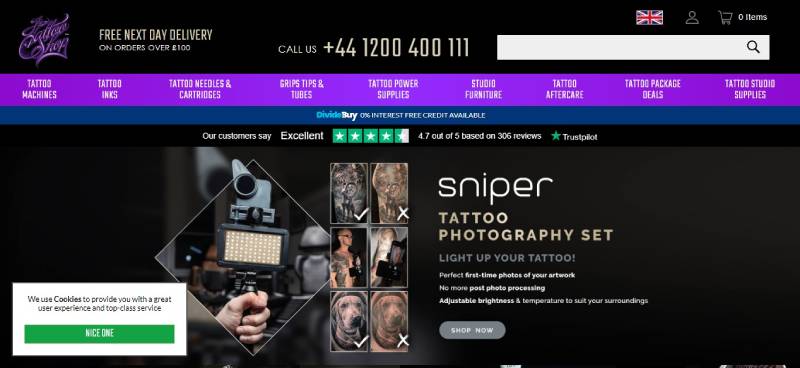 Dive into a world where ink meets artistry. From tattoo inks to tattoo machines, they've got everything an artist could dream of.
And hey, if you're on the lookout for some inspiration, their vast collection of tattoo flash designs and tattoo books might just spark that creative flame. They're not just about selling; they're about celebrating the art of tattooing.
Step into the historic entertainment district of Deep Ellum in Dallas, and you'll find Elm Street Tattoo. With over 20 years in the game, they've been serving up tattoos with a side of tradition.
And if you're feeling a bit superstitious, they're the only place where you can find "Lady Luck" with the tradition of getting a "13" on Friday the 13th. Whether it's by appointment or a spontaneous walk-in, they're all about inking stories and memories.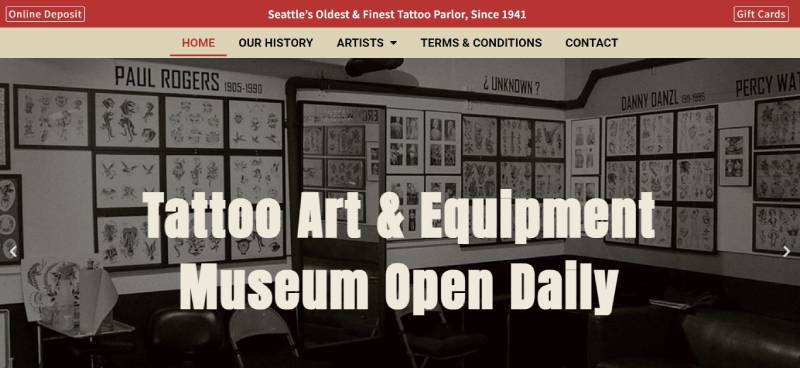 Seattle Tattoo Emporium is more than just a tattoo shop; it's a historical gem. Founded in 1941, it holds the honor of being the oldest tattoo establishment in America.
Located in Seattle's vibrant center, it's not just about the tattoos but the legacy of the art. Recognized as a historic Seattle landmark, the artists here are nothing short of exceptional. Whether you're in search of classic tattoo designs or just want to immerse yourself in tattoo heritage, this is your destination.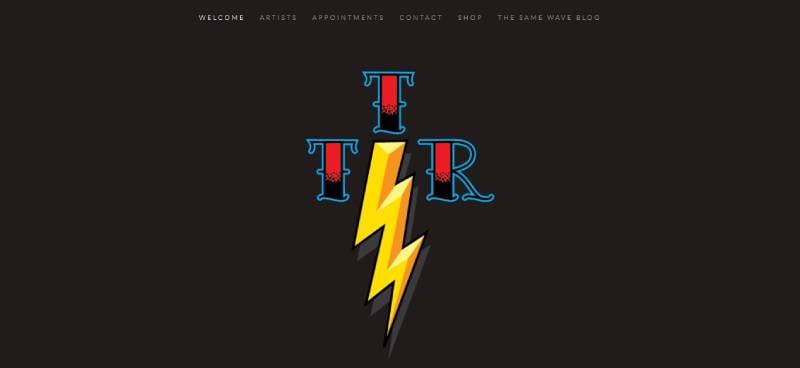 Introducing The Tattoo Room, the premier tattoo destination in Simi Valley. Boasting over ten years in the industry, they've established a distinct presence.
Under the ownership of the renowned artist Danielle Oberosler, it's not merely about getting a tattoo; it's about crafting enduring art. If you find yourself in Simi Valley, make sure to visit. They warmly welcome both scheduled and spontaneous visits.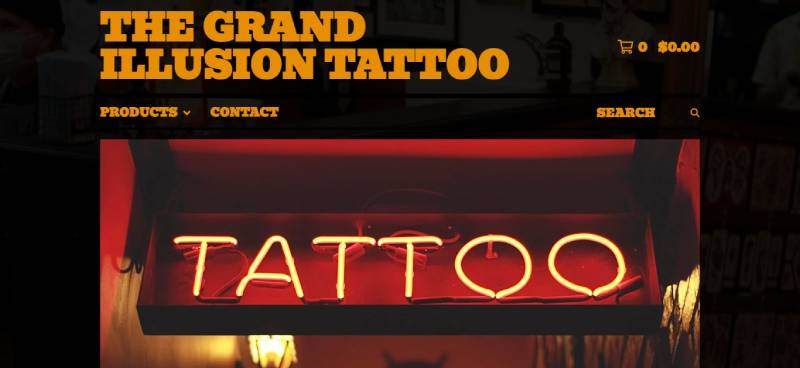 Stepping into The Grand Illusion Tattoo is like entering a realm where art and imagination run wild. From unique tattoo flash sheets to gift vouchers, there's something for every tattoo enthusiast.
So, if you're in the mood for some ink or just want to grab a cool tattoo-themed product, you know where to head.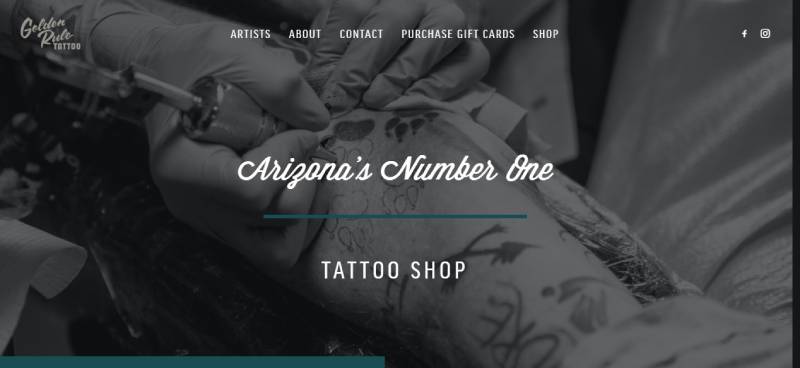 Step into Golden Rule Tattoo, the pinnacle of tattoo artistry in Arizona. Crowned as the "Top Tattoo Shop", they've consistently hosted the recipients of the "Best Tattoo Artist in AZ" award. Their guiding principle? Kindness!
And they genuinely embody it. With a roster of globally acclaimed artists, they promise a tattoo journey like no other. Whether you're dipping your toes into the world of tattoos or you're an ink aficionado, they cater to all. When in Arizona, make this your go-to for exceptional ink.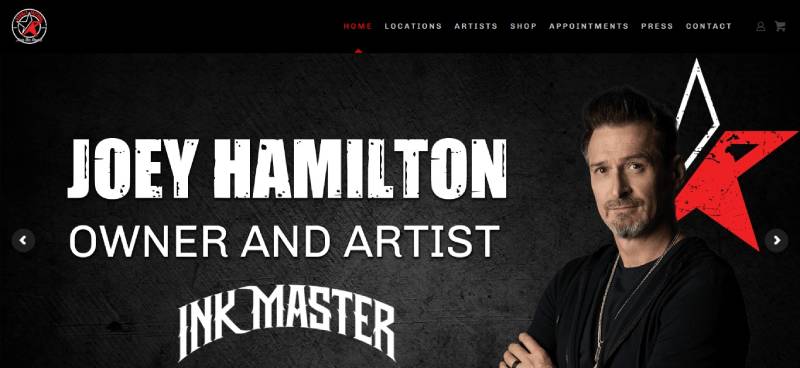 Founded by Joey Hamilton and Walter "Sausage" Frank, Revolt Tattoos is all about embracing your inner rebel. Located right off the Las Vegas strip, they've become a staple in the tattoo community. Their mission?
To prioritize elite artwork and client values. With multiple locations, including one in the Fashion Show Mall and another in The Hard Rock Hotel and Casino, Lake Tahoe, they're expanding their revolt. So, if you're looking to join a tattoo revolution, Revolt Tattoos is the place to be.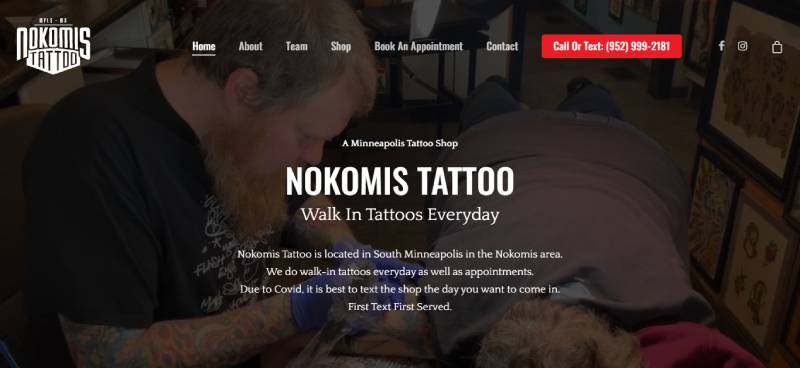 Nokomis Tattoo stands out as a lively hub, celebrating a diverse range of tattoo styles. Their online presence mirrors their commitment to the craft, boasting a gallery that highlights their prowess in ink creations and body illustrations.
For those seeking tattoo inspiration, it's the destination of choice. Browse their collection, and you might discover the design that resonates with your vision.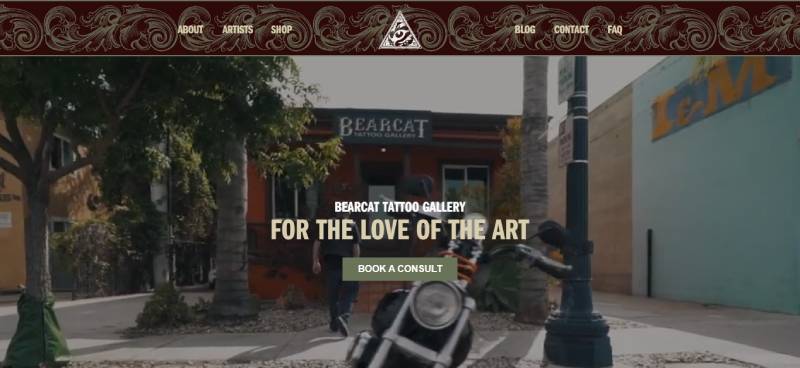 Bearcat Tattoo Gallery is more than a mere tattoo parlor; it's an artistic sanctuary in San Diego. Upon entering, you're embraced by a community of artists fervent about their work. From striking patterns to intricate embellishments, their artists infuse each tattoo with distinctiveness.
Whether your heart leans towards Japanese motifs or Viking depictions, Bearcat ensures your desires are met. It's not just about the ink; it's about crafting a masterpiece for your skin.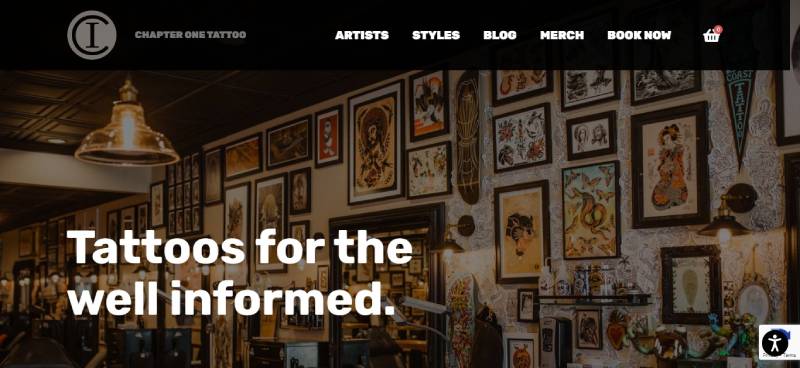 Welcome to Chapter One Tattoo, a renowned spot in San Diego known for its custom tattoos and stellar customer experience. Founded by Cash Scott, this studio boasts a range of styles from black & gray realism to Japanese traditional.
The artists here are not just tattooists; they're storytellers, ready to ink your narrative on your canvas. So, if you're in San Diego and itching for some ink, you know where to head.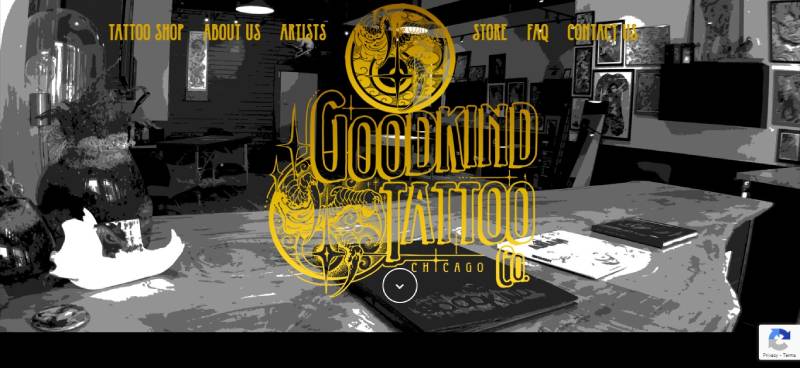 Goodkind Tattoo stands out as one of Chicago's top-rated tattoo shops. Their commitment to unique designs and exceptional service is evident from the rave reviews they've garnered.
Owned by Rob Goodkind, the shop is a testament to his dedication to the art. With a team of artists specializing in various styles, Goodkind Tattoo promises a piece that you'll cherish for a lifetime.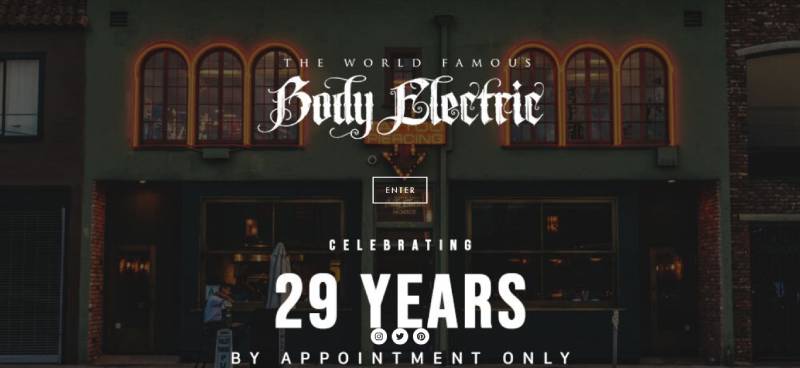 Body Electric has been illuminating the tattoo world since 1992. Celebrated for its imaginative tattoo creations and top-tier piercing services, this studio stands as a lighthouse for those in pursuit of exceptional artistry.
Their streamlined website might be understated, but it resonates with their assurance in their expertise. For a memorable encounter, Body Electric beckons.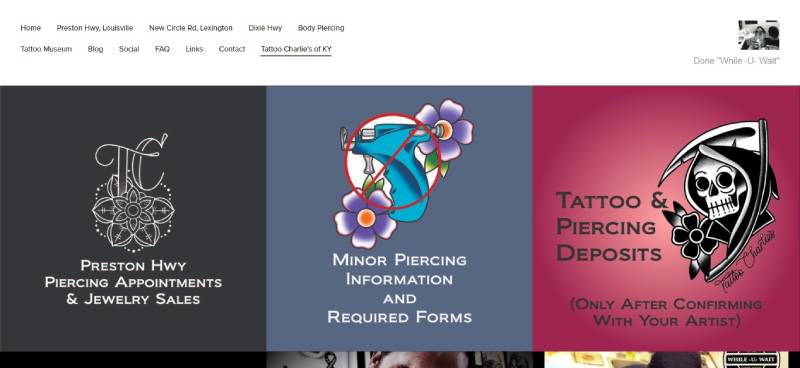 Tattoo Charlie's carries a storied reputation as one of the most esteemed tattoo studios in both Louisville and Lexington. Operating as a family business since 1973, they've become a hallmark of premier tattooing, piercing, and even cosmetic tattoo services.
Their dedication to excellence shines through in every piece, ensuring clients depart with artwork they cherish. Whether you're an aficionado or a newcomer, Tattoo Charlie's offers an experience that epitomizes the industry's best.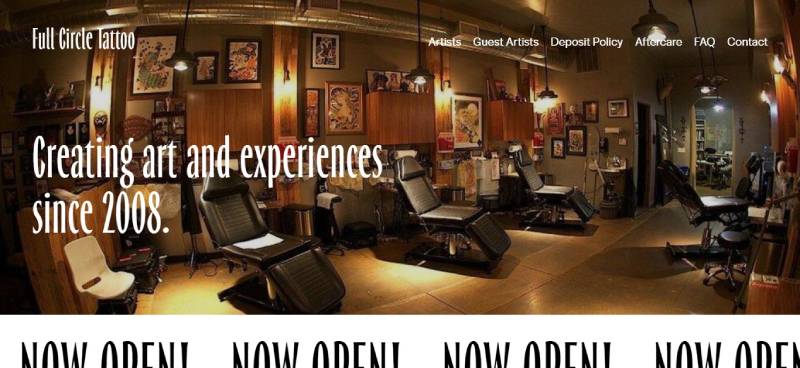 Full Circle Tattoo transcends the typical tattoo parlor; it's a nexus of art and imagination, curating distinct experiences since 2008. With the recent unveiling of their second outpost in University Heights, their influence continues to grow.
Their ensemble of artists, each with their signature flair, guarantees that every tattoo mirrors the soul of its bearer. Whether you're captivated by classic Japanese motifs or contemporary sketches, Full Circle Tattoo is poised to manifest your dream.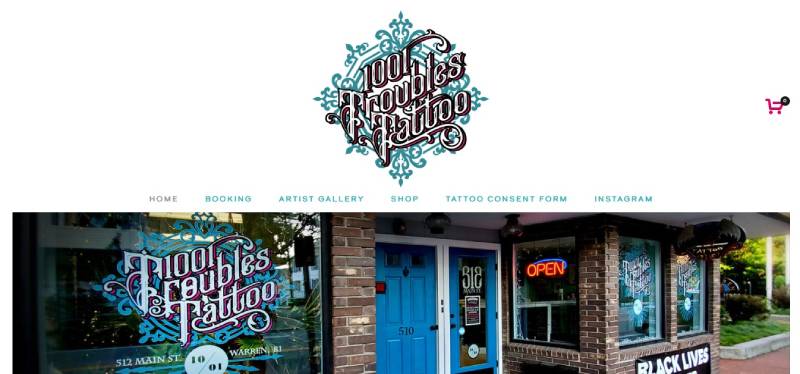 At 1001 Troubles Tattoo, the moniker may hint at obstacles, but the journey is all about fluid artistry. They take pride in crafting tattoos that are not only visually striking but enduring.
With a collective experience spanning over three decades, their team has refined their craft through both time-honored apprenticeships and academic pursuits. Their dedication to bespoke designs ensures every tattoo is a singular masterpiece.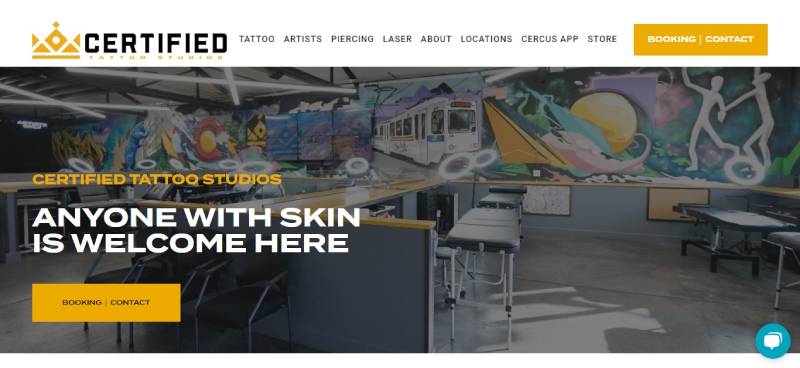 Certified Tattoo Studios stands as more than a label; it's a pledge of excellence. Heralded as one of Colorado's most reliable tattoo havens, they present a diverse palette of services for those questing for elite tattoos and piercings.
Their vision is to redefine the tattoo journey, ensuring every patron, irrespective of their spend, walks away with a premium piece. Prioritizing client contentment and safety, Certified Tattoo Studios emerges as the premier destination for an unmatched tattoo odyssey.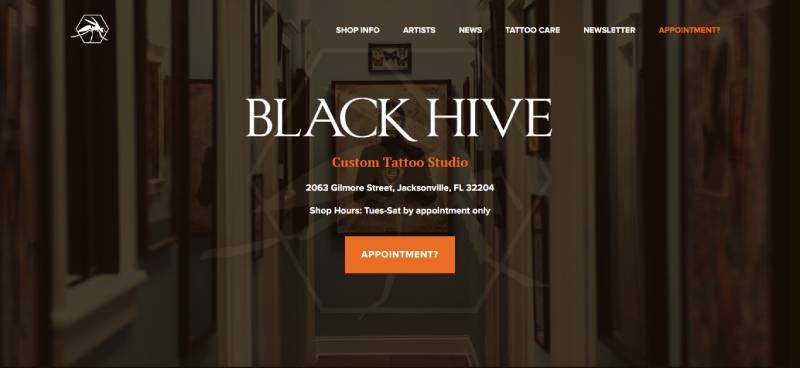 Black Hive Tattoo serves as a refuge for connoisseurs of art and self-expression. As a bespoke tattoo studio, they tailor to the distinct aspirations of their clientele, ensuring each piece mirrors personal narratives and tastes.
Nestled in Jacksonville, Florida, Black Hive Tattoo has etched its mark in the community, celebrated for its gifted artists and unwavering commitment to brilliance. Whether you arrive with a precise vision or seek artistic guidance, the maestros at Black Hive are prepared to accompany you on your tattoo voyage.
FAQ on Tattoo Website Design
What's the biggest factor in tattoo website design?
You'd think it's all about flashy graphics, right? Nah. It's user experience (UX). This is the magic potion. A website, especially for tattoos, needs to resonate with the user's journey, making it effortless for them to find what they're after.
Why should tattoo artists invest in a custom design?
Let's get real. Custom designs set you apart. Every tattoo artist has a unique style, and a tailored website design showcases that uniqueness. No one wants to look like a carbon copy, especially in the tattoo world!
How important are mobile optimizations for a tattoo website?
Super crucial! Many people browse tattoo designs on the go. Making sure your tattoo website is mobile-optimized ensures that the ink lovers get a seamless experience, whether they're on a desktop or their smartphone.
What are the primary elements to highlight on a tattoo website?
First off, the artist's portfolio, for sure! Then, customer testimonials, booking details, and care instructions. It's a mix of showcasing talent and providing essential info. Remember, a tattoo website isn't just an online brochure; it's a digital storytelling platform.
How frequently should the content be updated?
Well, as often as the artist inks new pieces, I'd say! Regular updates keep the content fresh and the visitors engaged. Plus, Google loves updated content, so it's good for SEO too. Don't sleep on this one!
Should tattoo artists include a blog on their website?
Why not? A blog is a fab way to share tattoo stories, industry trends, and care tips. It not only drives traffic but also establishes the artist as a thought leader in the ink world.
What about integrating social media on the website?
100%! Social media platforms are where tattoo artists often flaunt their latest creations. Integrating them into the website design makes for a cohesive online presence and allows visitors to hop from one platform to another effortlessly.
How can SEO be incorporated into the design process?
Good question! It starts with a clean code, then optimized images, followed by quality content sprinkled with relevant keywords. You want to ensure that your website loads fast and ranks well in search engines to attract those potential clients.
Is it a good idea to have an online booking system?
Absolutely. It's the digital age! An online booking system streamlines the appointment process for both the artist and the client. No more back-and-forth emails or missed calls. Efficiency is key.
How can tattoo artists maintain website security?
Oof! This is important. Regular software updates, SSL certificates, and reliable hosting providers are a start. Protecting client information and safeguarding against potential threats is essential. Remember, a secure website is a trustworthy website.
Conclusion On Tattoo Website Design
Designing tattoo websites isn't just about throwing cool images on a screen. It's about crafting an experience, blending the raw, passionate world of ink with the limitless digital realm.
Think of it: Every line, every shade in a tattoo tells a story.
Same with websites: Every click, every scroll should mean something.
Both art forms, tattoos, and web designs, are about connection. It's not just about looking good; it's about feeling right.
If you liked this article about tattoo websites, you should check out this article about technology websites.
There are also similar articles discussing startup websites, corporate websites, actor websites, and florist websites.
And let's not forget about articles on barbershop websites, interactive websites, gym websites, and types of websites.
Ink Your Online Presence: Best Designs for Tattoo Websites