Websites have come a long way from simple screens to fully interactive spaces. The first website ever created featured a few lines of text and a few blue links to more information.
Web pages have evolved from that first website to entertaining, colorful, and lively sites. Visitors can watch videos, play games, make reservations, pay bills, and much more.
Each day websites get more creative, provide more features, and offer more convenience.
Everyone now enjoys the benefits of modern websites. Yet with the design standard so high, it can be intimidating to create one.
Fortunately, there are even websites to help those in such a situation.
Several modern website templates are available for all who want one. These templates save a huge amount of time and effort.
This article lists links to modern website templates. Each of the following templates offers a clean and interactive design.
They are also up-to-date with current trends. Thus, they help users tell stories that captivate and enthrall visitors.
Browse through this list to find a modern website template that works best for you. It could mean the difference between a thriving website and a dying one.
Parallax One-Pager Website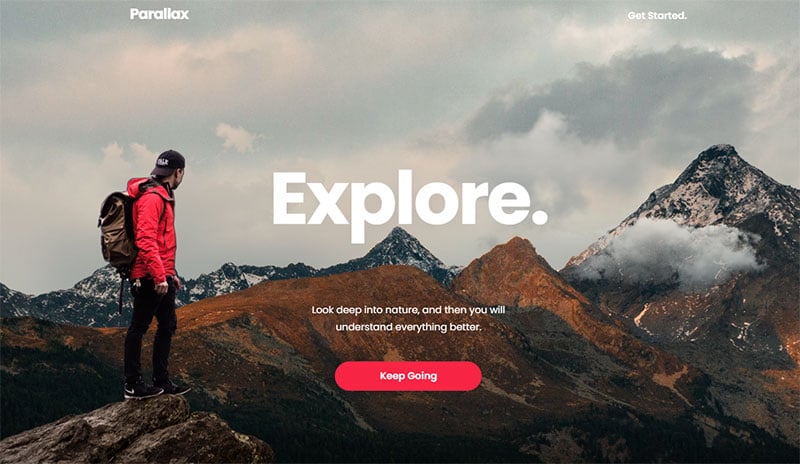 Here is a one-page website with parallax and special effects. Its subtle transitions and use of whitespace immerse every visitor.
Immersion One Page Website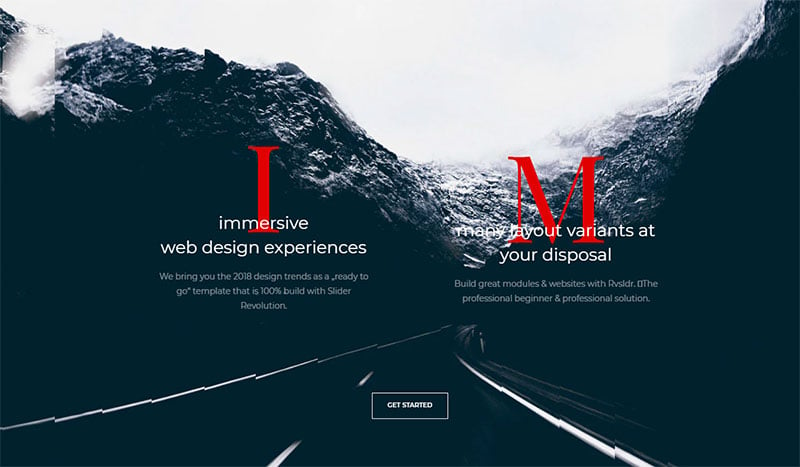 Talk about immersion, this ever-moving web design will enthrall visitors.
Animated Mini Website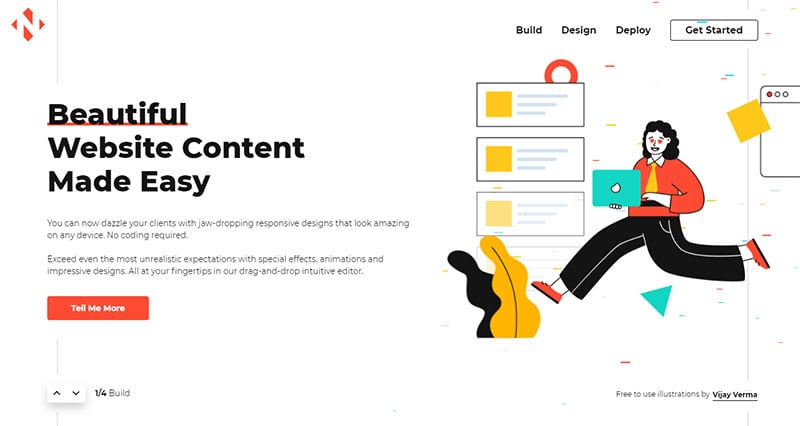 This mini website template is suitable for any project. It includes animations and special effects that elevate web design to the next level.
Story Blocks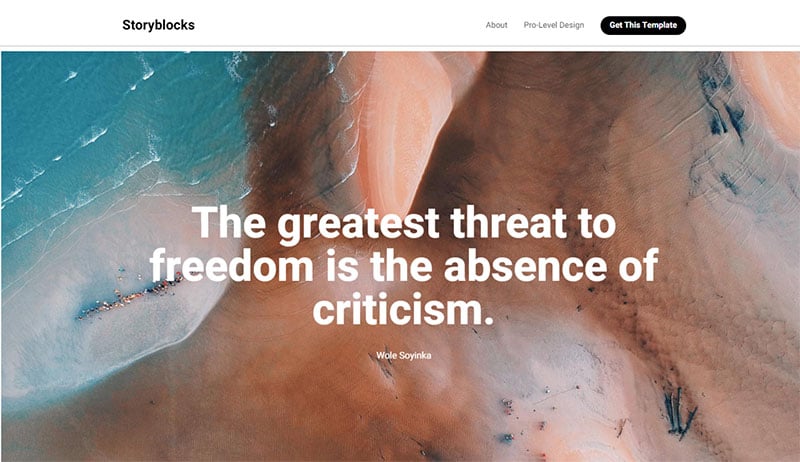 Storytelling is the main building block of a website. If there is no story, visitors usually get bored and leave.
The design of this template helps you to tell your story.
Wonderstruck One-Pager Website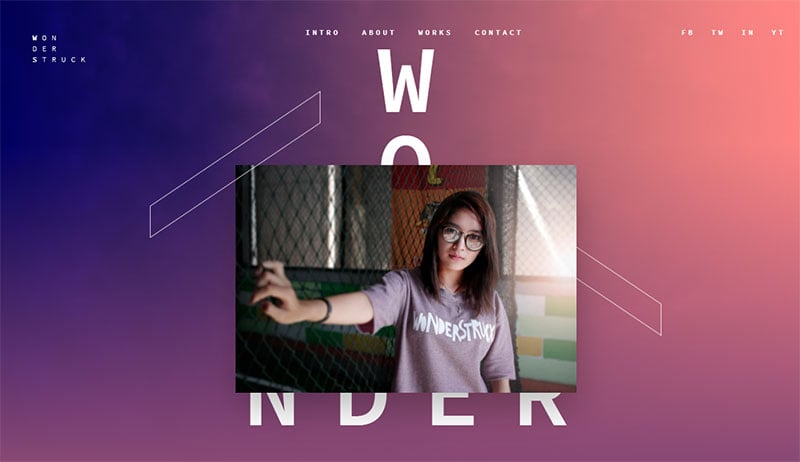 Scrolling effects, color transitions, and a classy font. This template unites them to create a spectacular sight.
Landing Page Builder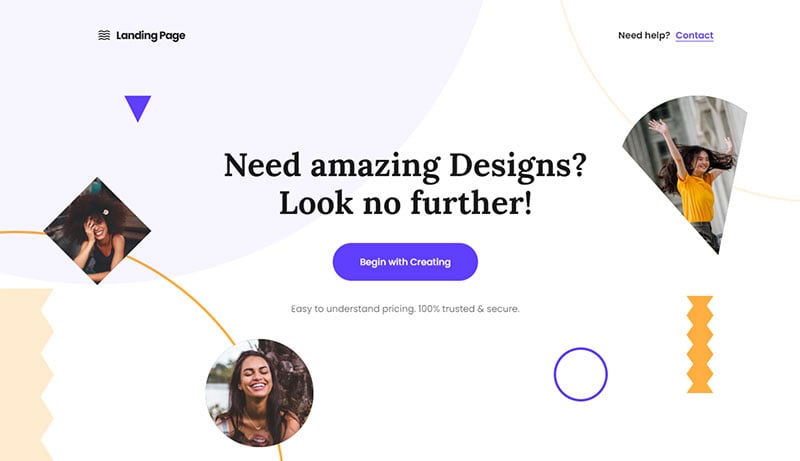 Come here for all your landing page needs, to attract new customers, and extend your business.
Event Florist Template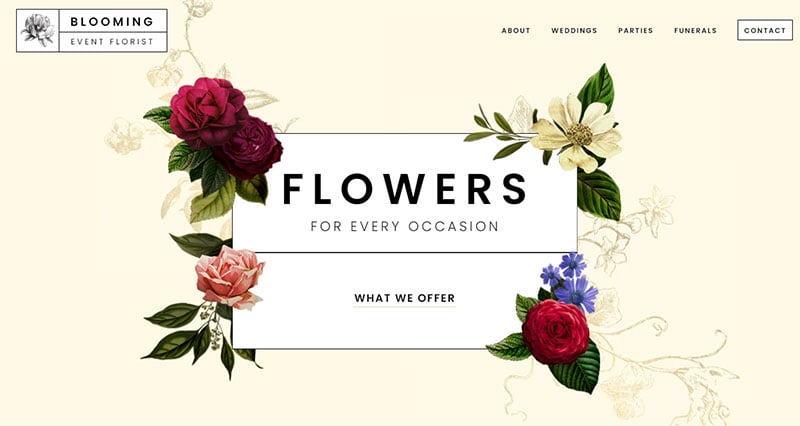 This template is specifically built for florists to display their event pricing options. It includes a carousel, special effects, and space for different types of events.
Le Chef Restaurant Website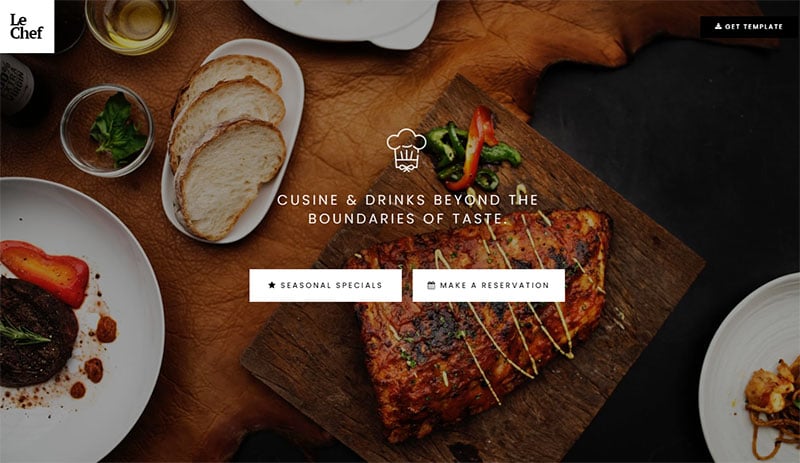 Restaurateurs can take advantage of this template built for them. CTAs, an about section, and sharp images enhance the experience and attract visitors.
Fast Food Burger Restaurant Slider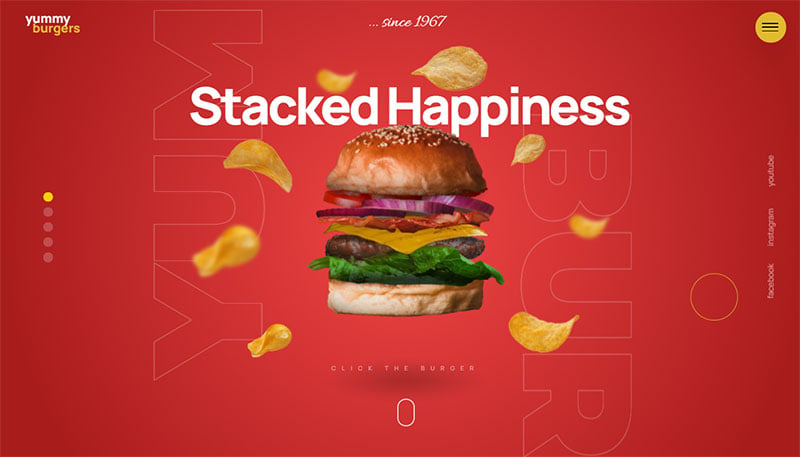 Use this template for a fast food restaurant or food truck. Bright colors, sliders, and bold fonts are customizable to better represent your brand.
Coffee Joint Website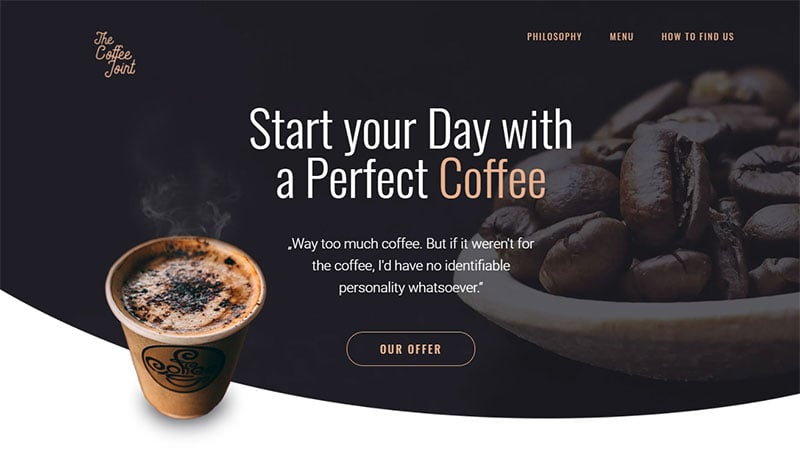 Impress coffee lovers with this coffee-specific template. Add a menu, social media links, a map, and more to draw customers.
Barber Shop Website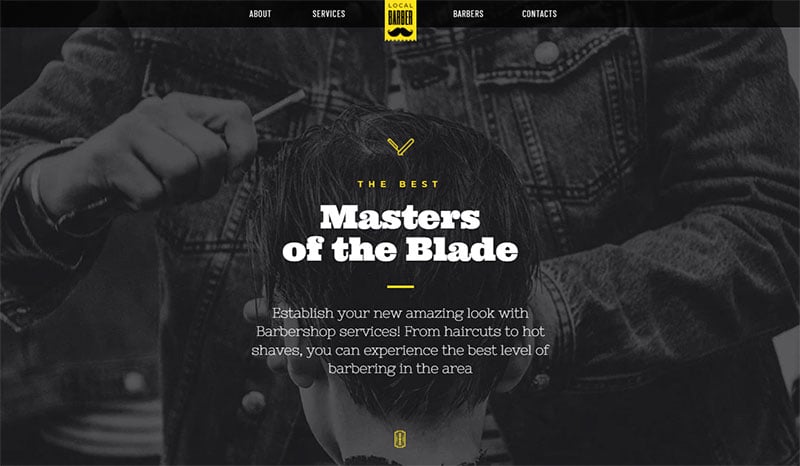 This template features black and white photos and bold font to attract a barber's target audience.
Music Band Website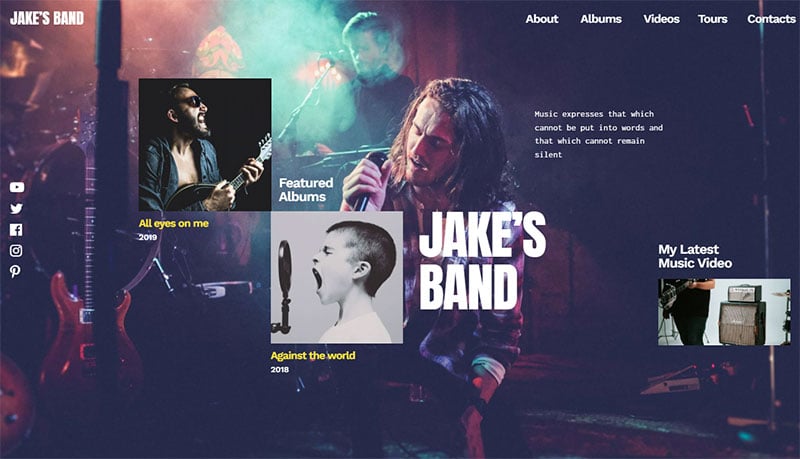 Shading and special features put this template right in line with the band scene.
Clear View Magazine Website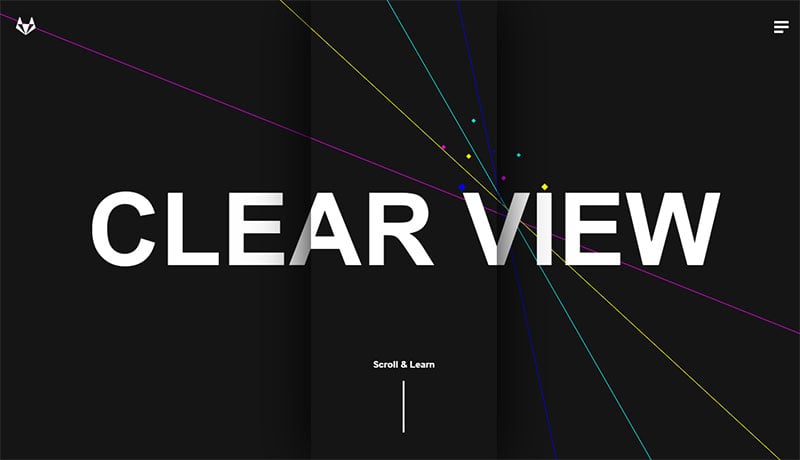 This template is perfect for blogs, magazines, and other websites that spread information. It organizes a large amount of content into a simple and appealing layout.
App Studio Website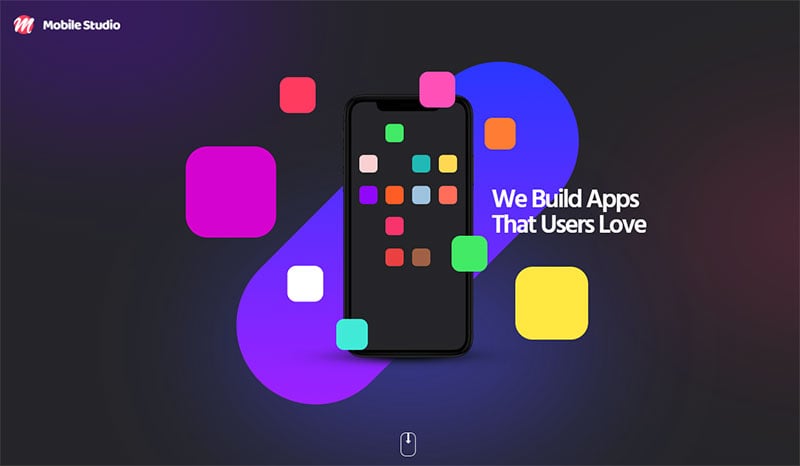 Showcase a digital studio with this template's sliders and great use of color.
Tattoo Event Website Template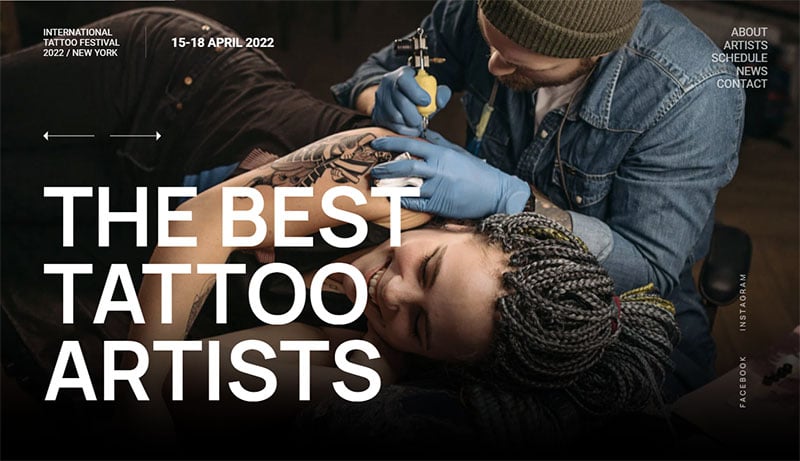 Showcase a tattoo shop. Background videos, large fonts, and stunning images highlight tattoo talent.
Multipurpose Modern Website Templates
North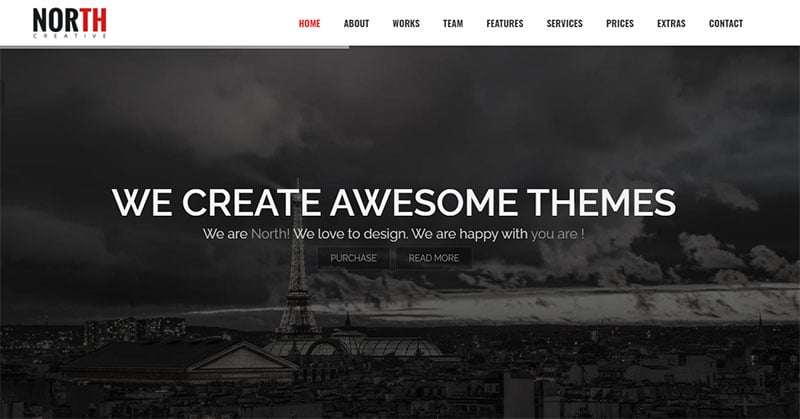 To start is a responsive HTML template with a modern design. It is customizable and flexible to fit any circumstance.
North is a one-page template powered by Twitter Bootstrap 3.2 framework.
Some modern design features include its parallax effects and its minimal layout. It is also 100% responsive, so users can display their website on a mobile device.
Some amazing features include:
Slider Revolution included
Isotope Portfolio
Font Awesome Icons
Working Contact Form
EXCEPTION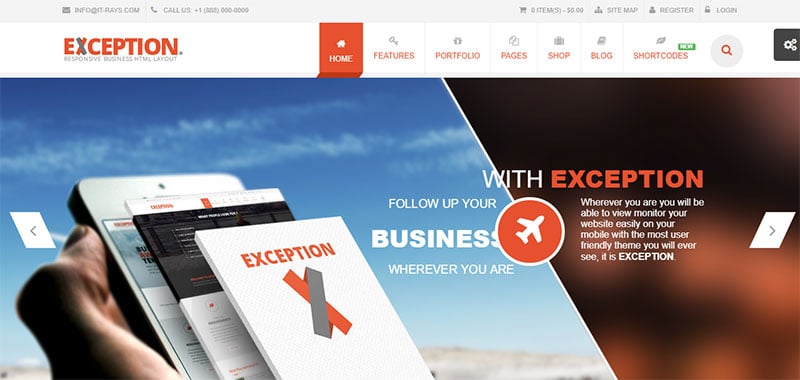 Next on the list of modern website templates is the excellent template, Exception. This is an HTML template for professional websites.
It is suitable for large businesses or self-employed individuals.
Use it to showcase projects, products, or services. Exception has many awesome web design features to create breathtaking websites.
One thing that makes it one of the best website templates is the fact that it is available as a WordPress theme. It also contains elements to build an online store and new features are being added.
Some new features include:
Magazine homepage
MailChimp integration
Smooth Scroll
Google Captcha verification
Litho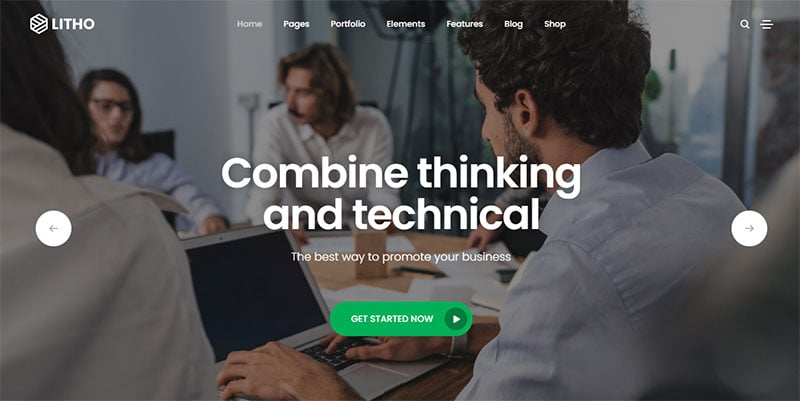 Litho is another HTML template that is now available as a modern WordPress theme. Litho is a powerful multipurpose template built with Bootstrap 5.
It is responsive, full of features, and has a clean design. It even supports an eCommerce website.
It offers exclusive features such as:
Revolution Slider
Google Web Fonts
Instagram feed
Ready contact forms
MailChimp newsletter subscription
Elon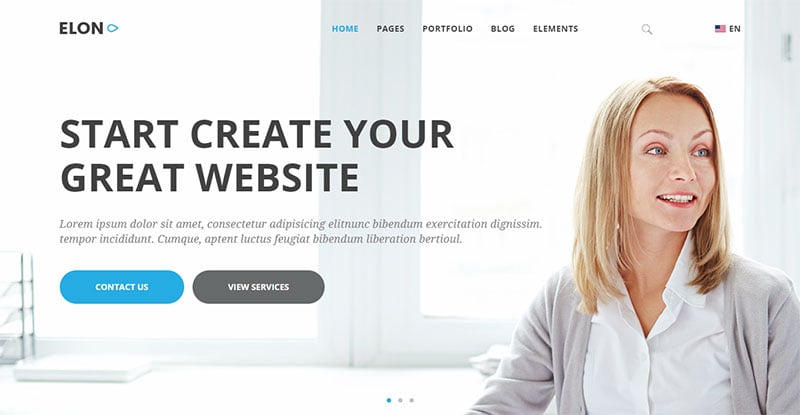 This modern and creative template is popular among developers. That's because it offers a wide range of options and flexibility.
Elon is built with Framework Y. This is the most flexible, productive, and easy-to-use framework available.
It is full of features like built-in pages, icons, portfolios, components, and more. All these features make it a breeze to create a website.
Elon is also available for WordPress. So you can take this responsive website template and turn it into a business WordPress theme.
Simpleux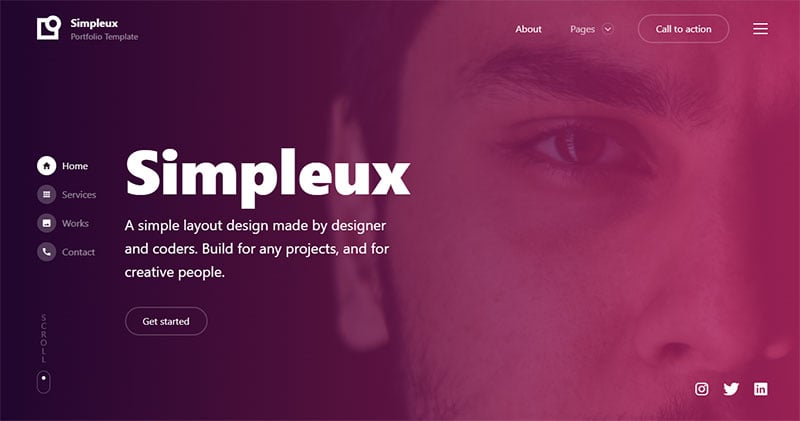 Don't miss this one-page website template.
It is modern, elegant, and appealing. The best part is that it makes designing a website fun and enjoyable.
Simpleux provides a simple, yet fantastic, user experience. It is perfect for creating personal or business websites.
Built on the Bootstrap framework, it uses the latest web technologies. It is responsive, mobile-friendly, and flexible.
Simpleux helps your website to look like it's been designed by an experienced web developer. Some features include:
Particles
Image slideshow
Video backgrounds
Different color styles
Boxed layouts
Full-width layouts
Mist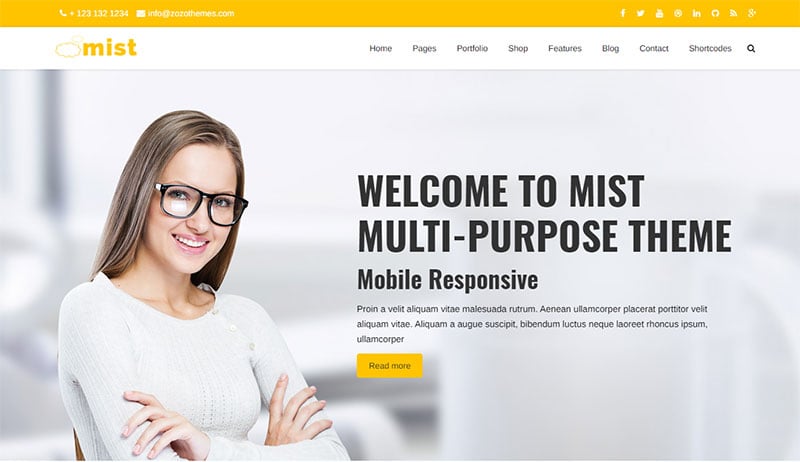 Users will enjoy the unlimited number of possibilities available with Mist. It is a very flexible template that supports any site development.
Mist is a powerful multipurpose website template. This means that you can use it to create any website imaginable.
Its host of features will suit your every need. Mist is a one-page or multi-page template, depending on what you want.
This template was tested on a handful of mobile devices and was 100% responsive. It also has clean code and great reviews.
Premade pages make it easy to create a website in an instant. This template has 500 premade pages and 60 homepage demos.
Mist includes headers, footers, contact pages, portfolios, blogs, and shops. It also includes icons and fonts for extra customization.
More features include:
Working forms
MailChimp newsletter ready
Unlimited shortcodes
Unlimited color
Widget sections
SEO friendly
Boxed layouts
Wide layouts
Definity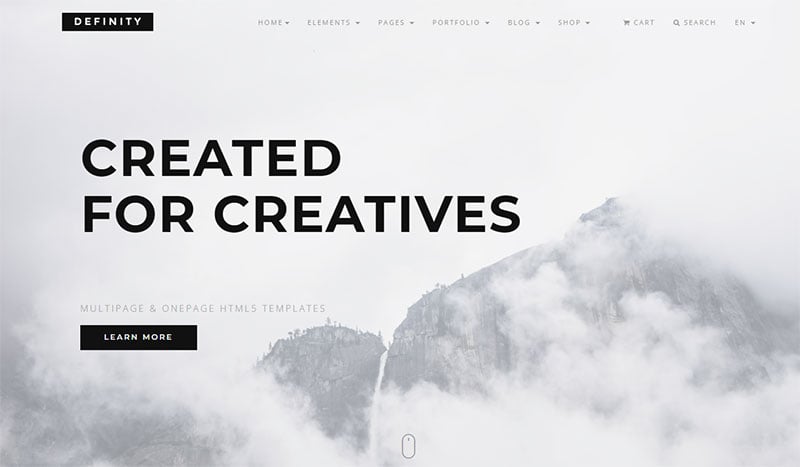 Several multipage, one-page, and inner page templates ensure that everyone can find the right template for them. Definity provides all that and more.
Updates have provided new outstanding features. For example, Definity now offers five shop layouts for an eCommerce website.
All these layouts make Definity a great website template for any business endeavor. Further, it is a reliable template due to its SCSS and Bootstrap 3 framework.
Features included with Definity are:
One-page and multi-page demos
84 HTML Elements
Light menu bars
Dark menu bars
Transparent menu bars
Lots of portfolio options
Isotope portfolio filtering
Fully responsive
Modular design
Video background
Parallax effects
Icon sets
Aqua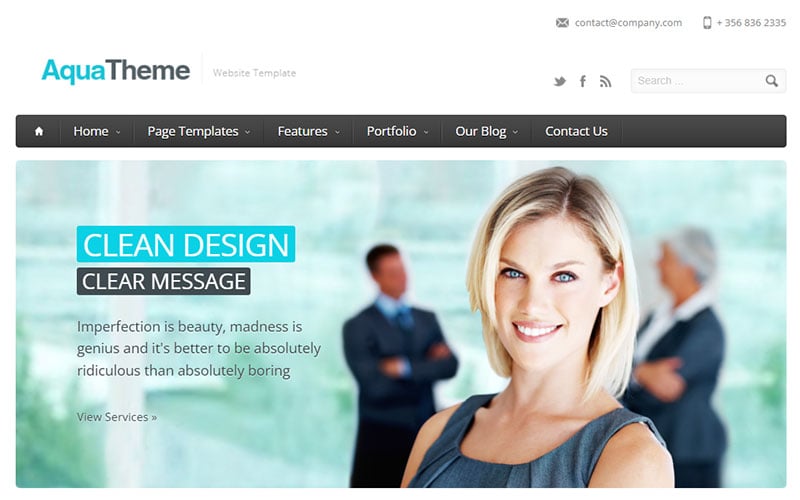 Continuing the list of modern website templates is Aqua. Aqua features a slick, customizable, and modern design.
This template is suitable for different types of websites. It includes a Theme Styler, so users can personalize it any way they like.
Aqua is responsive, mobile-friendly, and is compatible with major browsers. It also offers a WordPress version.
Features that Aqua offers are:
Unlimited colors
3 menu presets
Google Fonts
2 layout modes
Skeleton CSS Framework
Sequence slider
FlexSlider
jCarousel
Google Web fonts
Sliders
Tabs
Accordions
Testimonials
Messages
Lists
Buttons
Tooltips
Highlights
Several presets of Text Titles
Tables
Icons
Skrollex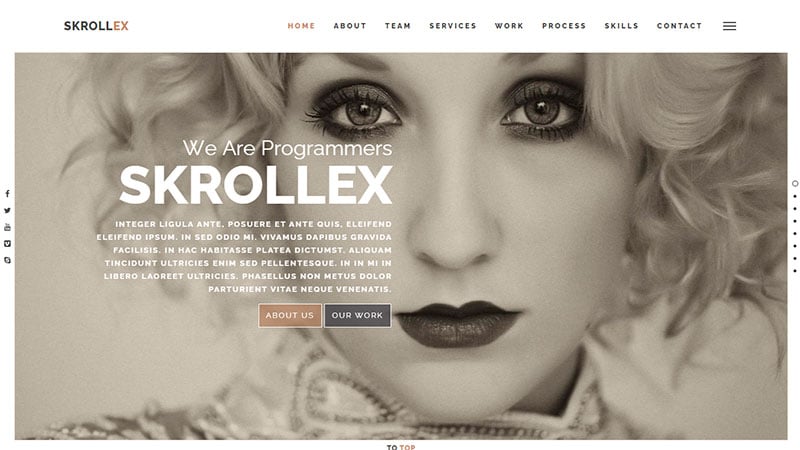 Skrollex is another creative, one-page, multipurpose website template. Even better, this is a parallax template meaning that parallax effects are built right in.
Skrollex is mainly designed for portfolio style webpages. It supports several elements that make images and videos stand out.
Features include:
Fully responsive
Bootstrap based
Smooth Scroll
Animated parallax backgrounds
YouTube video backgrounds
Vimeo video backgrounds
Local video backgrounds
Dark and light demo
CoWorker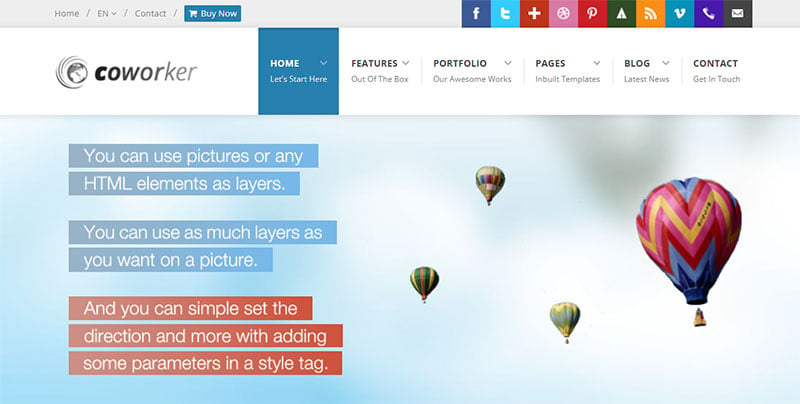 Flexibility is the main feature of CoWorker. It can be your partner in any endeavor.
It provides hundreds of layout possibilities with an unlimited number of variations.
Define your brand with this template's editing features. Because the template is responsive, you can present your website on any device.
Make an impression with ultra-sharp images thanks to the retina graphics. Features of CoWorker include:
Boxed and full-width layout
Premium sliders
More than 95 HTML pages
Unlimited color
Stack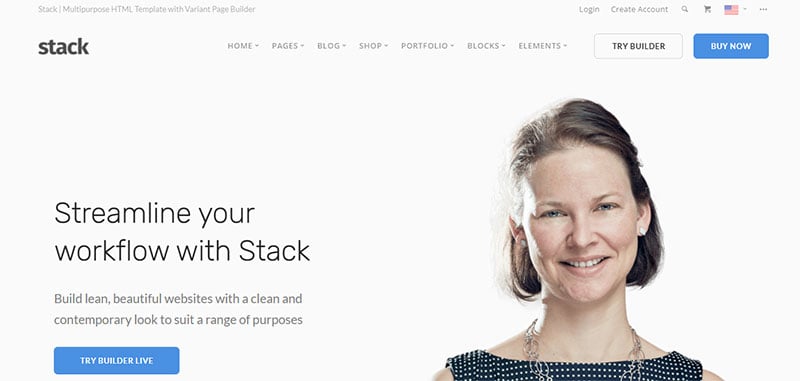 Both experts and inexperienced website builders enjoy using this robust template. You can build various websites, from a landing page to a multiple-page website.
Stack has an exclusive page builder that helps users to save time and build faster. Build with modular interface blocks to stack different website elements on top of each other.
Stack has:
30 niche homepages
300 customizable interface blocks
Hundreds of content layouts
Working social media feeds
Contact forms
Subscription blocks
Full-screen lightbox galleries
Filterable portfolios
Agenci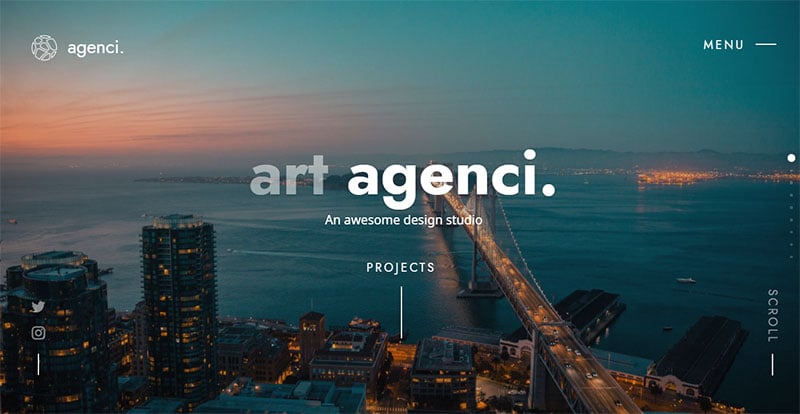 Agenci is a modern website template focused on showcasing products and portfolios. It's perfect for a landing page, a personal website, a photography website, etc.
Agenci is jam-packed with user-friendly features.
It supports background videos and blog pages. It is mobile-ready and boasts flexibility and extendability.
Pofo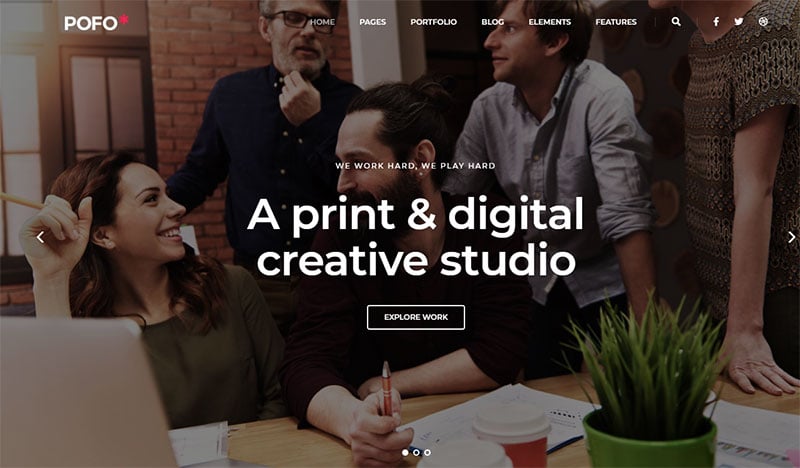 Continuing the list is this powerful and fast-loading template, Pofo. Pofo is perfect for businesses of any size and type.
It is interactive, customizable, SEO optimized, efficiently coded, and well documented. It helps anyone to create a creative and professional website.
It comes with:
28 home page demos
211 pages
150 stylish elements
Polo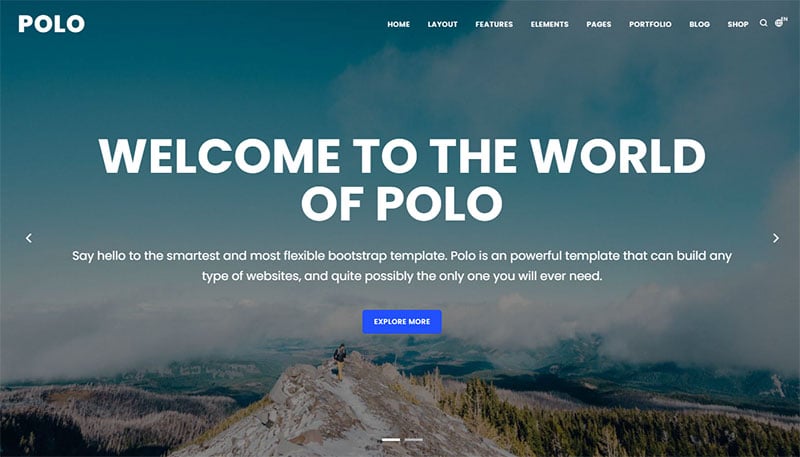 Like Pofo, Polo is a multipurpose modern website template. It stands out because of the many trendy and modern website possibilities.
It has over 200 website demos and 700 HTML files to make it easy for beginners in web development. It also has sliders, parallax effects, transition effects, pricing tables, social media feeds, and much more.
Andale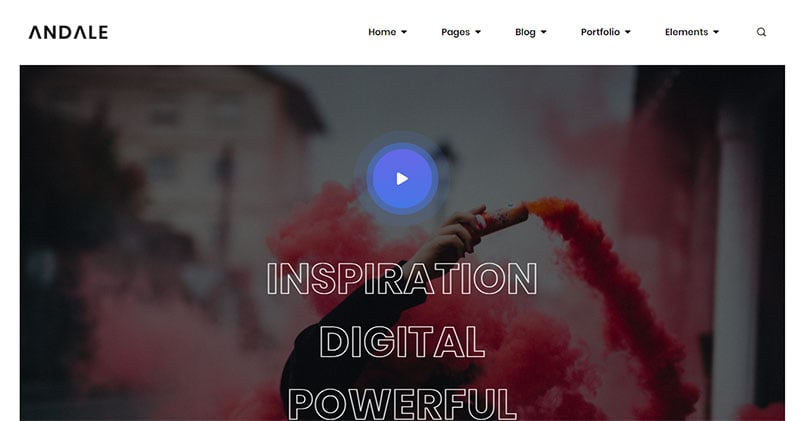 Andale was particularly built for business and personal portfolio needs. It delivers a fluid layout that adapts to any device.
Notable features include:
Google web fonts
Working ajax
PHP contact forms with data validation
Touch-swipe supported carousels
YouTube and Vimeo videos
Portfolio category filters
Aoko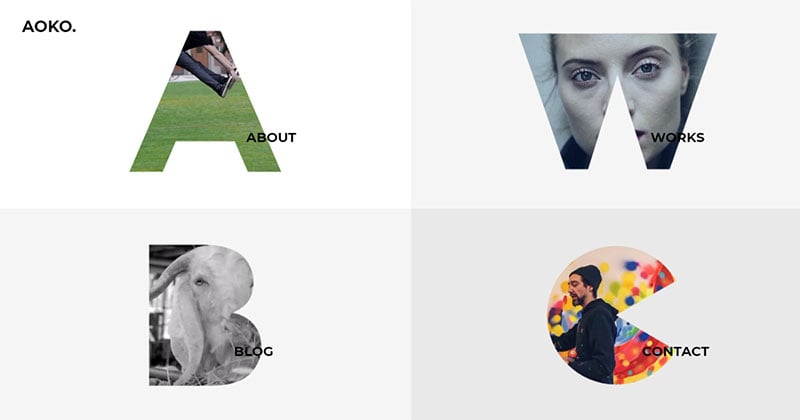 Aoko is great for a variety of websites such as commercial websites and creative studios. It is a clean, responsive, and modern template.
This template is a great choice for a portfolio. It comes with CSS animations and video navigation to create a beautiful portfolio.
Skylith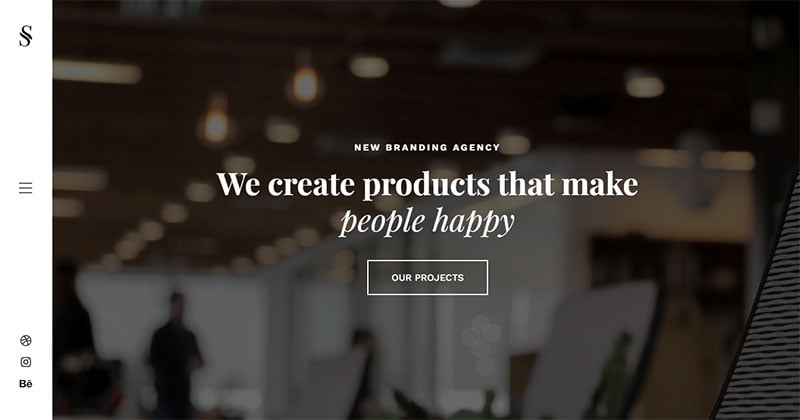 Thirty demos and a host of inner pages affords users a rare amount of customization. From portfolios to eCommerce stores, this template has the pages you need.
This template has a lot of documentation to assist with any customization concerns. It also provides popular features like a contact form, social media feeds, and navigation styles.
Website Templates Built for Specific Industries
Autochoice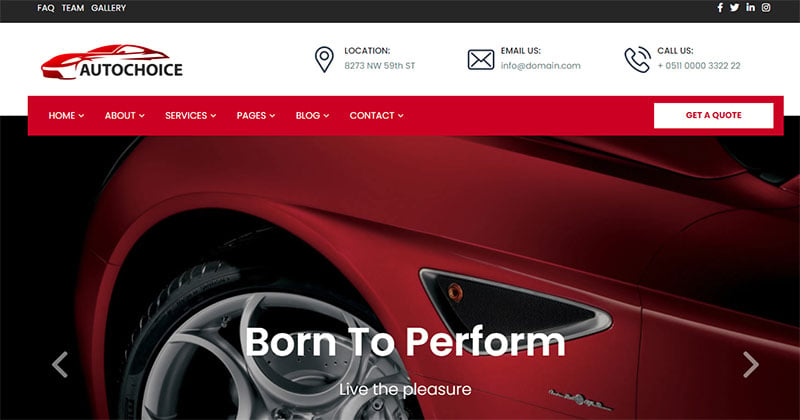 Autochoice is the template for those who are creating car-related business websites. Some conveniences that it provides include a responsive layout and SEO-friendly code.
It uses the latest web standards, so users can compete with the best website designs. It comes with the popular Slider Revolution app to create an eye-catching website.
Trucking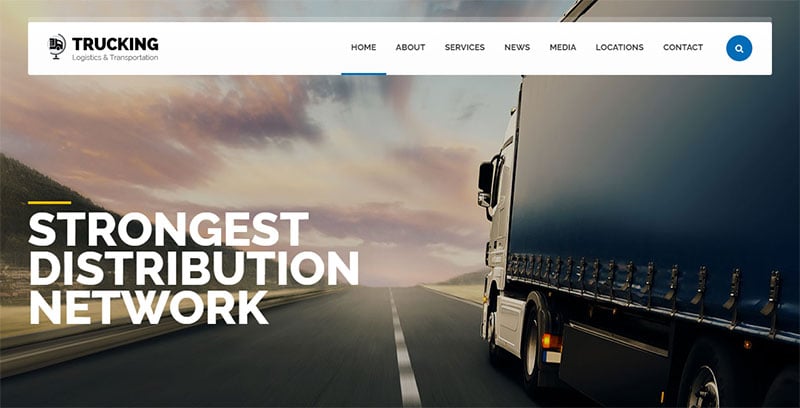 As you can guess from the name, this template is for transportation companies. Its web design is perfect for air and ocean freight, whole supply chain management, or other transportation businesses.
Based on Bootstrap 1170 grid, Trucking is W3C friendly. It is responsive and retina-ready.
Its host of features guarantees that you will find a layout that works for you.
Berlin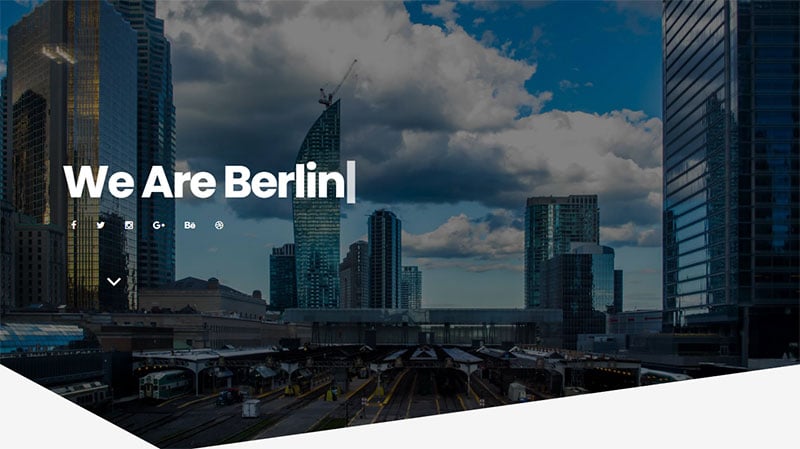 Berlin is a portfolio HTML template. Use it to create a personal website or a website for agencies, studios, or freelancers.
Whatever your portfolio needs are, this template can provide the right layout.
To make sure each portfolio looks great, it offers animations and Lightbox effects. It also has a clean, modern, and responsive web design.
Newspoint
Use Newspoint for any publishing needs.
This may include magazines, blogs, newspapers, and more. It is sure to suit all categories.
The Newspoint template implements a lazy load technique. This means that the template only loads what is needed.
It performs at speed, without the heavy burden of loading every feature.
Newspoint has many features that allow users to customize and adapt its appearance. A new organization method ensures that each user can find the features they need.
Based on the latest Bootstrap 4 framework, it is responsive and retina-ready. It is also SEO optimized to help users rank high in search results.
Some of the features that help users build the perfect magazine include:
Parallax layout
Google Fonts
Revolution slider
Google Maps
Unlimited colors
Flex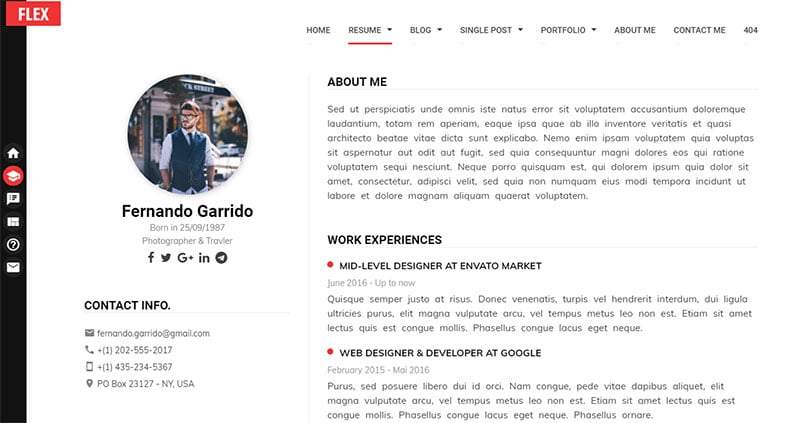 Flex is useful in a wide variety of scenarios but it was particularly built for resumes, blogs, and portfolios. It offers ready-made templates that make it easier to launch a website.
Users can add any number of pages to the premade templates. Pages that users can add include home pages, contact, 404, gallery, about me, and more.
The best part about this template is that it is very easy to install and customize. As the name implies, this template will flex to your needs.
ART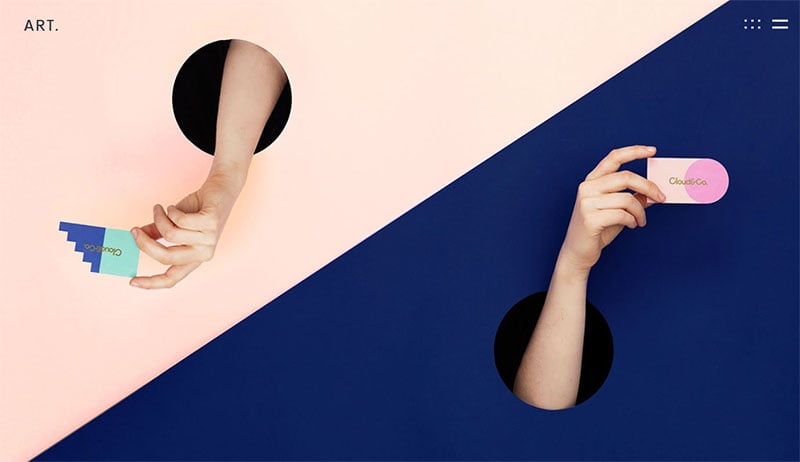 Display your artistic talents with this amazing and modern website template. No matter what creative work you are involved in, ART provides the best website solution.
The blog pages support images, videos, galleries, music, and much more. Column, spacing, hover, and other options provide endless gallery design possibilities.
Users can spruce up their website with scrolling animations. They can also form an RTL-style page.
Depending on your needs, you can enable or disable lazy load to make the template load faster.
ART has powerful features to strengthen brand awareness. It also includes social links, sliders, and SEO optimization.
Unite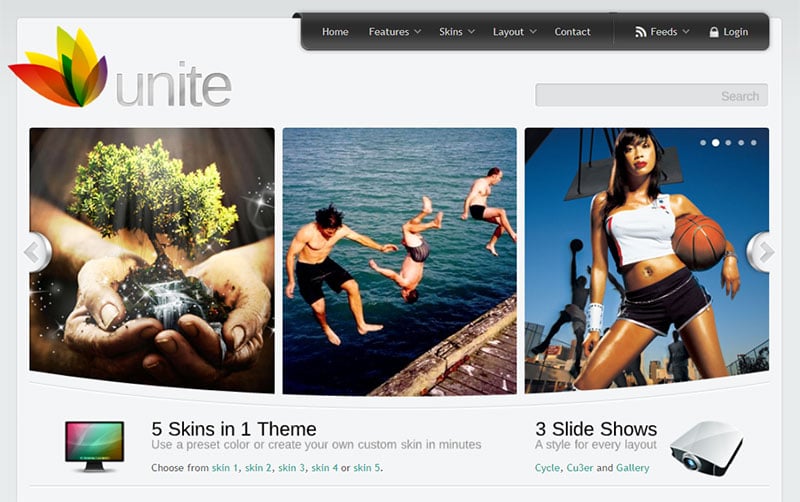 Unite is a template built for businesses or websites that strengthen community ties. It thrives in combining beautiful web design with powerful communication.
Unite takes a clean approach to website design. Each layout is minimal and organized.
The template itself is also well-organized so users can find what they need fast.
This template is ready out of the box and allows for fast modification. The customized PSD files allow fast skinning.
Features include:
Full-page layouts
2 column layouts
3 column layouts
Blog pages
Portfolio pages
HTML contact form
2 administrative login styles
5 pre-made skins
A dark theme
A textured background theme
Genox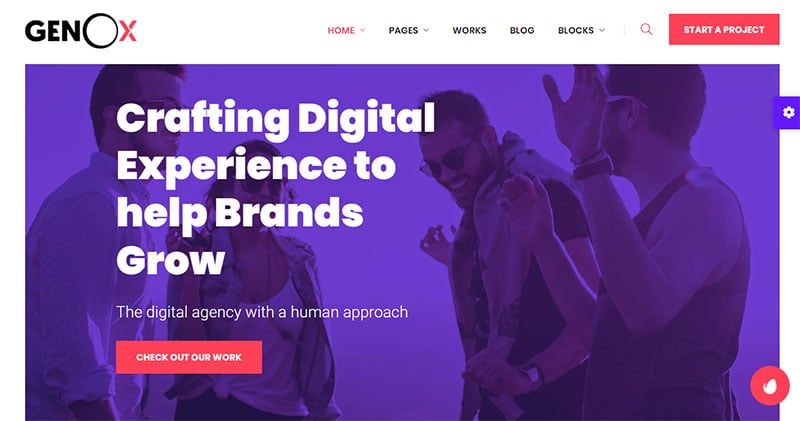 Genox is ideal for digital web agencies, marketing agencies, and similar business websites. It offers a seamless user experience because of its Bootstrap framework.
Genox is cross-browser compatible and responsive on many devices. It offers many interesting features.
Some of these include:
Over 100 unique elements
More than six unique home pages
2 single page-based home layouts
6 complete design readymade pages
Completely customizable
Fully responsive layout
Working PHP contact form
Google Fonts
More than 100 HTML files
Busiplus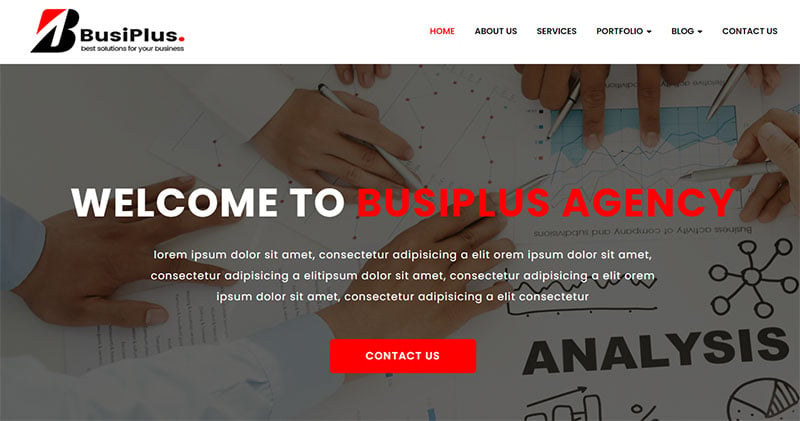 Use this template for corporate or business websites. Although it is not a free website template, it is inexpensive and works well for small brands or startups.
This template uses Bootstrap 3.x, making it reliable and mobile-friendly. It comes with several customizable features to meet your branding needs.
One great feature is the CSS and JQuery animations that help spruce up a website. It also comes with multiple color styles.
Remark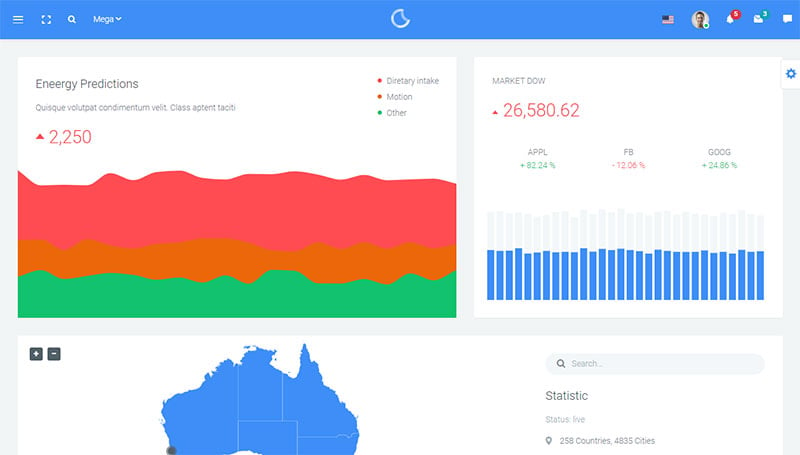 Remark is an administrative template.
It is a responsive and customizable administrative dashboard template based on Bootstrap 4. It conforms to the best web and mobile practices and is very reliable.
Features include:
Flat UI with clean style
Bootstrap-like Data API
Implemented in Modular Scss/Less Files (compiled CSS included)
Vuexy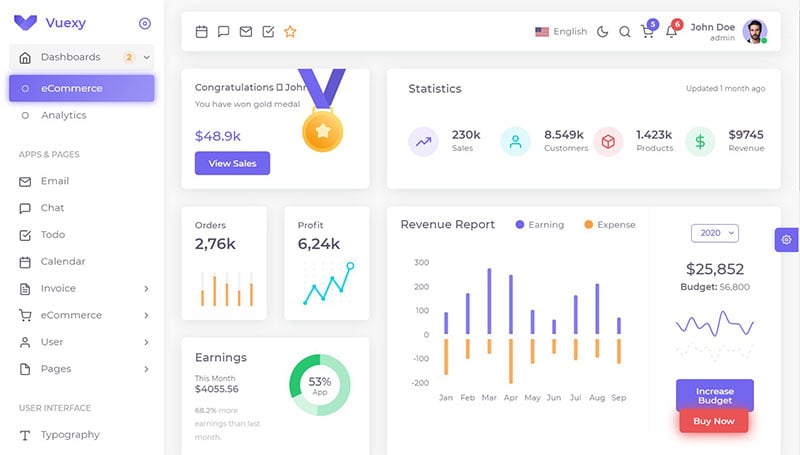 Vuexy is another administrative dashboard template. This bundled package allows users to build dashboards with seven different frameworks.
This template offers so many features and yet it is still easy to install and customize. It comes with ready-to-go templates and multiple applications.
It is one of the most developer-friendly and customizable dashboard website templates.
FAQs about modern website templates
1. What are website templates, and how do they work?
The usage of pre-made web pages known as website templates enables users to rapidly and easily build websites without having to start from scratch. These templates frequently feature design components including font, color schemes, and layout.
The themes can be altered by users by adding their own text, photos, and branding. Website templates can be downloaded or accessed through website builder platforms. They are made using HTML, CSS, and occasionally JavaScript.
2. What are the benefits of using website templates?
The ability to create a professional-looking website without coding or design knowledge is one of the key advantages of using website templates. By offering a structure for website construction, templates also help save time and money. Additionally, templates frequently include pre-built features like social network integration and contact form functionality, making it simple to add these elements to a website.
3. What are some popular website template providers?
Wix, Squarespace, WordPress, Shopify, and Bootstrap are just a few of the companies that offer website templates. Each provider provides a selection of templates that can be altered to meet the needs of the user. While some service providers provide templates for free, others need a purchase to access their premium templates.
4. Can website templates be customized to fit my brand?
A user's brand can be incorporated into website designs by adding their own logo, picking a unique color scheme, and choosing typefaces that adhere to their brand rules. Additional customization is possible thanks to the ability to edit the HTML and CSS code, which is provided by many website template providers.
5. Are website templates compatible with different devices and browsers?
Yes, the majority of website templates are responsive, meaning they change to fit various screen sizes and devices. This makes sure the website works and looks excellent on desktop, laptop, tablet, and mobile devices. Additionally, website templates are made to work with a variety of web browsers, including Chrome, Firefox, Safari, and Edge.
6. Do website templates come with SEO optimization?
Meta tags, sitemaps, and other SEO features that make it simpler for search engines to crawl and index the site are often included with website templates. However, it's crucial to keep in mind that SEO optimization is a continuous process that calls for constant work and isn't just dependent on the website template.
7. Can website templates be integrated with third-party plugins or tools?
Yes, a variety of third-party plugins and technologies, like as analytics programs, social media platforms, and email marketing services, can be combined with website layouts. This enables customers to enhance the operation of their website and boost its efficiency.
8. Are website templates easy to use, even for people without coding experience?
Yes, even for those without coding or design skills, website templates are made to be user-friendly and simple to use. Many pre-built sections and modules that can be easily customized are offered by most website template providers, along with drag-and-drop editors that let users add and rearrange elements on the page.
9. How do I choose the right website template for my business or project?
The type of website you want to build, the features you require, and the design style that best represents your business should all be taken into account when selecting a website template. Choose a template that is responsive and SEO-optimized, and look for designs that offer the functionality and customization choices you require.
10. Are website templates affordable compared to hiring a professional web designer?
Yes, using website templates is typically less expensive than working with a freelance web designer. While there are many free and inexpensive options available, some premium templates may have a higher price tag. Additionally, by employing a website template, users can quickly and easily establish a website, saving time and money on the expense of hiring a web designer.
Final thoughts on these modern website templates
As you can see, there are a plethora of modern website templates. Some are suitable for any website idea, others are for specific industries.
All these templates reduce the time and effort it takes to create a website from scratch. They also all offer necessary features such as responsiveness and functionality.
No doubt with the help of a template you will be able to build an attractive and user-friendly website.
If you liked this article about modern website templates, you should check out this article about startup website templates.
There are also similar articles discussing medical website templates, actor website templates, business website templates, and website templates with video background.
And let's not forget about articles on website templates for artists, creative website templates, interactive website templates, and website templates with slider.
Awesome Looking Modern Website Templates for Your Site