In the field of architecture, it's critical to gain work through online marketing. An architecture portfolio website is one way to attract potential clients.
Using attractive themes and designs on architecture portfolio websites yields several advantages. Showcasing a variety of previous projects can also lead to success.
It is essential to make case studies that appeal to potential clients. A solid portfolio can be a great tool to take skills and professions to the next level.
An architecture portfolio website should have:
A showcase of previous work, whether from past or recent projects
Philosophy
Vision
Future works and what clients can expect from the next tasks
Profile
Education
History Background
Nowadays, an online presence is highly important. Clients use the internet to look for credible professionals to complete their projects.
So, having a personal website is a great idea. Present the best work on the front page.
This allows visitors and potential clients to view your successful projects. Most clients focus on skills and experience rather than documents.
There is no need to put every achievement from college. Instead, focus on creating your case studies.
Use them to show how the solutions helped previous clients. The following examples will provide a wealth of inspiration for your architecture portfolio website.
Examples of Architecture Portfolio Websites
Smart Living One-Pager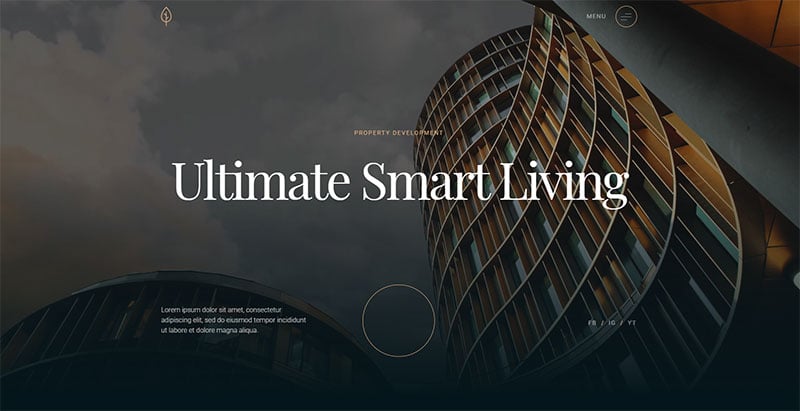 Tennent Brown Architects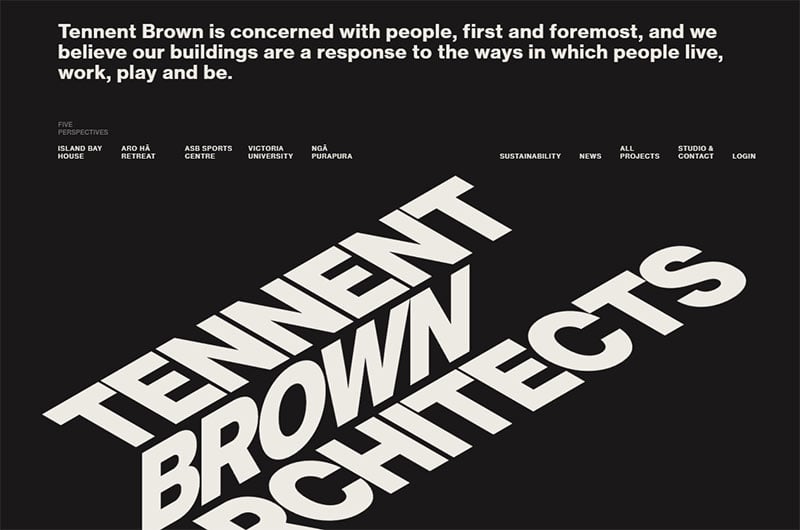 This is an architecture firm based in New Zealand. They focus on creating projects based on the way people live, work, and play.
Smart Living One-Pager V2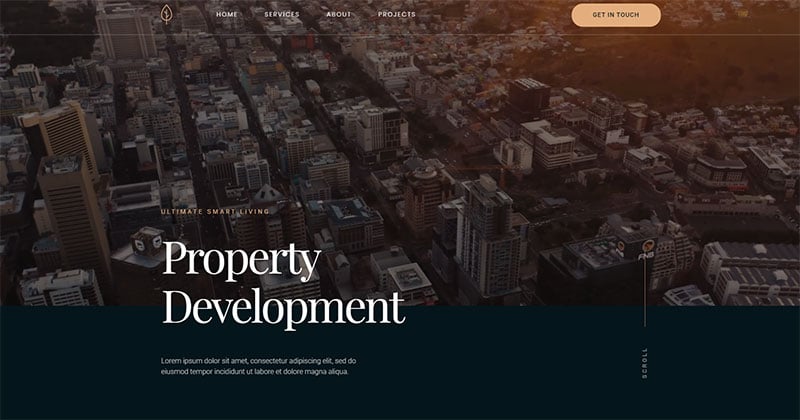 Pro Tza
This is a Poland-based architecture and interior design studio. The homepage contains the portfolios, enabling users and visitors to view them right away.
Square thumbnails divide the projects. When clicked, the image enlarges and the project details become visible.
Pro Tza utilizes a simple design throughout their site, even in their logo.
Smart Living One-Pager V3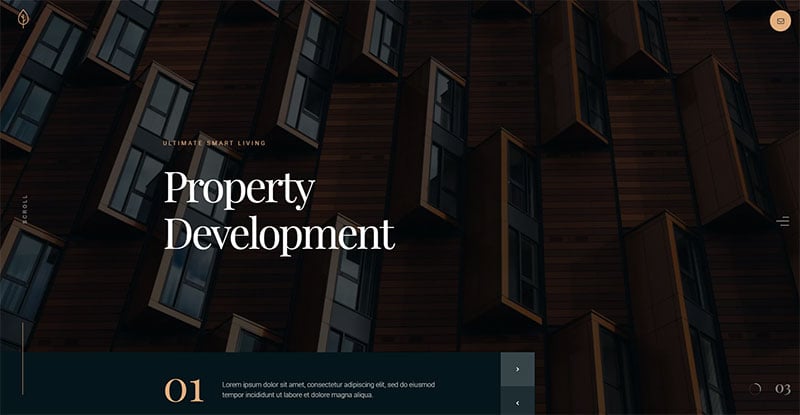 RED Company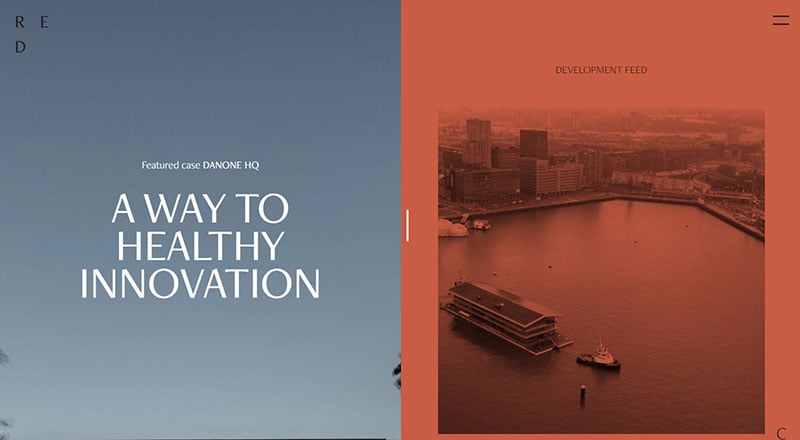 This is a real estate company. They have a great reputation in Amsterdam, bringing to life all their philosophies.
All the platforms and identities are well-known by the public.
YoDezeen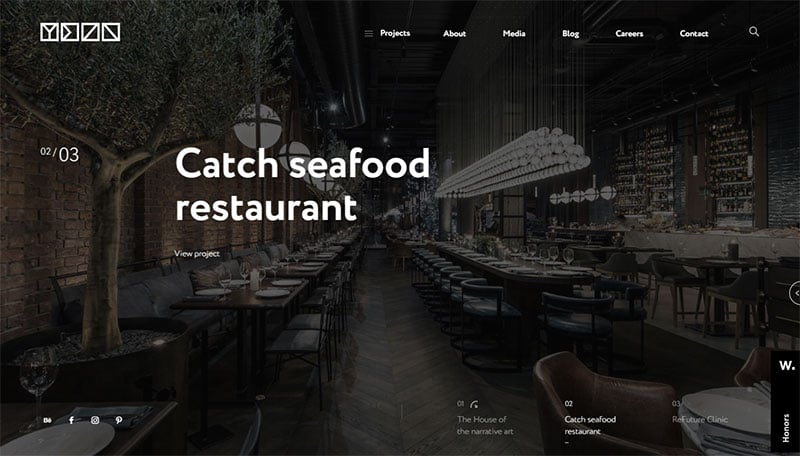 YoDezeen operates not only in local areas, but also worldwide.
They use a variety of contemporary styles. This helps to make them an award-winning architectural and interior design studio.
Nanna Lagerman Folio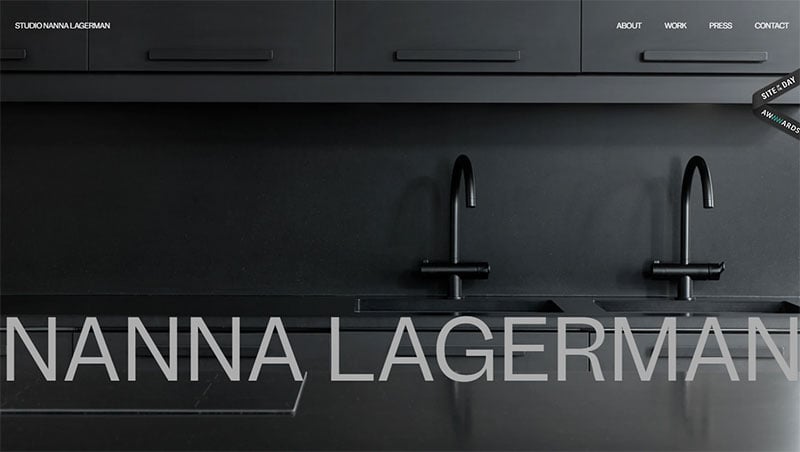 This studio focuses on elevating and improving interiors and spaces. That is part of their identity, and they are well known for their successful projects.
Agence Unite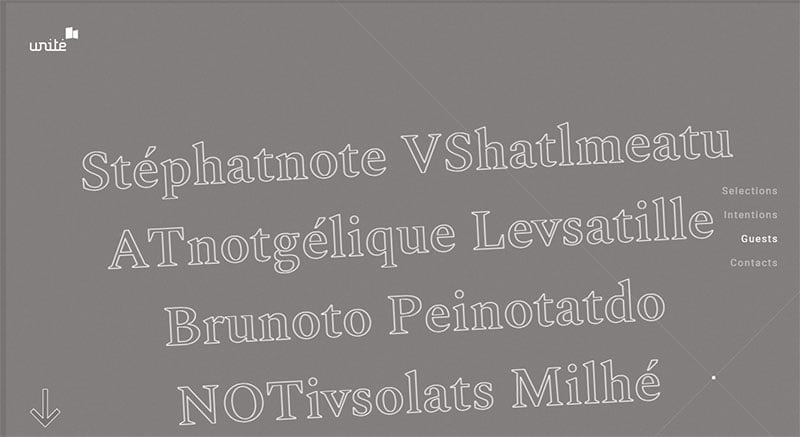 This is an architecture studio based in Nantes, France. The overall design of this website is simple.
This can serve as an inspiration when creating an architecture portfolio website.
Saunders Architecture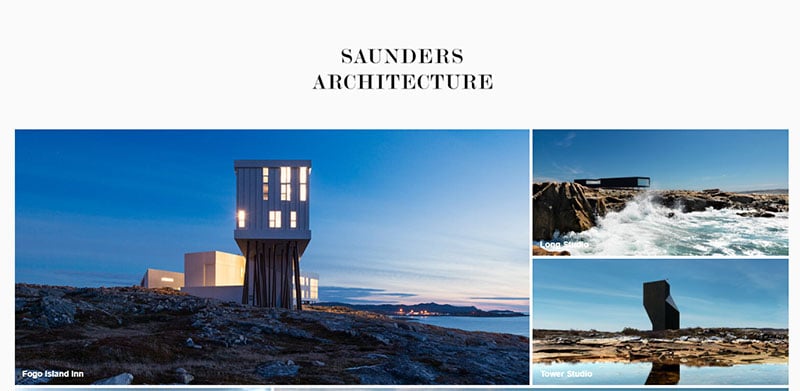 Saunders uses high-quality photography to showcase their work. The full-screen photographs allow visitors to immerse themselves in the projects.
The website uses dark and light backgrounds, depending on the purpose and timing.
For example, the dark background helps to emphasize the cabin-inspired designs. The light background gives the page an airy and expansive feel.
a-rr architecture Switzerland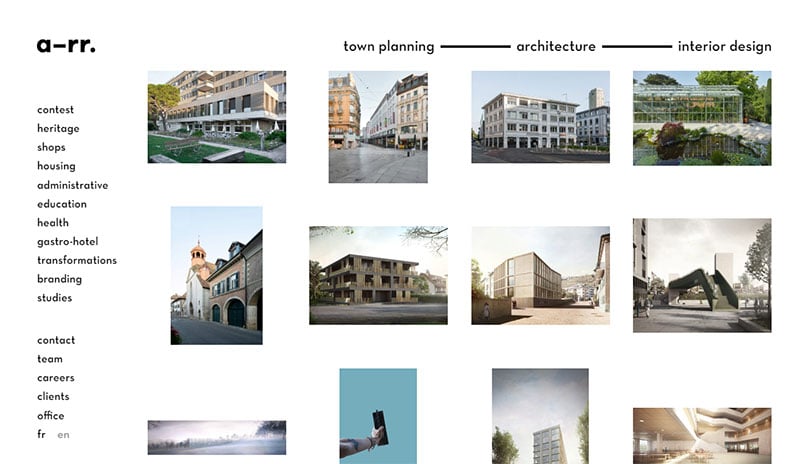 An architecture firm in Lausanne, Switzerland.
Largo Studio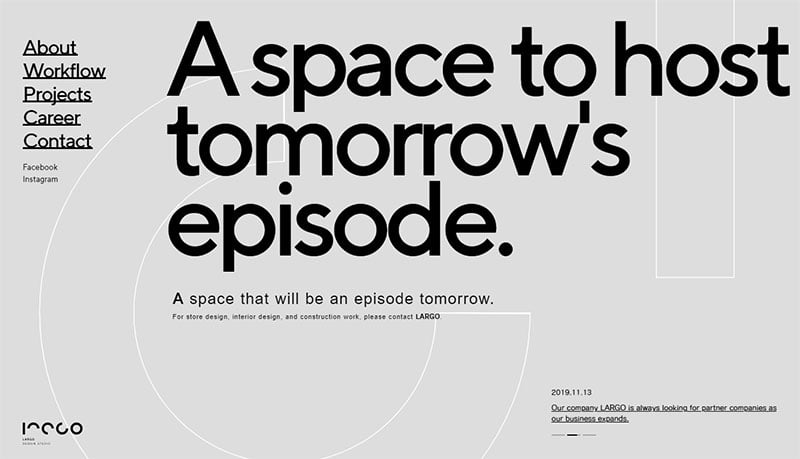 This studio designs buildings for offices, restaurants, and beauty salons in Japan. Their portfolio shows their skills and talent in styling according to the client's taste.
Feldman Architecture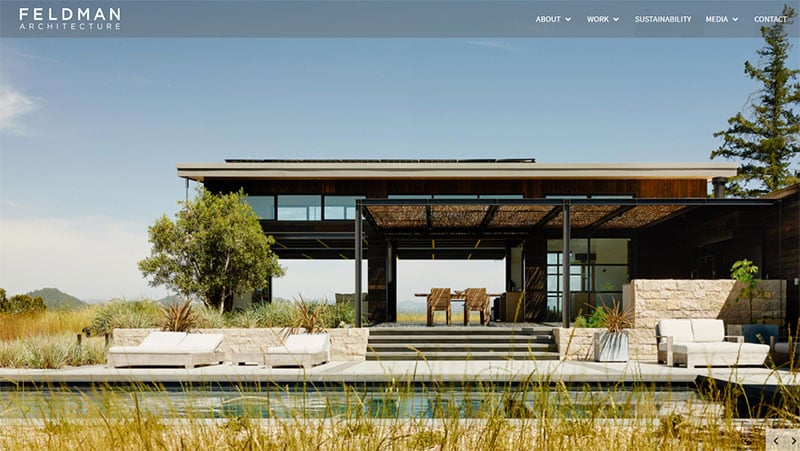 This layout is ideal for an architecture portfolio website with more reading content. The high-resolution, attractive images on the homepage make an impactful first impression.
This architecture portfolio website has a condensed menu that expands when hovered over.
Germaine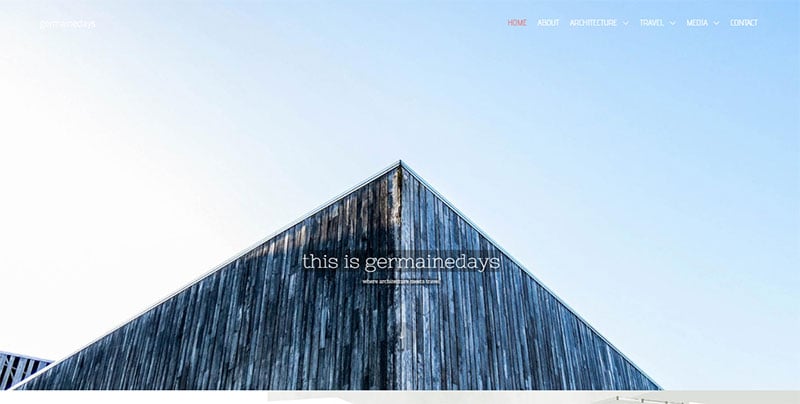 Germaine's portfolio website reveals that she has the heart of an architect and a traveler.
The home page has large images with small text to serve as the photo's caption. Each image links to different websites, leading visitors to the successful project pages.
Nicholas Gurney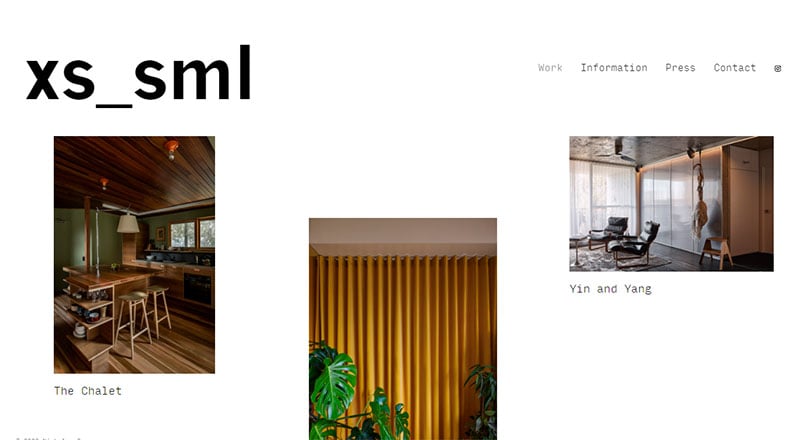 Nicholas's design is more focused on minimalism. His minimalist interior designs reflect in his architecture portfolio.
The website has a grid overview allowing visitors to preview the projects. By clicking on a gallery image, visitors can discover all the essential details.
gnb–architects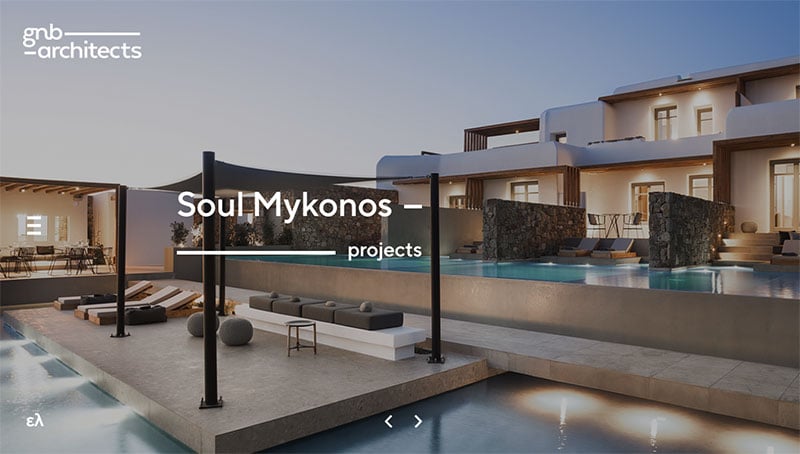 This is the website for the architectural practice gnb–architects. Gnb's location is in Athens, Greece.
Norm Architects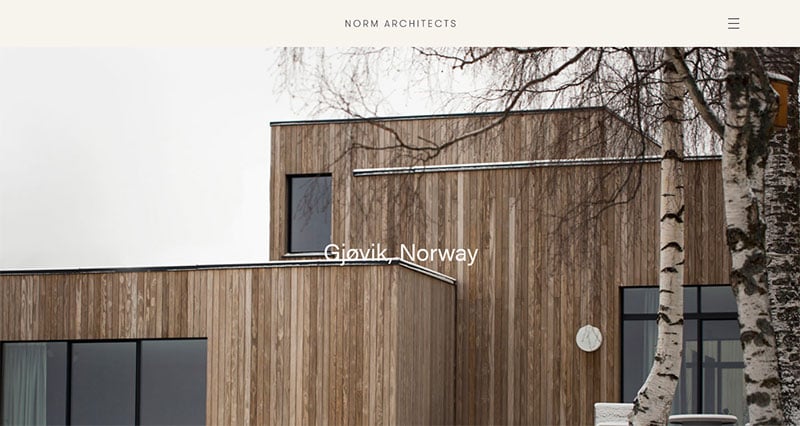 The creator of this website is the UX designer, Denis Stekhin. Norm Architects have a wide range of projects to serve as their portfolio.
Norm's website highlights their skills. Layered photos and different image dimensions enhance the website's minimal appearance.
Basic Agency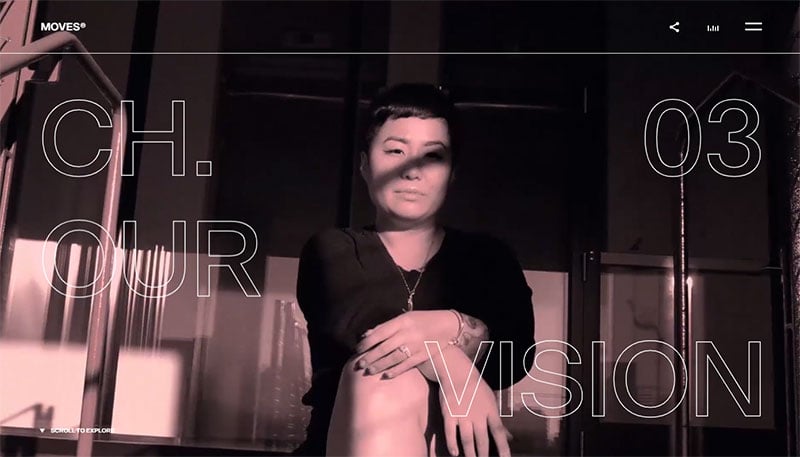 This website is well-created by professionals. It presents the projects they completed together as a team.
One of the featured works is their new office, where they put forth all their effort to reach their goal.
Lemaire Longeval Architects
This is a Belgium-based firm. Their website has a vertical layout to present the projects to visitors.
Centric Architecture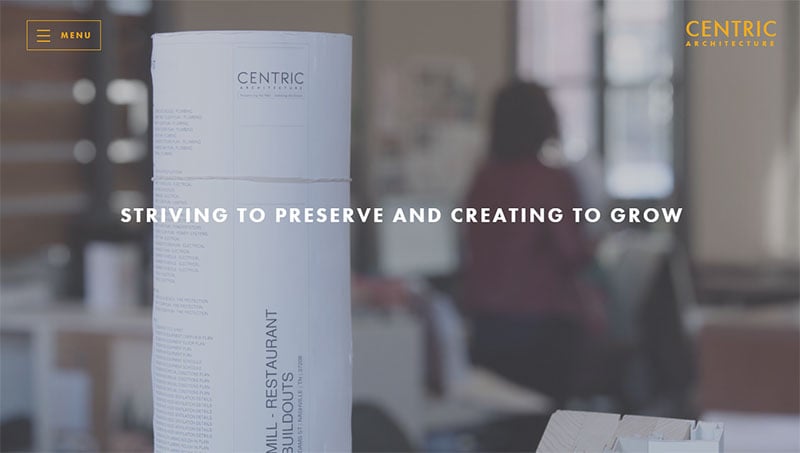 Centric is a small architecture firm in Nashville with a great contribution to designing the past and future.
ZIKZAK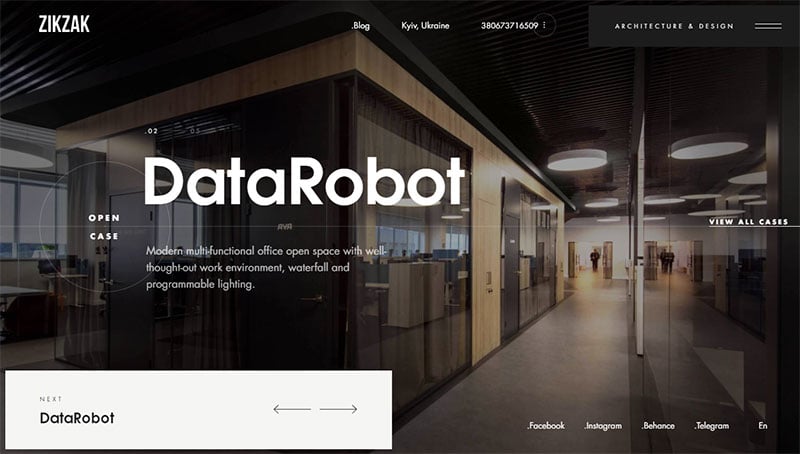 The core features of this website are the minimalism, lightness, and comfort it gives to the users.
Tomecek Studio Architecture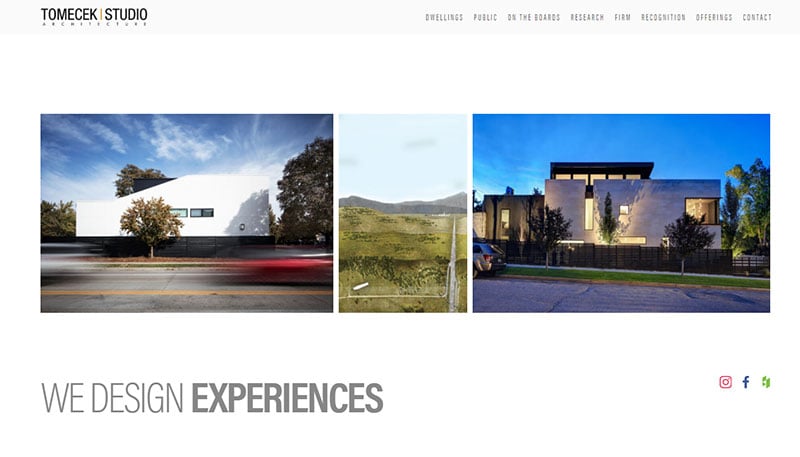 Tomecek has a simple and minimalist design. Their team focuses on innovation and contemporary design.
It has a clean background and a comprehensive menu to keep visitors engaged.
AIMM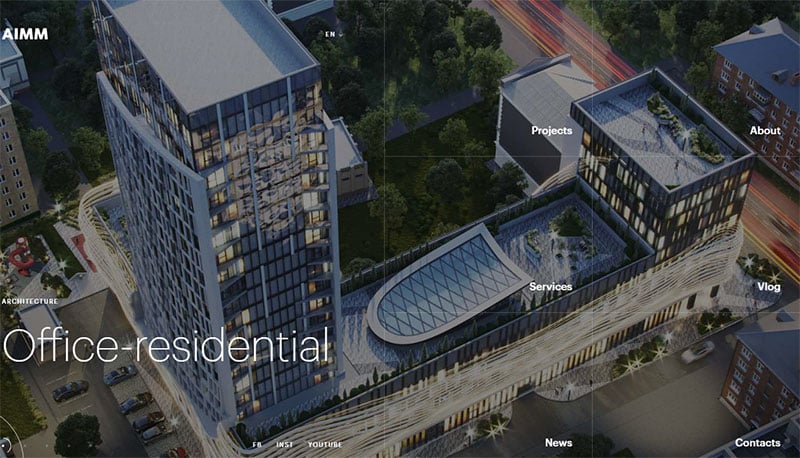 This is a Ukraine-based cooperative site for an architectural company.
Kanstantsin Remez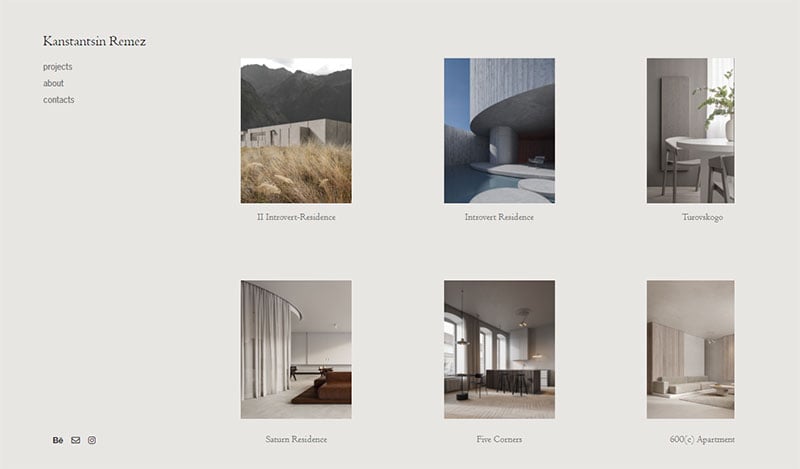 This architecture portfolio website presents Kanstantsin's skills as a professional. The page has minimal web fonts on expansive layouts, with full-color photography on the side.
Arkitekthanneforsund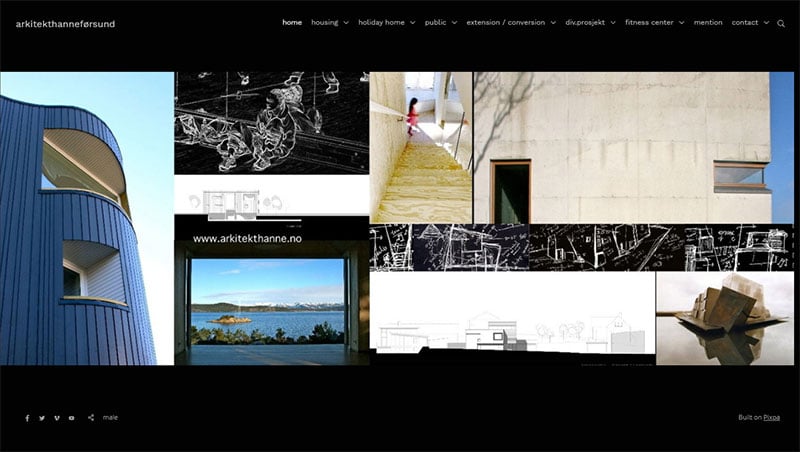 The plain and black background is a perfect design to display portfolios. The homepage utilizes a horizontal layout with arrows.
In the menu, several categories lead to the project gallery. This type of workflow encourages visitors to focus on the main highlight.
Homecult
Ukrainian-based Homecult uses the "hygge" principles to create their website. The core features of hygge are simplicity, harmony, and beauty, and coziness between the soul, body, mind.
Whenever they earn projects, they use this principle for a higher chance of success. Their values are the beauty in simplicity and practicality.
Oh Planning Architecture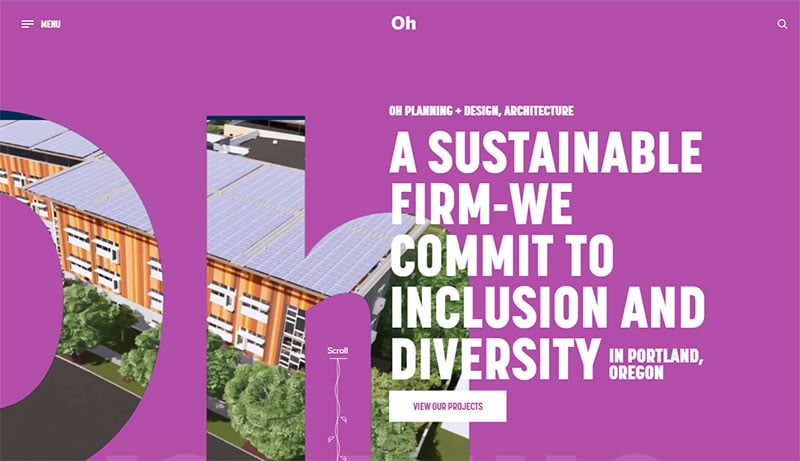 This is a website based in Portland, Oregon.
Erik Andersson Architects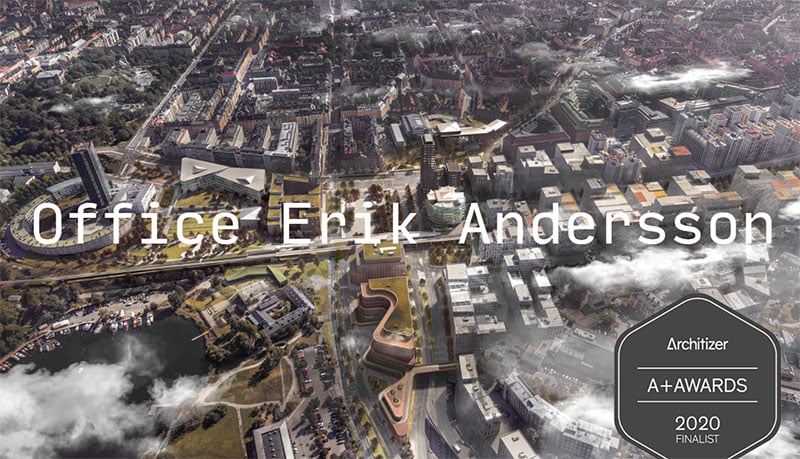 The Erik Andersson studio is a popular Swedish architecture firm. They have participated in various national competitions and won several international awards.
Their website has a user-friendly navigation system with a clean and minimalist design. This is an eye-catching portfolio that shows their skills and talents as architects.
Thompson Naylor Architects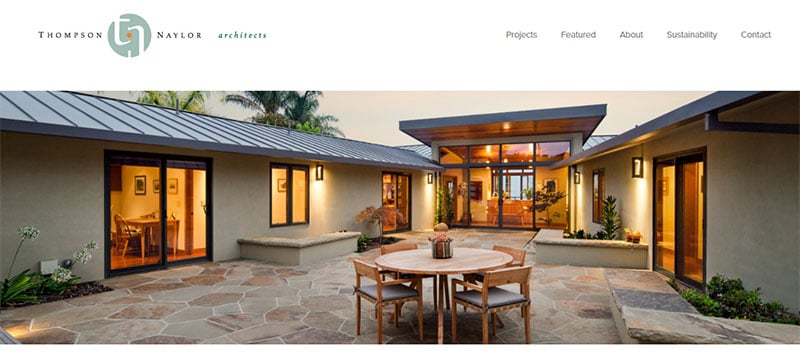 This architecture portfolio website has the wow factor. It is inviting to visitors and potential clients.
This architecture firm's location is in Santa Barbara, California. Thompson Naylor's portfolio is impressive, with full details regarding completed projects.
Visitors can view projects according to their categories in the "Projects" section.
Ntchwaidumela Thomas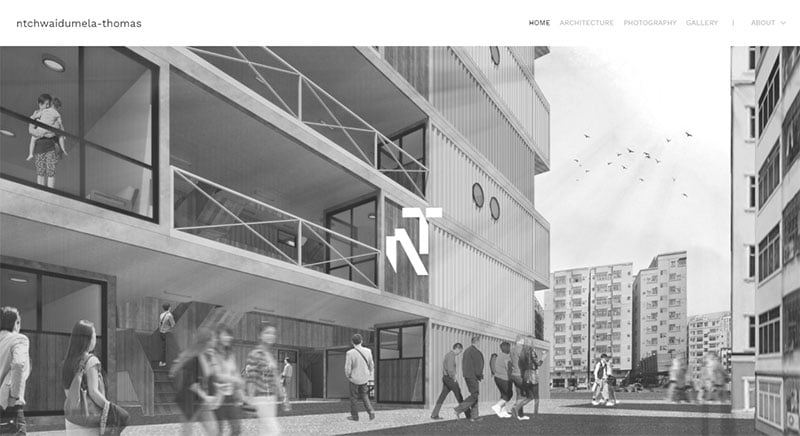 This website comes with two menus located side-by-side at the top of the page. It has a gray color theme that makes the images stand out.
The portfolio includes a biography and resume. These provide more information about the designer and his completed projects.
Makhno Architects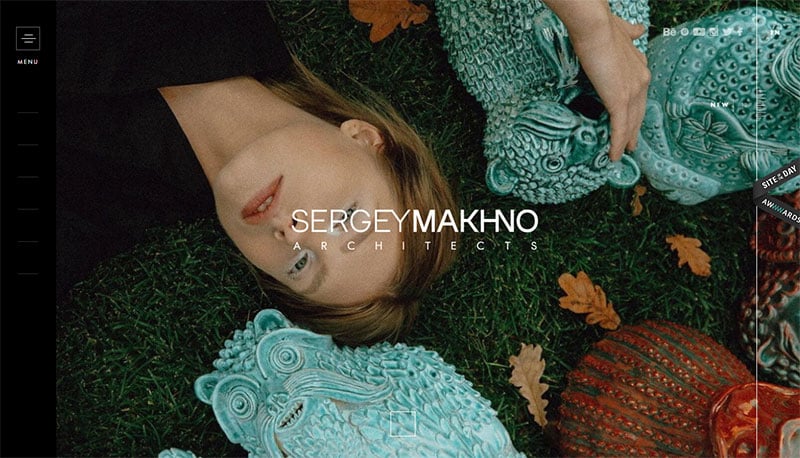 As an interior designer and architect, Sergey Makhno is part of the great evolution in design and architecture. He shares his knowledge and philosophy to give inspiration to people with the same vision as him.
His website shows his personality and skills in this field.
Janet Echelman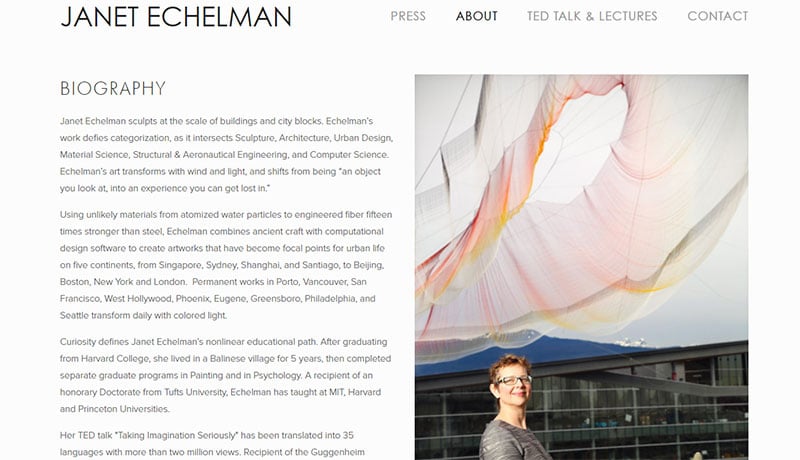 Here is another skilled architect who worked in different countries. She is the master of her craft.
She continues working beyond her limit to surpass the clients' expectations.
Loer Architecten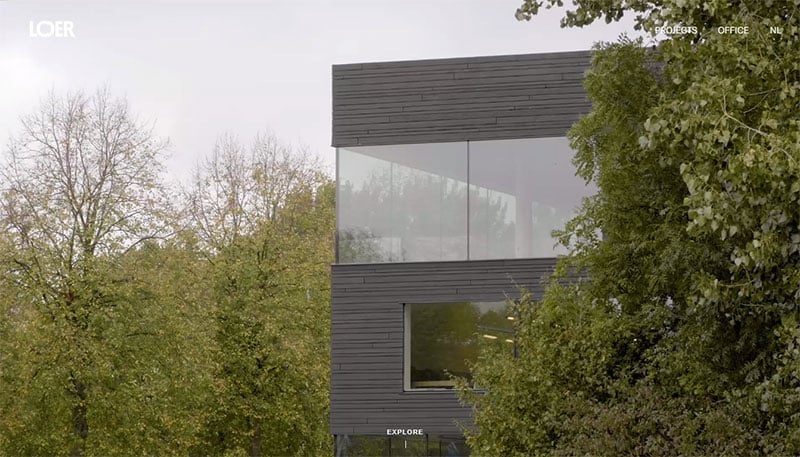 The strength and creativity of Loer Architecten show in their website's design and content. They have a unique architectural structure that makes visitors curious to learn more.
MAFCOHouse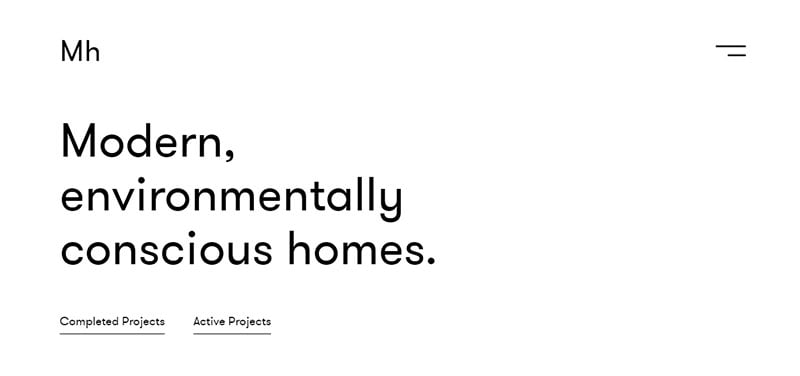 This website has a minimal layout while focusing on showcasing their projects. Their goal is to create modern and environmentally-conscious homes.
Amanda Martocchio Architecture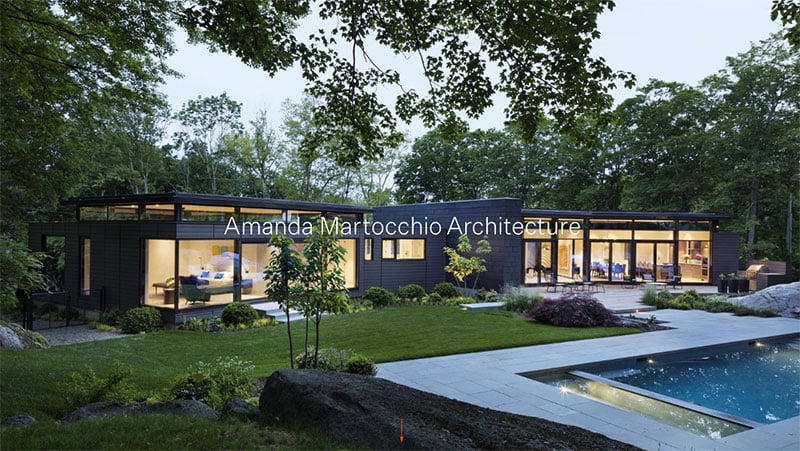 This firm focuses on designing an environment to enrich everybody's lives.
Powerhouse Company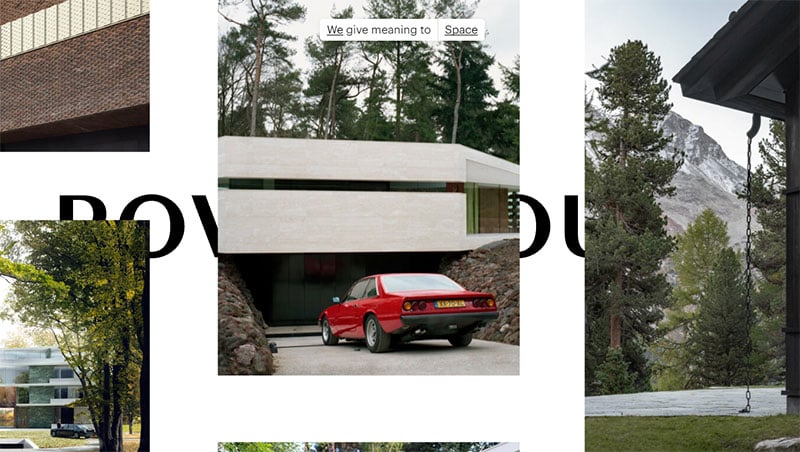 Powerhouse Is an award-winning firm based in Rotterdam, Netherlands. The portfolio is clean, impressive, and provides all the details that potential clients want.
Dirk Denison Architects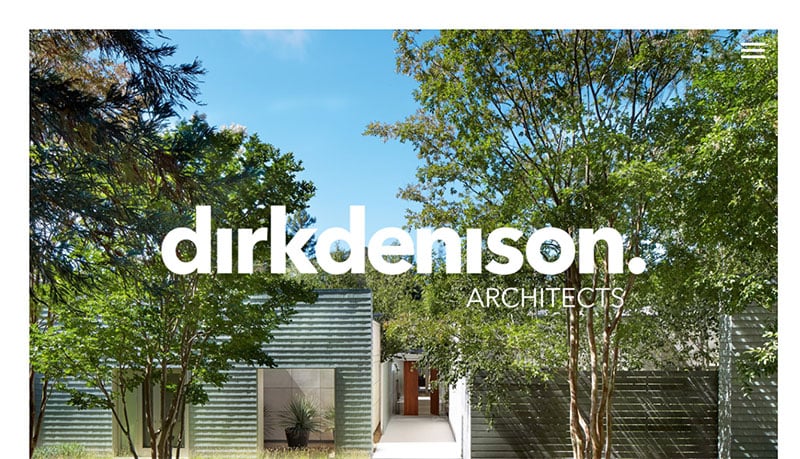 This is a Chicago-based architecture firm.
STUDIOS Architecture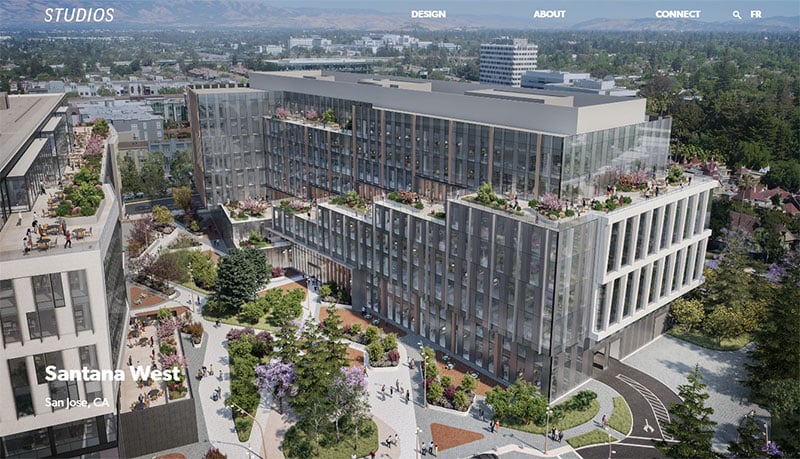 STUDIOS Architecture pushes the limits of what is and strives for what could be. Their portfolio website reflects their commendable architectural designs.
M-Rad Architecture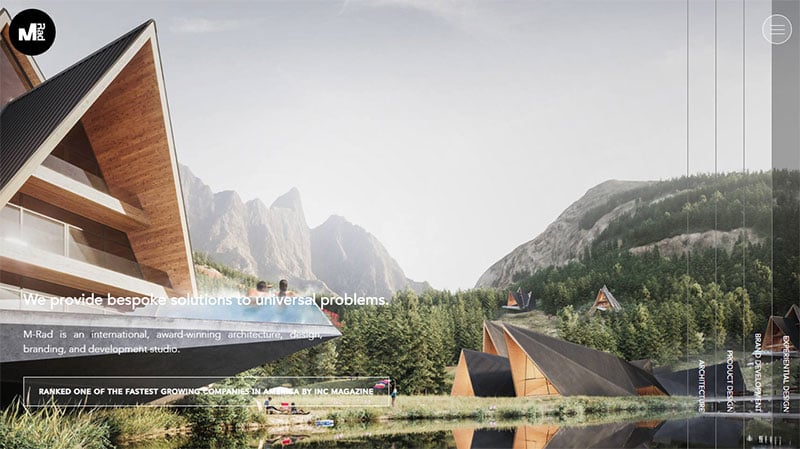 M-Rad is a firm with high-credibility in solving universal problems related to architecture. Their designs are award-winning, and the development studio shows their commitment to their work.
Asmobius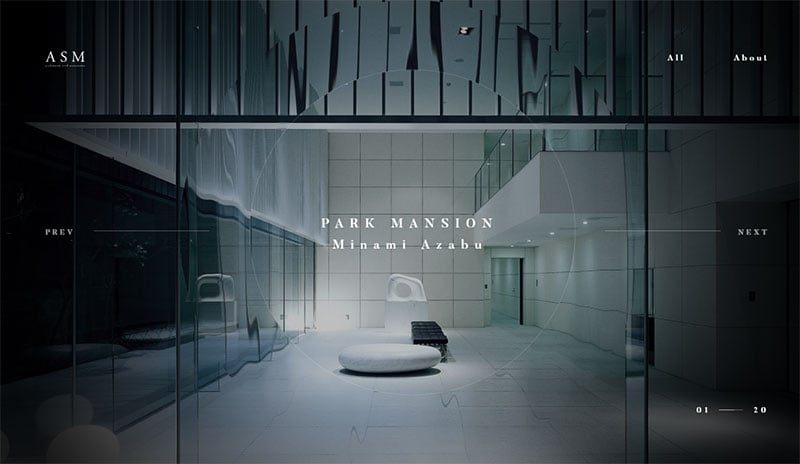 Here is an architectural firm specializing in Japanese designs. They focus on creating serene spaces.
All of the buildings they design are aesthetically pleasing and beautiful. Their techniques are sustainable, so the building stands firm even as time passes.
Offbox Architecture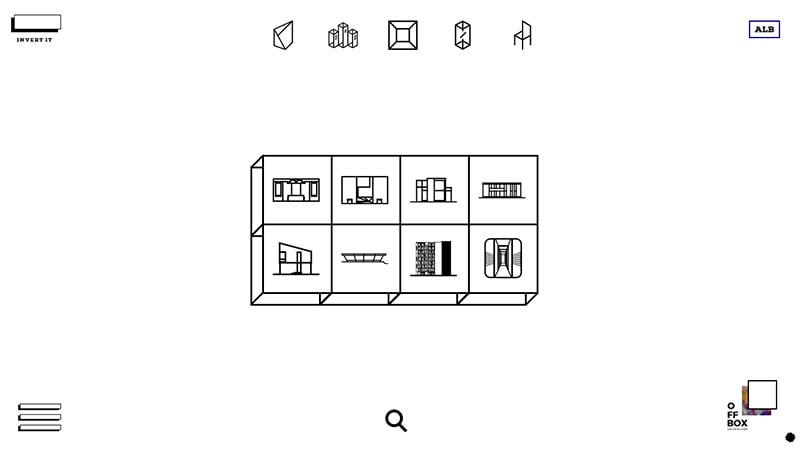 This architecture firm started in Kosovo. They provide various services related to interior design and architecture.
IXO Architecture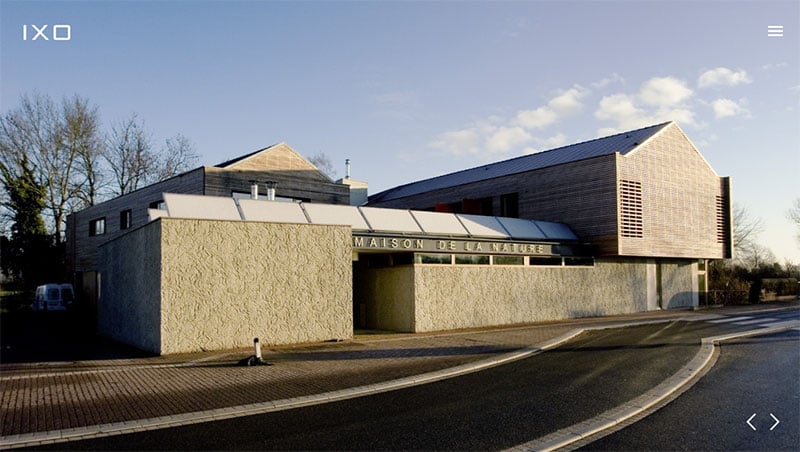 The creator of this website is the French architecture agency. It is a fully-responsive website with complete features and functionalities.
Catalyst Architects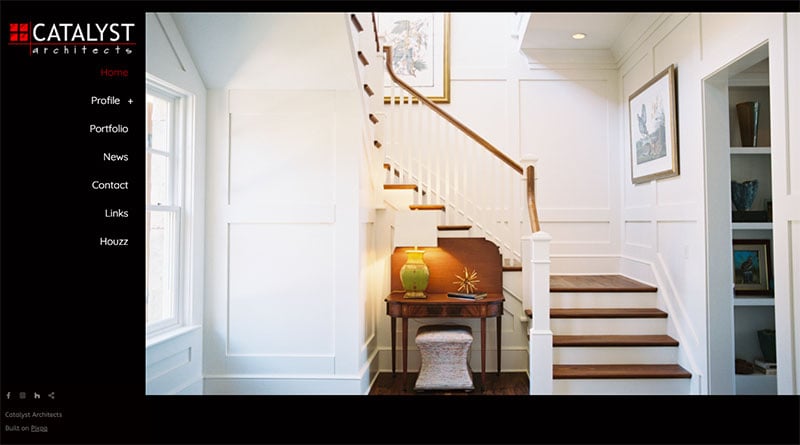 Catalyst uses square thumbnails to present their best projects. When clicked, the larger format appears mentioning the details about the project.
The user has the option to view the image full-screen. This portfolio page displays more than 200 images, including recently completed projects.
Ortiz Leon Architects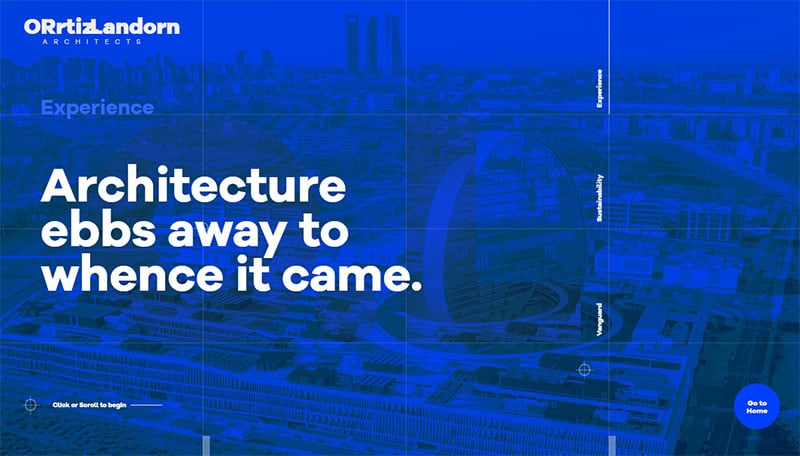 In Europe, Ortiz Leon Architects is one of the preeminent architecture firms. This talented team works with various clients, both in the public and private sectors.
They also offer programming and master planning services to their customers.
Blank Studio Design + Architecture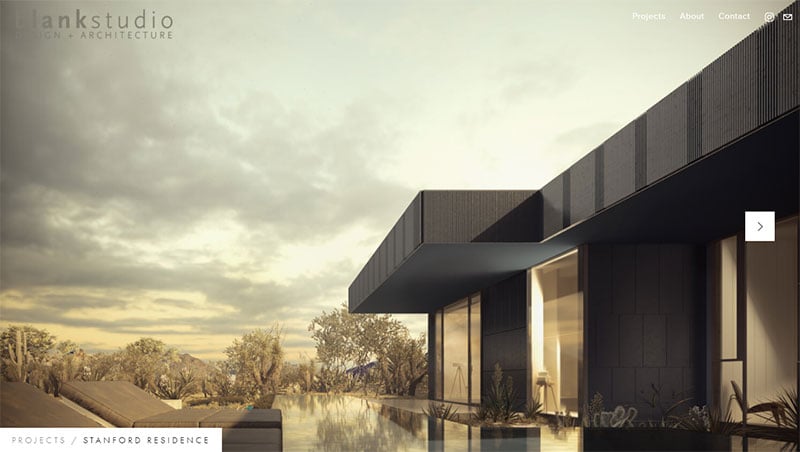 Blank Studio created this website to show how seriously they take their tasks and skills. Their website has a beautiful design that reflects their level of expertise.
One of their goals is to "eliminate superfluous and distracting components". This reflects in their website, using minimal designs and backgrounds.
DFDG Architecture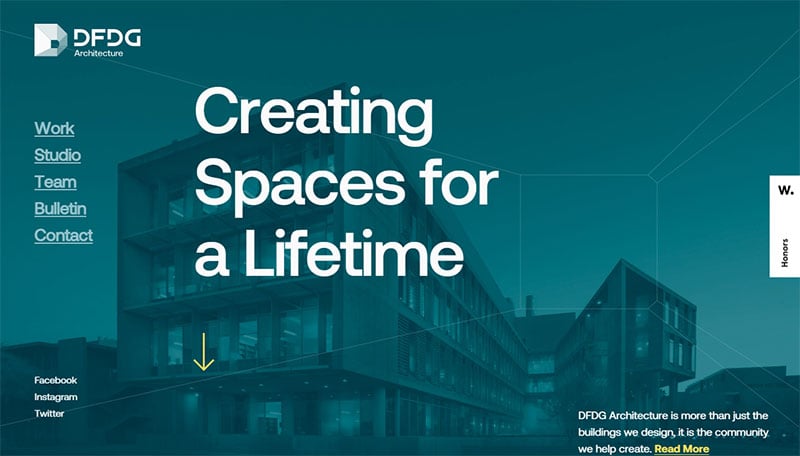 This is one of the main architecture firms of Arizona. This portfolio website provides visitors with an elevated web experience.
The creator of this website is AtticSalt, which specializes in brand identity systems.
Moon Safari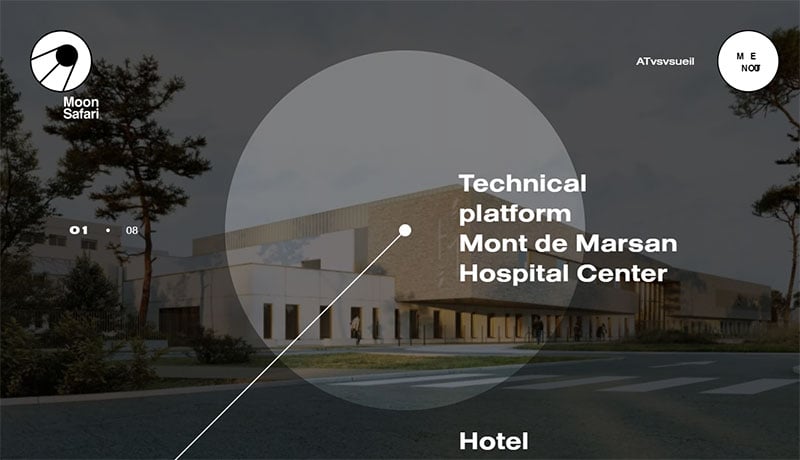 Moon Safari is a website specifically for urban buildings.
YOUSUPOVA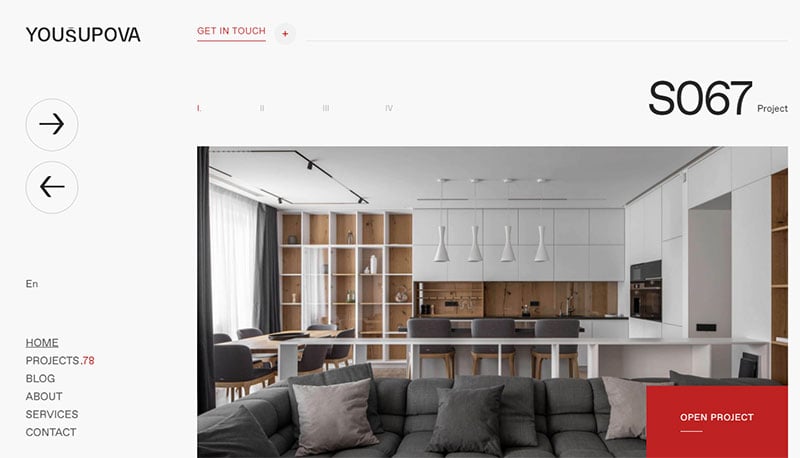 This website has the inspiration of You's design.
Archi-Graphi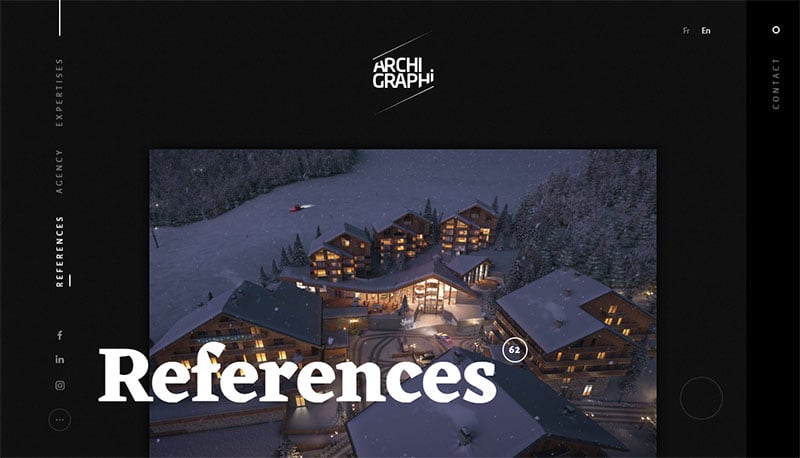 Archi-Graphi is not only involved with architectural development. They also focus on the communication process, catering to their client's needs.
The team ensures they are fully engaged with their clients. Yet without compromising the quality of their works.
ABCD Architecture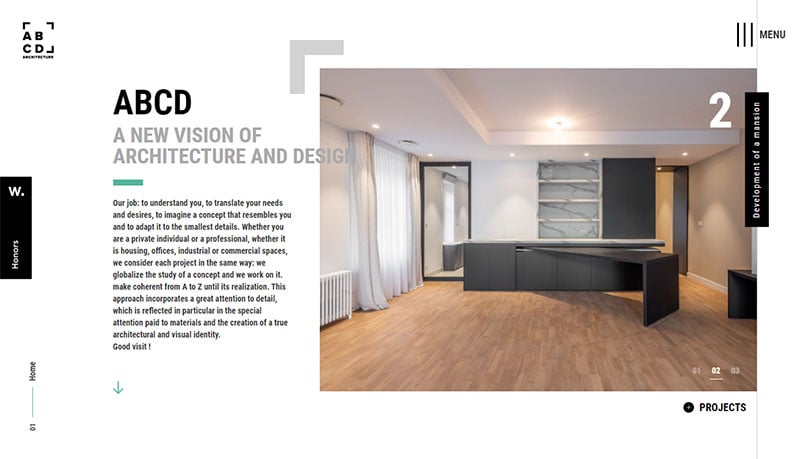 This a website with a new vision of design and architecture.
Nathalie Eldan Architecture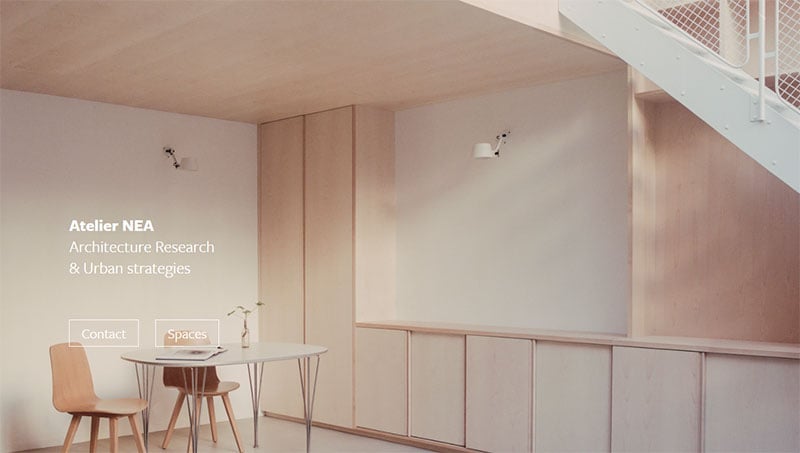 Nathalie established an internationally-focused studio named after her. She worked in several places, like Tokyo, Paris, and Jerusalem.
The highlight of her projects is the well-researched materials and publications. She has impeccable skills, with a great reputation for designing urban buildings, and city interventions.
Henning Larsen Architects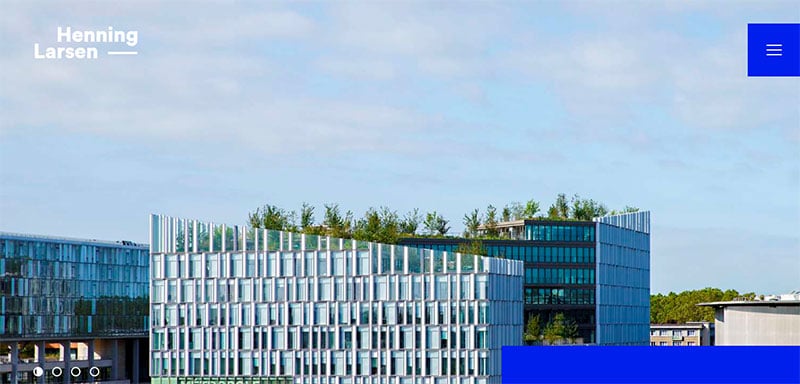 This portfolio website showcases a collection of hundreds of architectural projects. These tell visitors about his journey as an architect.
This website enables users to create and share their content and thoughts.
Patchwork Architecture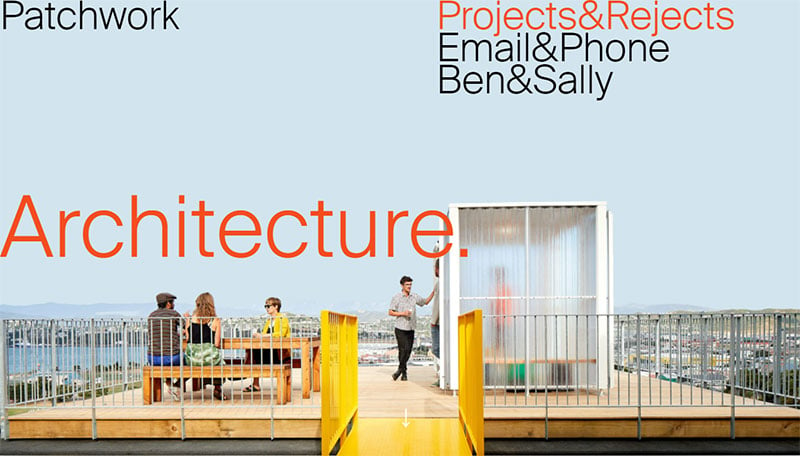 A firm based in Wellington, New Zealand. As seen on their page, their works are stunning.
This encourages more clients to use their service.
Made Studio for Architecture and Design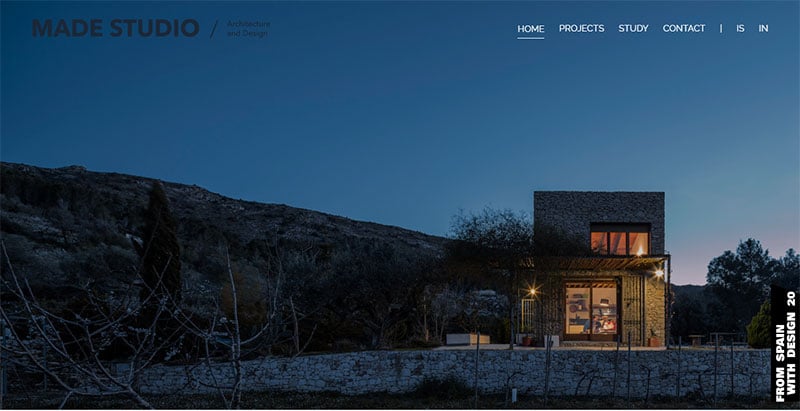 The firm that owns this website won the Red Dot Design Awards and the Delta Awards. In 2017 and 2018, they were part of the nominated company for the German Design Awards.
This website is for industrial design and architecture. The images are large and catch the attention of visitors and potential clients.
Their hard work and creativity reflect in their website.
Shape Studio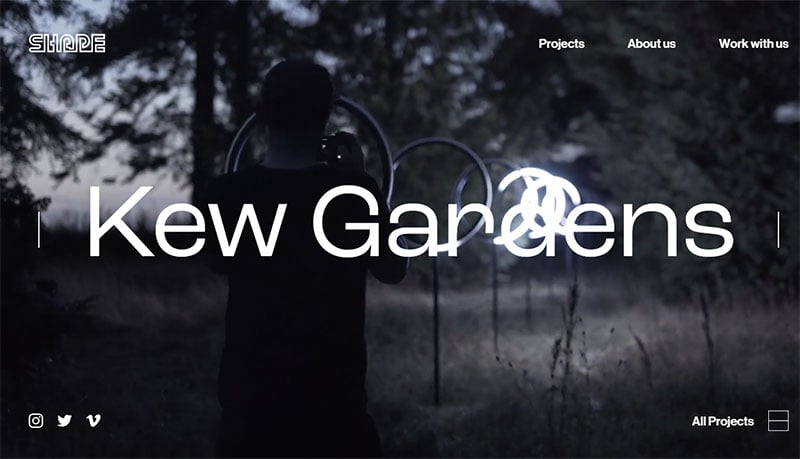 Shape Studio deals with commercial clients. These clients specialize in events, artworks, exhibitions, and interiors.
To sum it up, Shape Studio is a fabrication and specialist design studio.
Measured Architecture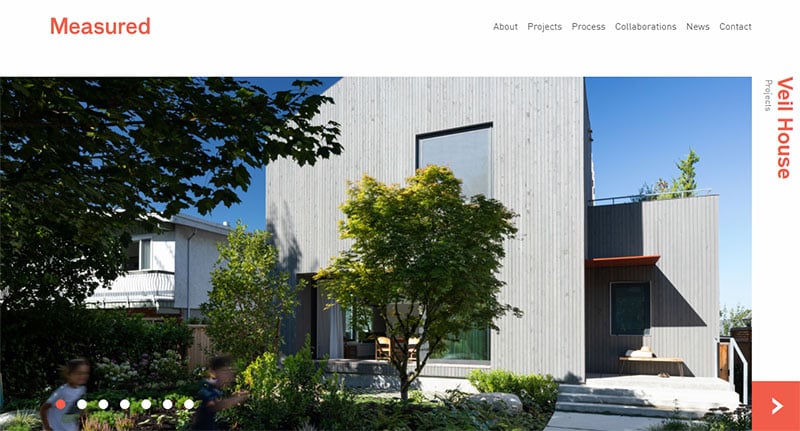 This website used the Today Studio for the design, and Glance Digital for the code. It is a 360-degree rebrand.
The overall page reflects the day-and-night job of this Vancouver-based architecture firm.
Mareines Architecture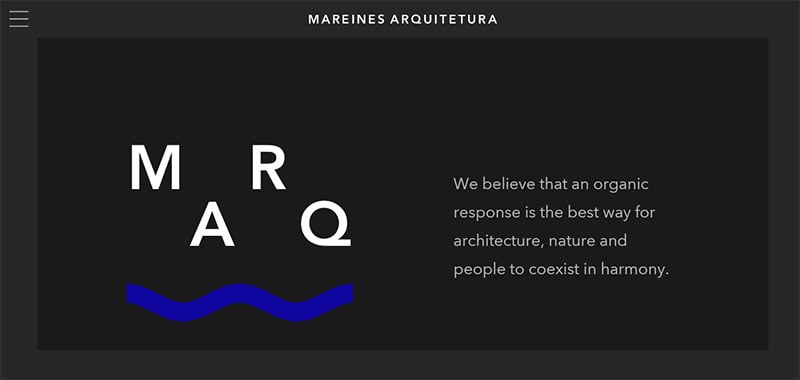 This website relies on a user-centric UX. The portfolio serves as the tool to solidify the journey and improve online presence.
Its minimal architecture entices more clients to this platform.
MLA Architecture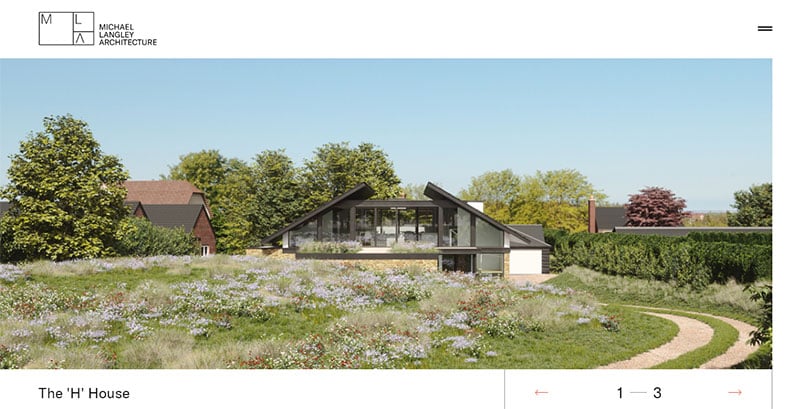 Here is another website that presents a minimal background and architectural practice. Through this website, they can improve their reputation and build credibility.
The Key Takeaways When You Create an Architecture Portfolio Website
Achieving next-level architectural skills is possible through a well-made portfolio website. Making that a priority will yield great returns.
Having an online portfolio can help to win more deals or earn more clients. Clients will visit a professionals' website to see what they can offer.
A one-to-one conversation can be time-consuming. This is especially so if there are lots of clients waiting for replies.
An architecture portfolio website can serve as the introduction. It tells clients about the profession, along with your history, experience, and background.
This article highlighted several excellent architecture portfolio websites. These will provide inspiration for those creating their own architecture portfolio website.
Take time to choose a style that best matches your vision, goals, and clientele.
If you enjoyed reading this article about architecture portfolio website examples, you should read these as well:
---
Great Looking Architecture Portfolio Website Examples