Having an attractive and functioning website is vital for every business. Businesses in the gastronomy industry in particular need a professional web presence.
Bars and restaurants require a reliable website that's easy to find. It must be informative and should include useful features.
Restaurant managers must be able to take orders, make reservations, and provide good customer service.
With a stylish restaurant website template, businesses can showcase their dishes and desserts. They can also reach new customers with the right SEO strategy.
When choosing a restaurant website template, there are two other aspects to consider. Its ease of use and the features it offers.
Business owners must decide what features they need. Then, they must find a template in which these features are easy to implement.
There is no point in having a stunning website that will take most of one's time to manage.
This article presents a guide to finding the right restaurant website template. This list includes different options to create an impressive restaurant website.
Le Chef Restaurant Website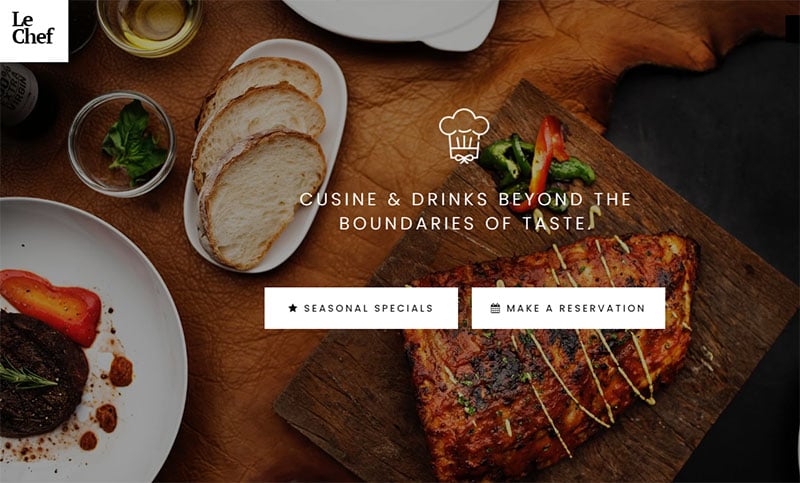 Le Chef is a clean restaurant template. Restaurant managers can showcase beautiful presentation pictures.
The home page also supports an online menu. Users have the possibility to mark vegetarian and gluten-free options.
Bar / Restaurant Website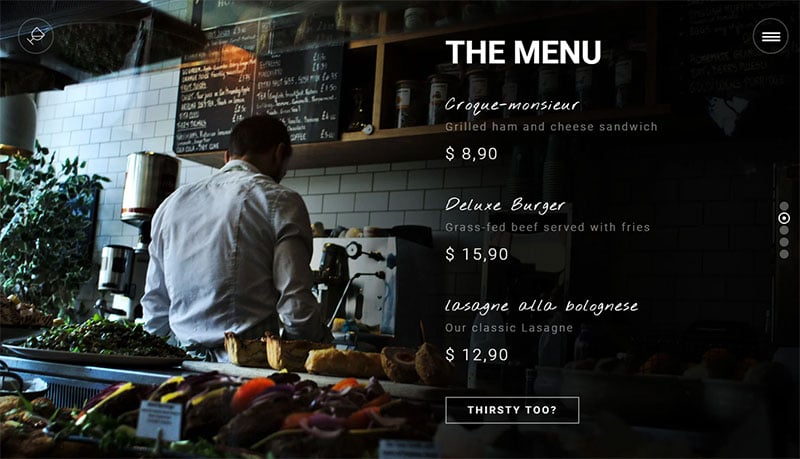 This is one of the most responsive restaurant website templates. It offers an elegant design that is perfect for bars and restaurants.
Its attractive animation effects will catch the eye of potential customers.
Restaurant Menu Slider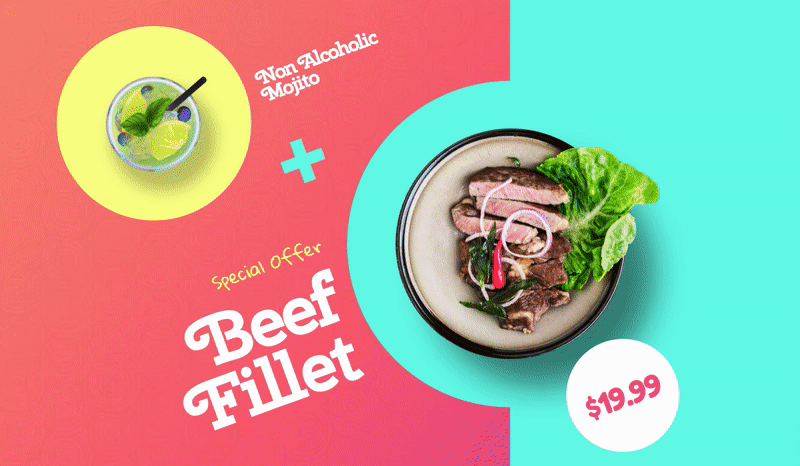 Restabook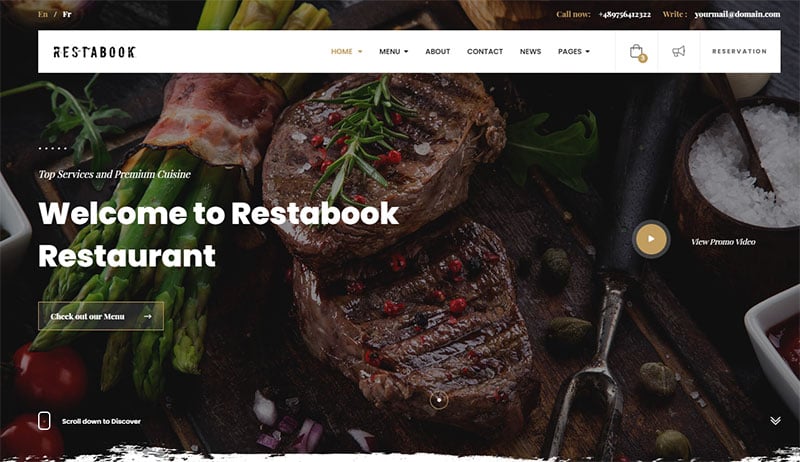 Restabook is a responsive restaurant HTML template. Its style is elegant with a modern touch and it comes with a variety of features.
There are five home page styles available and users can choose between a dark and light version. This WordPress theme comes with powerful parallax effects, three menu pages, and a reservation form.
Restabook gives a unique feel to any website thanks to its background video options. These are compatible with YouTube, Vimeo, and Hosted.
It is also compatible with all browsers. This template provides a comprehensive website for both managers and clients.
Pearl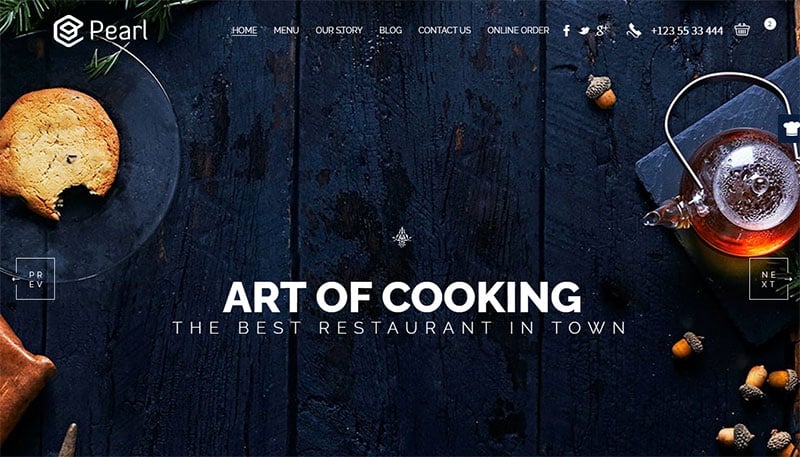 Pearl is a full restaurant website template. It adapts well to different options thanks to its various features.
Designed for restaurants and hotels, it has 2 layouts and a functional booking table. Its retina-ready technology and responsiveness offer clients the best user experience.
Zaga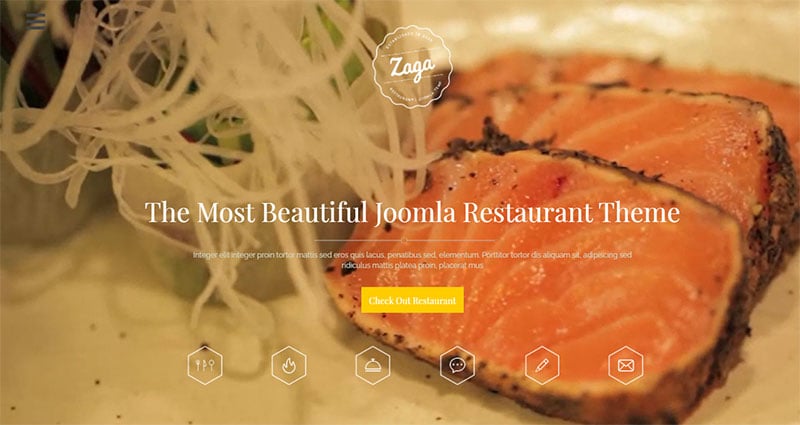 The best restaurant website templates offer stunning design and a fast platform. It's pointless to have a powerful design that the WordPress theme can't load.
With Zaga there is no need to compromise. Its homepage features a dynamic slideshow on a video background that loads fast.
Visitors will enjoy Zaga's one-page layout, impressive animation effects, and smooth navigation.
Its vertical scrolling page features the restaurant's main information. This includes About Us, Menus, Testimonials, Contact, Blog, and Special Dishes.
YT Framework 3 is integrated with Zaga's restaurant template.
DiFood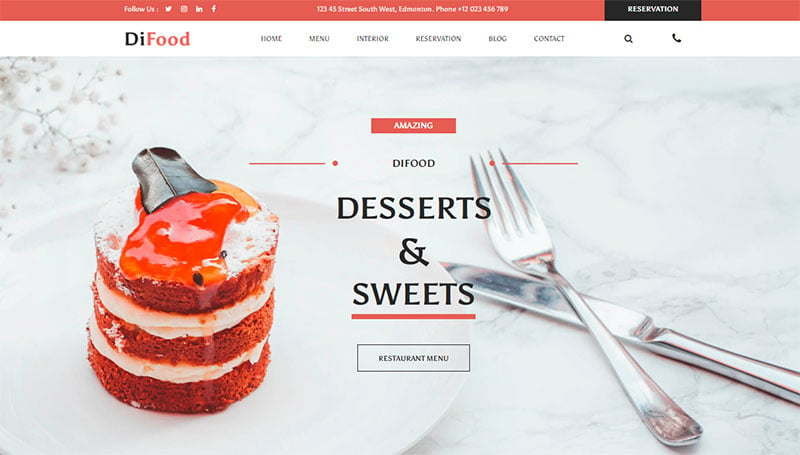 DiFood is an HTML template that helps to create responsive websites. Users can build single-page sites for culinary portals, restaurants, cafes, and more.
It includes reservation forms, menu tabs, menu grids, Google Fonts, and Google maps. Web designers can customize their pages by changing the colors with one click.
It integrates seamlessly with all the restaurant-specific functions. This includes a photo gallery, callback order, reservation system, and a map.
DiFood is cross-browser compatible for a better user experience.
Tastyc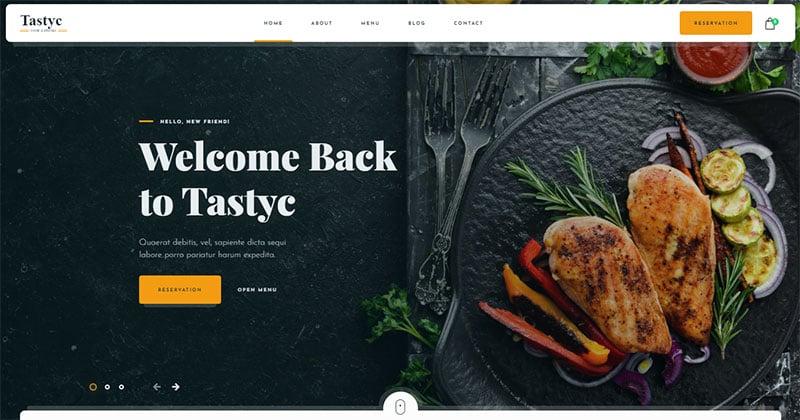 With its modern and minimal design, Tastyc makes the perfect restaurant website template.
It's ideal for any food-related business. For example, catering services, bars, cafes, restaurants, food delivery, and bakeries.
It includes attractive animation effects, customer support, and smooth page transitions. It's responsive and Bootstrap 4-based.
Built on a lightweight WordPress theme, Tastyc is fast loading and easy to customize.
Gourmet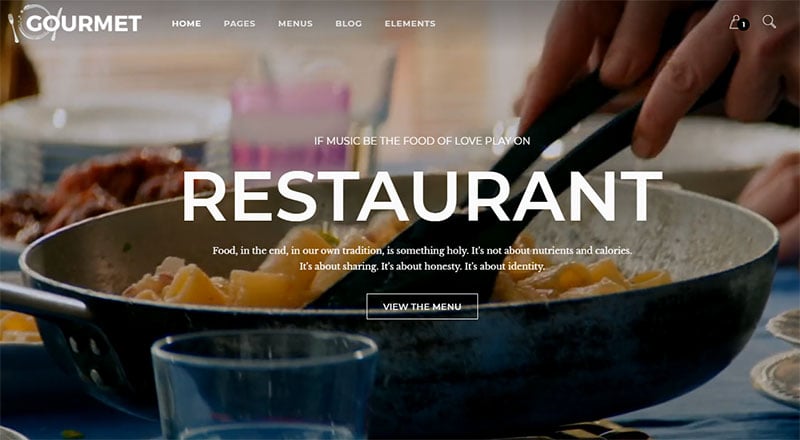 This HTML template includes seven types of food menus. It provides 10 ready-made home pages for easy setup.
Its minimalistic design fits well with all types of food businesses. This includes bistros, pubs, cafes, and restaurants.
Gourmet is one of the best restaurant website templates and is fully responsive.
Hungry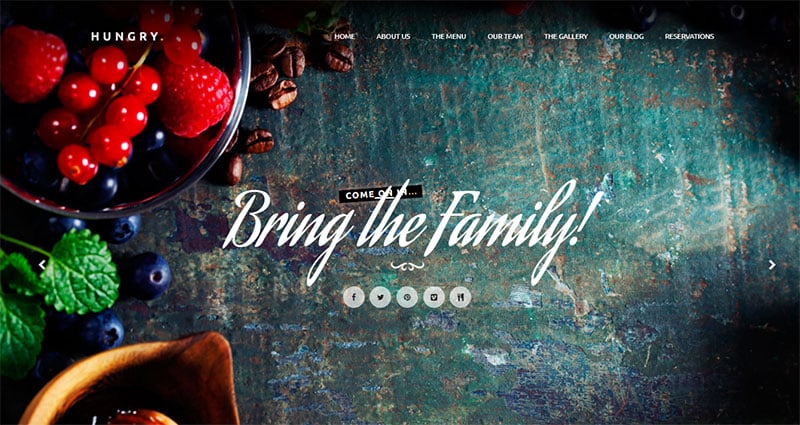 Hungry is a one-page responsive template with a stunning design. It includes a background slider, a nice-looking menu, and parallax scrolling effects.
It stands out from other restaurant templates thanks to its customizable reservation form. It allows clients to select a specific date and time for their bookings.
To make a booking, they must enter contact information such as phone number and email address. Then, restaurant managers receive this information in a clean format.
This reservation form is easy to implement and aids the smooth running of the restaurant.
Owl
This HTML restaurant template allows designers to create an elegant yet simple website. It works for both businesses and solo chefs.
Thanks to its clean code, Owl creates high-performing websites.
To make the design tasks easier, this website template includes pre-made pages. Designers can choose from 2 blog pages, 2 event pages, and 5 home pages.
Based on Bootstrap 3, this is one of the most reliable restaurant HTML templates.
Dine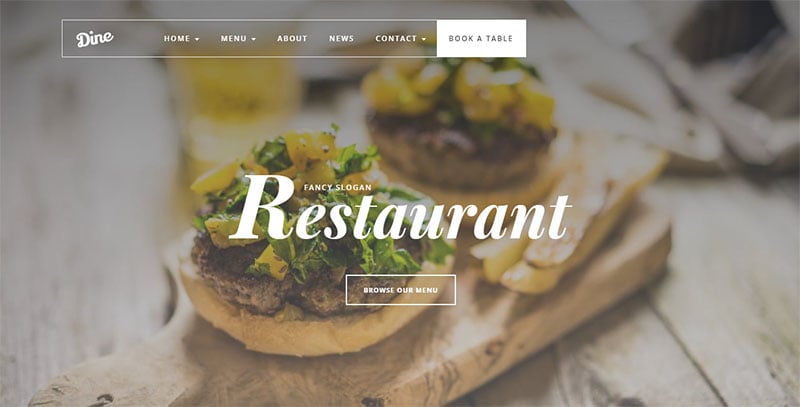 Dine is the perfect option for those who want a customizable restaurant website. This is a responsive template based on Bootstrap with HTML5/CSS3 included.
It's particularly designed for coffee shops and restaurants. Dine adapts to modern times and works well on different screens and devices.
La Capelette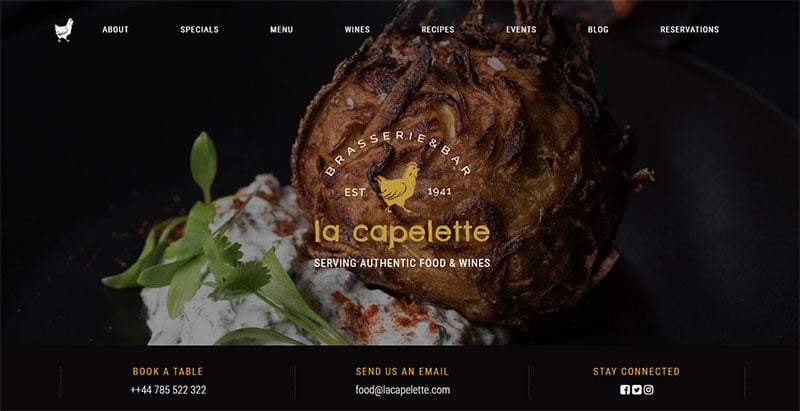 La Capelete also adapts well to different devices. Its design imitates the small cafes and restaurants in France.
Customers will feel like they are walking through a picturesque French village. They will picture the small-town restaurant that offers delicious French cuisine.
Along with its unique style, La Capelette is mobile-friendly and easy to customize. Its code is well documented for higher safety.
Fastresto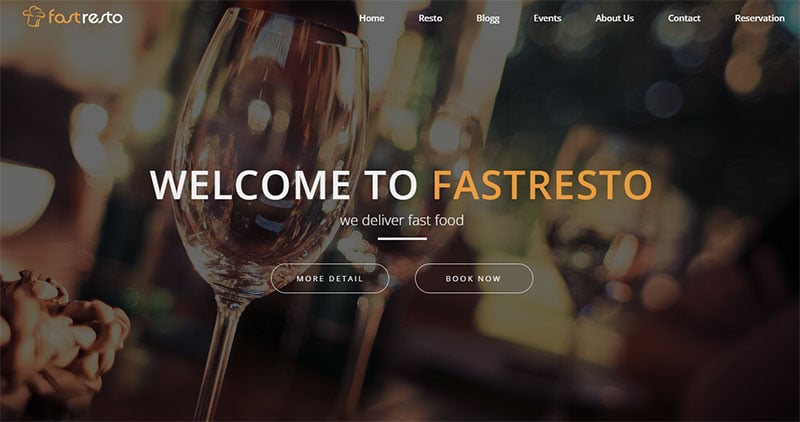 Fastresto is the perfect website template for businesses that need a booking feature. This includes restaurants, hotels, cafes, and travel services.
This is one of the restaurant website templates that adapt to any screen. It's built on Bootstrap and uses HTML5 and CSS3.
Fastresto has a minimalistic design and attractive animation effects. This makes it one of the best restaurant HTML templates.
FoodBooz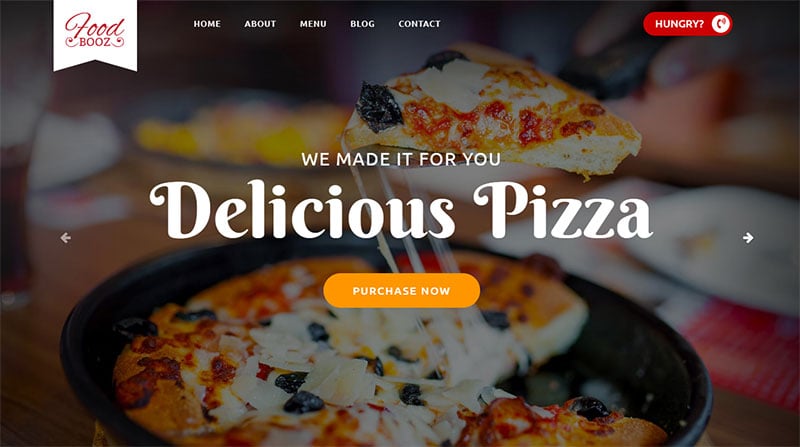 This template is ideal for any type of food-related website. It is suitable for vegan food, pizza, fruits, and food retailer businesses.
The Pro version starts at $11USD and comes with many features. Some of these include Ajax contact form, Google font, W3C compatibility, and a wide range of font icons.
This restaurant website template is based on the latest version of Bootstrap.
Restaura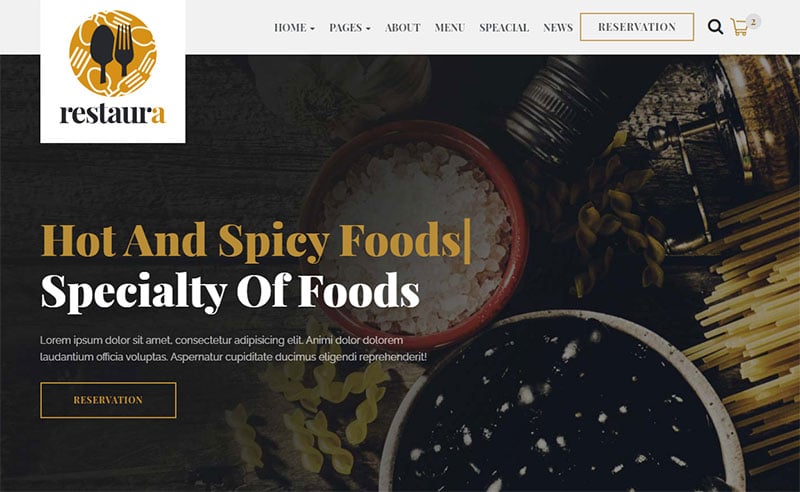 Restaura is a responsive website template for restaurants. It offers designers many pre-made options.
They can build their sites with any of the 13 homepage layouts. They also can use 11 different inner pages.
All these layouts benefit from a tasteful design.
This option includes everything one expects from a restaurant website template. Features include a grid system, HTML5 validation, CSS3 animations, and organized code.
With Bootstrap 6.3, Restaura is a responsive solution. Its modern layout will attract the customers' attention.
Khadok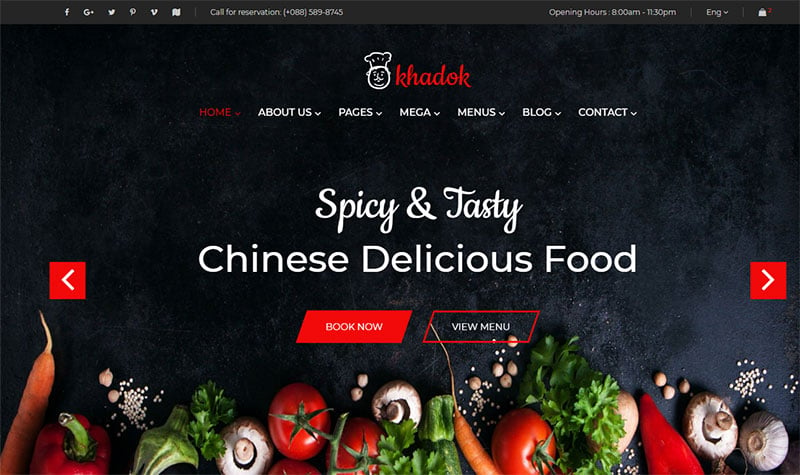 With Khadok restaurant template, web designers can build a site within minutes. The result will be a fully functioning website.
Not many restaurant website templates combine style and functionality as Khadok does. With this HTML template, restaurant websites have a pleasing design.
Many food-related features are also part of the deal.
Designers can install any of the three pre-made homepages with ease. For other pages, they can choose from 23 different templates.
Winta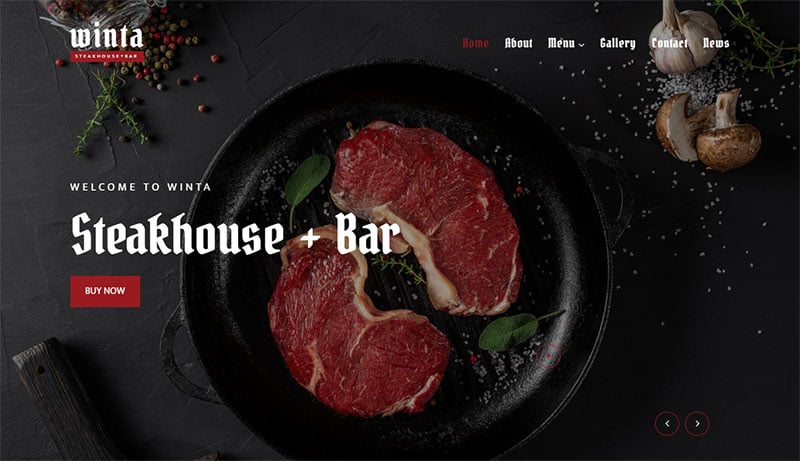 Many restaurant templates offer nice designs. Yet, Winta's minimalistic and clean layout stands out from its competitors.
Designed for wine restaurants and steakhouses, this restaurant website template has everything one might need.
Winta allows owners to display their products in an appealing way.
Food Lover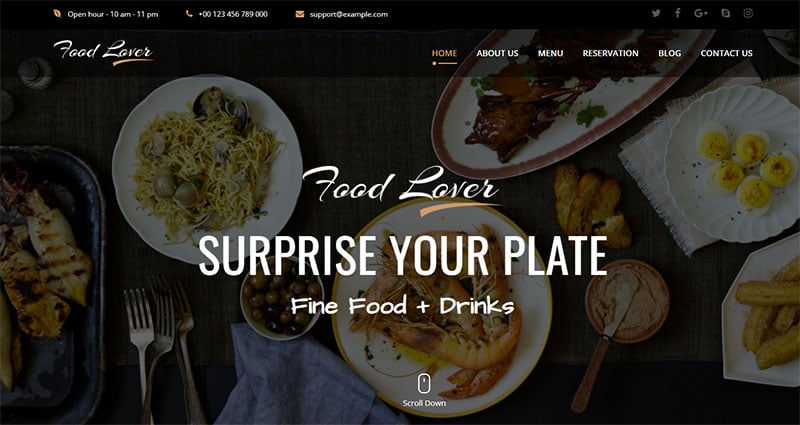 For those who enjoy fine dining, Food Lover will be very attractive. Its retina-ready technology allows users to display pictures in high quality.
Thanks to its user-friendly platform, beginners can build an impressive restaurant website.
Elixir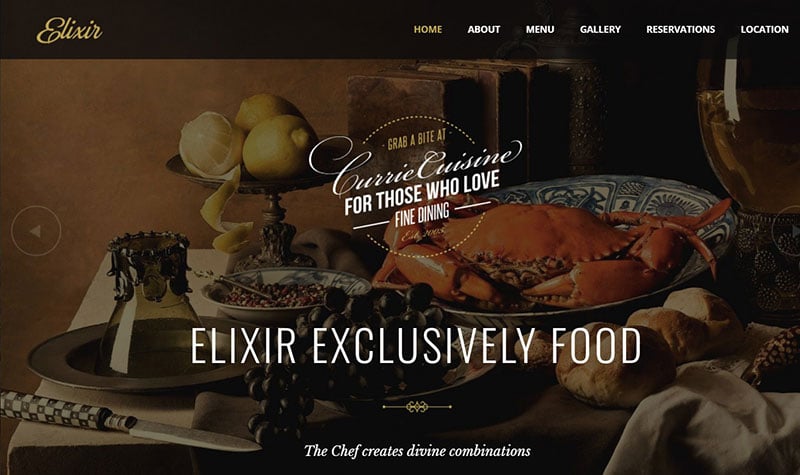 Any restaurant website needs a template like Elixir. This HTML template is based on the reliable Bootstrap 3 framework with HTML5/ CSS3.
It comes packed with four-page templates targeting specific niches. These are luxury restaurants, Italian food, American grill, and Asian delicatessen.
Fooday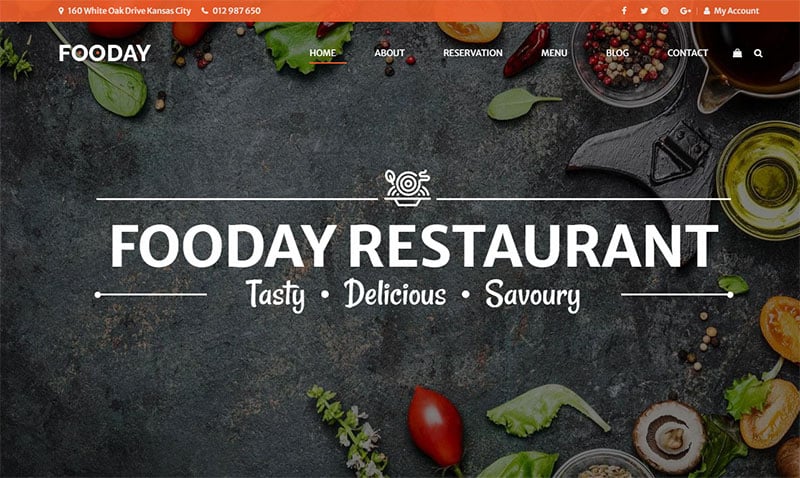 This template was specially created to build awesome restaurant websites. It includes the main features that any restaurant website template needs.
Its innovative design gives a fresh look to any webpage. Especially those that are food-related.
Fooday features 4 pre-built homepages, a modern restaurant menu, a large library, and plenty of inner pages.
It includes three headers, an image parallax, video background options, and a carousel. With Fooday, anyone can create a stunning website with little effort.
Frudbaz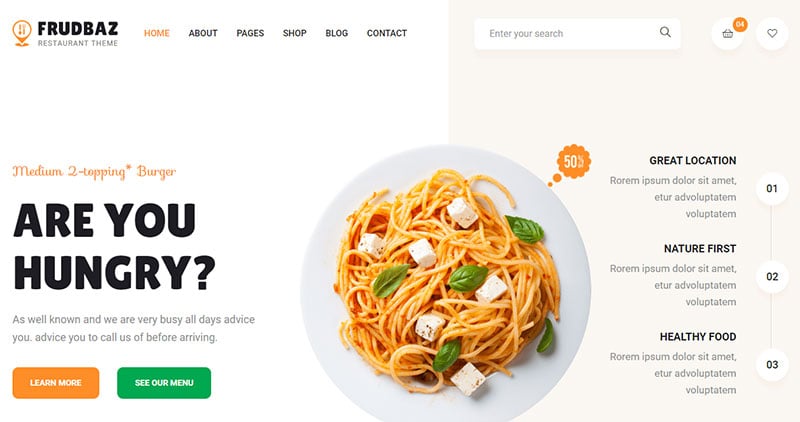 This restaurant website template is an excellent platform for managing bookings.
It has an advanced reservation option. This works well for restaurants, cafes, and hotels.
Not many restaurant website templates offer such a clean design as Frudbaz. It also includes 17 HTML files.
Restaurant and Catering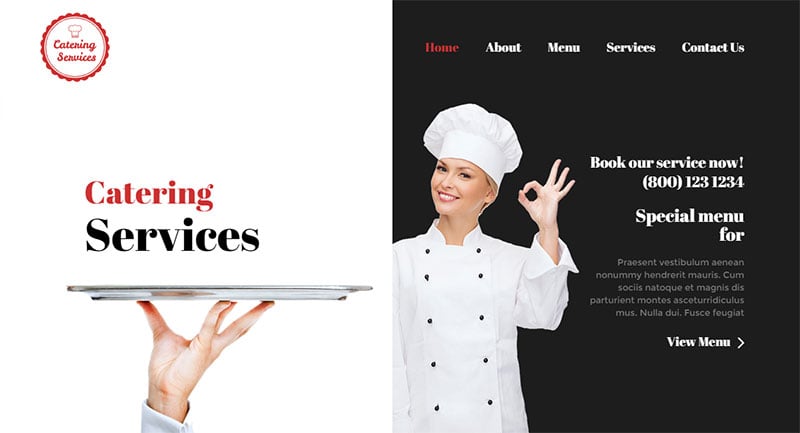 Last but not least, is Restaurant and Catering. This is a comprehensive solution for small restaurant businesses.
It comes packed with features to manage a food website.
The Catering homepage offers 6 different layouts. Created with the latest technology and design trends, it won't disappoint.
Final thoughts on the best restaurant website template options
When someone decides to run an online business, they need a strong online presence. A stunning website is an essential part of this.
Yet, business owners must consider what it takes to run such a business.
The perfect combination of a website, social media platforms, and marketing strategy can work wonders. Especially when it comes to selling products online.
But this takes time.
A restaurant website needs an attractive design, useful features, and a lightweight platform. This is hard to build but even harder to run.
Choosing a website template designed for one's business can help a great deal. Hence the recommendation of these restaurant website templates.
The stronger the foundation, the firmer the building. That's why choosing the right restaurant website template is such an important task.
Any of the options listed here will help business owners achieve their financial goals.
If you enjoyed reading this article on the restaurant website template, you should check out this one with illustrator portfolio website.
We also wrote about a few related subjects like non-profit website templates, church website templates, best WordPress sliders, WordPress logo slider plugins, slide menu examples, the most innovative and creative websites, video portfolio websites, the best graphic design portfolio examples, cool website header examples, one page website examples and photography portfolio examples.
Amazing Restaurant Website Template Examples for Your Site