The architectural industry is growing fast. There is a high demand for architects in the current market. Many architectural studios try to keep up with the competition by using new marketing strategies. One of the most effective marketing strategies is to run a powerful website.
If you are an architect, you have two simple options, build one yourself or get someone to do it for you.
Hiring a professional designer is expensive and making one yourself is difficult. On the upside, there are website templates that can help you make a professional website. Within a few days, you can have a complete site. The website templates contain all the design elements; you only need to customize them.
This article presents a selection of the best architecture website templates. They can inspire you and allow you to get started shortly.
One Page Architecture Website Template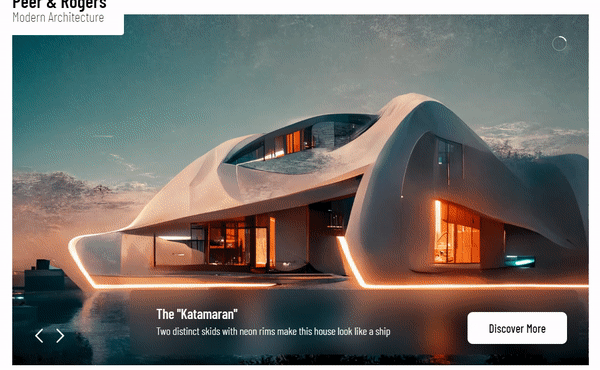 Smart Living One Pager V1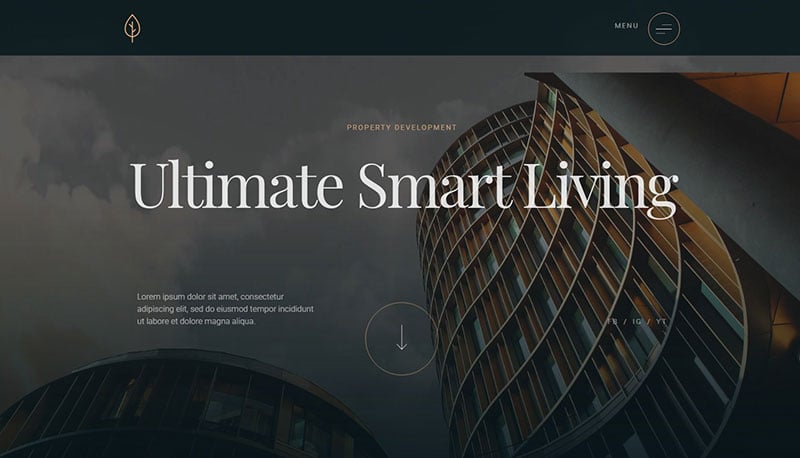 Mrittik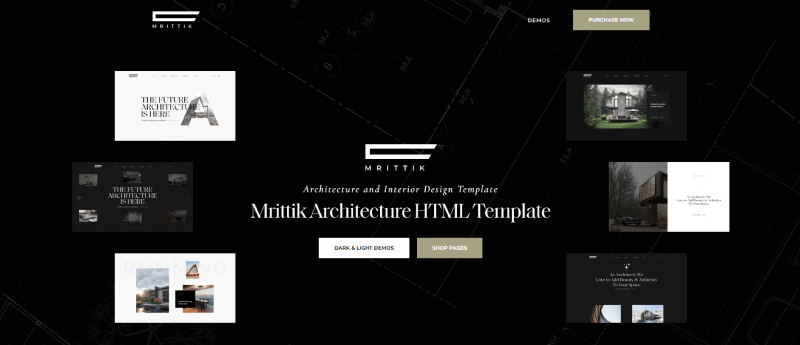 The first on the list of best architecture website templates is Mrittik. This HTML template is useful for architects as well as interior designers. A great application would be for an architecture portfolio or construction website.
The architecture template comes in a light and a dark version and has many options for displaying your projects. It has features for developing your e-commerce pages, which are great for taking your business online.
Smart Living One Pager-V2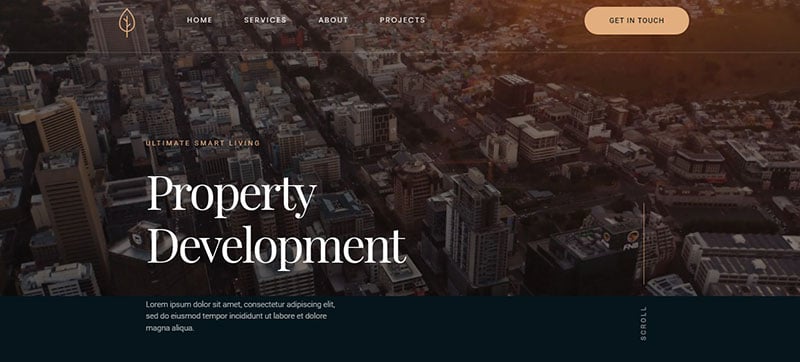 Theratio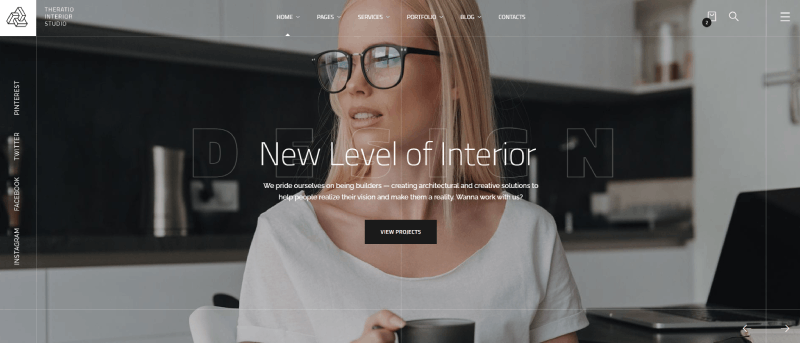 Theratio is an architecture website template with a modern and elegant look. It has all the features you need for your architecture business. It too has the option of using a light or a dark theme. After setting this option, you can still choose what color you want on your architecture portfolio website. Theratio includes six unique homepage layouts. Certainly, you will find something that matches your construction or architecture business' brand.
Inteshape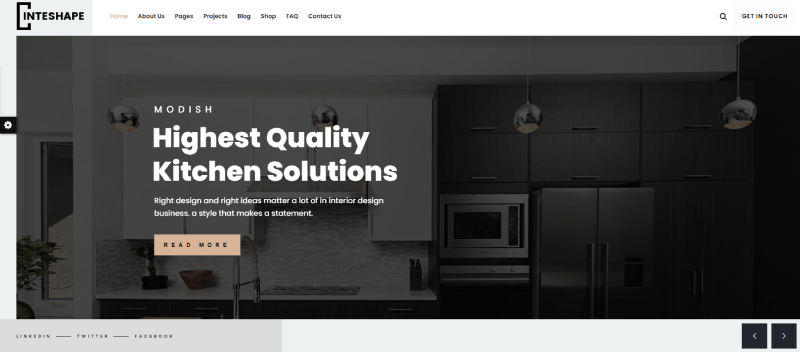 Inteshape is an option if you are looking for HTML5 architecture templates. Its style matches the needs of construction, interior, and architecture websites. The modern design agrees with the nature of these businesses. Your website will look great thanks to the template's responsiveness. Your customers will enjoy visiting it on their desktop computer or handheld device.
Reshape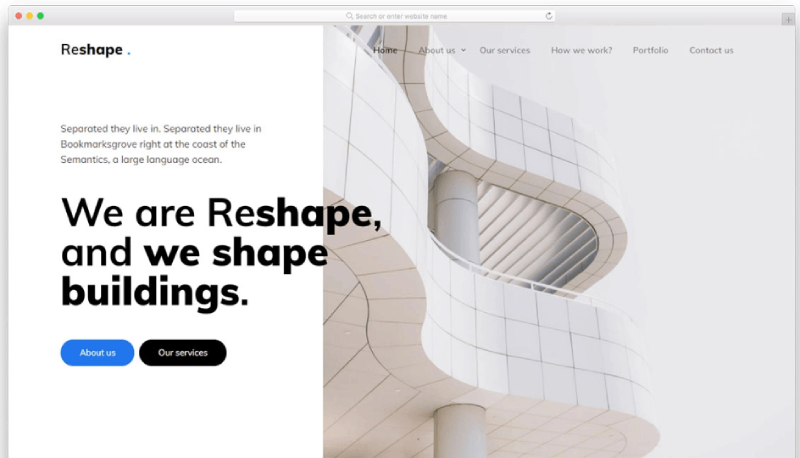 Reshape is an architecture website design template that will help your website to stand out from the competition. The great design will make your best project shine and sparkle. The designers guarantee that anyone visiting your website will love it.
Monolit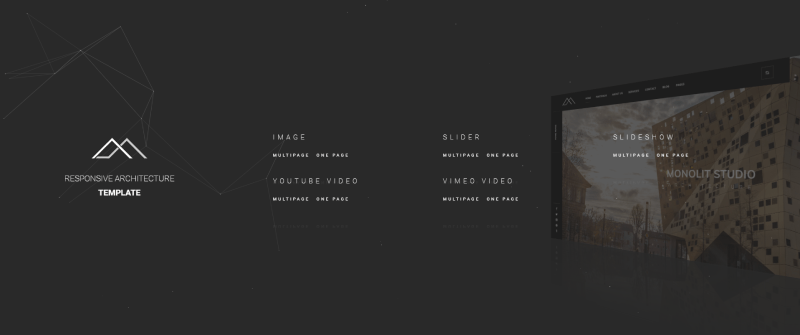 The Monolit page builder is responsive and creative. It is perfect if you are looking for a modern and clean template. Its features make it ideal for photographers, designers, and, of course, architects. Working with it is easy and the result is attractive and effective.
Dogma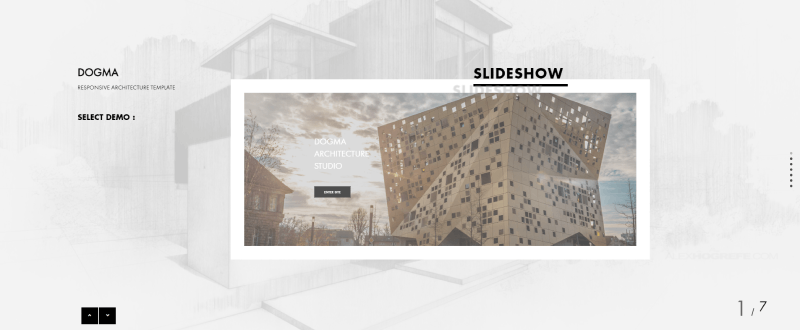 Slider, static, slideshow, and video are only some of the homepage layout options from which you can choose with Dogma. There are also 13 style options for portfolio pages. You can make backgrounds using full-width images or YouTube videos. Dogma includes some premium WordPress plugins, including Isotope.
Emarat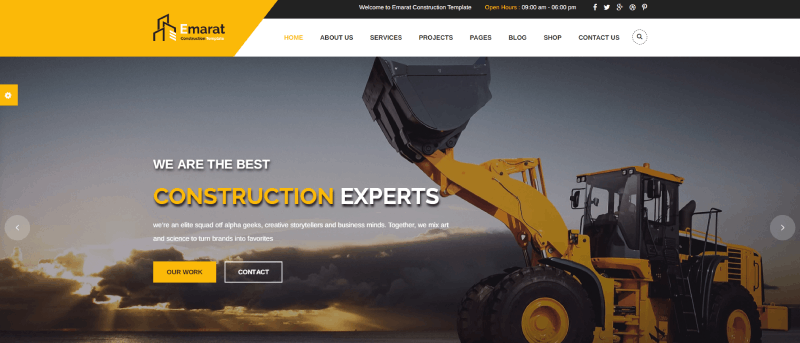 What you want to get from architecture templates is a website that builds your online presence. Emarat does that for your architecture business. It uses the latest Bootstrap version, which is the best framework for building mobile-friendly websites. With Emarat your website will look perfect on any device. The Emarat code is clean and there is a lot of helpful documentation. Put simply, Emarat is easy to use.
Balkon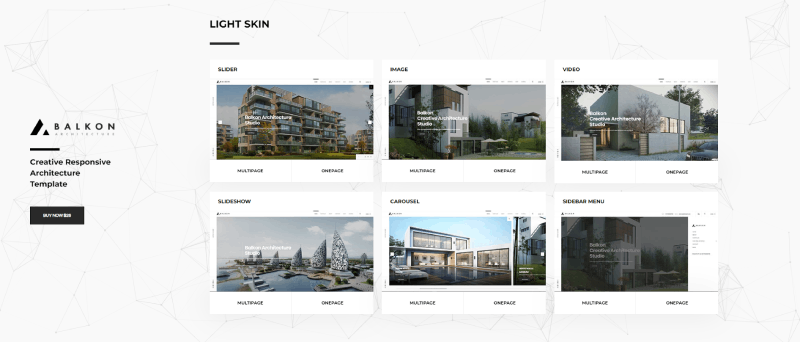 Nine different portfolio page designs and full-screen backgrounds are two of Balkon's main features. It includes special parallax effects that will suck visitors right into the website experience.
You will love the Ajax PHP contact forms because people can get in touch with you through your website. Balkon is what you want from architecture templates, a professional and beautiful architecture site.
go.arch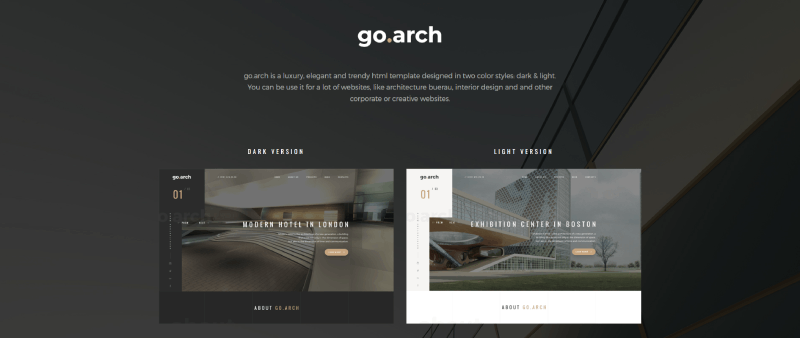 Start building your construction or architecture website with go.arch and choose either the light or dark theme. Besides, photographers and other creatives will enjoy the features of this page builder.
TheRoof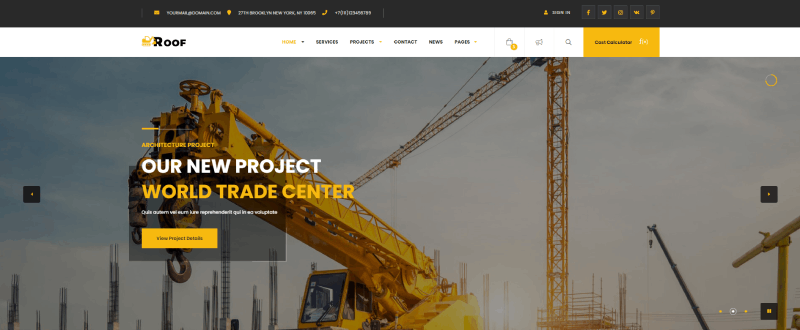 The templates that TheRoof offers are creative and different from other website templates. It includes
Five different homepage styles
Parallax images
Features for e-commerce
Sliders and slideshows
HTML5, Vimeo, and YouTube video options
With TheRoof you also get Font Awesome 5 Pro with more than 6,500 icons that you can use.
Interar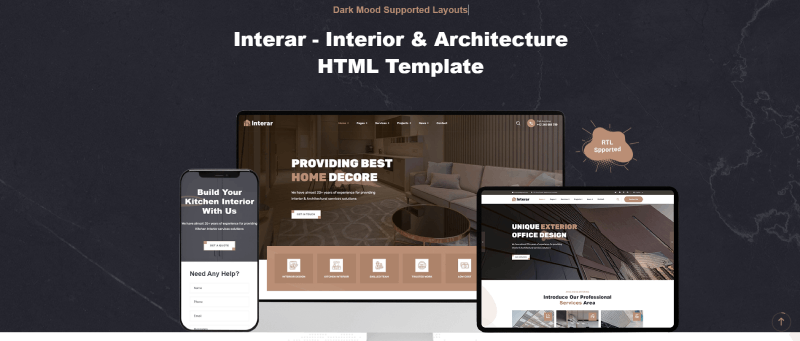 This page builder relies on HTML5 and allows for full customization. The responsive template includes over 37 validated HTML5 pages and more than nine homepage styles. In this builder, you can choose from a dark theme, RTL Mood, and many other designs. Changing any section of your layout is easy. Interar works with any browser and any device.
Modern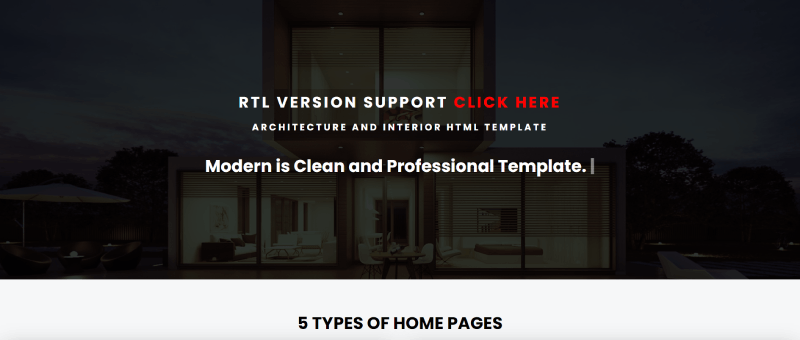 You can guess by the name what style of design this template uses. It is clean and contemporary in both looks and function. The RTL feature allows you to translate your website into various languages, including Hebrew and Arabic. Included are the latest Joomla and WordPress versions for content management.
Domik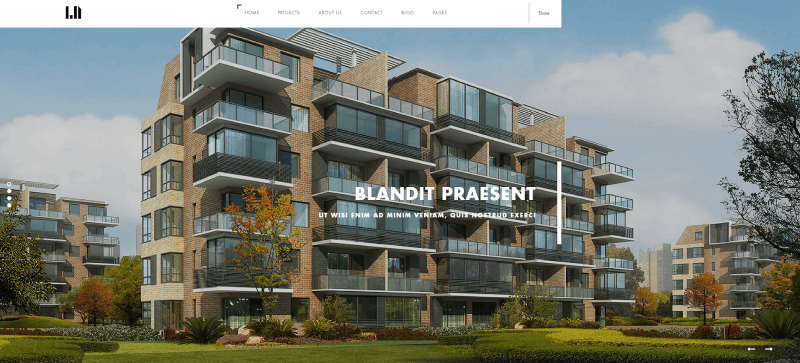 The Domik architecture website template has a modern and simple design style. It is most suited for architects, photographers, and furniture designers. It is for anyone that wants to communicate their work effectively and simply.
Ronmi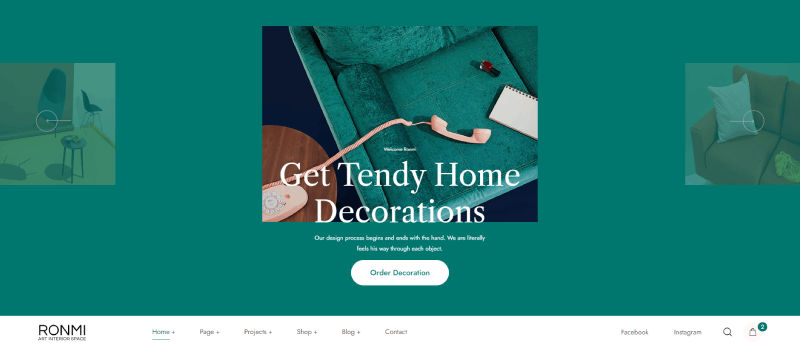 This responsive builder comes with a wide choice of homepage layouts and demos for single and multiple page sites. Ronmi uses CSS3 and HTML5 in combination with W3C-validated code. Your viewers will get the possible experience thanks to the Retina-Ready feature. There are other features, such as OWL carousel and Revolution Slider, that make this template worth your while.
Liarch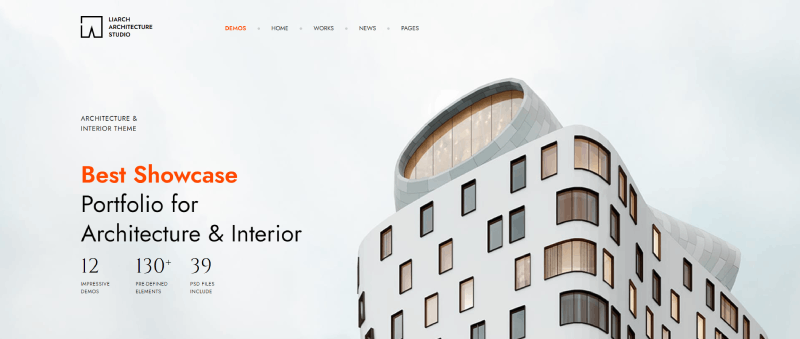 The grid system of Liarch makes it easy for you to organize your content and prepare it for different screens. The page builder offers 39 HTML files and 39 PSD files. No matter your niche, you will find a suitable demo for your services.
ArchSan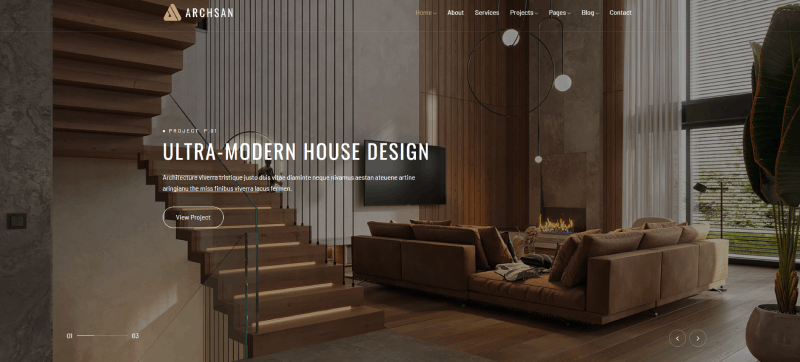 You need a responsive website and one that works on mobile devices. ArchSan offers a template based on CSS3, HTML5, and jQuery. You can customize it with ease, and it includes a dropdown menu. It is SEO-friendly and Retina-Ready. Besides, ArchSan includes Animate CSS, Google Fonts (Didact and Oswald), and Themify Icons. Extensive documentation and regular updates support the template and W3C validation.
Bauen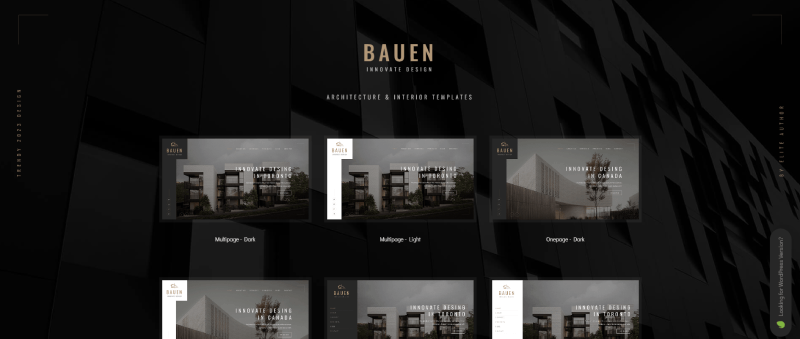 Bauen contains interior design and architecture website templates. You can display your content in a beautiful, modern, and clean design. Besides the homepages, there are 27 inner page layouts.
TheSide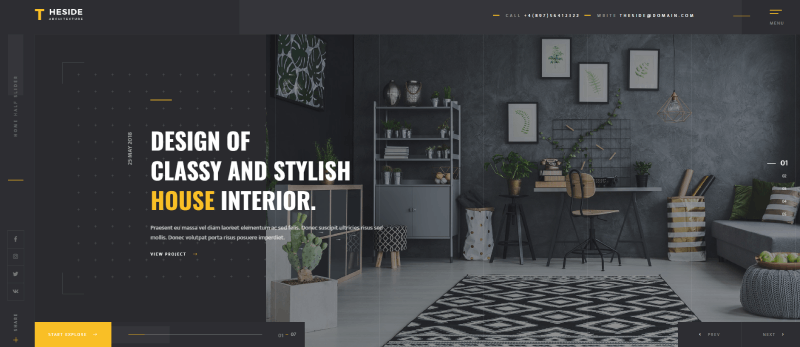 The next example on the list of website templates has a multipurpose layout, designed for architecture websites. TheSide's minimal design spotlights the architect's work in a special and professional way. Besides architecture bureaus, interior design studios and furniture and construction companies will love this. Anyone that needs a creative portfolio can use it.
Archia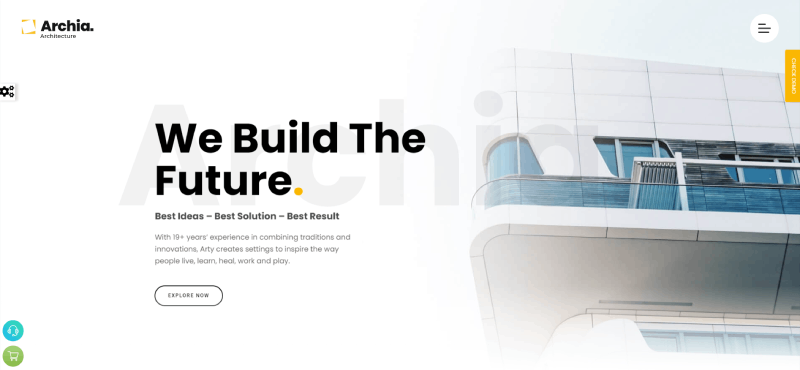 Archia's interior pages include portfolio, project, about, and featured pages. The portfolio page layout spotlights architecture work expertly. An interesting feature of Archia is that it has call-to-action buttons. These will move visitors to contact you and become buying customers. You can put anything you want on the featured page.
TOGO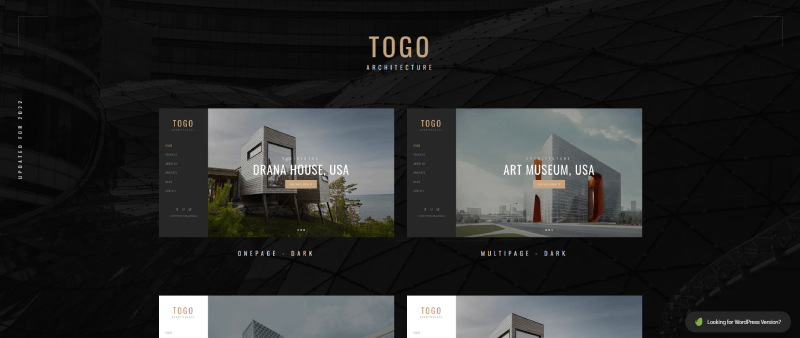 Features of TOGO include a Magnific Popup Gallery, dropdown menus, and working contact forms. TOGO uses the Bootstrap framework, which many developers prefer. You can choose between the light and the dark templates, and you can add a vertical side menu. This builder is responsive, and your clients will enjoy browsing your website on any kind of device.
Archix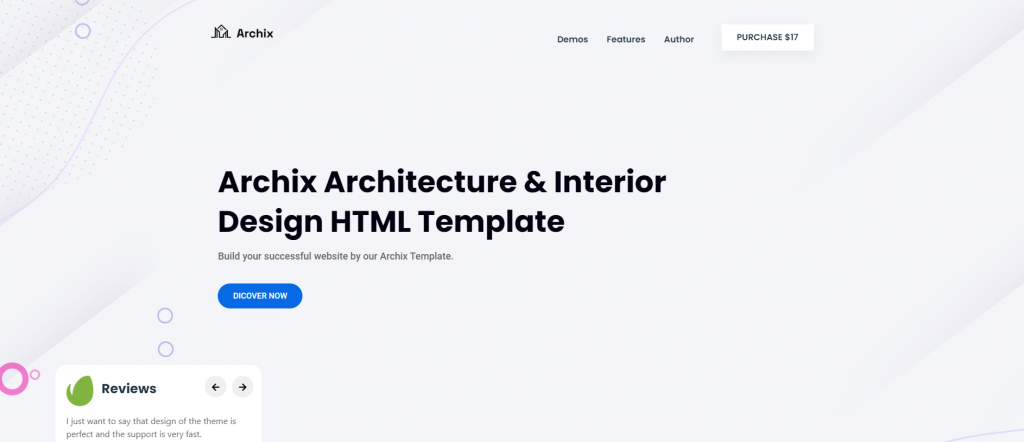 This template offers you many different layout options. Archix works very well for showcasing architectural work. It uses HTML, SASS, and Bootstrap 5 to make it responsive. It contains a lot of important features. Here is a brief summary:
Compatible with all popular web browsers
Support for Mega Menus
Templates for webshops
Slick Slider
Revolution Slider
Options for multiple or one-page sites
W3C validated
SEO-friendly
Pelzari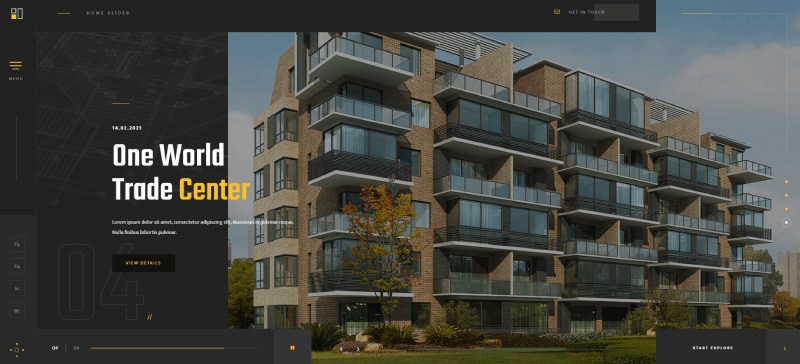 Pelzari is a mobile-friendly and professional multipurpose architecture template. Photographers and other designers will love it too. There are five different homepage styles:
Carousel
Fullscreen image
Slider
Slideshow
Video (Hosted, Vimeo, and YouTube)
There are different ways to showcase your work using one of the many portfolio templates. You get access to more than 5,000 icons that can make your website more engaging. You can add video backgrounds to your landing page or any of your inner pages.
Quarty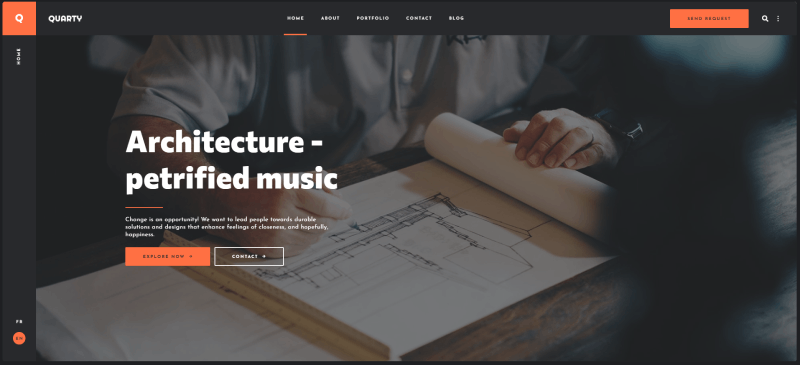 You can create a website with a dark or a light theme with this architecture website template. Each theme creates a particular atmosphere. Quarty comes with a wide array of effects and animations that make your website a little different. This template uses Bootstrap 4, which allows for smooth transitions without page refreshing. That reduces the loading times. It is easy to customize thanks to the valid CSS3 and HTML5 codes.
Arkio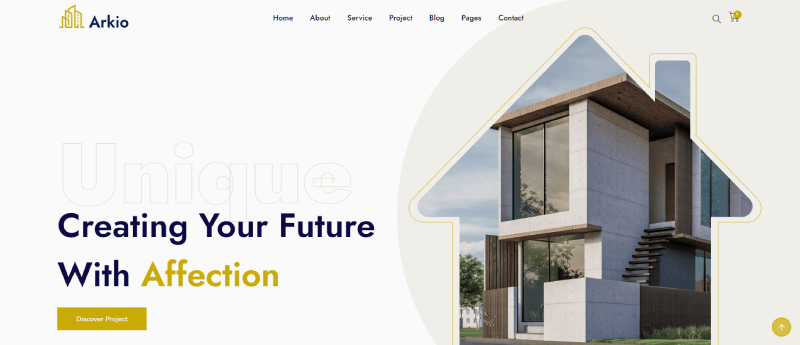 The last example of architecture website templates is Arkio. It is designed for construction, architecture firms, real estate agents, and more. The Arkio template has many useful features that help you create a unique website. Some of the features that users can enjoy are
Awesome typography
Easy to customize
Fast loading times
Optimized HTML and PSD files
Integration for YouTube videos
W3C validated code
Arkio uses React Next Js which will allow you to promote your work to the world on a unique website.
FAQs on Architecture Website Templates
What are architecture website templates?
Website templates in the field of architecture are premade layouts made with the needs of architects and designers in mind.
Common features seen on these templates include photo galleries, contact forms, and even social media sharing buttons.
Why should I use an architecture website template for my website?
You can save both time and money on the design and development of your site by starting with a pre-made architecture website template.
Using a template to create your website can save you time and money compared to hiring a professional web designer.
Where can I find architecture website templates?
ThemeForest, Wix, and Squarespace are just a few of the many online marketplaces and template providers where you may find architecture-specific website designs.
You can find these templates in a variety of categories, and you can usually modify them to meet your individual requirements.
What features should I look for in an architecture website template?
If you're in the market for a website template, make sure the one you choose has the features and functionality you need for your architecture firm. Look for themes that include image galleries and sliders, for instance, if you wish to display your portfolio.
Choose a template that includes a contact form and a call to action if you want to increase your lead generation.
How do I customize an architecture website template to fit my brand?
Changing the colors, fonts, and images on a pre-made architecture website template is a common way to make it reflect a company's identity and aesthetic. The vast majority of themes either have built-in personalization features or can be easily updated via HTML and CSS.
Make sure any alterations you make don't compromise the user experience or run counter to your brand's standards.
What are the benefits of using a responsive architecture website template?
If you use a responsive website template, your site will adapt to the viewing environment on any device, regardless of its size or orientation.
This is crucial for increasing organic traffic and retaining existing users.
How do I optimize my architecture website template for search engines?
Including appropriate keywords in the website's text, title tags, and meta descriptions helps search engines better categorize and rank architecture-related websites.
Search engine rankings can also be improved by optimizing picture alt tags and ensuring a fast page load time.
Can I add additional functionality to an architecture website template?
An architecture website template might have extra features added to it with the help of plugins or custom coding.
You can do things like include a blog on your site or include social media feeds. Any new features should not hinder the website's performance or diminish the quality of the user experience, nevertheless.
What are some best practices for using architecture website templates?
Using an architecture website template properly means making sure the site is user-friendly, attractive, and responsive across all devices.
Consistently adding new material and making sure the site's structure and features serve your business objectives are also crucial.
How much do architecture website templates typically cost?
Website templates for architects range in price from free to incredibly sophisticated. There are both free and premium templates available, with prices ranging from $20 to $200 or more.
While choosing a template, you should think about the features and customization choices it offers, as well as any continuing expenditures, including hosting and maintenance.
Conclusion on the Best Architecture Website Templates
Architecture website templates can help you build an appealing portfolio page. Your online audience can admire your achievements. Your prospective clients can enjoy a beautiful and professional presentation.
Most of the website templates on this list are responsive and fully customizable. The templates ensure that your website will showcase your work beautifully on all devices. They are worth your investment because they will help you establish a strong online presence.
If you liked this article about architecture website templates, you should check out this article about band website templates.
There are also similar articles discussing coming soon website templates, video website templates, financial website templates, and gym website templates.
And let's not forget about articles on travel website templates, pet website templates, app landing page templates, and tattoo website templates.
Stunning Architecture Website Templates to Make Your Business Stand Out