Musicians and bands across the globe strive to reach their fans through different channels. This strategy allows them to create strong communities, broadcast events, and sell their albums.
Besides social media platforms, music websites supply the most efficient pipelines for artists to grow. There are numerous website template options available you can use to set up a groovy website.
This article will provide you with a comprehensive guide to creating a well-designed website. Learn to choose a template that suits your style and business needs.
Afterward, explore 20 WordPress sites with creative music band website templates. Here, you will find all the inspiration you need to promote your music online.
Picking the Best Music Website Template
Choosing the best template for your music website can seem daunting. After all, there are countless options available.
One of the aspects to keep in mind is that a theme will only establish the overall design of your site. Thus, you can customize each page to suit your personal taste and your band branding.
Regarding the purpose, band website templates allow you to create a professional image. They attract fans and prospective supporters. Plus, they help you manage your Internet presence while fostering sustainable sales growth.
Defining a specific goal for every page will help you choose a template that benefits your music career in the long run. You want a scalable template that you can easily alter to give your audience fresh content.
20 Music Band Website Templates to Inspire You
After learning to choose the best website template, check out these creative HTML and WordPress theme options. These tools can help you create eye-catching pages to fit a musical project, promote your band, and entice music producers.
Music Band Website Template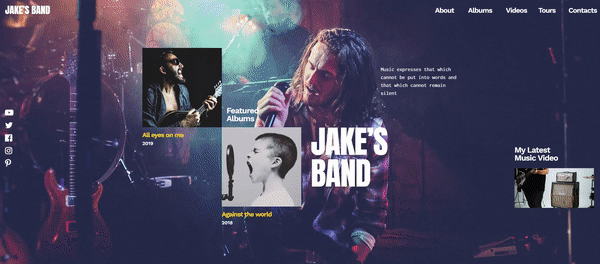 Introduce your Music Band themed website with The Music Band Website – a flawless platform to display your latest tracks, albums, and videos with smooth and stylish transitions.
AQURA
AQURA is a retina-ready music band, musician, and DJ template, bringing multiple layouts and options for playlists. It helps you share music albums through a clean interface. This way, visitors can easily browse your organized sound collection.
You get several homepage alternatives to the popular background image. Define a full-background video or image slider to add movement and elegance.
Back to Rock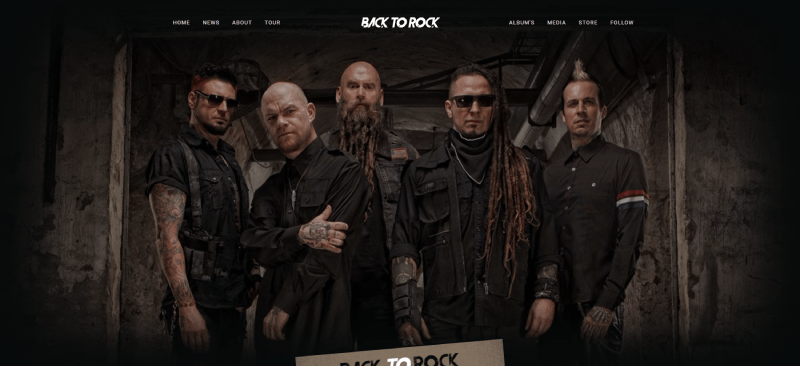 Back to Rock delivers one of the most creative music band website templates. With it, you can include varied content on your site, from videos to an audio files player and even a blog.
It offers a retina-ready and responsive layout in a Bootstrap framework. Additionally, you can easily customize the color scheme to fit your branding.
Bishop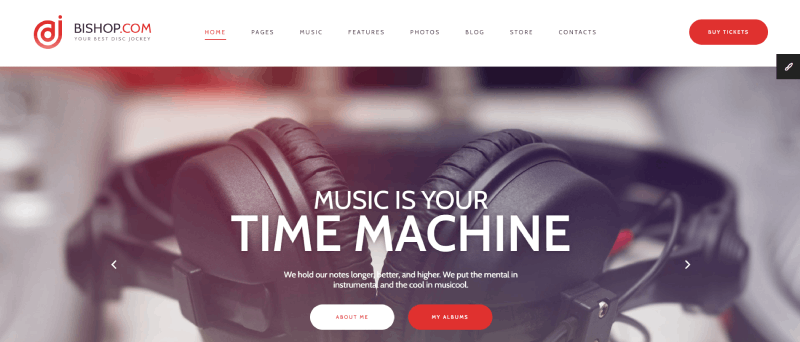 WPRollers offers an HTML and a WordPress version of Bishop. This website template helps DJs, performers, and musicians create a personal page. It also suits music events like parties and contests.
Bishop uses Visual Page Builder. This drag-and-drop builder facilitates customization and increases functionality.
It includes operating widgets, contact forms, and shortcodes, and it emphasizes animation. Artists can choose between a light and dark theme.
IronBand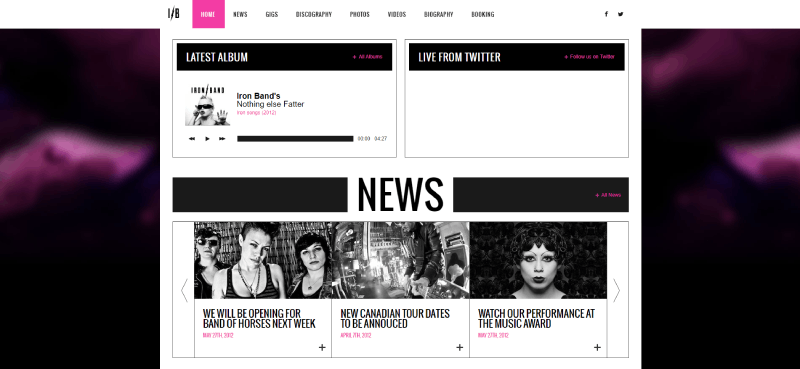 IronBand is a top-rated music band and DJ template with a singular design. It focuses on helping artists and musicians sell their music through their WordPress websites. Thus, it integrates with online stores such as iTunes.
This theme allows you to have a page for users to access and book your events. It delivers a smooth experience and has an MP3 player to broadcast your tunes.
Kraj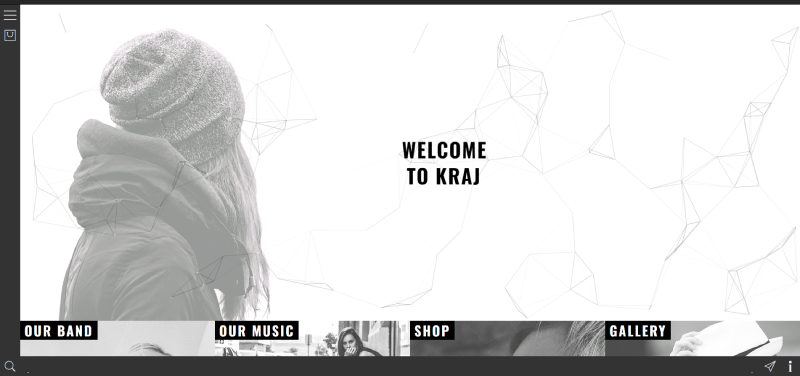 Kraj is a comprehensive template bringing a responsive solution for any artist or music band website. It offers you a minimal layout with a clean design using the latest version of Bootstrap.
NetGon provides the help and documentation you need to use Kraj in HTML or WordPress.
MixMusic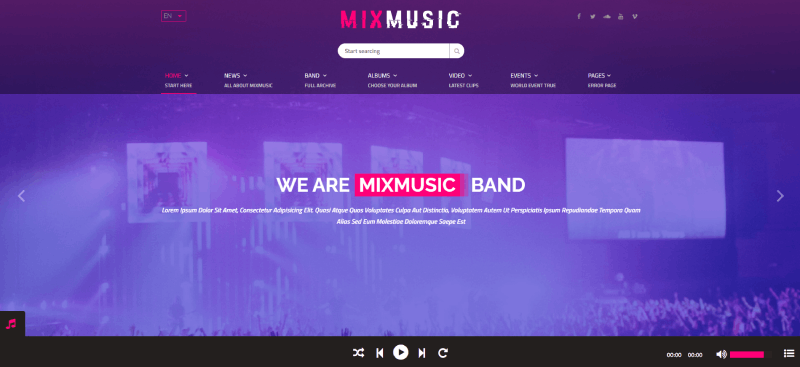 BDEXPERT created MixMusic with musicians, music bands, and radio stations in mind. This HTML5 website template has a modern design that adapts to different purposes and businesses within the music industry.
With over 12 pages, you can use it to introduce an album, upload audio playlists, or sell your sound and merchandise. The theme also has W3C valid code for enhanced compliance.
Monkey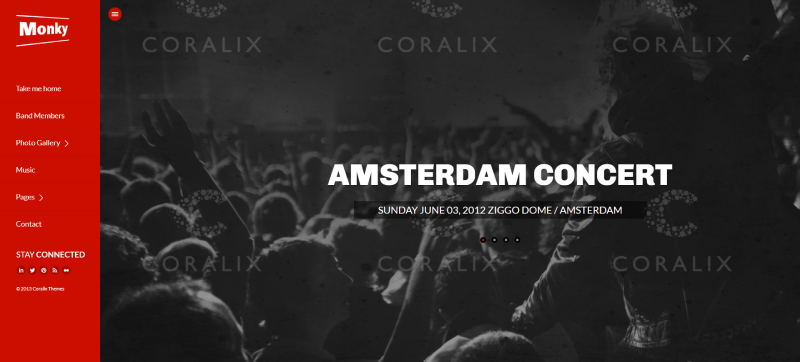 Monkey is an HTML theme for music bands to place themselves on the entertainment industry map. It has 11 native pages, including a Music Album Player and several photo galleries.
You get custom graphics, an SEO-optimized layout, and cross-browser compatibility. Furthermore, Monkey helps you save money using only free fonts and enclosing its JQuery and CSS3 effects.
Mousiqua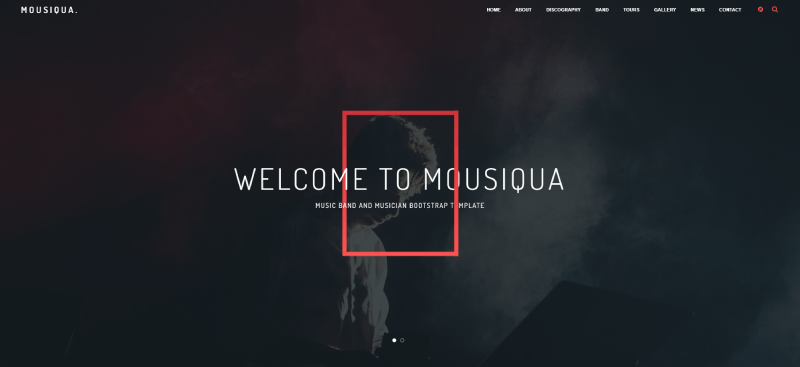 If you want an impactful single-page website, Mousiqua is the best template for you. This HTML tool supplies you with a retina-ready, responsive layout that allows you to categorize your content.
With it, you can embed your preferred audio and videos on your website page. You can add a header menu for facilitated navigation and apply responsive animations throughout the design.
Music Club – Rockon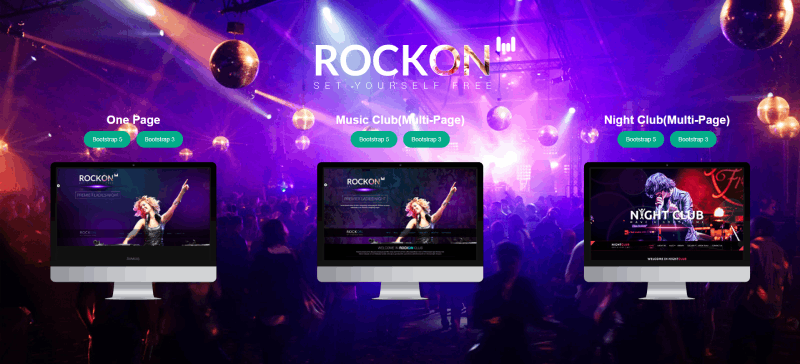 Rockon gives you all the tools you need to grow your business. This website template adapts to various industry niches, from rock bands to singer-songwriters.
It supports various font sources and offers access to consistent support. You can use its animated layered slider option to keep your fans engaged.
Musician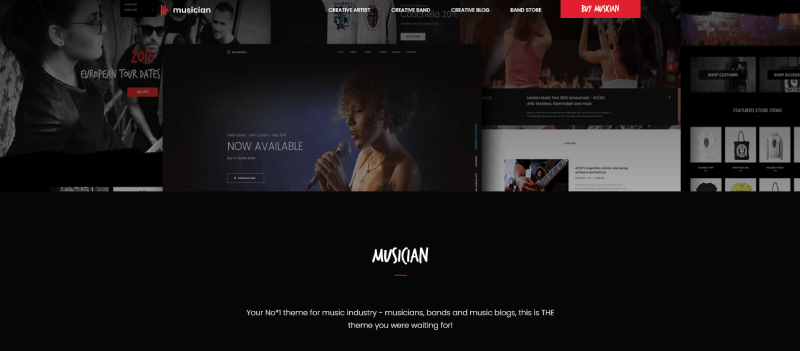 Musician is a music band, blog, and shop HTML template. It increases your visibility and offers site visitors a smooth experience.
This theme is Bootstrap-based, giving you a mobile-friendly website. It integrates with SoundCloud so fans can listen to your playlists directly from your site.
MusiX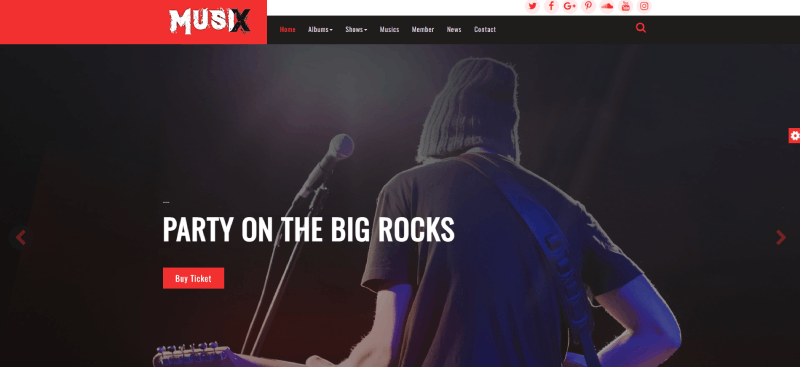 MusiX is a modern template built on the latest technology and code. It has various sections and pages to help musicians, performers, and bands assemble their websites.
You can define a page for each band member, album, or single. Besides, this theme includes a countdown timer for events and supports unlimited colors powered by LESS.
Musize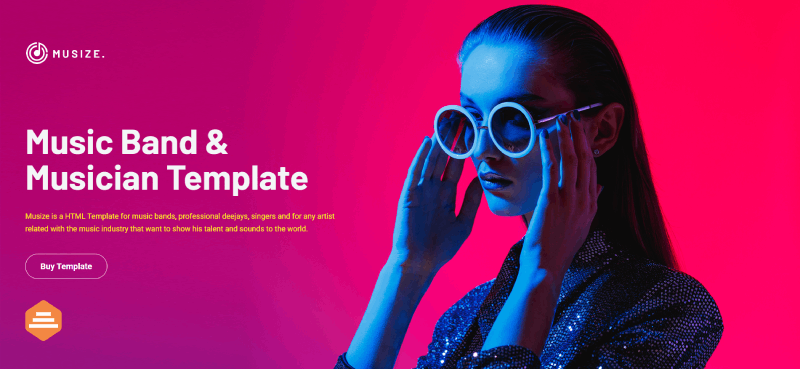 Jellythemes created Musize to provide music artists with a comprehensive template. It has a stunning design, adapts to various theme choices, and supports integrations with external platforms.
With Musize, singers and bands get many customization options. They can personalize their homepage background, navigation, widgets, and animation.
MxTonz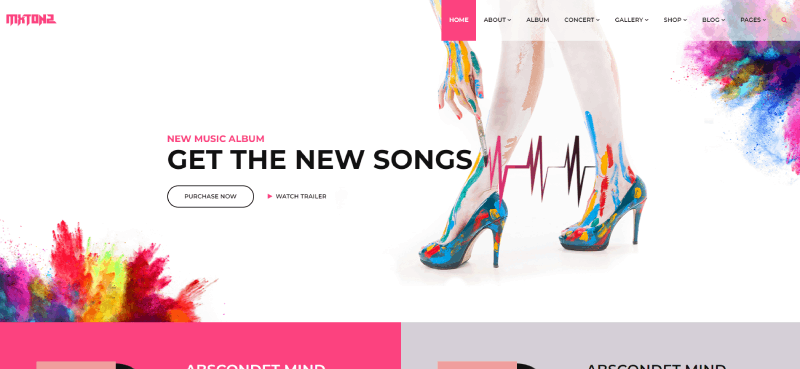 MxTonz is a complete HTML website template with cross-browser and multi-device compatibility. It comes updated for the latest Bootstrap and includes free Google fonts and font icons.
You can integrate MxTonz with other platforms, like MailChimp and Google Maps. It contains music and video players with playlist features so fans can easily access your songs.
Oumaila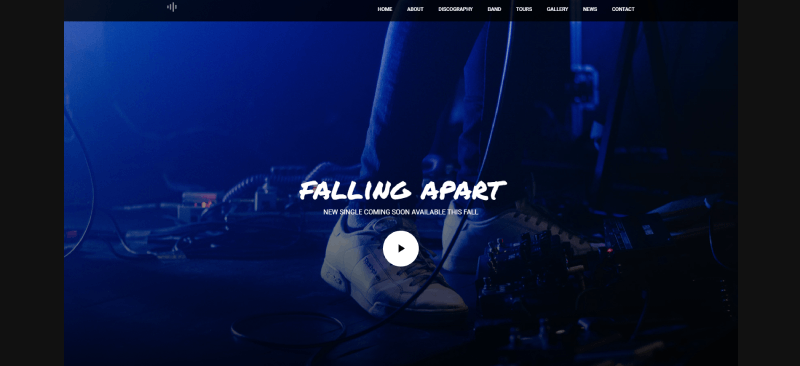 Oumaila is a music band and musician website template. It comprises a single-page retina-ready design with block sections to fit user needs and organize content.
It uses HTML, CSS, JavaScript, and a selection of plugins to add extra features. You can display your Twitter and Instagram feed and upload your latest album to play in the background.
Singer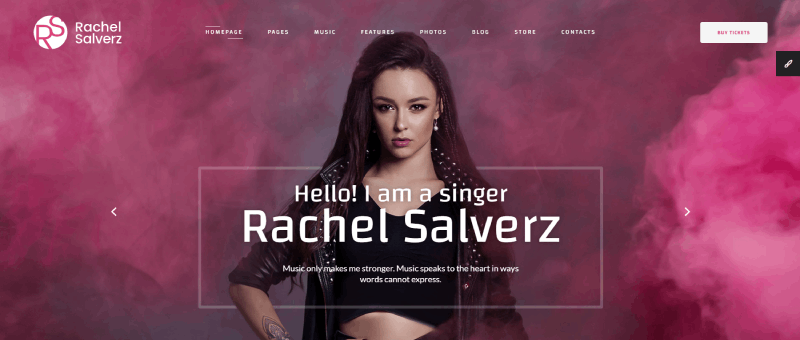 Singer is an edgy HTML template for performers, musicians, and singers. You can choose between a Light or Dark and a Boxed or Wide theme on over 100 designed pages.
Like other website templates on this list, Singer has free fonts and icons and includes PSD files. The precomposed headers and footers give you a starting point for creating your WordPress site.
Soundlab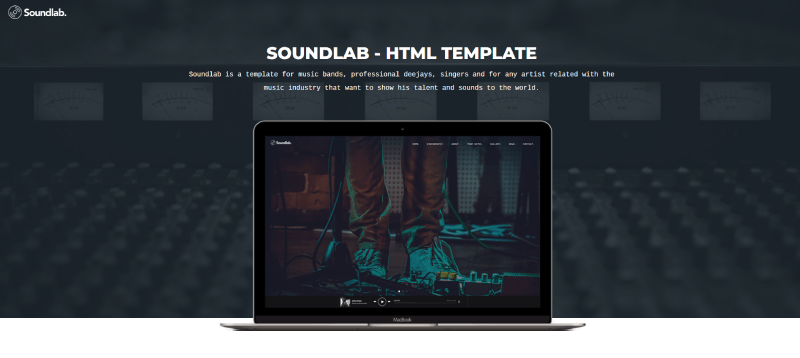 Soundlab is a customizable music band and musician template built with HTML5. It has different homepage layouts from which you can choose that are organized and clean.
Like other website templates, it integrates with external platforms such as Spotify and YouTube. You can share your tunes through the audio player and promote your latest music album.
Symphonius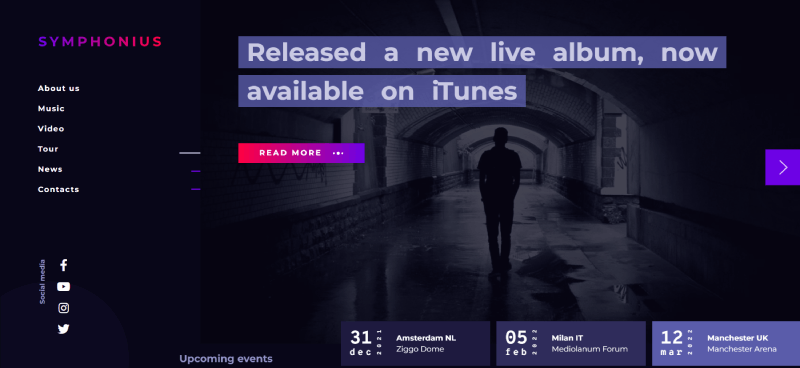 Symphonius is a template that fits everything an artist might need. You get a single-page layout with a music and video player. It also includes detailed documentation and reliable online support.
The tool uses vector objects in a retina-ready design. The HTML5 and CSS3 code allows for optimum responsiveness and enhanced animations. Besides, a distinguishing characteristic is that Symphonius is based on the UIkit3 framework.
Voyceo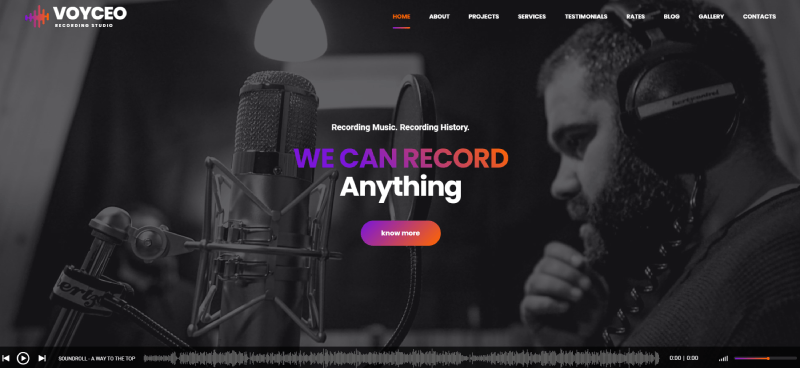 Voyceo is a premium template for singer-songwriters, bands, studios, and DJs. It has specific features to support multiple devices and browsers and deliver a smooth experience.
This tool features everything a music band website demands. You can use it to sell your merchandise and allow users to book tickets for your shows.
Additionally, Voyceo has SEO-optimized source code to help you reach a broader audience.
WeMusic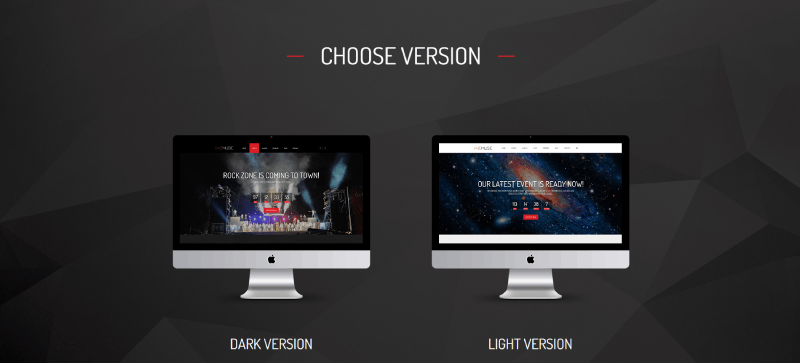 WeMusic is a music band event template offering premium e-commerce solutions. You can download either its HTML or WordPress version.
It has 4 available homepage styles and a built-in shop with filtering options that are easily customizable. Like other templates in this list, WeMusic has a Light and Dark version.
FAQ on Band Website Templates
Are band website templates customizable?
You bet! Band website templates are designed to be easily customized to match your band's unique style. You can modify colors, fonts, layout, and add your own logo or images.
Most templates have built-in customization options, or you can dive into the code if you're comfortable with that. Just remember to keep a backup of the original template in case you need to start fresh.
How much do band website templates cost?
Band website template prices can vary quite a bit. You'll find free options, but they might not have all the bells and whistles you're looking for. Premium templates can range from $30 to $200, depending on design and features.
Some platforms even offer monthly subscriptions, giving you access to multiple templates for one price. It's about finding the right balance between cost and the features you need.
Can I sell merchandise through my band website template?
Absolutely! Many band website templates come with built-in e-commerce features or support integration with popular e-commerce platforms like Shopify, WooCommerce, or BigCommerce.
You can set up an online store to sell band merchandise, like t-shirts, posters, or even digital downloads. Just make sure to choose a template that supports the e-commerce options you need.
Are band website templates responsive?
Yes, they are! Responsiveness is essential for modern websites, and most band website templates are designed to be responsive.
This means they'll automatically adjust to fit different screen sizes and devices, providing a seamless experience for your fans, whether they're using a smartphone, tablet, or desktop. When choosing a template, check for responsiveness in the feature list or test it on various devices.
Can I use a band website template with my existing site?
For sure! If you already have a website and want to update it with a new look, you can integrate a band website template into your current site.
You'll need to make some changes to ensure the design and features match your existing site, but it's definitely doable. Be prepared to spend some time getting everything to work together smoothly.
How do I add music to my band website template?
Adding music to your band website template is typically straightforward. Most templates come with built-in audio players or support integration with popular music streaming platforms like Spotify, SoundCloud, or Bandcamp.
You can embed playlists, albums, or individual tracks directly onto your site, making it easy for fans to listen and discover your music.
Are band website templates compatible with all browsers?
Most band website templates are designed to be compatible with popular web browsers, such as Chrome, Firefox, Safari, and Edge.
However, it's always a good idea to test your chosen template on different browsers to make sure everything works as expected. If you run into any compatibility issues, contact the template's developer for assistance or consider an alternative template.
Can I integrate social media with my band website template?
Definitely! Integrating social media with your band website template is a great way to keep fans engaged and updated on your latest news, events, or releases.
Most templates have built-in social media buttons or widgets, allowing you to easily link to your band's profiles on platforms like Facebook, Twitter, Instagram, or YouTube. Some templates even support displaying your latest social media posts directly on your site.
Do I need coding skills to use a band website template?
Not necessarily! Many band website templates come with user-friendly customization panels that allow you to make changes without touching any code.
However, if you want to make more advanced customizations or integrate the template with other platforms, some coding knowledge could be helpful. But don't worry – there are plenty of online resources to help you learn if you're new to coding!
Band Website Templates – The Outro
If you are an up-and-coming musician, you need a site to promote your songs and albums. This article showed you how to pick a template that represents you as an artist.
It also shared inspirational HTML and WordPress band website templates. These ideas will help you customize a unique design to broadcast your tunes and introduce your personal approach to music.
Now, you can offer your site visitors a smooth experience while standing out in the music industry.
If you liked this article about band website templates, you should check out this article about coming soon website templates.
There are also similar articles discussing video website templates, financial website templates, architecture website templates, and gym website templates.
And let's not forget about articles on travel website templates, pet website templates, app landing page templates, and tattoo website templates.
Band Website Templates to Help You Showcase Your Music in Style