You don't need to start from zero when you are starting to build a video website. There are many handy video website templates that are fun to use. So if you have videos that you want to publish online, this article contains some outstanding templates.
The templates for video blogs and websites on this list all have outstanding features. They have responsive layouts, sliders, animation, hover effects, and much more.
Have a look at this list of examples of video website templates and see which one you like best for your video websites. Your visitors will get a memorable experience when they come to your website.
WordPress Video Slider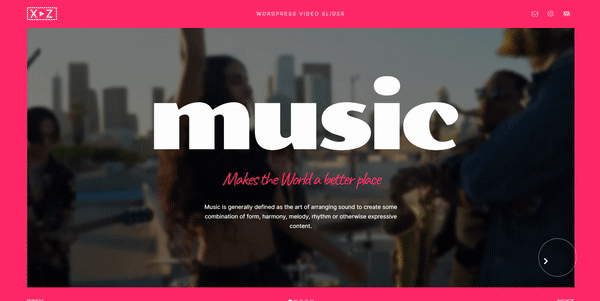 Numerous WordPress themes come with video sliders that have uninspiring designs. However, Slider Revolution stands out from the rest and is certain to elicit a "WOW" reaction from your website visitors.
Design DNA Scroll Video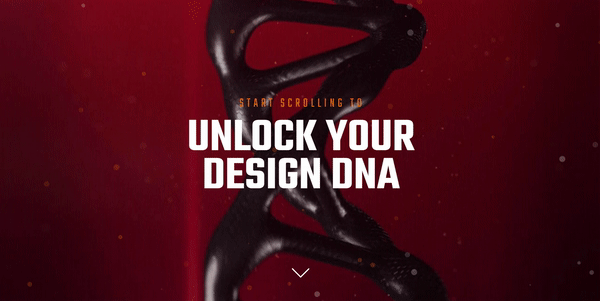 This is a stunning fullscreen hero module that utilizes our new Scroll Video addon to produce an engaging video effect.
Black Friday Scroll Video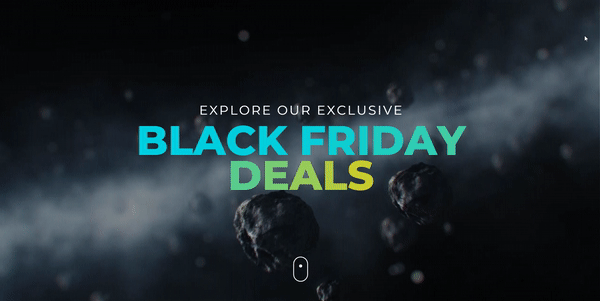 This interactive hero module features a video scroll and brings Black Friday offers to you from the depths of space.
Video Hero Header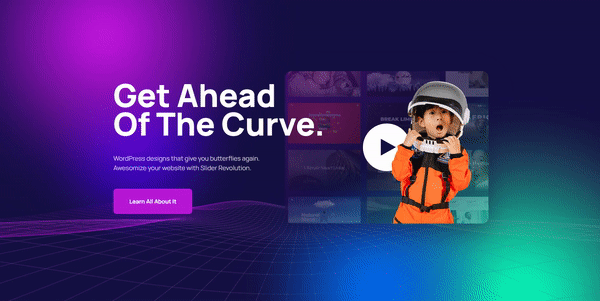 This template provides a video player for YouTube, Vimeo, and HTML5 videos. All of its components were designed using our visual editor, and can be easily customized in terms of style and color.
VIDOE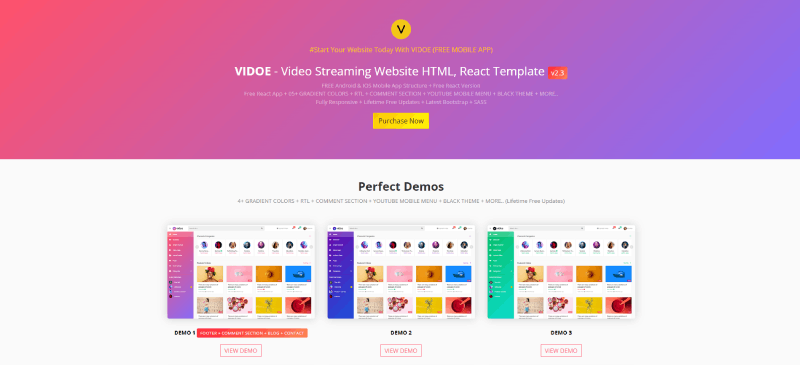 The first on the list of video website templates is VIDOE. It helps anyone from entrepreneurs to bloggers to set up their own video pages, including subscription sections. When you use it, you will notice the area for video blogs, which is lacking in many of the other templates. You can write your articles, include a video, and rest assured that your content is visible to everyone. VIDOE is an SEO-friendly video template.
Vodi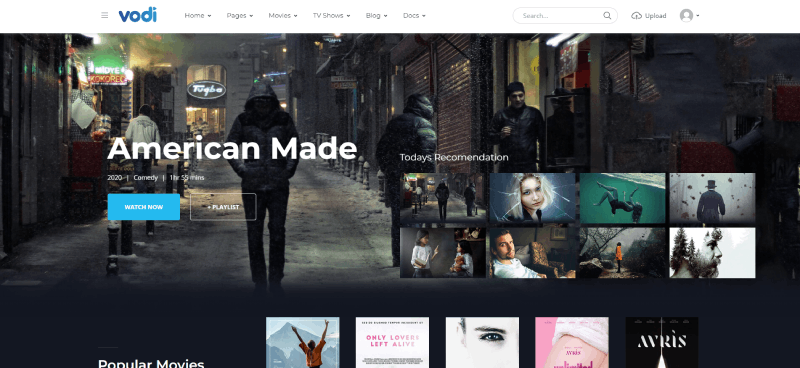 Vodi uses the Bootstrap 4 framework and has many features for movies, TV shows, and other videos. It has clear and comprehensive documentation which includes snippets for different video components.
Flixena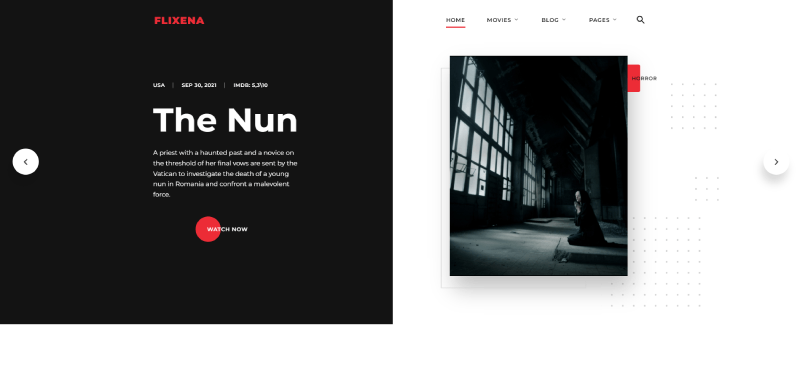 Flixena enables you to add full-size sliders on your main page to welcome your website visitors right away. You can, for example, post the top five most interesting videos at the moment. Fleiena allows you to assign your videos a category for easy searching. You can even add a YouTube video to your video header. The ready-made elements will make your website more attractive and your work simpler and faster.
Zmovo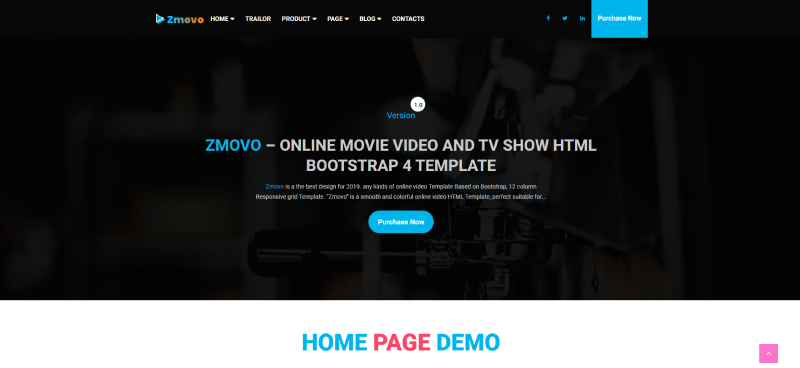 This video template contains everything you need to make a unique website. It uses Bootstrap 4 and a 12-column grid that is responsive. Zmovo uses HTML template files that have a practical organization and are easy to customize. The templates use a 1170px grid system. There are 20 HTML templates, including five homepage layouts.
Betube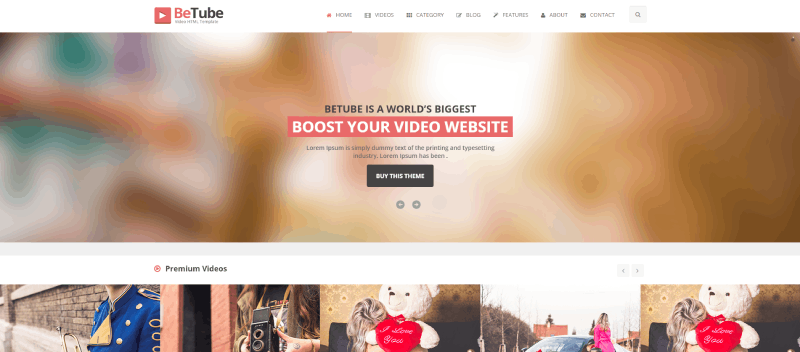 This responsive video website template in HTML has many important design features. On the other hand, you can organize and arrange your videos by list or grid view. You can create log-in and registration pages for visitors to create an account. In that way, you keep control over who views what.
PLAYTUBE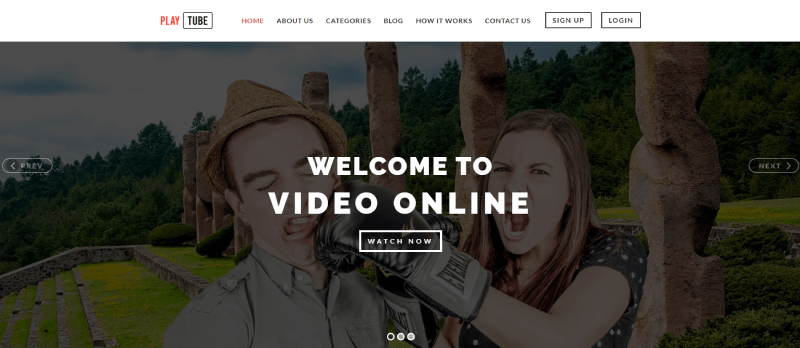 PlayTube is a high-quality template for video blogs and live-stream websites with a modern design. Thanks to the use of the Bootstrap 3 grid, the PlayTube layout is very responsive. Anyone can use your affiliate video-sharing channel no matter what device they use. Further, PlayTube includes
Google Fonts
Log-in forms
Sign-up forms
Working contact form
It contains everything to make a website that looks beautiful and engaging. This includes scalable icons that your visitors can interact with.
Circle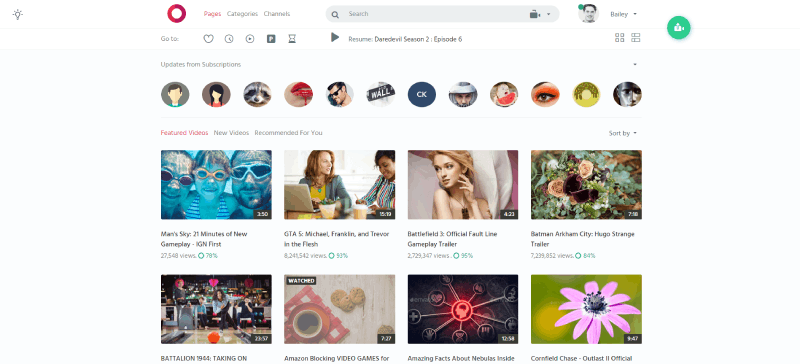 You will notice that Circles draws inspiration from websites and apps such as YouTube and Netflix. Its design is clean, modern, and inviting. The design lets you show off your best videos. You can allow others to contribute by inviting them to upload their videos and comment. The result will be a dynamic community of people with similar interests. Some of Circle's most attractive features include
Bootstrap 3
CSS3
Custom icons
HTML5
Less preprocessor
Light and dark modes
VideoStories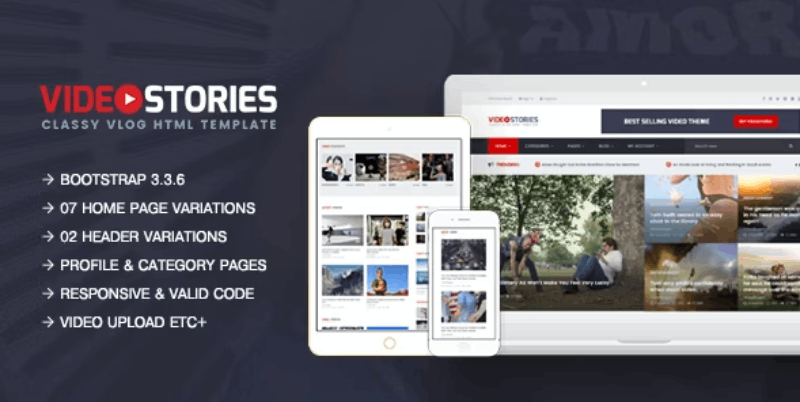 The focus of the VideoStories template is on websites for video blogging. VideoStories has seven different homepage layout options. Visitors can watch videos without visiting the details page thanks to the popup video system. The overall design works well for vlogs, tutorials, and all other types of popular video sharing. It has seamless compatibility with Vimeo and YouTube.
Streamo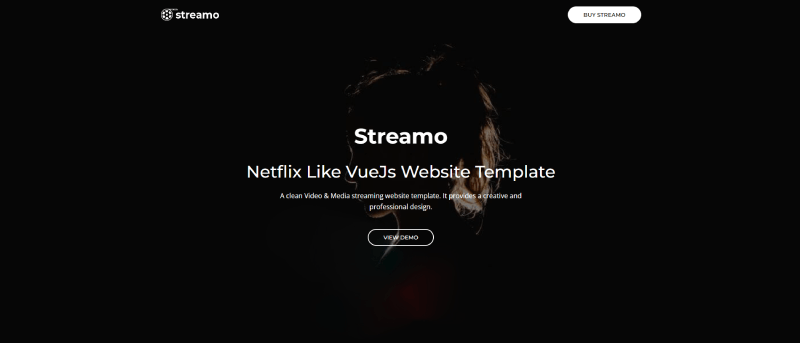 Streamo uses VueJs for making streaming websites and is ideal also for live movies, or for a media streaming app. The template is easy to use and its seamless functioning makes it an excellent choice. You can use it to showcase the following things on your website:
Live streaming video player
Movie streaming video player
Video gallery
Video library
Video showcase
Vividly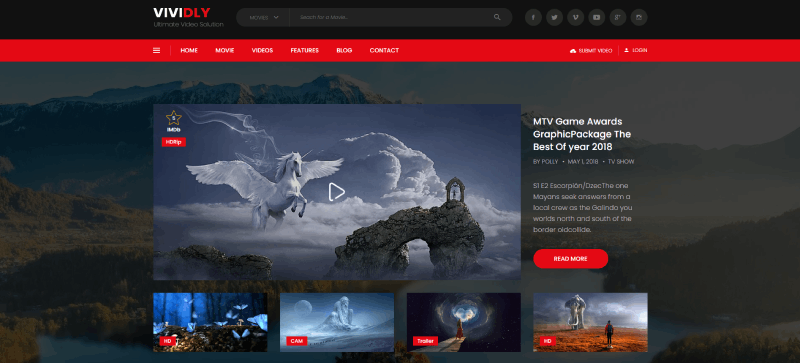 Vividly is an HTML template for publishing videos, articles, and pictures in an appealing way. The HTML template has four ready-made demos you can use immediately. You can make limitless page designs and content-type variations. Other attractive features of Vividly include
25 layered HTML template files
Clean and unique designs
Creative layouts with a clean organization
Four homepage layout variations
Vlogger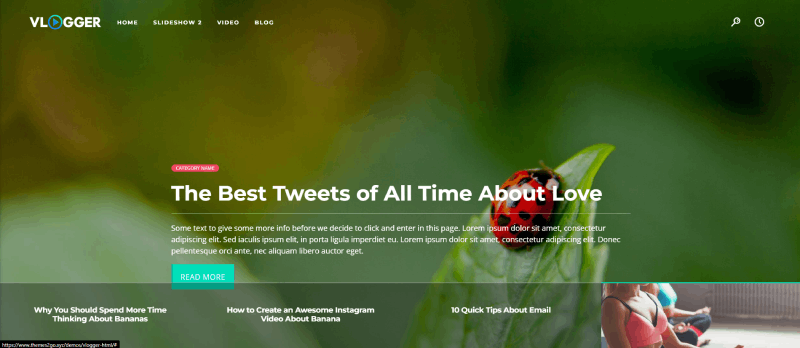 This option has some nice footers, widgets, slideshows, and other features for your video site. Vlogger makes for engaging webpages with video content and other visual presentations. The Vlogger slideshows work on different devices and different screen sizes. Anyone will enjoy an excellent user experience, no matter the operating system they prefer. This HTML template has a modern and clean design that many will enjoy. It is the right tool for showing your online video content.
Video Cafe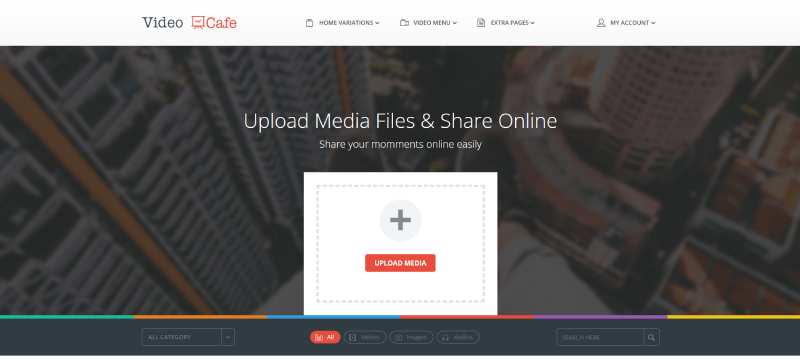 This template uses HTML and Bootstrap so you can make beautiful responsive video and movie websites. The homepage design is clear and unique; people can sign in and sign up. By signing up people can access exclusive content. You can make a professional website that captivates the attention of your customers. Special features of the Video Cafe template include
Category page
Clean code
Sign-in pages
Sign-up pages
Special author page
Streamlab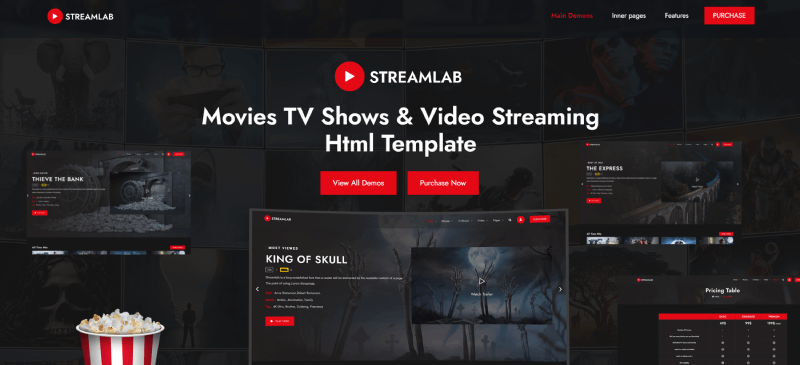 Streamlab is a well-equipped video website template that continues to grow. It contains a large library of layouts and pages that are easy to customize and expand. You can add interactive website elements such as progress bars, counters, and countdown clocks. In that way, your viewers will interact more with the content and you will receive useful user statistics. Other things you can do with Streamlab are show upcoming events and other interesting information for the community. Such features improve interaction and add a sense of urgency and excitement.
Moovi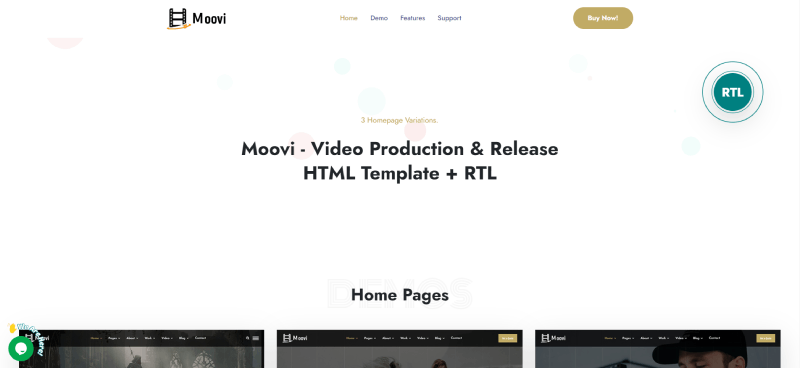 This is a very good choice if you are looking for a film studio template with a clean and modern look. It uses Bootstrap 5 and offers the option of making a right-to-left (RTL) website version. That is an important feature if you want to offer your website in languages that are read from right to left. Moovi is SEO-optimized so that your website will rank high in web searches.
This One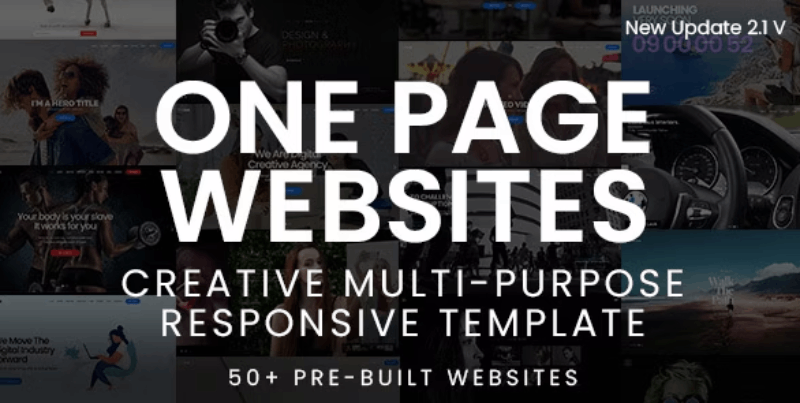 This One has a clean and professional look and appears great on any kind of screen. It uses Bootstrap 5 and contains some awesome parallax scrolling effects. With This One you get over 50 ready-made page layouts, the Revolution Slider plugin, and Ajax contact forms. It includes useful documentation with detailed instructions on how to customize the template.
BigShow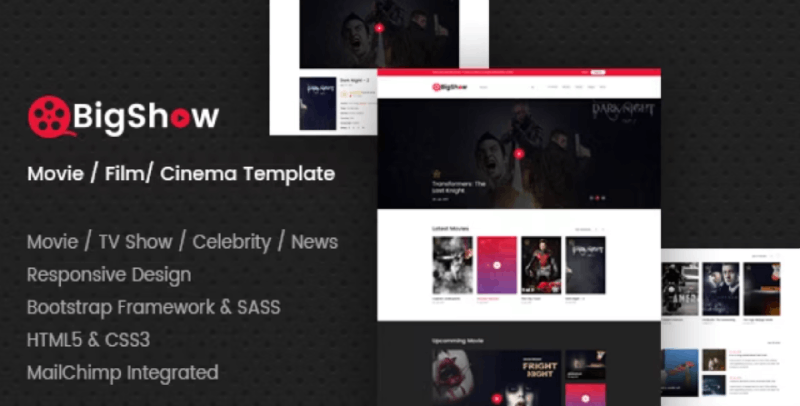 You can use this template for any kind of website that uses videos as content. This HTML5 template is responsive and contains a landing mainpage and a recent and upcoming page. You can add things like a TV show listing, pages about celebrities, gossip, and news. Other important features include
Bootstrap
CSS3
HTML5
Retina Ready
SASS
Support for different devices
W3C validated code
Callum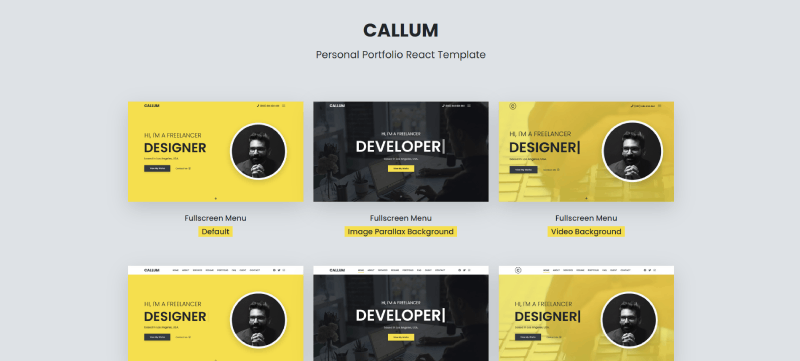 With Callum, you can make a one-page video website, for example for a portfolio page. It has welcoming parallax effects and a full-size video background. You can choose between a standard or full-screen menu. Again, Callum makes use of the powerful Bootstrap 5 grid for full responsiveness. With these features, Callum ensures that your website will capture the attention of your visitors.
Soho
The Soho HTML template contains an impressive number of HTML template files. With it, you get 51 templates and enough features to make a unique movie and TV show website. It uses CSS and HTML5 to expand the arsenal of website features. It is SEO-friendly, customizable, and allows you to use any color scheme you want.
Quadron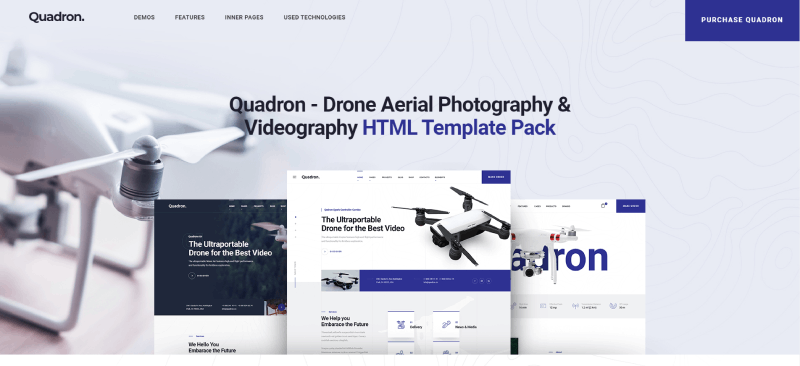 Quadron serves a specific niche, aerial imagery. It will work for websites about
Aerial photography
Aerial videography
Drone equipment
Related video productions
Pilot training
UAV businesses
Quadcopter services
With this template, you get a simple but creative design that you can customize by code. You also get a full set of layered PSD files.
Zico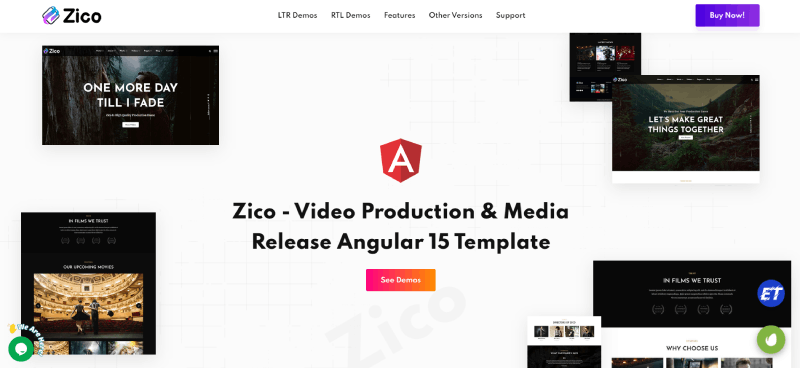 The last example on this list of video website templates is Zico, which has a clean and modern look. It has a working contact form and is easy to customize. There is comprehensive documentation to help you use this tool. It uses
Angular 15
Bootstrap 5
Boxicons 2.1.4
CSS
Sass
Zico is fast, small, yet powerful, and SEO-friendly.
FAQ on the Best Video Website Templates
Can I customize video website templates?
For sure! Video website templates are designed to be customizable. You can change colors, fonts, layout, and even add your own logo. Most templates come with a built-in customization panel, or you can tweak the code if you're more experienced. Just be sure to keep a backup of the original template in case you want to start over.
How much do video website templates cost?
Prices for video website templates can vary greatly. You can find free templates, but they might lack features or customization options. Premium templates typically range from $30 to $200, depending on the design and functionality.
Some marketplaces even offer monthly subscription plans, giving you access to a library of templates for a fixed price. It's all about finding the right balance between cost and features.
Are video website templates responsive?
Absolutely! Most modern video website templates are designed to be responsive, meaning they'll automatically adjust to fit different screen sizes and devices.
This ensures a smooth and consistent user experience across smartphones, tablets, and desktop computers. When selecting a template, check for responsiveness in the features list or test it out on various devices.
Can I use a video website template with my current website?
Definitely! If you have an existing website and want to add a video section, you can integrate a video website template into your current site.
You'll need to make some adjustments, like matching the template's design with your existing site, but it's totally doable. Just be prepared to spend some time getting everything to look and function seamlessly.
Are video website templates compatible with all browsers?
Most video website templates are designed to be compatible with popular web browsers, like Chrome, Firefox, Safari, and Edge. However, it's always a good idea to test your chosen template on various browsers to ensure everything works as expected.
If you find any compatibility issues, contact the template's developer for support or look for an alternative.
Do video website templates come with video hosting?
No, video website templates don't typically include video hosting.
You'll need to host your videos on a separate platform, like YouTube, Vimeo, or Wistia. Once your videos are hosted, you can easily embed them into your website using the template's built-in video player or a third-party plugin.
Can I monetize my video website using a template?
You bet! Many video website templates support monetization options, like running ads, offering subscription plans, or selling individual videos. You'll need to integrate your chosen monetization platform with the template, but the process is generally straightforward.
Just make sure the template you choose supports the monetization method you want to use.
Do I need coding skills to use a video website template?
Not necessarily! Many video website templates come with user-friendly customization panels, so you can make changes without touching a single line of code.
However, if you want to make more advanced customizations or integrate the template with other platforms, some coding knowledge might come in handy. But don't worry – there's a wealth of online resources to help you learn!
How do I update a video website template?
Template updates are essential for keeping your site secure and up-to-date with the latest web standards. When an update is available, the template's developer will usually provide a changelog and instructions for updating.
In most cases, you'll simply need to replace the old files with the new ones, but remember to back up your customizations and content first.
Can I get support for my video website template?
Sure thing! When you purchase a premium video website template, the developer usually offers support for a certain period of time, often 6-12 months. During this time, you can reach out to them with any questions or issues you encounter.
Free templates might not offer the same level of support, but you can still find help through community forums, online tutorials, or by reaching out to the developer directly. Just keep in mind that response times and the extent of support may vary for free templates.
It's always a good idea to check the support options and resources available for the template you choose, so you know where to turn if you need assistance.
Ending Thoughts on the Best Video Website Templates
Video website templates are valuable tools for making a prominent online presence. These examples all have modern designs and responsive layouts. Of course, they have all the features you need to publish your videos online. Some of them also have sliders and custom pages to improve the user experience.
The templates are great for any website with videos, whether it is a vlog, a TV and movies page, or a portfolio. Their purpose is to appeal to the desires of the public, and they help you to interact with your audience.
If you liked this article about video website templates, you should check out this article about band website templates.
There are also similar articles discussing coming soon website templates, financial website templates, architecture website templates, and gym website templates.
And let's not forget about articles on travel website templates, pet website templates, app landing page templates, and tattoo website templates.
Eye-catching Video Website Templates for a Viral Online Presence