Every click on your website is a visual rendezvous. A picture, they say, speaks a thousand words, and WordPress photo gallery plugins transform those words into interactive stories. Imagine your digital space blooming with galleries that are not just a slapdash of images but an organized collection waving into a narrative.
You're here, and let's face it—static pages are the relics of a bygone Internet era. We're diving into the dynamic, fluid universe of galleries that give your visuals the grandstand they deserve.
By the end, you'll grasp the ins and outs of tailoring the perfect digital exhibit, from the simplicity of thumbnail grids to the sleek finesse of lightbox features.
We'll navigate through the sleek interfaces of plugins like Essential Grid, NextGEN, and Modula, uncovering the secrets of image optimization and SEO-friendly galleries.
So gear up for a journey through the mesmerizing world of gallery customization. This isn't just about decking up your site; it's about creating an experience that imprints on every visitor.
WordPress Photo Gallery Plugins To Try
| Plugin | Responsive Design | Drag-and-Drop | Gallery Templates | Social Media Integration | Albums | Lightbox | E-commerce | Video Support | Watermarking | SEO-friendly |
| --- | --- | --- | --- | --- | --- | --- | --- | --- | --- | --- |
| Essential Grid | ✅ | ✅ | ✅ | ✅ | ✅ | ✅ | ✅ | ✅ | ❌ | ✅ |
| Envira Gallery | ✅ | ✅ | ✅ | ❌ | ✅ | ✅ | ✅ | ❌ | ✅ | ✅ |
| Justified Image Grid | ✅ | ❌ | ✅ | ✅ | ❌ | ✅ | ❌ | ❌ | ❌ | ✅ |
| Photo Gallery by Supsystic | ✅ | ✅ | ✅ | ❌ | ✅ | ✅ | ❌ | ❌ | ✅ | ✅ |
| Meow Gallery | ✅ | ❌ | ✅ | ❌ | ❌ | ✅ | ❌ | ❌ | ❌ | ✅ |
| Gmedia Photo Gallery | ✅ | ❌ | ✅ | ❌ | ✅ | ✅ | ❌ | ✅ | ✅ | ✅ |
| Modula | ✅ | ✅ | ✅ | ❌ | ❌ | ✅ | ❌ | ❌ | ❌ | ✅ |
| Responsive Lightbox & Gallery | ✅ | ✅ | ✅ | ❌ | ✅ | ✅ | ❌ | ❌ | ❌ | ✅ |
| Image Gallery by Robo | ✅ | ✅ | ✅ | ✅ | ❌ | ✅ | ❌ | ❌ | ❌ | ✅ |
| NextGEN Gallery | ✅ | ❌ | ✅ | ❌ | ✅ | ✅ | ✅ | ❌ | ✅ | ✅ |
| Jetpack | ✅ | ❌ | ✅ | ❌ | ❌ | ✅ | ❌ | ✅ | ❌ | ✅ |
| Photo Gallery by 10Web | ✅ | ✅ | ✅ | ❌ | ✅ | ✅ | ✅ | ✅ | ✅ | ✅ |
| Portfolio Gallery | ✅ | ❌ | ✅ | ❌ | ✅ | ✅ | ❌ | ❌ | ❌ | ✅ |
| All-in-One Video Gallery | ✅ | ❌ | ❌ | ❌ | ❌ | ✅ | ❌ | ✅ | ❌ | ✅ |
| FooGallery | ✅ | ✅ | ✅ | ❌ | ✅ | ✅ | ❌ | ❌ | ❌ | ✅ |
The best out there: Essential Grid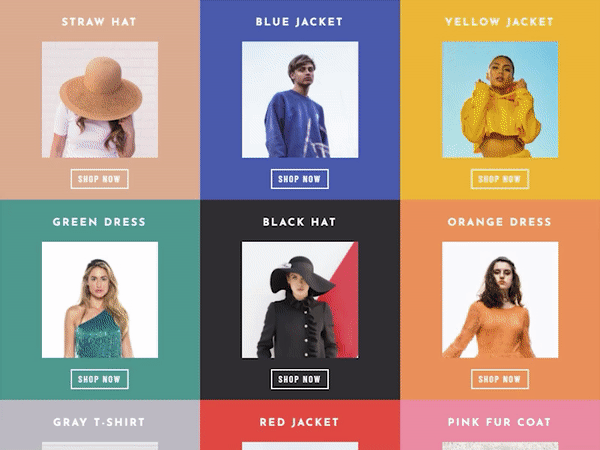 Essential Grid is hands down the best in the game. If there's one plugin that would make your website better more than others, it's this one.
Essential Grid lets you display your images in a gallery format, whether from the WordPress gallery, social media, or elsewhere.
The attractive, user-friendly interface makes customization and selecting your format tasks straightforward.
You can use images or add WordPress content, such as blog posts or other custom post types (including WooCommerce products). Also, you can connect to external services such as:
The visual skin editor creates gallery item layouts. For instance, when creating a gallery for WooCommerce, you can include:
Product price
Add-to-cart button, and more
And that's is not all. Once you get a license, you have access to quick FAQs and video tutorials that will walk you through the process of making your website look amazing with Essential Grid.
Key Features
Integration with other plugins such as WooCommerce
Multiple gallery layouts, including a template library with 50+ starter grids
Image, video, and audio galleries
Galleries from posts or custom post types
Create galleries from many different sources
Galleries from dynamic sources, including Instagram, YouTube, Vimeo, Twitter, Flickr, SoundCloud, and more
Here's a glimpse of what you can do with Essential Grid:
Present your blog posts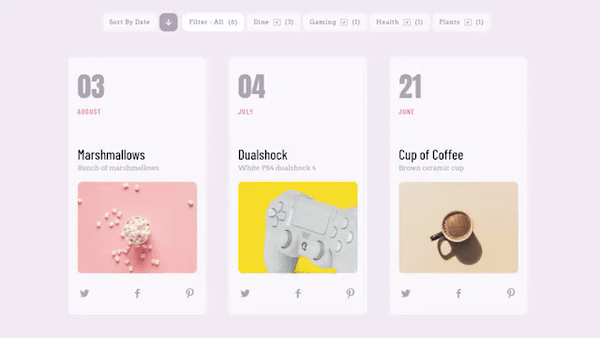 Showcase your portfolio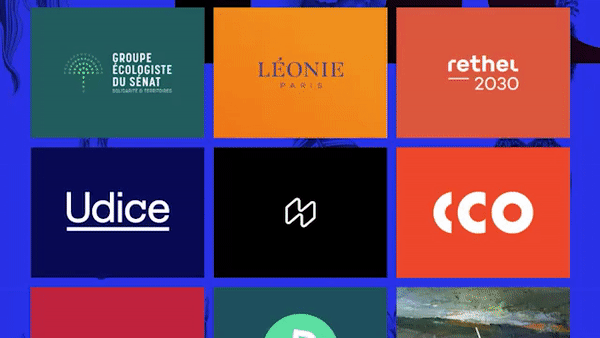 Display unique products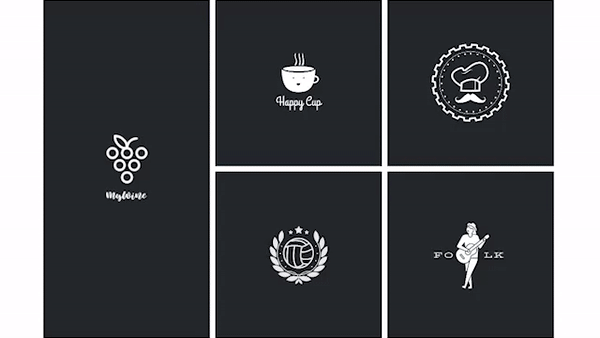 Share audio files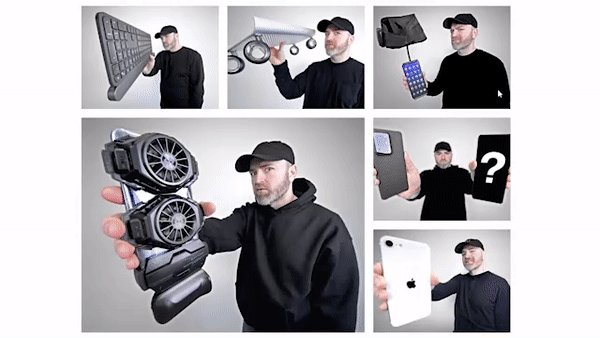 Display videos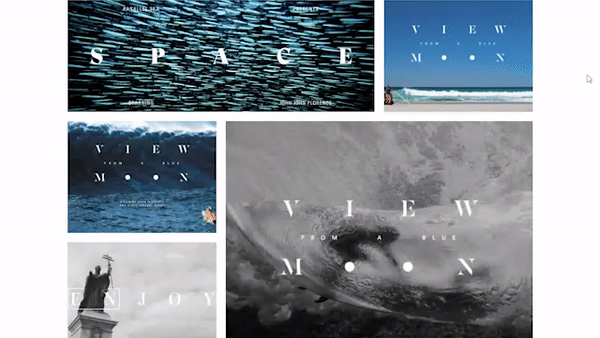 Show your Instagram stream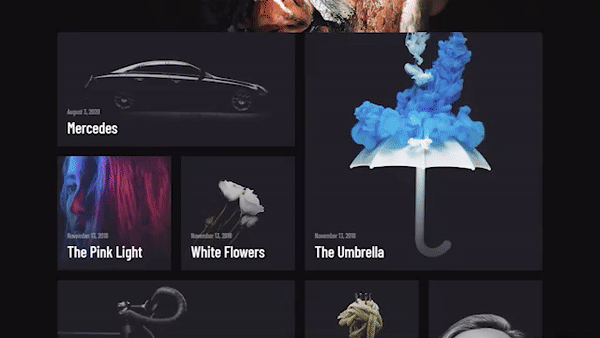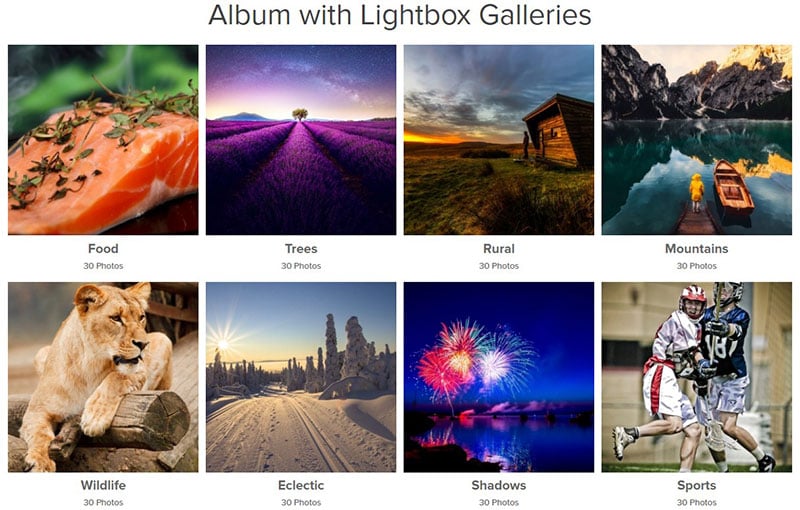 Envira Gallery's the deal when speed meets beauty in a photo plugin. Like a ninja, it's quick and responsive; your galleries will flow smooth on any device. It's drag-and-drop easy, so no coding headaches, and it comes packed with pre-built templates. It's about giving folks a crystal-clear view while keeping things snappy for search engines too.
Best Features
Pre-built gallery templates
Mobile-responsive design
SEO-friendly with deep linking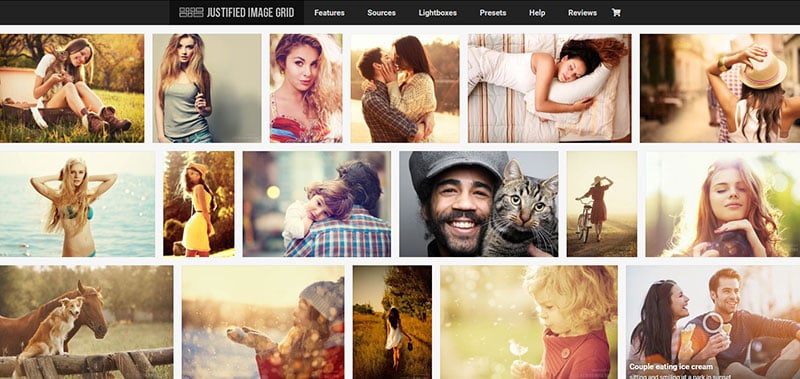 Justified Image Grid comes in like a puzzle master, fitting your photos into a tight, clean grid that looks sharp on all screens. Tailor each gallery with custom styles and kiss goodbye to those wonky, uneven layouts. It links up with your socials too, pulling snapshots straight from Facebook or Flickr.
Best Features
Customizable grid layouts
Social media integration
Visual layout builder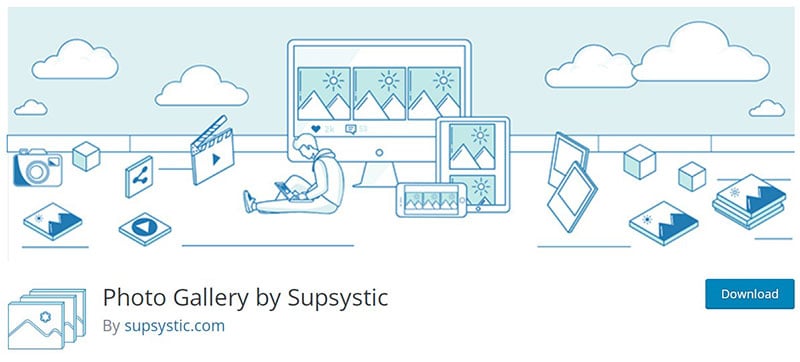 Dive into the universe of Photo Gallery by Supsystic where creating a gallery feels less tech, more magic. With the click-and-go setup, even total beginners can spin out sleek galleries. It's all about giving those images a home that's full-on eye candy, without breaking a sweat.
Best Features
Easy to use with no coding required
Rich customization options
Built-in watermarking and protection tools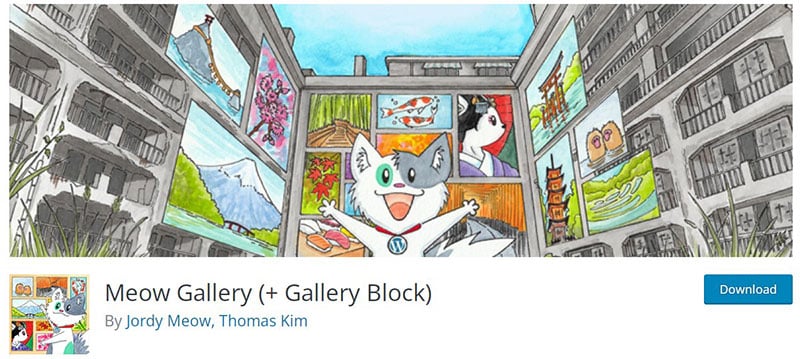 Meow Gallery's your cozy corner when you need a down-to-earth, yet purr-fectly designed photo nook. It leans into the WordPress block editor, cozying up with it to weave galleries that speak your personal brand's language. It's lightweight too, so your pages fly.
Best Features
Seamlessly integrates with WordPress block editor
Light and performance-focused
Elegant and straightforward designs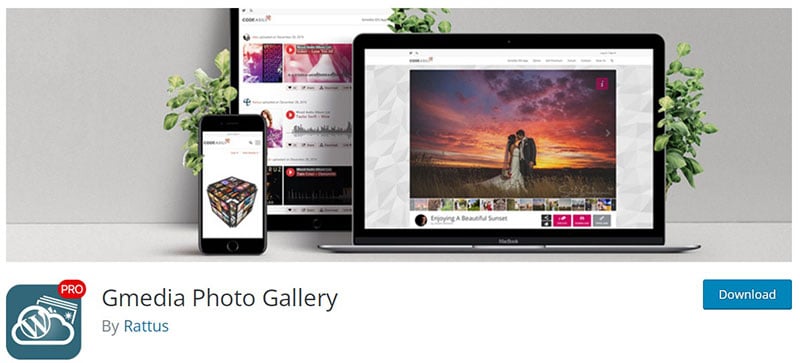 Gmedia Photo Gallery whips up a storm when you mix high-power customization with user-friendliness. Cram in heaps of images, create albums, and tag to your heart's content. It does the heavy lifting, so you get galleries that are both pretty to look at and smartly organized.
Best Features
Unlimited galleries and albums
Powerful tagging system
Mobile-friendly and responsive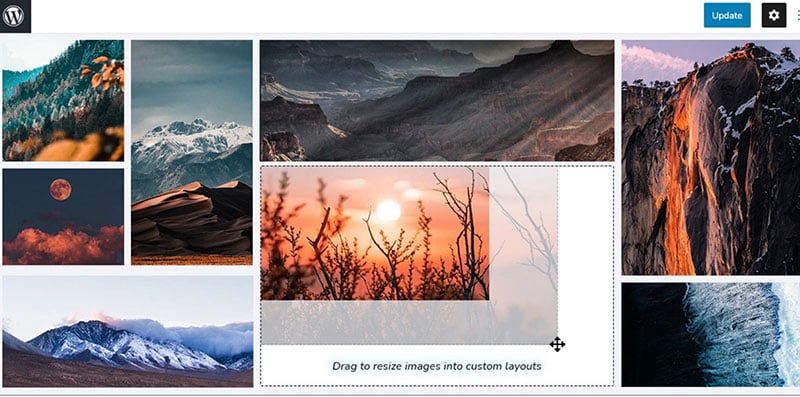 Modula swings in, a knight in shining armor for creative souls needing a straightforward, no-fuss gallery solution. Perfect for quick gallery setups without scrimping on the visual oomph. It's your canvas – paint it with custom grids, lightboxes, and all the color fit for a masterpiece.
Best Features
Custom grid designs with ease
Lightbox galleries
Performance optimized with speed in mind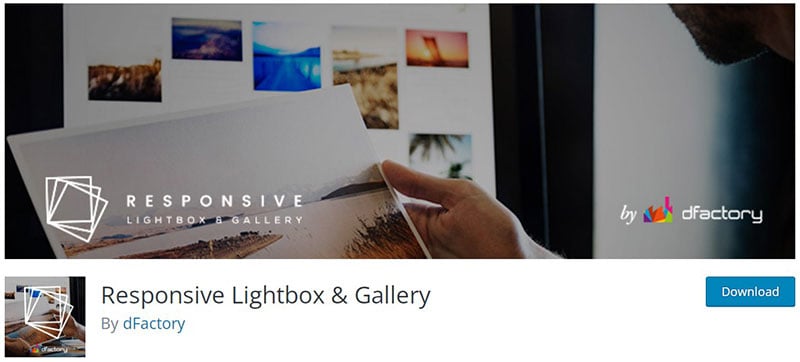 Responsive Lightbox & Gallery is like having a secret passage to a world where every photo gets its moment in the spotlight. It's all about making things pop with options that cater to every artistic whim, from fancy lightboxes to thumb-stopping galleries.
Best Features
Multiple lightbox scripts
Gallery builder with drag-and-drop
Full responsiveness for any device

When simplicity sidles up with advanced tech, that's Image Gallery by Robo. Sort out stellar galleries in a snap, with layouts that have a modern edge and a nod to the professional. It's the handy tool when good looks gotta work hand-in-hand with solid functionality.
Best Features
Auto-resizing for images
Social sharing options
Highly customizable options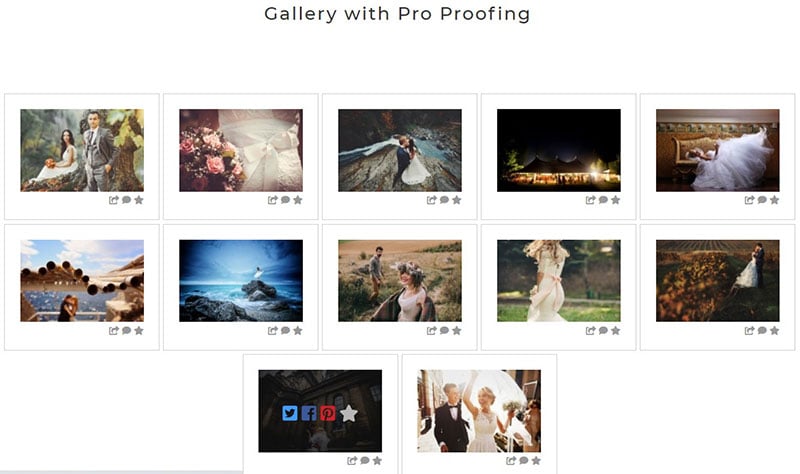 NextGEN Gallery comes in strong when you're rolling up your sleeves for some serious gallery crafting. It's got a depth of features that treat your photos with the gravitas they deserve. From ecommerce to proofing, NextGEN's got your back on all fronts.
Best Features
Ecommerce solutions
Gallery management and batch upload
Variety of display styles and formats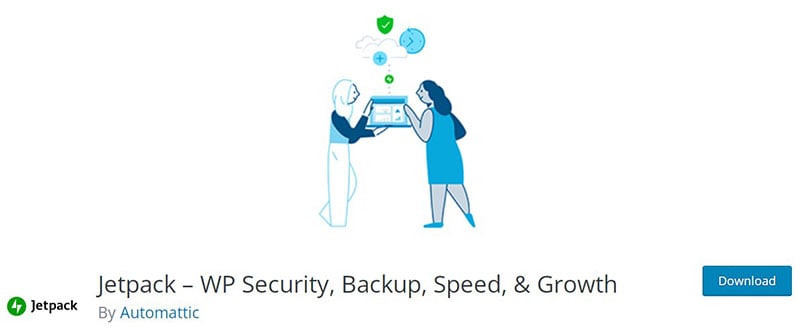 Jetpack's not just a gallery plugin; it's like your site's personal bodyguard, giving you security and gallery functions wrapped in one. It keeps things low-key on the surface but paddles hard under the hood, ensuring your visuals are shared safely and speedily.
Best Features
Tight security features
Diverse gallery styles
Performance enhancements for speedy loading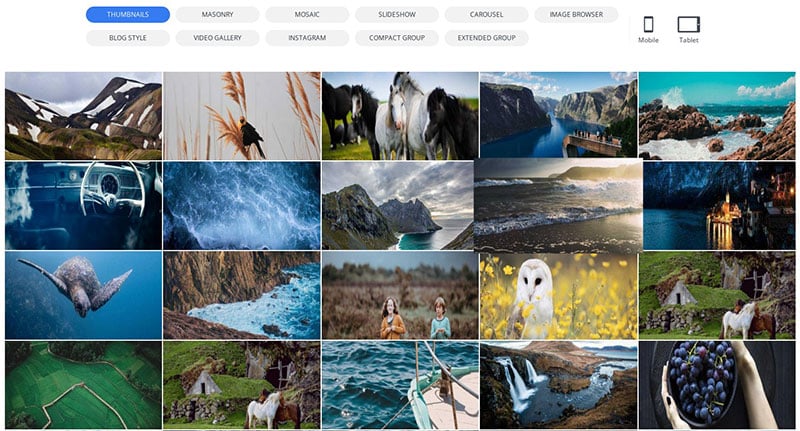 This beauty from 10Web is where sophistication meets ease. Lay out your visuals in meticulously-arranged galleries and slideshows that look profesh without the stress. It digs into the details, giving you full control of your photo showcase.
Best Features
Slideshow and thumbnail views
Watermarking and right-click protection
Ecommerce-ready tools
Portfolio Gallery strides in when you want your photos to do the networking. Aimed at artists, designers, and photographers, this plugin gets your work into the public eye with minimal fuss but maximum flair.
Best Features
Specialized for artist portfolios
Easy-to-navigate layouts
Filterable image categories

All-in-One Video Gallery is the go-to when your story's better told in motion. It's about bringing your video content front and center, all while keeping it slick and searchable. The plus? You'll have it running without a single line of code.
Best Features
Video management and player
SEO-friendly structure
Categories and tags for videos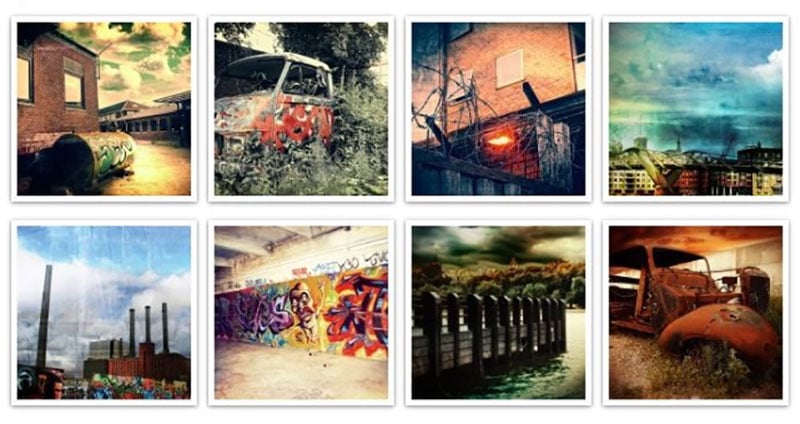 FooGallery steps up as your playful buddy, offering galleries that are easy-peasy to set up and fun to explore. It's packed with responsive features and dapper designs, ensuring your visitors swipe left (and right) on your pictures.
Best Features
Instant gallery previews
Various gallery templates
Lazy loading for images
FAQs about WordPress photo galleries
What's the best WordPress photo gallery plugin for photographers?
Look, for photographers, you want something that doesn't just dump your shots into a grid. You need robust features like watermarking, image optimization, and stunning lightbox features. NextGEN Gallery's a heavyweight here – it's like the Swiss Army knife for your visual arsenal.
Can I create a responsive photo gallery in WordPress?
Absolutely, you can. Let's not strand any visitors with odd-looking photos, no matter their device! Plugins like FooGallery and Envira Gallery are stellar at making everything look just right, crisp and clean, in every imaginable screen space.
How do I protect my images from theft in WordPress galleries?
Ah, the old image-lifting problem. Hate to see your work floating around without credit, right? So, here's the deal – most gallery plugins offer features like watermarking and disabling right-clicks. Pair those with a plugin like Modula Image Gallery for next-level image protection.
Is there a way to integrate SEO with my WordPress photo gallery?
Oh, we're getting serious now. SEO-friendly galleries are a thing. Most gallery plugins will play nice with your SEO – they'll help you add alt texts, which are gold for search engines. Plus, you can look for plugins that support structured data for even better performance.
How easy is it to customize WordPress photo gallery plugins?
Customization's a breeze, mostly. With intuitive UIs, and features like gallery customization and drag-and-drop builders, you'll feel like a kid with Lego. No coding, just pure creativity unloading into your web design.
Can WordPress photo gallery plugins handle video content too?
Surprise! It's not all about stills. A lot of these plugins, think NextGEN or FooGallery, double up as a space for your videos too. So, yeah, mixing in videos with your photo exhibition is no sweat.
What should I look for in terms of support when choosing a photo gallery plugin?
You're looking for a plugin with a lifeline – solid customer support, active forums, regular updates… the whole nine yards. The more popular ones, like Envira Gallery, are sitting pretty with extensive documentation and a responsive support team. You're not alone in this.
How do WordPress photo gallery plugins impact website performance?
Listen, poorly coded plugins are like a lead balloon for your website speed. Choose one that's big on lazy loading and efficient coding. An optimized ride guarantees a gallery that loads fast and won't keep your visitors twiddling their thumbs.
Are there photo gallery plugins that offer e-commerce integration?
You bet. For the photo-slingers aiming to sell prints or digital downloads, e-commerce integration's vital. Some plugins are eCommerce buddies out of the box – letting you tag prices onto your images faster than saying "cheese".
What are the costs involved in using premium WordPress photo gallery plugins?
Truth bomb – good things aren't always free. Premium plugins come with price tags, but think of it as investing in a vault for your visual treasure. You'll end up with more customization options, better security, and a user-friendly operation. A fair trade for the wallet dent, I'd say.
Ending thoughts on these gallery plugins
So, we've scrolled through the essentials, right? WordPress photo gallery plugins aren't just add-ons; they're the secret sauce to making a site pop. You've seen the top picks – from the ones decking out your images in neat thumbnail grids to those dishing out full-screen displays and interactive previews.
Picture this: massive boost? Check.
Ease of use? Double-check.
Keepin' it fresh and SEO-friendly? You got it.
Whether you're a pro photog or someone just aiming to amp up your digital digs, there's a plugin out there ready to sync with your vibe.
Wrapping up, remember:
Gallery customization isn't just luxury; it's essential.
The right plugin can be your unsung hero in SEO land.
Your photos are art, and they deserve a frame that shouts it loud.
Done deal. Dive in, pick the right tools, and watch that gallery level-up!
If you enjoyed reading this article on the WordPress photo gallery plugins, you should check out this one with WordPress logo slider plugins.
We also wrote about a few related subjects like the best WordPress sliders, professional website templates, carousel slider examples, slide menu examples, CSS cards, CSS text animation, the most innovative and creative websites, and full-page slider examples.
The Best WordPress Photo Gallery Plugins Out There