Using a WordPress photo gallery plugin will help you take your web design project to the next level.
WordPress gallery plugins give you more than basic image gallery layouts.
WordPress photo gallery plugins are more flexible than they appear at first glance. Many go beyond images, enabling you to display custom content, such as:
Images
Videos
Latest blog posts
WooCommerce products
Team members
Upcoming events, etc.
Are you a photographer searching for an easier way to work with clients or sell your work? Or, are you a content creator, business owner, or web designer looking to create stylish image galleries with just a few clicks?
This article is a collection of the best WordPress photo gallery plugin options for a wide range of uses. There are gallery plugins for everyone.
The best out there: Essential Grid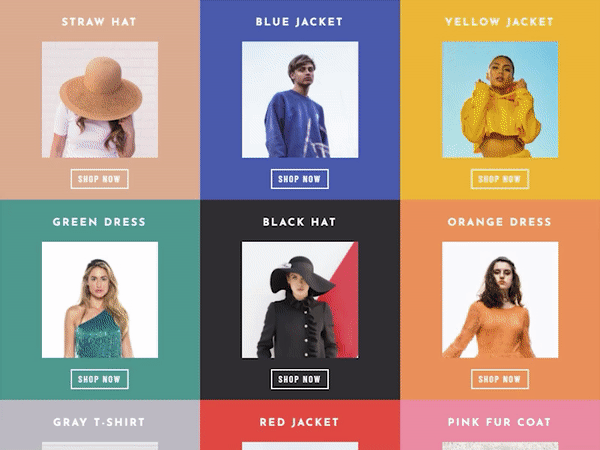 Essential Grid is hands down the best in the game. If there's one plugin that would make your website better more than others, it's this one.
Essential Grid lets you display your images in a gallery format, whether from the WordPress gallery, social media, or elsewhere.
The attractive, user-friendly interface makes customization and selecting your format tasks straightforward.
You can use images or add WordPress content, such as blog posts or other custom post types (including WooCommerce products). Also, you can connect to external services such as:
The visual skin editor creates gallery item layouts. For instance, when creating a gallery for WooCommerce, you can include:
Product price
Add-to-cart button, and more
And that's is not all. Once you get a license, you have access to quick FAQs and video tutorials that will walk you through the process of making your website look amazing with Essential Grid.
Key Features
Integration with other plugins such as WooCommerce
Multiple gallery layouts, including a template library with 50+ starter grids
Image, video, and audio galleries
Galleries from posts or custom post types
Create galleries from many different sources
Galleries from dynamic sources, including Instagram, YouTube, Vimeo, Twitter, Flickr, SoundCloud, and more
Here's a glimpse of what you can do with Essential Grid:
Present your blog posts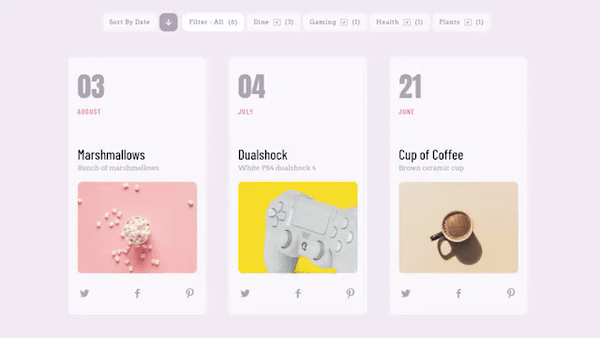 Showcase your portfolio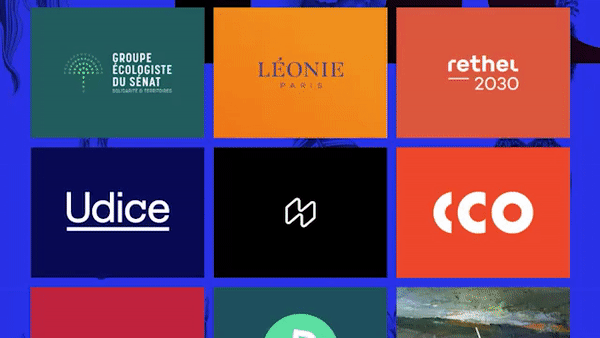 Display unique products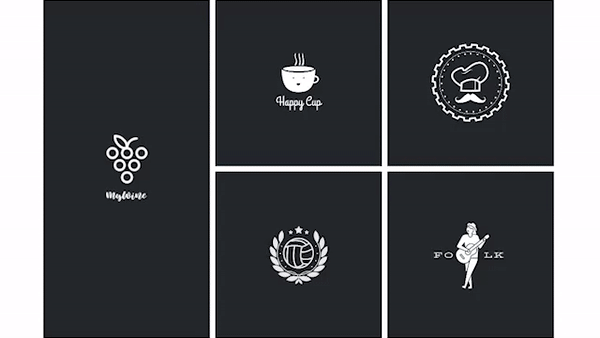 Share audio files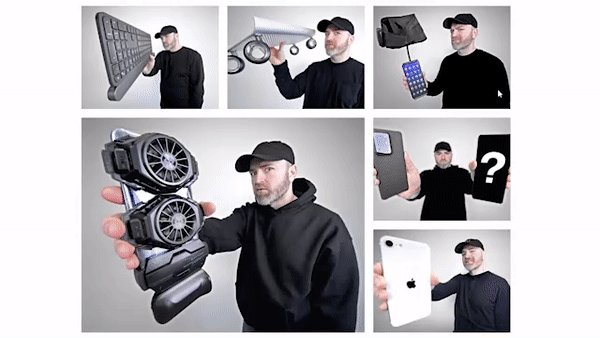 Display videos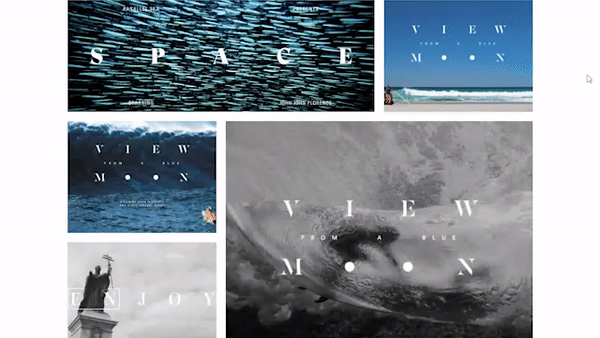 Show your Instagram stream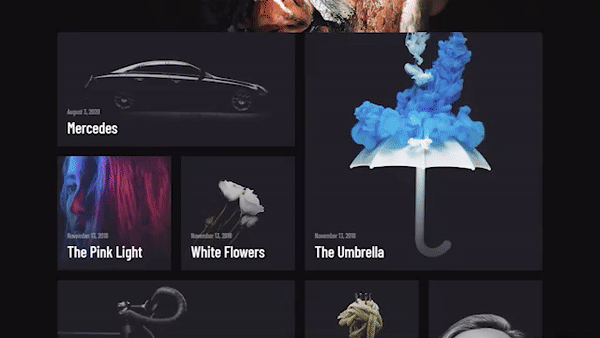 Multi-Purpose WordPress Gallery Plugin Options
Photo Gallery by Supsystic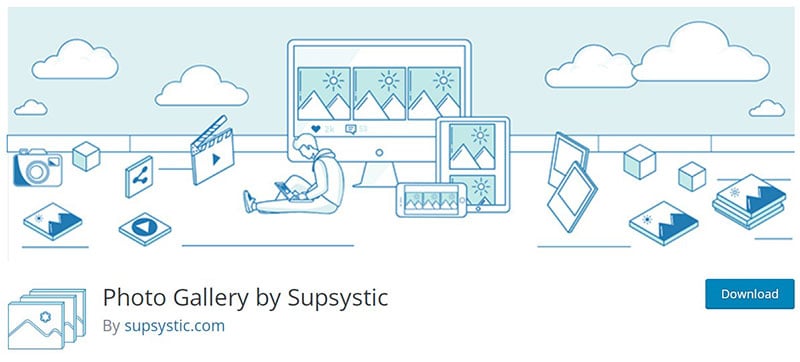 Do you want to try out differentgallery styles on your site? If yes, give this WordPress option a try. Some of the possibilities include:
Full-width gallery
Carousel gallery
Mosaic gallery, or gallery with captions and icons, and more
Having so many options is great, but this gallery plugin might be more than you need if simplicity is your aim. Here's a sample of its additional features:
Shadow presets to make your images stand out
Add images to galleries from FTP or social media
Image captions help viewers understand the context
Reflected company logo on each image to build a branded gallery
CoBlocks
This gallery plugin provides a suite of new blocks for the WordPress block editor (Gutenberg).
CoBlocks'gallery blocks create great-looking finished galleries, but it isn't limited to galleries. It boasts a total of five gallery blocks:
Collage Gallery
Carousel Gallery
Stacked Gallery
Offset Gallery
Masonry Gallery
You can configure your entire gallery without leaving the WordPress block editor.
This option is ideal for quickly building lightweight galleries that look great from the block editor.
While it comes with more than just gallery blocks, you'll find the other blocks are helpful as well.
FooGallery
FooGallery is one of the simpler WordPress gallery plugins. The free version lets you set up your own:
Hover effects
Automatic captions and titles
Pagination
Lightbox
Retina support
Gallery template (six options come with the free version)
All the galleries are retina-ready by default and come with album support, and that means you can group many different galleries.
This plugin has quite a few built-in gallery templates to speed up your creation process, including a Gutenberg block. FooGallery is genuinely one of the easiest ways to get beautiful galleries on your website.
Jetpack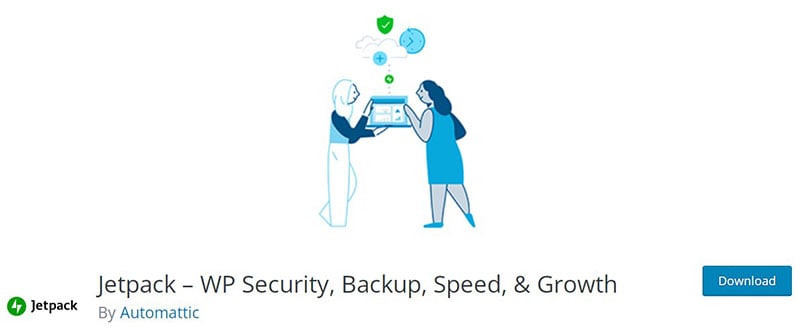 This popular multi-purpose plugin from Automattic provides many WordPress.com features. That makes it easier to build a aself-hosted WordPress site. One such feature enhances WordPress gallery functionality.
Jetpack's galleries aren't as heavy-duty as some WordPress photo gallery plugins. But it's a good option for those seeking simplicity. It effectively creates basic gallery types, especially if you're already using Jetpack.
Jetpack galleries are free, and there are no additional upgrades to worry you. You can expand with several add-ons and features for a fee, but all gallery functions are included in the free package.
Smash Balloon Instagram Feed
Here is a powerful WordPress gallery plugin that displays your Instagram images on your WordPress site.
Install the plugin and connect it to your Instagram account to get started. In less than 30 seconds, you can display a beautiful image feed on your WordPress site. With highly customizable feeds, you can:
Choose from multiple feed types and layouts
Design the feed to match your site's theme
Select which images to show or hide, and much more
Some of Smash Balloon Instagram Feed's key features are:
Responsive and fast
No limitations
Backup caching system
Shoppable feeds
Final Tiles Grid Gallery
Do you want fully responsive WordPress galleries that adjust the image layout to browser or screen sizes? Then here's the WordPress gallery plugin for you.
You can choose from two available gallery layouts and adjust the margin size for each image you upload.
This plugin doesn't crop images, and it retains the original size when possible. That means your images are displayed on the screen as uploaded.
The plugin's premium version includes hover effects for captions and images and support for WooCommerce.
Grand Flagallery
Grand Flagallery is a beginner-friendly gallery plugin that allows you to upload your image galleries easily.
This basic media and image gallery plugin was created by CodeEasily, a UK-based team that specializes in WordPress gallery plugins.
The Grand Flagallery plugin lets you upload images, music playlists, and video playlists to your WordPress site.
It can also upload and organize your images in batches. You can manage all your galleries from a centralized location, helping you create and customize gallery collections.
Responsive Lightbox & Gallery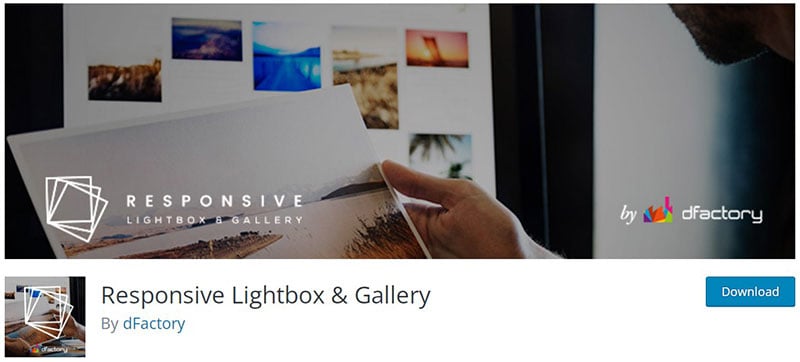 This WordPress gallery plugin's name may not impress you, but it's one of the most popular free WordPress photo gallery plugins.
It features eight lightbox scripts and three gallery templates:
The drag-and-drop feature lets you quickly change your gallery's image arrangement. You can also embed galleries via a shortcode or dedicated block.
And this photo gallery plugin focuses on more than images. You can include other content, such as posts or videos.
Premium extensions add lightbox options and layout features like:
Justified
Expanded galleries
Global Gallery
Here is another popular WordPress gallery plugin from CodeCanyon. This photo gallery template lets you create searchable and filterable galleries from a ton of different sources, such as:
Social media sites
Google Drive
RSS feeds
Local folders and more
You get four layouts, ten lightbox options, and image slider and carousel options.
Key Features of this Photo Gallery Option
Four gallery layouts
Ten lightbox options
Pull images from WordPress Media Library or local folders
Google Drive integration
Social media integrations with Twitter, Pinterest, Tumblr, and more
Integrates with any RSS feed
Gallery filters
Gallery search box
Albums (gallery collections)
Image comments in lightbox
Watermarks
Modula Image Gallery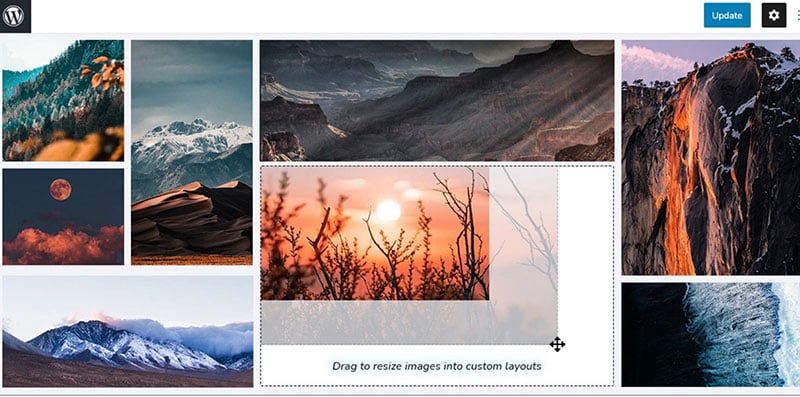 Modula Image Gallery is one of WordPress's lightest and most responsive image gallery plugins. It creates beautiful responsive grid galleries with minimal configuration.
In addition to images, Modula lets you share video galleries as well. This plugin has a custom grid feature that adjusts the size of each image in the gallery.
By navigating to the custom grid option and dragging the corners of an image, you can control dimensions like width, height, and aspect ratio.
Modula Image Gallery is perfect for beginners and advanced WordPress users because you can use CSS to separate galleries.
Envira Gallery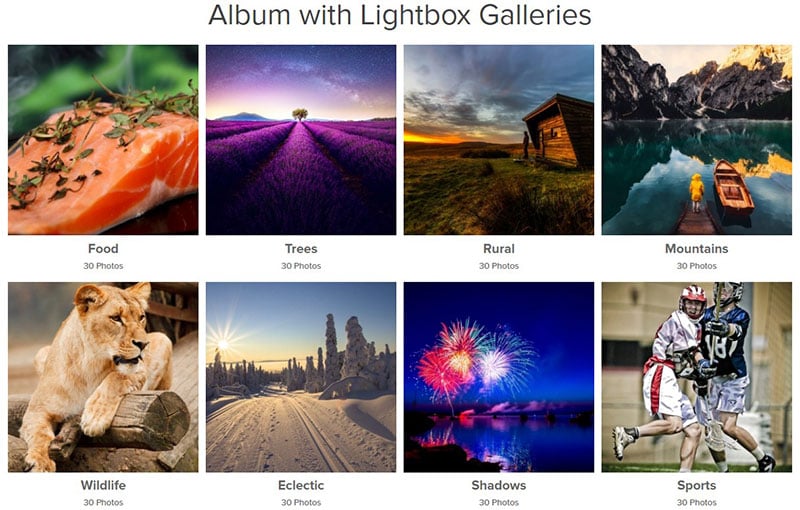 This popular photo gallery option comes with the free Lite version and the more full-featured premium version. The Lite version gives you basic controls for things like:
Lazy loading
Number of columns
Lightbox
Envira Gallery's interface is exceptionally user-friendly. The drag-and-drop function adds photos and adjusts your visual elements' size.
Envira Gallery provides options for both photo and video galleries. Thanks to mobile-responsive galleries, your site visitors can easily load, view, and navigate through content when browsing from a phone or tablet.
This plugin features WooCommerce compatible social media integration, making it easy to share your images on other platforms.
Justified Image Grid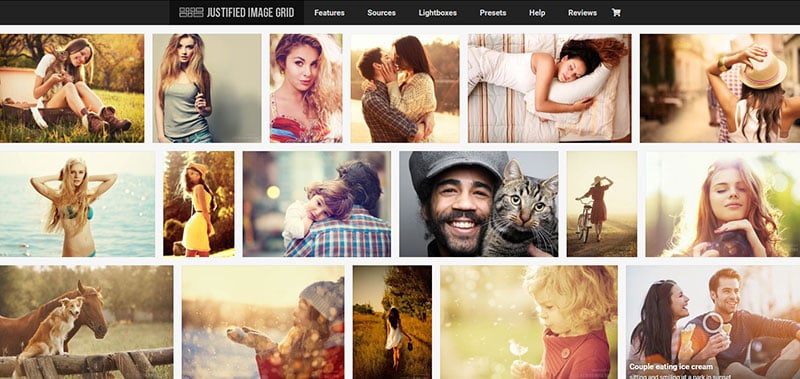 Like Essential Grid, one of Justified Image Grid's strong points is letting you pull in gallery items from many different sources, like:
Images
Blog posts
WooCommerce products
Facebook
YouTube
Vimeo, and more
It also provides many settings for customizing your galleries' functions.
Key Features
● Automatic justified layout (hence the name)
● Customize rows and dimensions as needed
● Mobile-specific settings
● Six different lightbox options
● Import content from any post type, including blog posts and WooCommerce products
● Integrates with NextGEN Gallery and Real Media Library
● Integrates with Facebook, Flickr, and any RSS feed (including YouTube, Vimeo, DeviantArt, Pinterest, and more)
WordPress Photo Gallery Plugins for Photographers & eCommerce
Photo Gallery by 10Web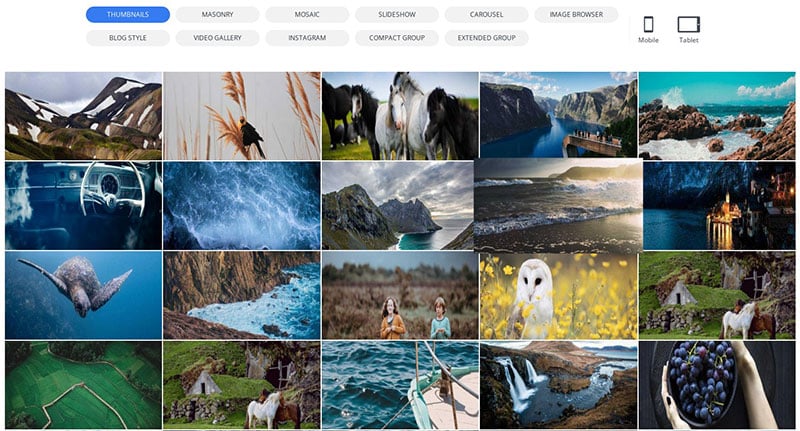 Photo Gallery by 10web is a popular choice with deep functionality. You can also use the premium eCommerce extension option to sell images.
The free version includes a few basic gallery layouts, but many better-looking layouts are only accessible via the paid version.
Photo Gallery by 10Web offers many options for showcasing your images. For example, you have the opportunity to add a filmstrip above the slideshow images.
This function lets users jump ahead instead of being forced to view one photo at a time. You can also customize each slideshow's dimensions.
NextGEN Gallery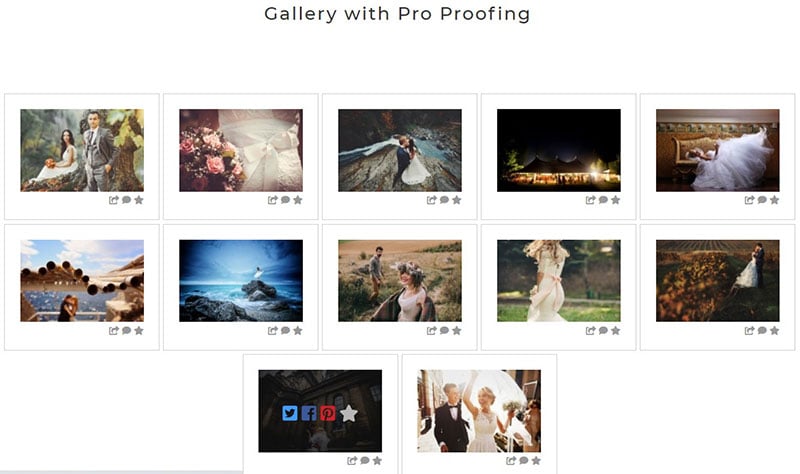 The NextGEN Gallery plugin is one of the best WordPress gallery plugin options on WordPress.org.
The free version's default galleries aren't that snazzy, but this plugin is highly customizable with deep functionality.
That makes the NextGEN Gallery plugin especially popular with photographers and people who work with images for a living.
NextGEN Gallery's free version offers two main gallery styles (slideshows and thumbnail galleries). It also gives you two album styles (compact and extended).
These come with a wide array of options for controlling size, timing, transitions, style, controls, lightbox effects, and more.
Various premium bundles expand its functions. Beyond album styles, you also manage image features like:
Automatic watermarks
Easy image resizing
Album support
WP Photo Album Plus
Here is a free WordPress photo gallery plugin with features that won't disappoint. It is a customizable multimedia content management and display system.
One of its most unique features lets your site visitors rate and comment on photos. Letting your visitors have a say is a great way to boost engagement on your site.
This WordPress gallery plugin also lets you upload images to the front end of your site and control the display sizes.
You can also access built-in features like Google Maps, search functions, and a lightbox overlay system.
WordPress Gallery Plugins for Bloggers
Gmedia Photo Gallery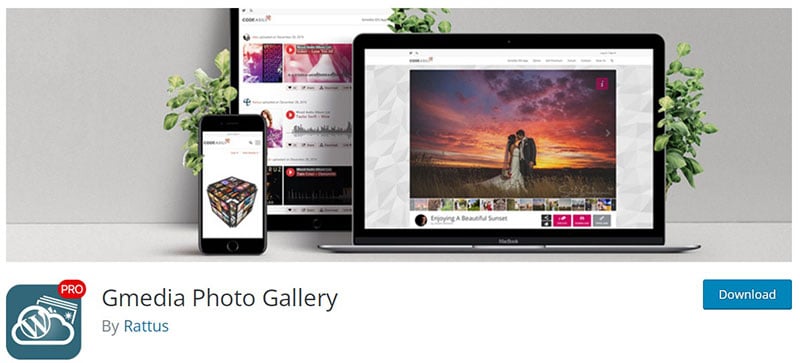 The Gmedia Photo Gallery plugin may not be everyone's first choice, but it presents a sleek design.
It also comes with powerful customization tools to match your branding and the demands of a large gallery.
This WordPress gallery plugin is one of the best for travel bloggers on the go using their phones to take pictures. Another cool travel feature is showing your photos' geolocation on a map. And it includes a companion iOS app to manage your galleries from your iPhone.
You can install this free plugin and launch your photo gallery without paying a dime. But a premium version is available if you want even more features.
Meow Gallery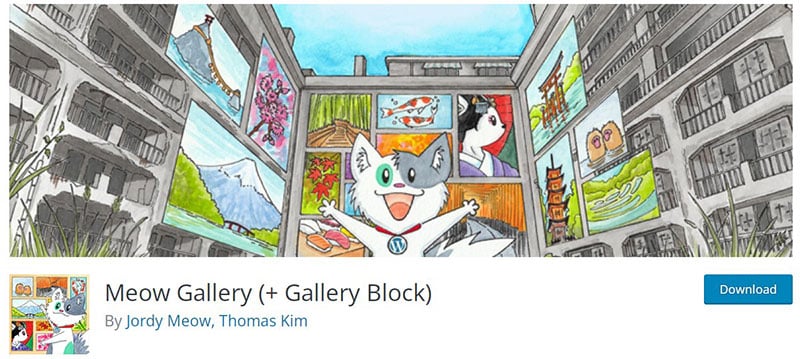 The Meow Gallery plugin is the most straightforward photo gallery plugin in this list. Not having an interface of its own makes Meow Gallery unique.
Instead, you can do everything through the native WordPress block editor (Gutenberg), streamlining the gallery creation process.
This plugin provides a dedicated block to create your gallery. You can configure everything about your gallery's layout and style using the block's settings. You'll get a few different gallery layouts, including:
Tiles
Masonry
Justified (like Flickr)
Square (like Instagram)
Adobe Lightroom integration.
With the Pro version, you can show your gallery items on a map layout (great for travel bloggers wanting to showcase trips).
WordPress Gallery Plugins for Portfolios
Portfolio Designer Lite
Here is a highly flexible way to build portfolio galleries to showcase your creative work, such as photos or a rich media gallery.
This photo gallery template's free version comes with the famous masonry and grid-style layouts. It also features loads of pre-defined effects and animations to make your portfolio or gallery stand out.
The paid version of Portfolio Designer is worth having if you have the budget for a premium plugin. It offers dozens more effects and layout variations, including:
Sliders
Justified layouts
Infinite scrolling, etc.
Media Boxes Portfolio
This WordPress gallery plugin focuses on creating a gallery portfolio, but you can certainly use it for other jobs.
Some features that make it an ideal portfolio gallery plugin are sorting options, gallery filters, and its search box.
To add extra flexibility, you can also use various gallery content sources, such as videos and other post types.
This WordPress Gallery Plugin's Key Features
Deep linking
jQuery grid galleries
Gallery sort options
Any source — images or custom post types (e.g., portfolio items, blog posts, products, and more)
Lightbox from Fancybox and Magnific Popup
Unlimited gallery filters
Gallery search box so visitors can search gallery items
FAQs about WordPress photo galleries
1. How do I create a photo gallery in WordPress?
The built-in gallery function in WordPress can be used to build a photo gallery. Create a new post or page first, then click "Add Media" and add the pictures you want to use.
Click the "Create Gallery" button after choosing the pictures you wish to include in the gallery. The gallery parameters, including the number of columns and image size, can then be changed.
2. Can I add captions to my WordPress photo gallery?
Your WordPress photo gallery does indeed support captions. Each photograph in your gallery can have a caption added by clicking it and typing something in the "Caption" section. This causes a caption to appear next to the picture in your gallery.
3. How can I add a lightbox effect to my WordPress photo gallery?
You may add a lightbox effect to your WordPress photo gallery using a plugin such as Responsive Lightbox & Gallery.
This plugin allows you to simply add a lightbox effect to your gallery images, which will display the images in a larger format when clicked on. This is a terrific method to showcase your photographs and make them more aesthetically appealing.
4. Is it possible to resize images in my WordPress photo gallery?
Yes, it is possible to resize photographs in your WordPress photo gallery. You can choose the image size you want to use when creating your gallery. You can produce fresh thumbnail sizes for your photographs if you need to resize them after they have been posted by using a plugin like Regenerate Thumbnails.
5. Can I display my WordPress photo gallery in a grid layout?
Yes, you may use a plugin like FooGallery to show your WordPress photo gallery in a grid format. This plugin allows you to create beautiful, customizable galleries with various layout options, including grids, masonry, and more.
6. How can I add a slideshow to my WordPress photo gallery?
Using a plugin like Soliloquy, you can add a slideshow to your WordPress photo gallery. This plugin allows you to create beautiful, responsive slideshows that can be added to your galleries. To create the ideal slideshow for your gallery, you can alter the settings for the slideshow, such as the slide duration and transition effects.
7. Is there a way to add filters to my WordPress photo gallery?
Yes, you may use a plugin like Media Library Categories to add filters to your WordPress photo gallery. This plugin allows you to add categories and tags to your media files, which can then be used to filter and sort your gallery images.
8. How can I add social media sharing buttons to my WordPress photo gallery?
Using a plugin like Shareaholic, you can include social media sharing buttons in your WordPress photo gallery. With the help of this plugin, you can quickly add social media sharing buttons to your galleries, making it simple for users to post your photos to their social media accounts.
9. Can I password-protect my WordPress photo gallery?
Yes, you may use a plugin like Envira Gallery to password-protect your WordPress photo gallery. This plugin makes it simple to share your images with only the people you want to see them by enabling you to build private galleries that can only be accessed with a password.
10. What are some popular WordPress photo gallery plugins?
The WordPress photo gallery plugins NextGEN Gallery, FooGallery, Envira Gallery, and Soliloquy are a few of the more well-known options. Each of these plugins provides a variety of customization options and features to assist you in building stunning galleries that best display your photos.
Ending thoughts on the best WordPress photo gallery plugin options
There are thousands of photo gallery plugins available today. This article is the perfect WordPress photo gallery template guide to narrow down your choices.
A great gallery plugin should be easy to use, fast, and loaded with features to create beautiful galleries. It should also improve your image SEO and offer a great user experience.
The templates in this collection are the best WordPress gallery plugins to showcase blog posts, products, and so much more.
If you enjoyed reading this article on the WordPress photo gallery plugins, you should check out this one with WordPress logo slider plugins.
We also wrote about a few related subjects like the best WordPress sliders, professional website templates, carousel slider examples, slide menu examples, CSS cards, CSS text animation, the most innovative and creative websites, and full-page slider examples.
The Best WordPress Photo Gallery Plugins Out There