Across the world, online WooCommerce shops need good product sliders.
An online shop faces its particular challenges. They need to present their merchandise in an attractive way that is easy to browse for customers.
A shop that wants to increase sales will have to engage potential buyers.
Product sliders do exactly that. A slider shows the different offers in a continuous slideshow.
The webshop viewer does not need to browse through the whole page. Instead, the most attractive products are gathered in one logical place.
The capacity of a slider is not limited to a certain number of products. It can show as many as the shop owner needs.
It is efficient too because it does not slow down a webshop site.
Users also appreciate the use of sliders in a webshop. It adds a professional touch and a clean look to the store.
It very much enhances the user experience.
Of course, a product slider for WooCommerce must be reliable and responsive. The article compiled a list of the ten best WooCommerce slider plugins for WordPress.
Slider Revolution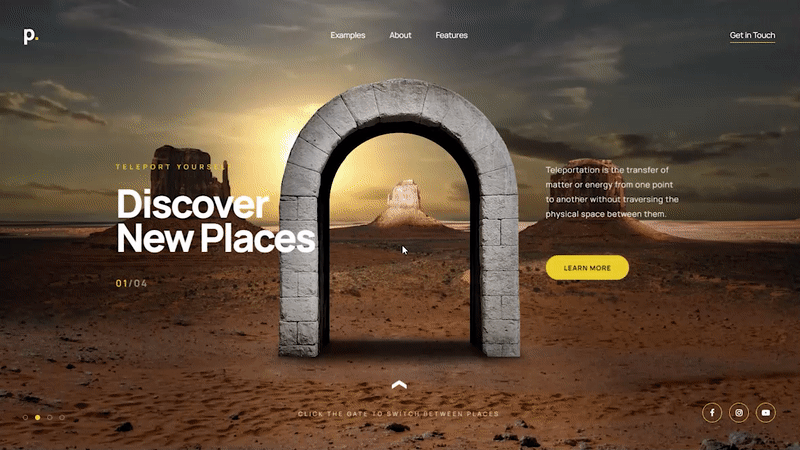 Slider Revolution is your secret weapon to creating responsive WordPress sliders, web pages & stunning visuals even with zero experience.
Exceed even the most unrealistic expectations with special effects, animations, and impressive designs. All at your fingertips in our drag-and-drop intuitive editor.
There are 200+ templates to get you started on your responsive content. These customizable templates are NOT just for WordPress responsive sliders, but also for hero sections, web pages, WooCommerce content, and other content elements.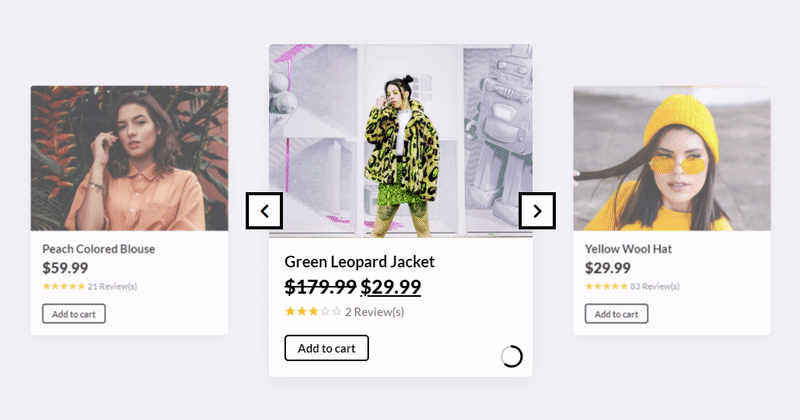 You'll be able to create everything a pro can do without writing a line of code.
Once you open your eyes to the immense possibilities our template library offers you, you'll never have to deal with the limitations of an average WordPress slider plugin ever again.
Did we mention there's a 2000+ elements library that you can use to turn your raw ideas into stunning visuals?
You've got a royalty-free media library at your fingertips all included in this cutting-edge WordPress slider plugin: background images, videos, object PNGs, font icons & SVGs, premade layer groups, and many more.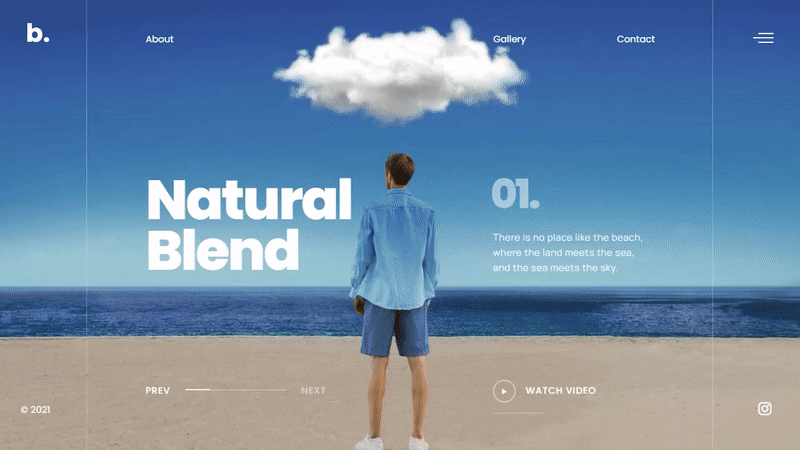 Slider Revolution is the cutting-edge WordPress plugin for today's sky-high web design demands. Packed with sleek features, it can turn boring and static designs into visually-grabbing, responsive websites with just a few clicks.
Check it out and see for yourself!
PickPlugins Product Slider for WooCommerce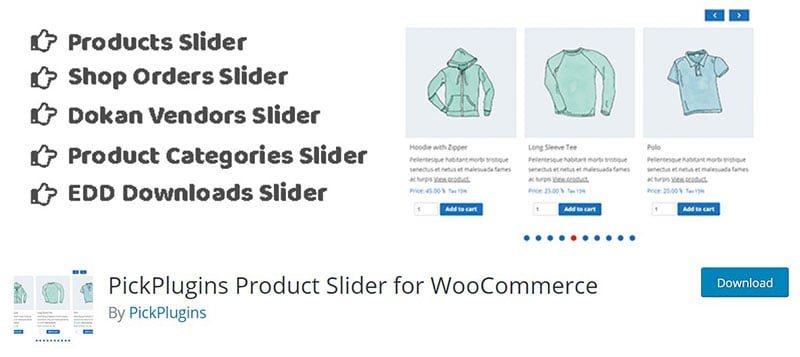 The first WooCommerce slider plugin is PickPlugins Product Slider for WooCommerce. This responsive slider enjoys much popularity.
At the moment it has more than 20,000 active installations.
Users of the PickPlugins slider enjoy regular updates. The updates include enriched features and added customization options.
This is a free option that can compete with some of the commercial product sliders out there.
Users can add as many items to a slider as they want. The plugin includes three complete themes and custom ribbons.
The slider carousels are responsive and look good on mobile devices too.
PickPlugins offers a custom pagination option. This feature is very useful for hiding items that are temporarily not available.
WooCommerce Product Slider, Carousel, & Grid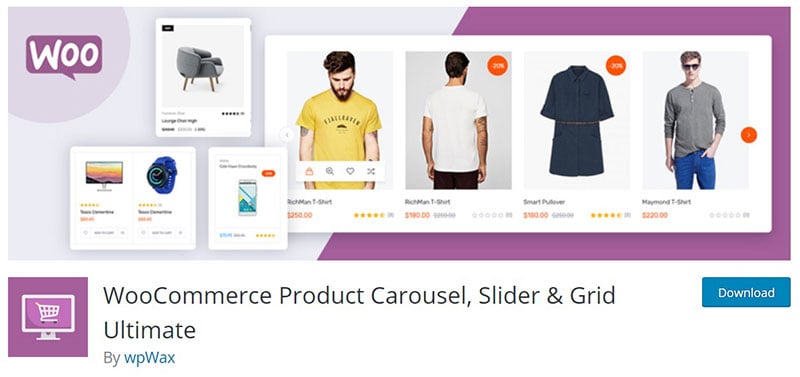 With the WooCommerce Product Slider, Carousel & Grid plugin, users can display their products. The displays are beautiful and eye-catching.
It offers the option of using a carousel, grid, or slider for this presentation. The possibilities are endless.
The plugin is responsive. The sliders adapt to any screen size, from desktop computer screens to small mobile devices.
This tool offers various display options. For instance, cart button, price, product title, and star ratings.
Using WooCommerce Product Slider, Carousel & Grid does not require any coding skills. After creating the slider, the app will generate a shortcode.
Then it is only a matter of copying and pasting the code in the right place on the WordPress site.
Free Woocommerce Products Slider/Carousel Pro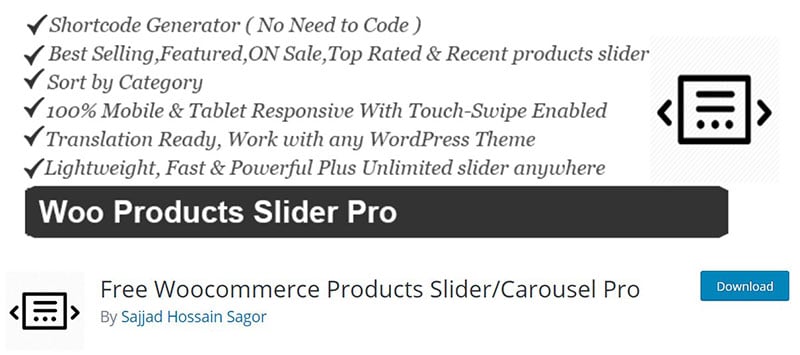 This is one of the most feature-rich plugins on this list. It helps users to advertise their products in a slider or carousel.
The user can choose to display the Best-Selling, On Sale, Top-Rated categories, and so on.
The plugin creates a shortcode for the slider after the user finishes creating it. Then they can paste the shortcode into their page.
An additional feature is sorting by category. This adds a category ID parameter to the shortcode.
WooSlider by WooCommerce
WooSlider by WooCommerce is a paid option for making responsive product sliders. It is very robust and makes adding a slider to any WooCommerce store website easy.
It offers full control over various aspects of a product slideshow. It allows the user to customize sliding speeds, transition, and slider navigation controls.
In addition, it has many more display options and settings that the user can choose from. It gives the website owner complete control over how to show their most relevant content.
Product Slider and Carousel with Category for WooCommerce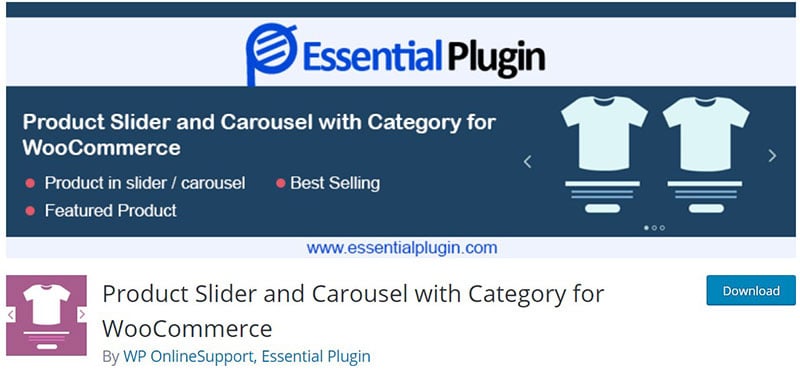 WP OnlineSupport produced this plugin. Its design helps to create product carousels and slideshows.
WooCommerce site owners can draw visitors' attention to featured and best-selling products.
This product has three different shortcodes. The user can take these codes and use them on their site to display products in different categories.
It allows for the creation of an unlimited number of sliders, anywhere on a page.
Product Widget Slider for WooCommerce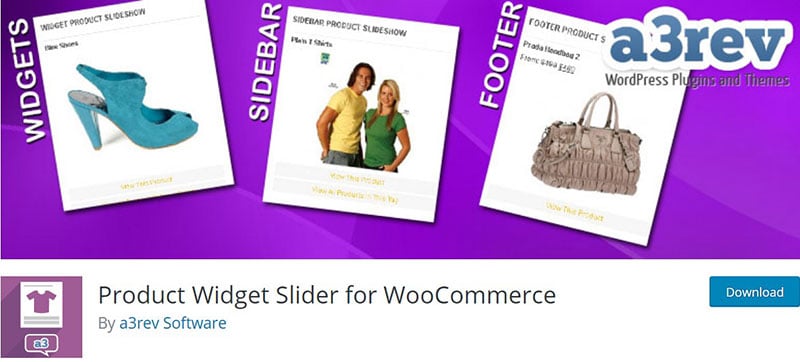 This slider plugin enables users to make sleek product sliders for sidebars and widget areas. With the generated shortcode, users can place the slider in any desired position.
Making an attractive slider with this plugin does not require knowledge of coding.
It contains a variety of tools and other features. It helps users to create a diversity of slideshows.
There are dynamic style options, as well as 70 different options to choose from.
YITH WooCommerce Product Slider Carousel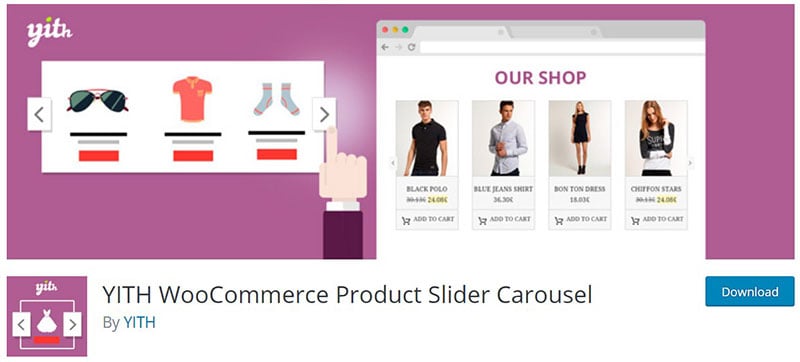 This WooCommerce slider plugin by YITH is completely free, yet professional. This modern and flexible tool is great for increasing sales and the number of hits.
The sliders and carousels engage the customers and make shopping easy.
The slideshows move automatically. This means that visitors see a new product every couple of seconds.
The advantage is that it is possible to show a variety of products on a single page.
The WordPress Admin Panel is the place to control this app. Users have full control over autoplay, date, navigation, price, slider speed, and more.
Product Slider and Carousel with Category for WooCommerce
The sliders that this plugin creates help to make any WooCommerce site better. It allows users to sort products by category and bring them to the attention of the site visitors.
A slider that displays the best-selling products will result in an increase in hits. However, it also works well for promoting any kind of product class.
Category Slider for WooCommerce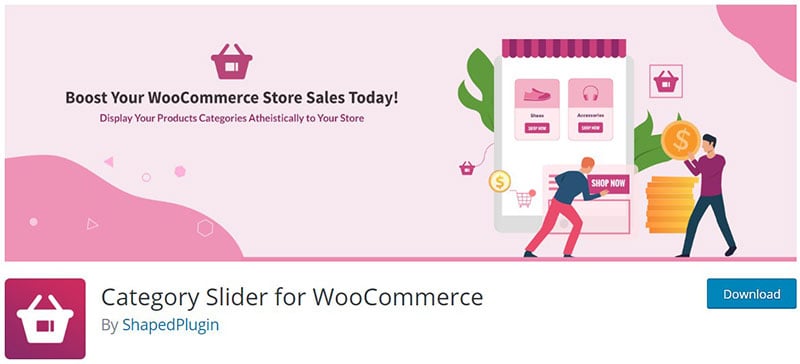 This is a great solution for anyone wanting to boost sales in their WooCommerce shop.
It generates sliders based on product categories and shows the items in an attractive manner.
It offers various additional options. They include child category, description, Shop Now button, and thumbnails.
The plugin automatically generates a shortcode.
Customization allows users to manage the WooCommerce categories and content. This is practical because it obviates having to dive into the code.
Product Slider For WooCommerce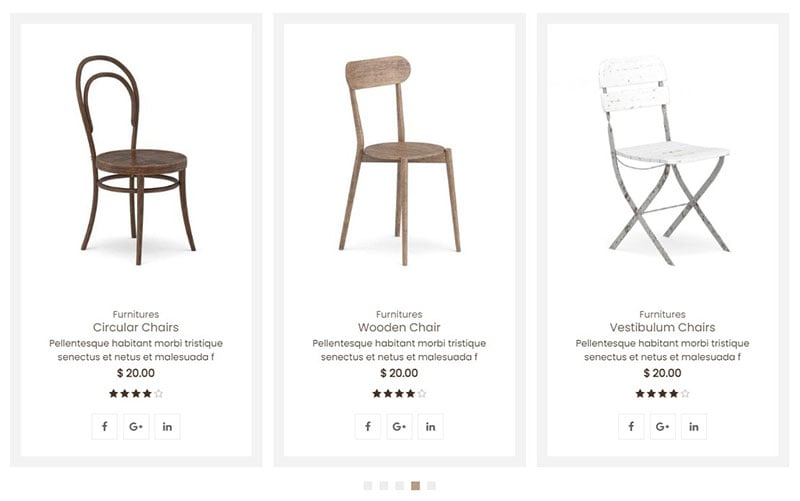 Product Slider for WooCommerce is a professional option for making product slider carousels. This plugin enables the user to display a responsive slider in any WooCommerce shop.
It is fast and straightforward in its use.
The user can make endless variations to the design of the sliders. It handles multiple sliders easily and comes with a variety of options for layout.
These options include:
Carousel layout
Image effect layout
Lightbox layout
Ribbon layout
Slider layout
Choose any of the layout options and customize it. It will show the slider according to the applied changes.
Besides customization options, there are over 25 templates to get started right away.
WooCommerce Product Carousel Slider
WooCommercial Product Carousel Slider by AazzTech is a product slider plugin.
Users can display unlimited items in one slider or carousel. This makes it optimal for displaying products for a WooCommerce site.
The responsive sliders come with a unique shortcode. So incorporating them into the site is very easy.
These displays guarantee increased sales and more interested customers.
The lightweight plugin offers different styles to match the style of the webshop. Displays are responsive, so visitors using a mobile phone will be able to view them with ease.
The sliders themselves are easy to navigate by touch and swipe. They also have navigational arrows.
The user can customize the color of both the arrows and the background.
WPB WooCommerce Product Slider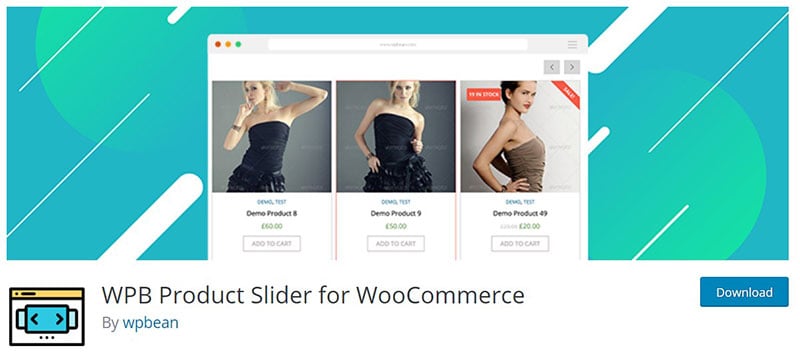 WPB WooCommerce Product Slider helps to show off features and other tagged items.
The WPB slider plugin comes with two beautiful themes with different styles. It includes custom widgets and a shortcode generator.
With the shortcode, the user can position the slider in any place they want.
One option is to show it in a sidebar. The custom widget makes it easy to place it there.
WPB WooCommerce Product Slider also comes as a Pro version. The Pro version offers additional features.
Pro users can create sliders by SKU category and remove items from the slider that are out of stock.
Product Gallery Slider for Woocommerce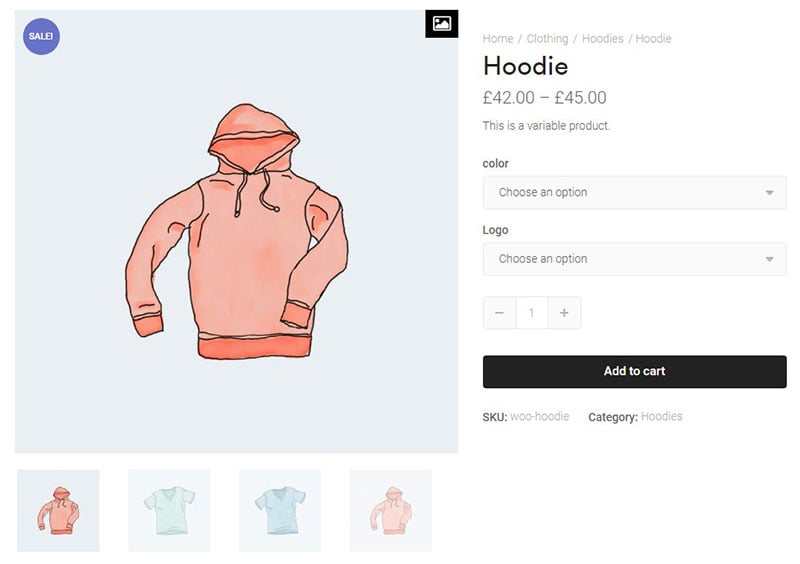 The next WooCommerce slider plugin helps to make beautiful product galleries. Users can add them to the web store with ease.
The displays can contain unlimited products and the customization options are endless. The customization of the sliders is very easy.
The plugin settings are very intuitive and include the option of showing the items as a carousel.
The user can add navigation keys to the slider as well as set the autoplay option. They can also product videos to their WooCommerce shops.
WordPress Carousel
WordPress Carousel is the last on this list of WooCommerce slider plugins.
It is not limited in slider content. It can include images, posts, and WooCommerce products.
This powerful app is very easy to use.
The content of the slider comes from the WordPress media library. To fill the slider, users drag and drop the desired items to the right place.
The carousel sliders are completely responsive and customizable. So no matter what device viewers are using, the slider will look perfect.
Ending thoughts on this list of the best WooCommerce slider plugins
This article discussed the very best WooCommerce slider plugins. This list will prove useful for those building an online business.
One single plugin will not be suitable for every single application. So, this list helps to select the right one.
The selection criteria for the plugins listed here were very strict. The criteria included active installations, design of the sliders, recommendations, and working features.
If you liked this article about WooCommerce slider plugins, you should check out this article about websites with carousels.
There are also similar articles discussing plugins better than the Divi slider, plugins better than the Elementor slider, testimonial carousels, and LayerSlider alternatives.
And let's not forget about articles on best WordPress sliders, WordPress logo slider plugins, carousel sliders, and full page sliders.
The Best WooCommerce Slider Plugins to Choose From