So, you're in that moment when you want to redesign your portfolio and you are looking for portfolio website examples to inspire from, correct?
An attractive portfolio design can be the key to getting the job you want. Putting together a portfolio that catches the eye of a prospective employer demands careful thought. The question is: How will you present yourself?
How can your portfolio site stand out from all the others? Some add all kinds of interactive features to their portfolios, whereas others might see that as an attention-seeking gimmick. Some prefer a clean and simple portfolio website, highlighting their skills and abilities without too many distractions.
If you are wondering how to put together your own, this article offers a selection of portfolio website examples. These are different portfolio websites from people with diverse backgrounds. You'll have in here: web design portfolio examples, graphic design portfolio websites, architecture portfolios, and other creative professionals, as well as portfolios of public figures.
Each one of them presents a unique feature. It could be in a different style, quirky design, or eye-catching presentation.
This article was created by our team to showcase web design portfolio examples but we ended up showcasing a lot more styles of portfolio websites. We hope to inspire you to create a similar design portfolio for yourself, with the help of Slider Revolution.
Portfolio website examples to check out
Vault49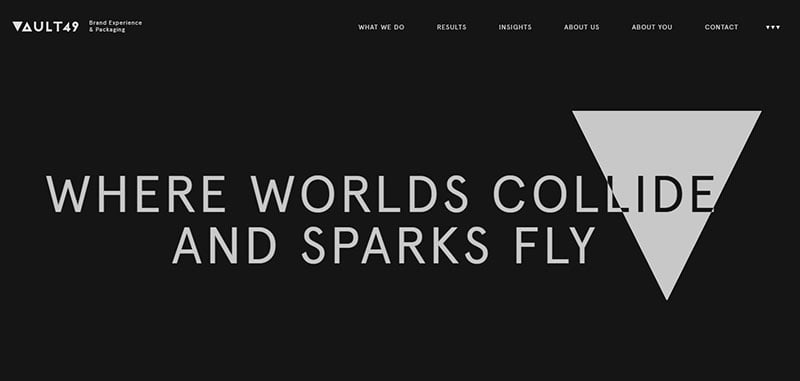 The first of these design portfolio examples is for an agency that specializes in branding and packaging design.
Modern Portfolio Website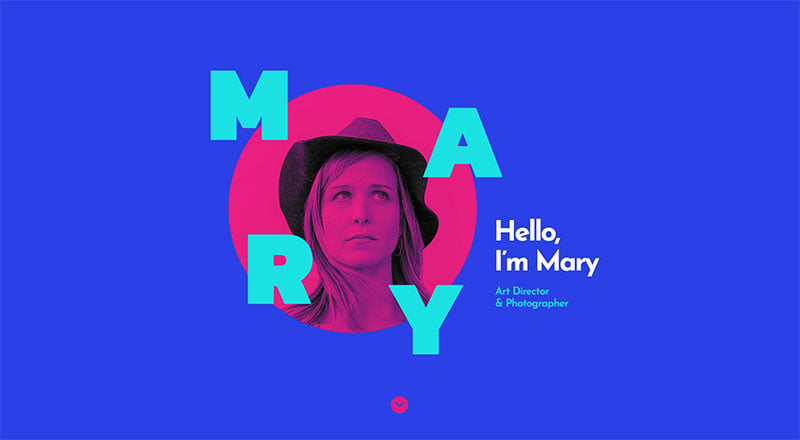 Patrick Miller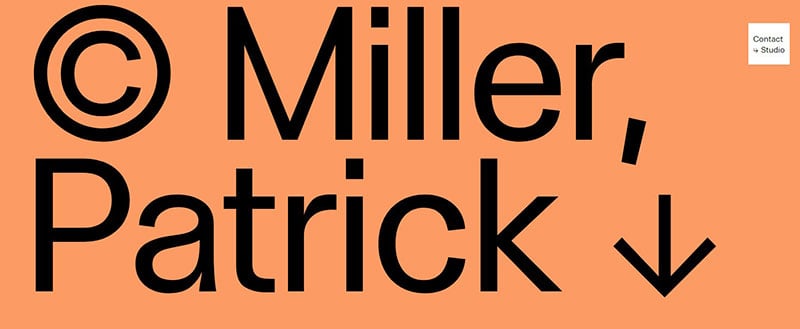 Patrick Miller's website is so minimalistic and efficient that we had to include it in this cool portfolio websites article.
Laura Bize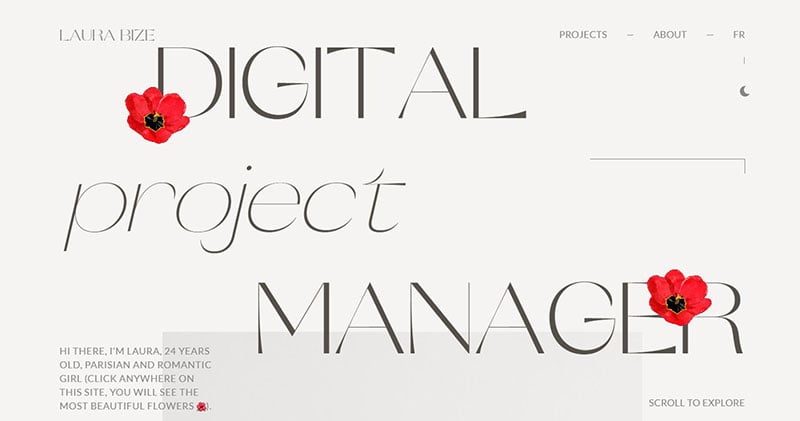 A Digital Project Manager portfolio. It features some of the owner's experiences in a floral theme.
Rolf Jensen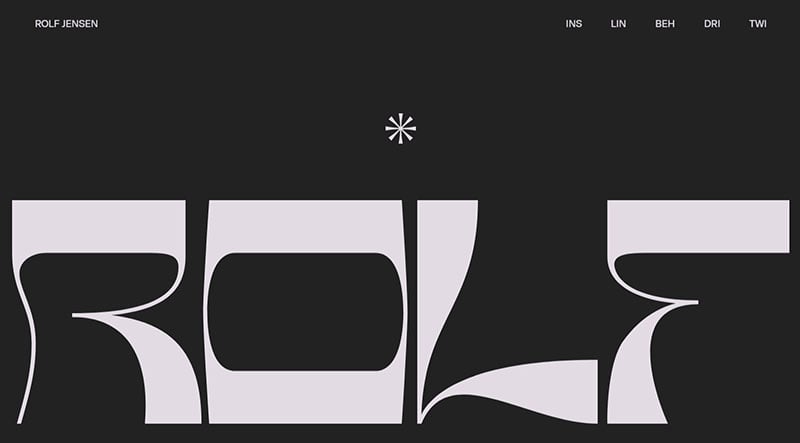 This website by Rolf Jensen, an experienced creative director at GoDaddy, links to his social media accounts and highlights his achievements. Simple and efficient.
Lauren Herda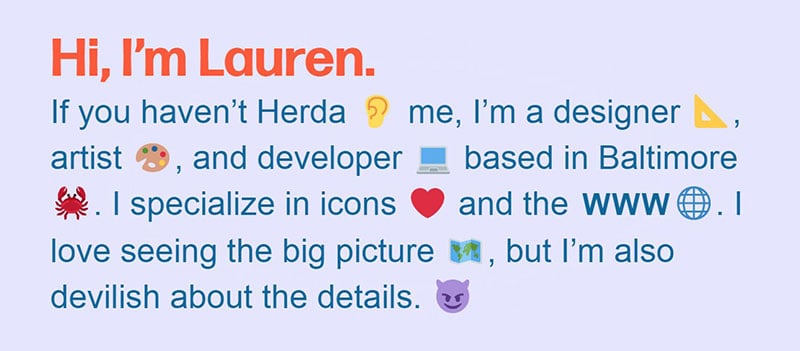 This page starts with a personal greeting to the visitor. It is designed to get to know Lauren better and introduce you to some of her work. At the bottom of the page, there is a parting message for the viewer.
Collaboratorio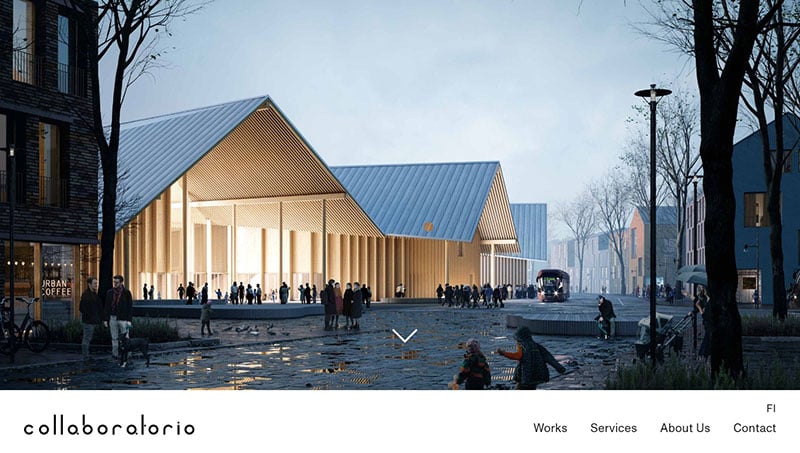 Collaboratorio presents itself as a Helsinki based international architecture bureau. It has been in business since 2016.
Michael Wang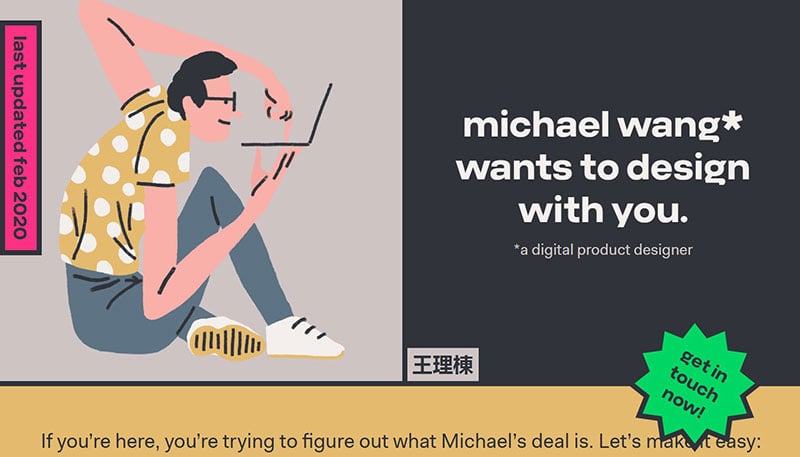 This website may help you to get to know this designer by showing off his design style.
Landing page builder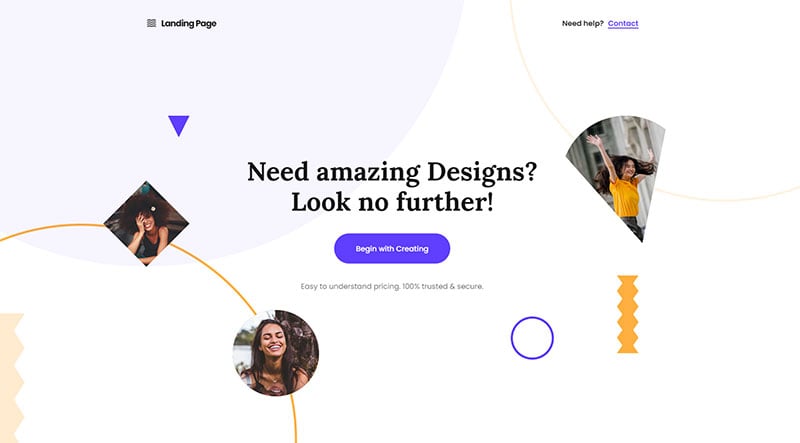 FilippoInzaghi.com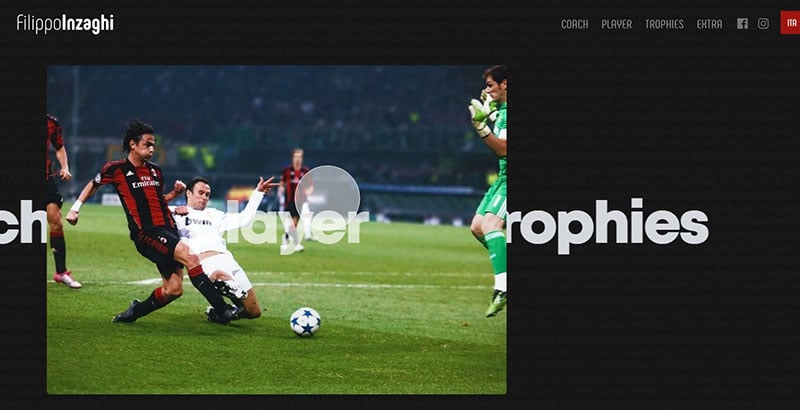 Famous football managers also need a website. This is Filippo Inzaghi's official website and highlights his skills, values, and achievements.
Tina Smith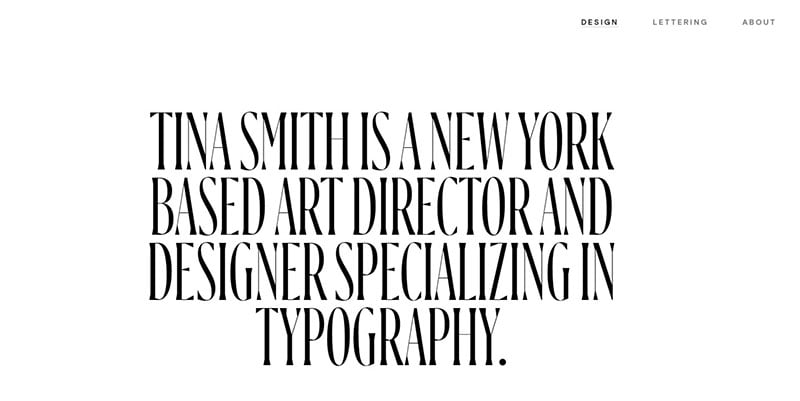 Another one of these cool portfolio websites is from Tina Smith. Tina is a New York-based freelance art designer and director. The portfolio showcases her broad experience, her art direction, typography-driven branding, and editorial design.
Owlsome studio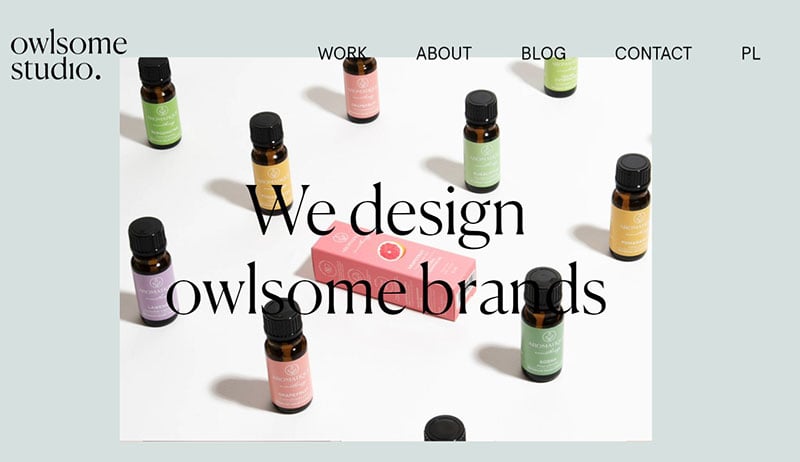 This Polish creative design studio focuses on branding, packaging, and art direction. They specialize in lifestyle, beauty, and health applications.
Emily Nguyen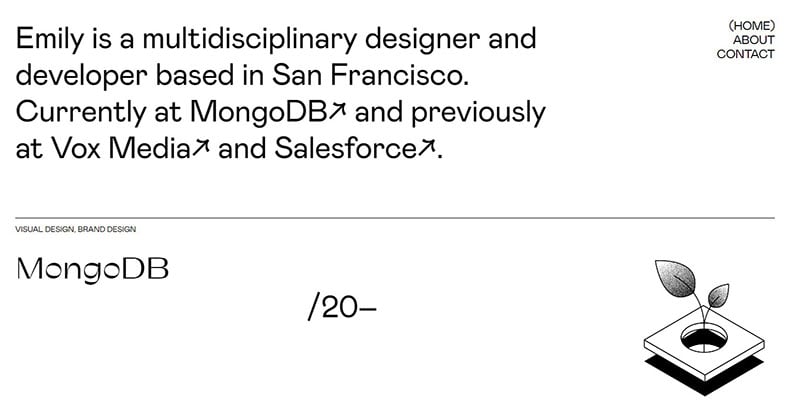 Emily Nguyen currently works at MongoDB. She is a multidisciplinary designer and developer from San Francisco.
Angled business website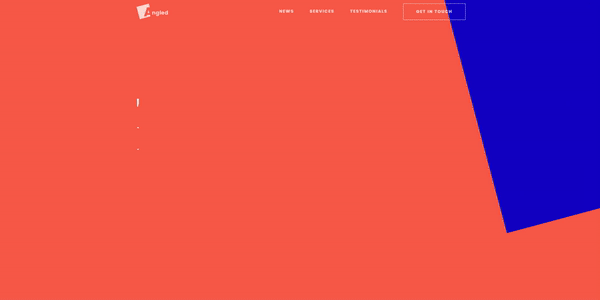 Christina Vanessa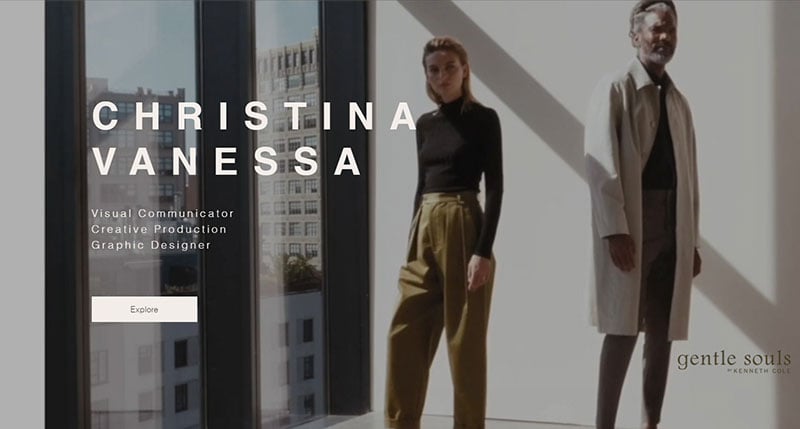 Christina describes herself as a visual communicator, creative production, and graphic designer. The first page of her portfolio shows some of her best creative work and highlights her sense of aesthetics in a large looped video. Her name and description are visually present above the video.
Portfolio of Alexander Beck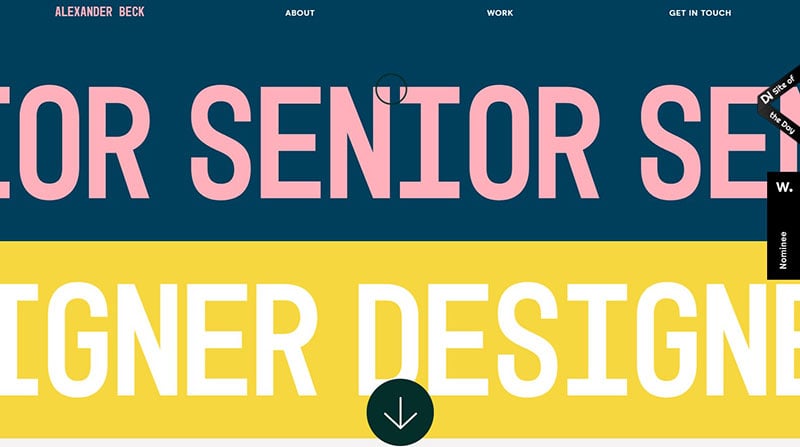 This is a colorfully designed website by Alexander Beck. It showcases his professional background and work experiences. It also features some of his doodles.
Petr Bilek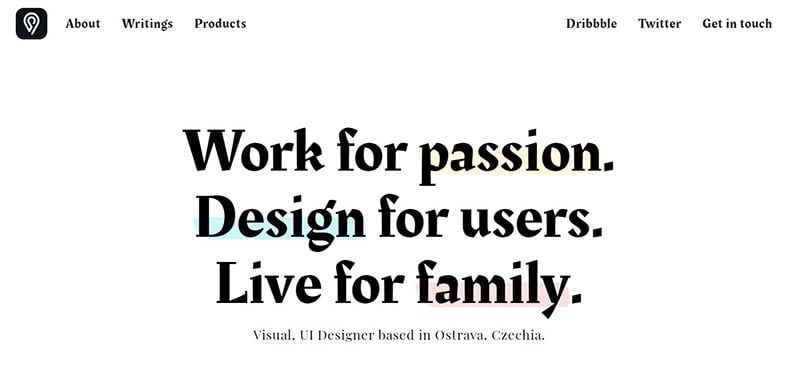 Petr is a visual and user interface designer. He focuses on experience design for brands and startup companies. He offers Adobe XD, Figma, and Webflow solutions.
Luka Zaric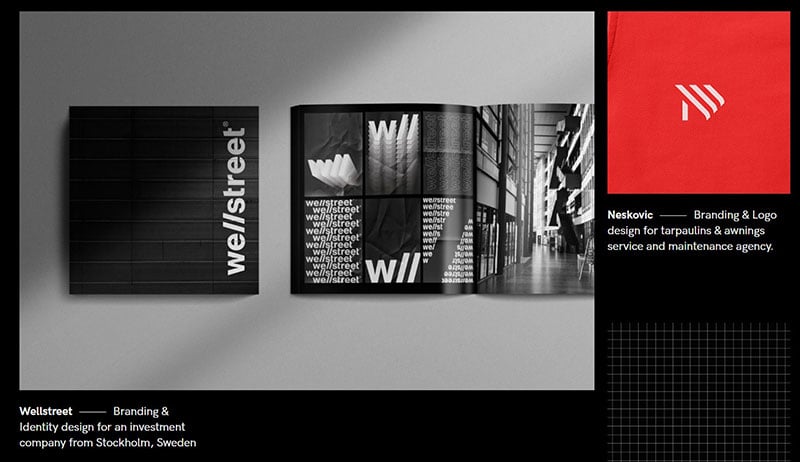 It is usually practical to use a domain name for a personal website that includes the first and last names. Luka Zaric has not done so. Instead, he combines his first name with the three letters PSD.
Every designer will immediately recognize this acronym, which refers to the extension of an Adobe Photoshop file. It playfully highlights Luka's line of and his specialization. It also gives a personal touch, with a reference to his highschool nickname.
More cool portfolio websites below.
Content blocks light website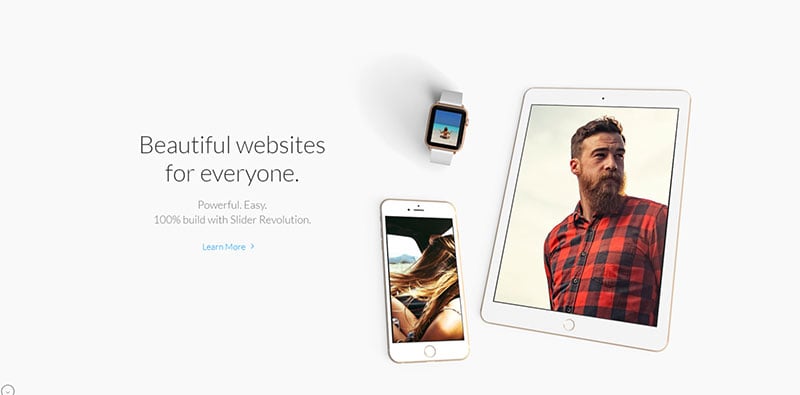 Piter Moreira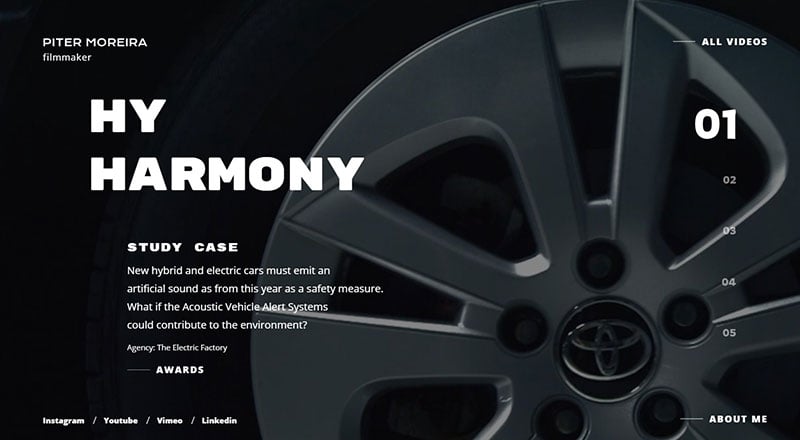 The online portfolio of director and filmmaker Piter Moreira.
Nelson Balaban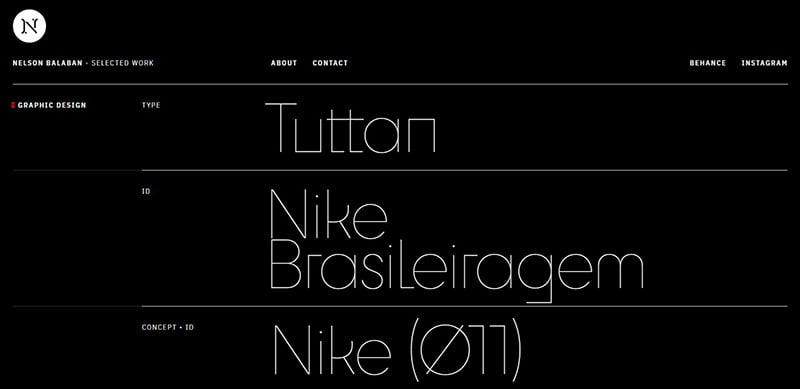 The web portfolio Nelson Balaban, a graphic designer, illustrator, and art director.
Sylvain Boutoille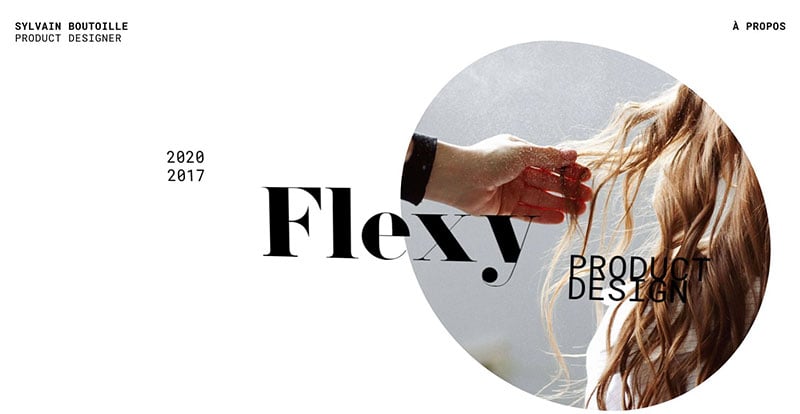 The website by the Parisian product designer Sylvain Boutoille.
Patrick Bernatz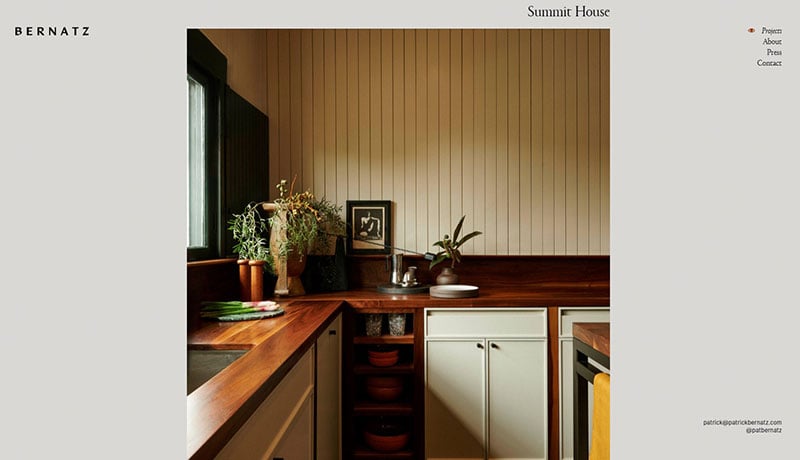 The portfolio of Patrick Bernatz, an interior and architectural designer from Los Angeles.
Greg Christian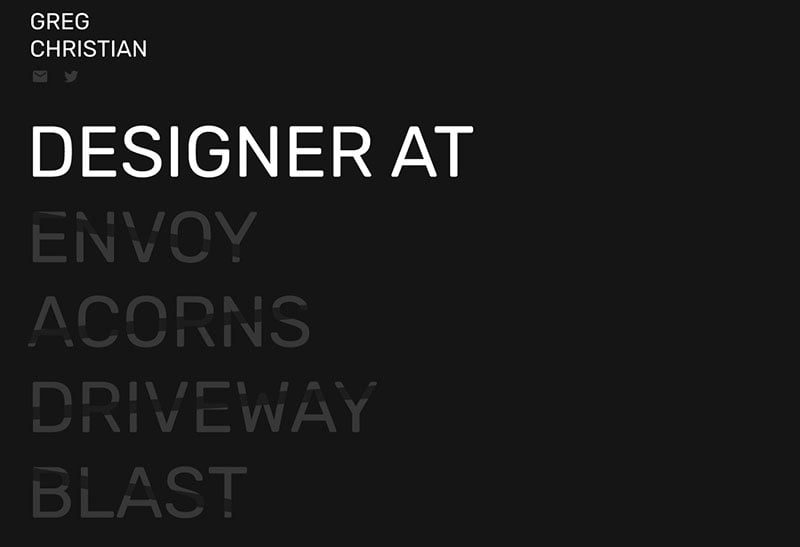 Greg Christian's has a modern resume presentation, far from traditional in style. From the start, it focuses on his current company, projects, and location. It's simplicity and clean design is very effective and captures attention.
Sheldon Stenning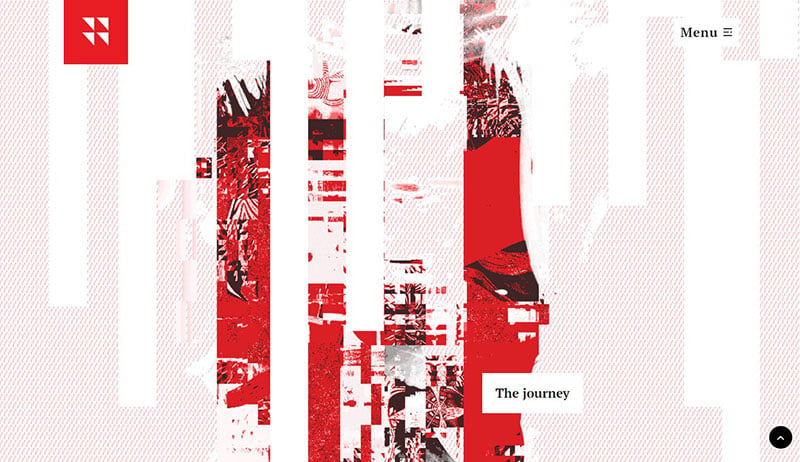 According to the opening page, this is not the site of "just another visual storyteller". Vancouver-based Sheldon Stenning's portfolio is beautifully designed and has a musical undertone.
Barbara Dragan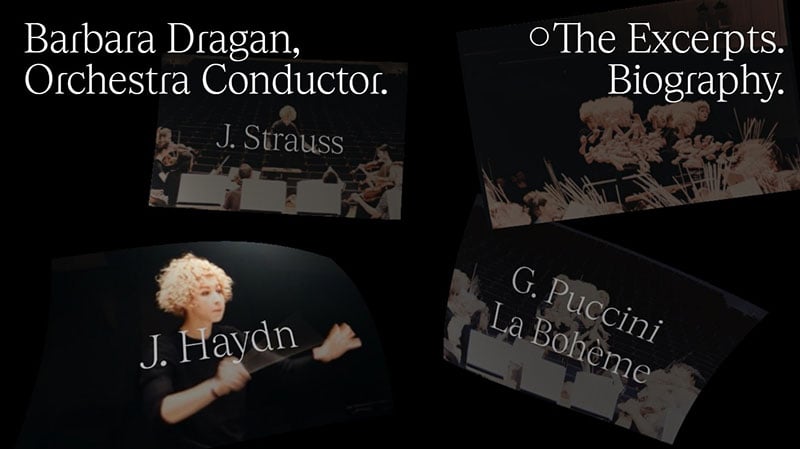 Barbara Dragan presents herself with this website. She is an orchestra conductor, who has won various awards and fellowships.
jessbayer.com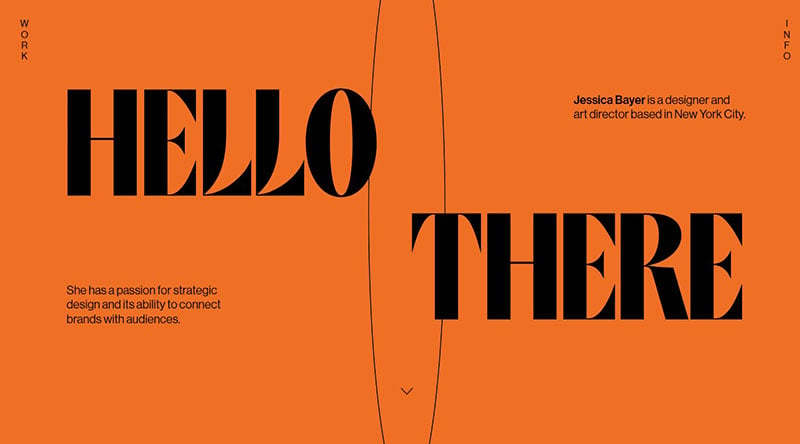 This is the website of Jessica Bayer. She is a designer and art director from New York City. She loves strategic design and how it connects brands with audiences.
Sophie Brittain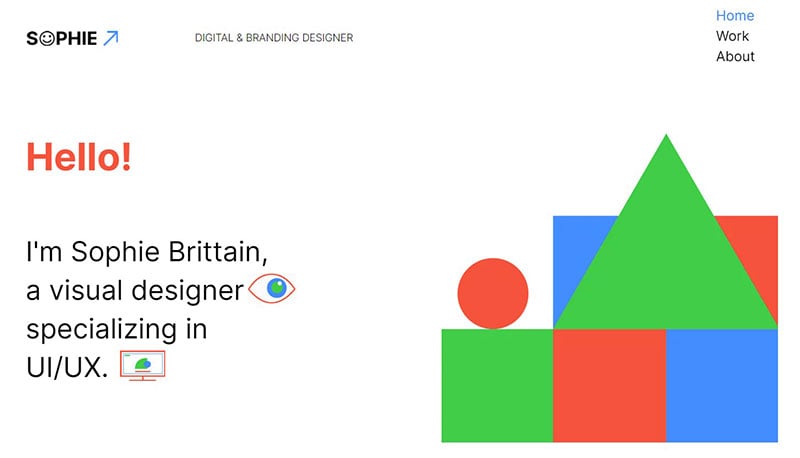 Yet another one of these cool portfolio websites is from Sophie Brittain. Sophie is a visual designer specialized in branding and UI/UX design. Her UX portfolio website is a demonstration of her skills in both areas. She has developed her own visual language. The site is composed of just blue, green, red, and lots of white spaces. It is defined by geometric shapes and vector line icons.
think bear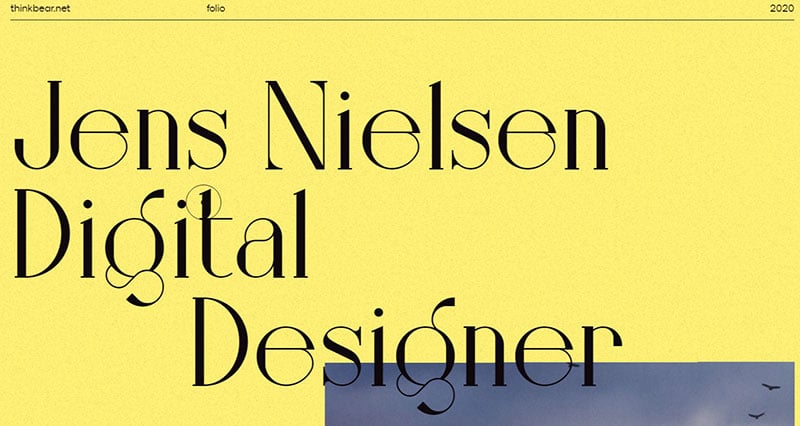 This is Jens Nielsen's personal portfolio for a digital designer.
STUDIOS Architecture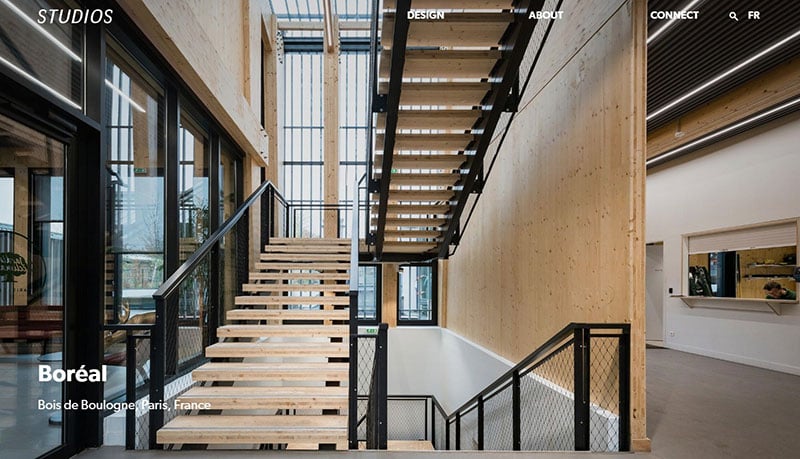 According to their headline, they push boundaries so their clients can too, and their site expresses this well.
Marta Ferri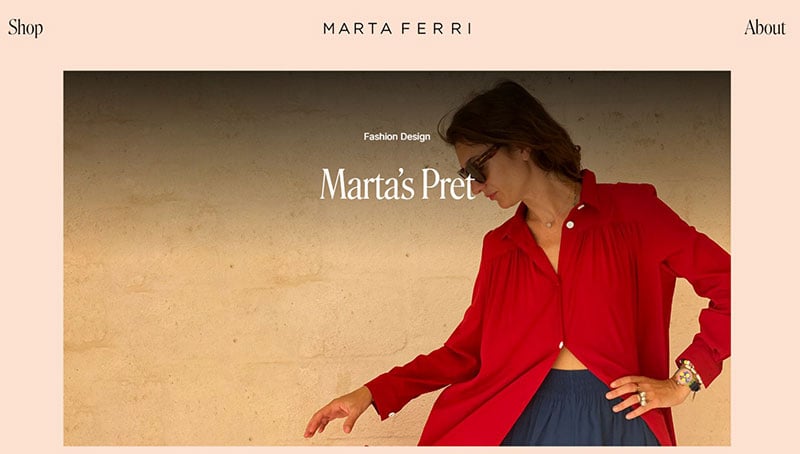 Website for Marta Ferri of Atelier Marta Ferri. She specializes in bespoke tailoring and creative design.
Vorrel Prendergast Jr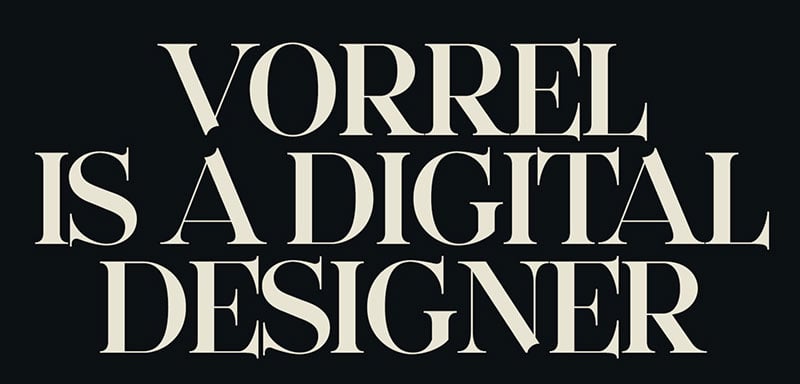 Digital designer Vorrel Prendergast Jr. presents himself on this web design portfolio. His expertise is in mobile and web design, UX, and branding.
Marco Almeida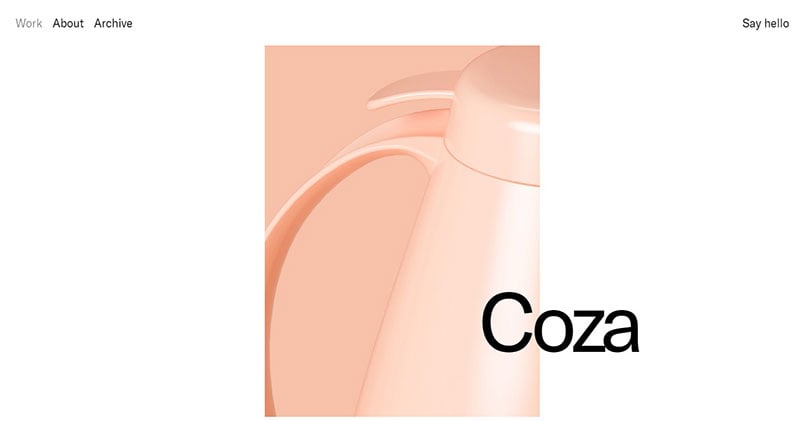 Marco Almeida's mission is to shape Globoplay's future. He is a designer from Rio de Janeiro.
Making Websites Better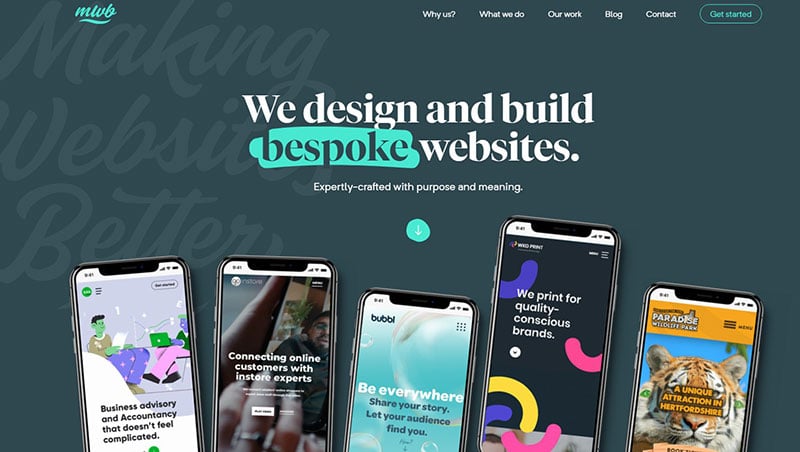 This is an agency portfolio for Making Websites Better. They do this with React.js, Gatsby, and Forestry. It's a neat web design portfolio that we just had to include in our article.
Pierrick Calvez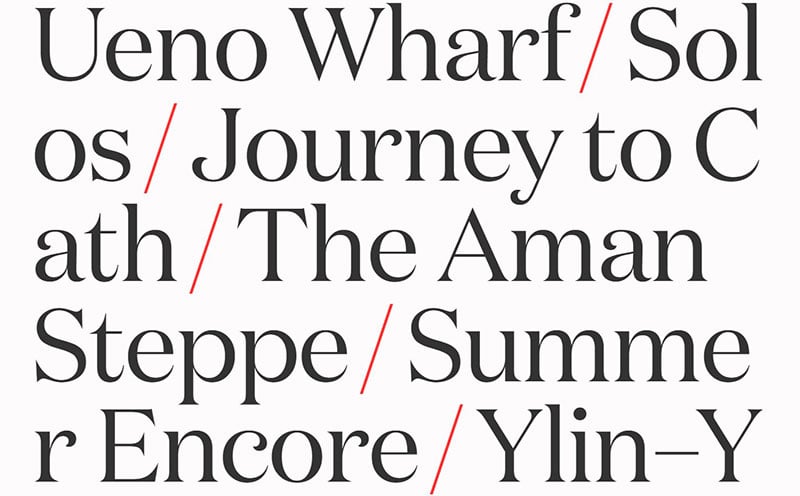 Pierrick Calvez's portfolio presents himself and some of his artwork on his minimalistic and well designed portfolio website.
Dan Machado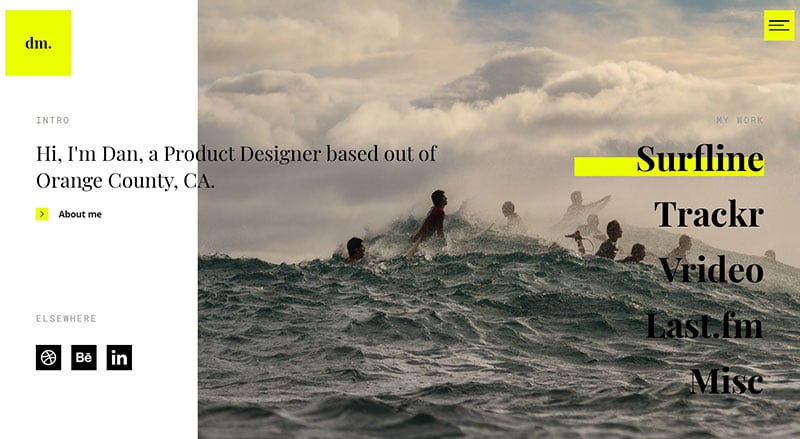 Another example of cool portfolio websites is from Dan Machado. Dan's site is a great inspiration for those who want to use imagery and video in their portfolio. Dan is a multidisciplinary designer. He features some eye-catching images on his homepage. There are links to some of his projects, which showcase his methods and some of the final products.
illo.tv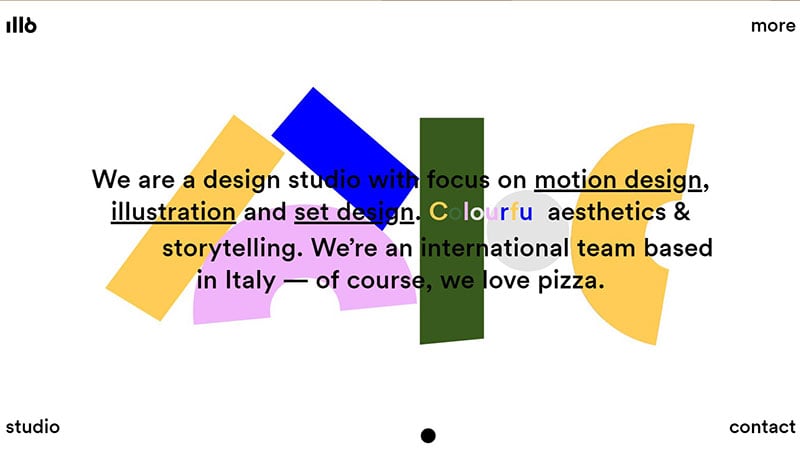 This website makes creative use of geometrical shapes, desk swaps, and is mainly color-guided. They describe themselves as a design agency that uses colorful aesthetics and cleat storytelling.
Wendy Ju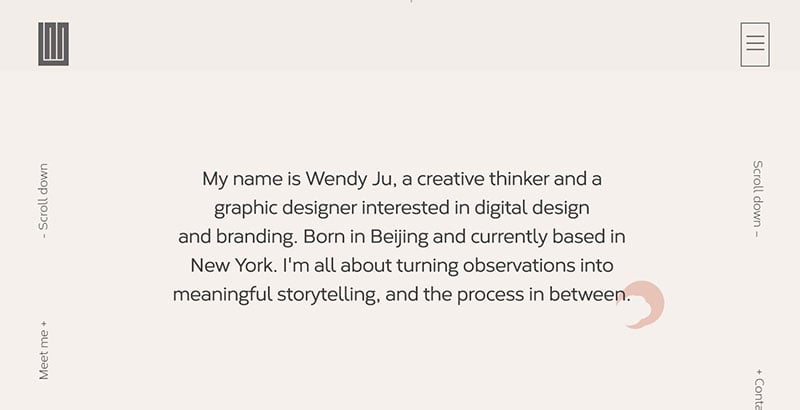 This personal professional website opens with an animation. It sets the tone and introduces the rest of the site. It presents the world of designer Wendy Ju. Her multicultural background is emphasized by the welcoming "Hello" in both English and Mandarin. The animation is clean and simple, and the site demonstrates the author's minimalist style.
Nikolas Type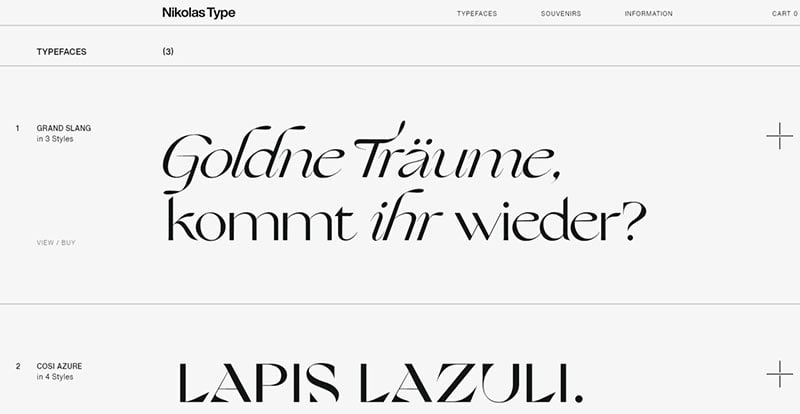 Nikolas Type is made by Nikolas Wrobel. He is a font designer for digital and printed applications. The page shows various creations, which can also be purchased.
Sophie Dkf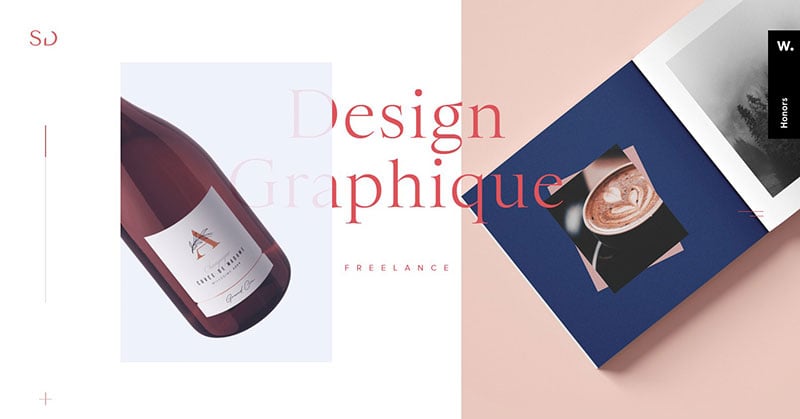 Freelance art director and graphic designer portfolio of Sophie Dkf.
Theresa Baxter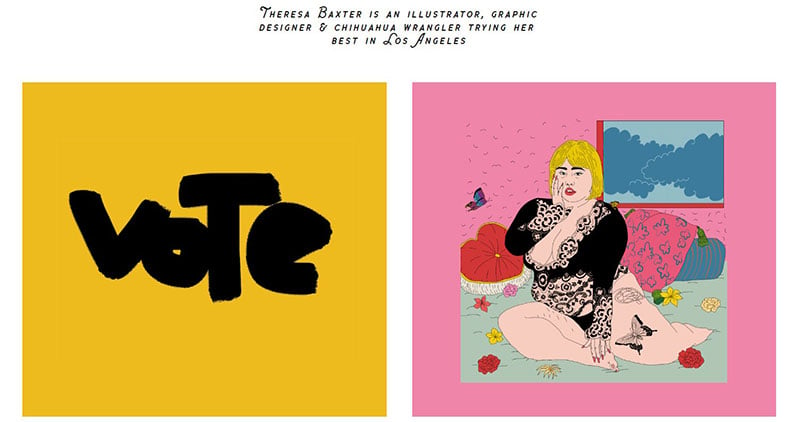 Theresa Baxter is a talented graphic designer and illustrator based in Los Angeles. She presents herself through her work in an interesting and unpretentious manner.
Nancy Bui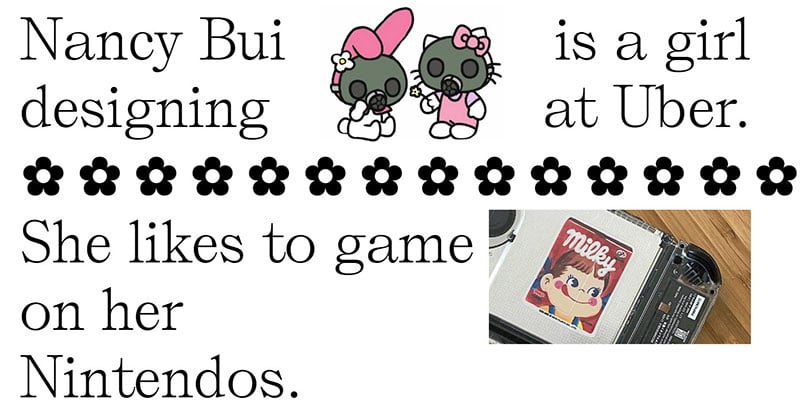 This portfolio is for a designer working at Uber.
Salomon Ligthelm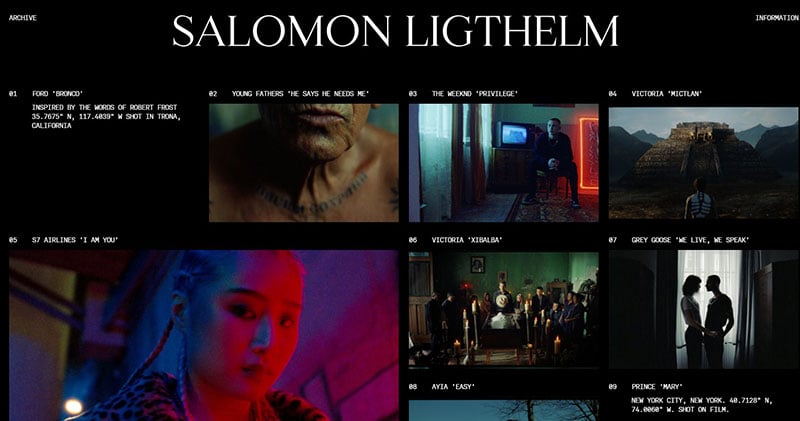 New Yorker Salomon Ligthelm is a self-taught director and filmmaker. His international background is a major theme in the work appealingly presented in his portfolio website.
Mark Hurrell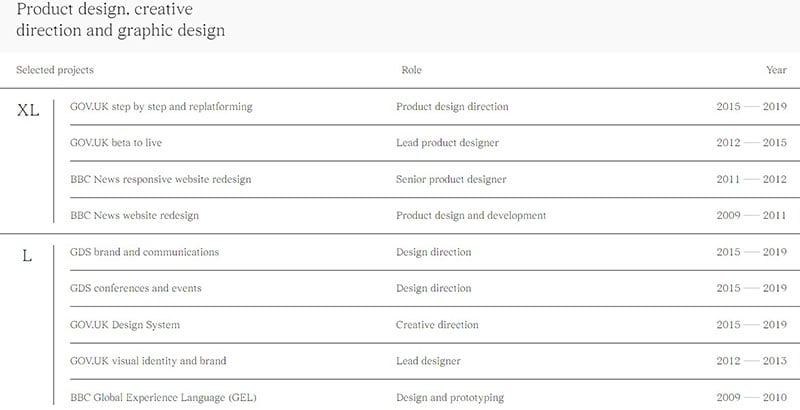 Mark Hursell is a web and graphic designer, who uses technology to create new designs and products. He is the mind behind the design of the gov.uk website, a project which he led from 2012-2019. Check out his minimalistic web design portfolio.
Wemakefab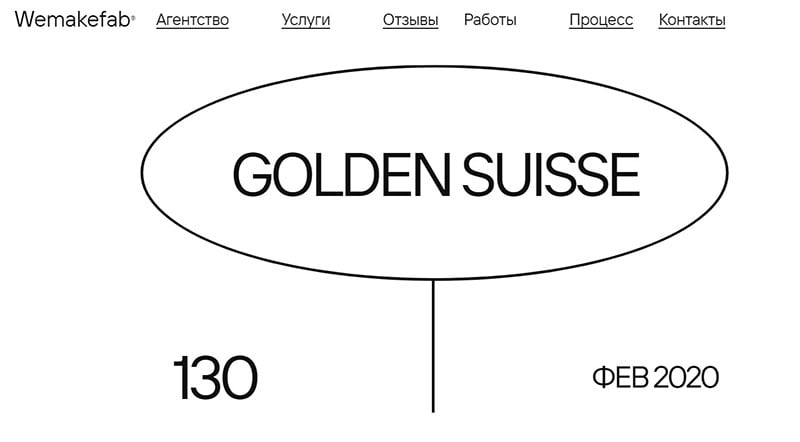 This is the presentation website of a digital marketing agency. Can you get more minimalistic design portfolio than this?
Antoine Barrès Portfolio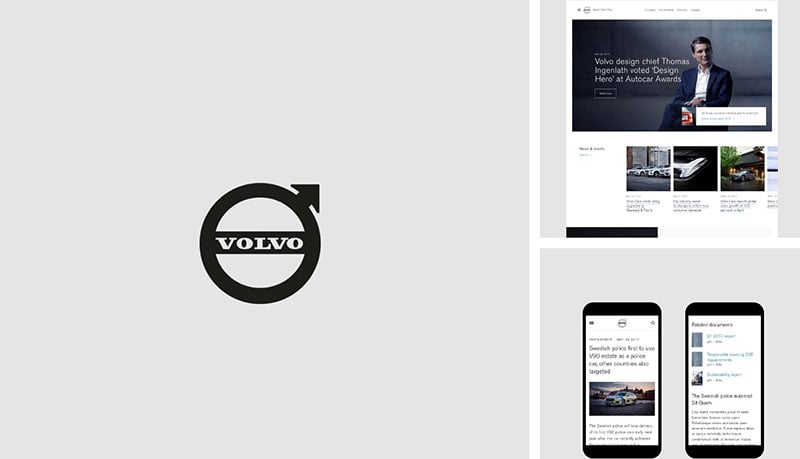 This design portfolio is for a freelance Paris-based art director and product designer.
Valentin Semes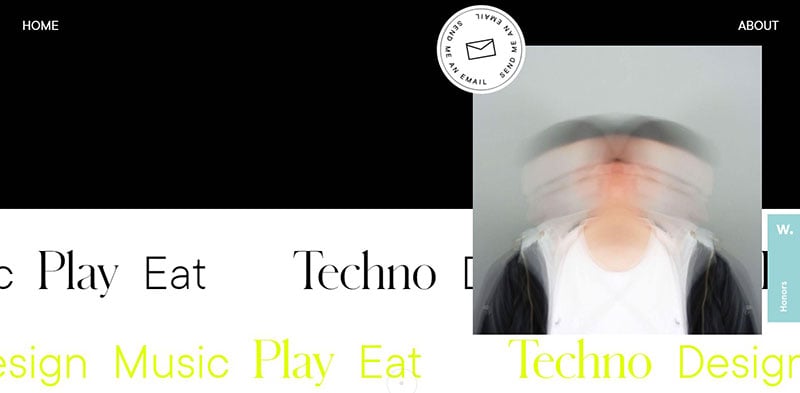 The portfolio of Valentin Semes helps you get acquainted with this young Belgian digital designer.
Salon Bon Vivant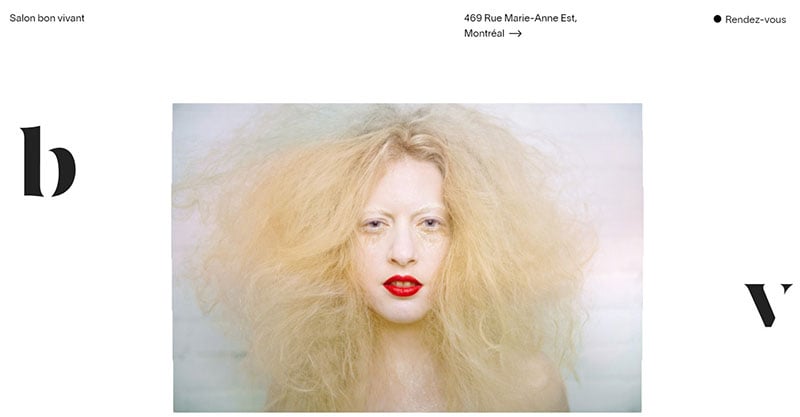 Salon Bon Vivant is owned by stylist and colorist David Landry. This visionary has twenty years of experience and is the recipient of multiple hairstylist awards. He was trained in New York and is inspired by art, music, and traveling.
Nathan Sanders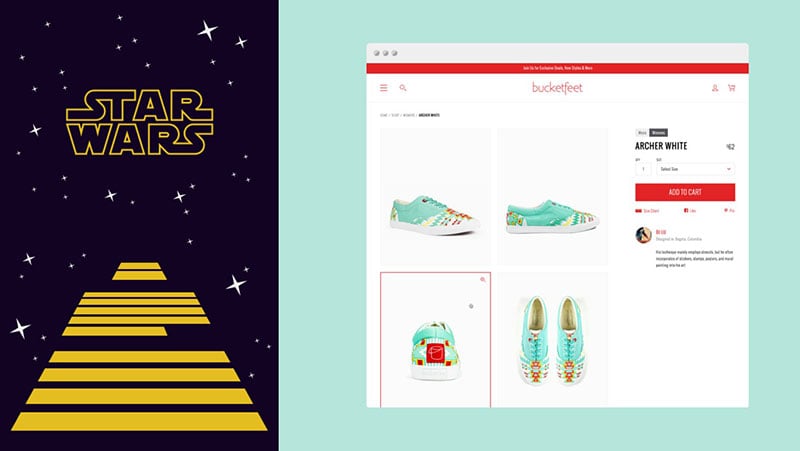 When entering this design portfolio, it is obvious that Nathan Sanders is an illustrator and Star Wars fan. He demonstrates that you can have fun creating your website. Nathan shows a very personal website, showcasing his fun personal and professional projects.
Dennis Krawec
Designer Dennis Krawec blends the 80s and pop culture with extravagant designs from the early days of the internet. This is a memorable, bold, and eye-catching design portfolio.
TWKS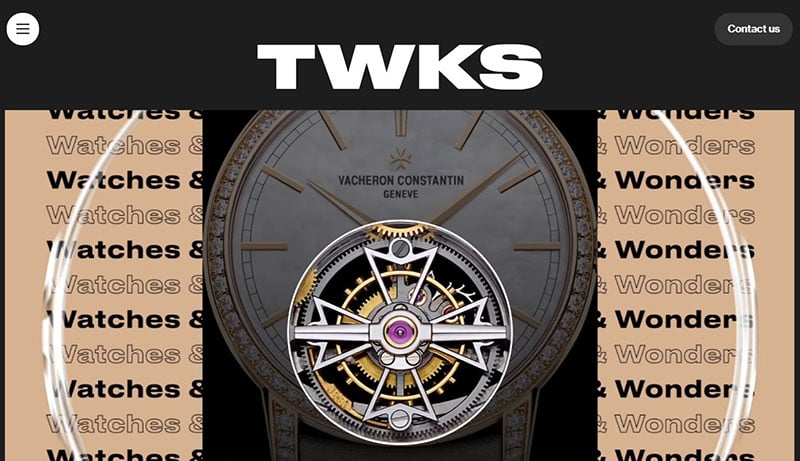 The TWKS portfolio site opens with big and bold fonts. TWKS works to bring talents and ideas together. This agency's branding and design portfolio makes an impressive impact.
Ahmed Yasser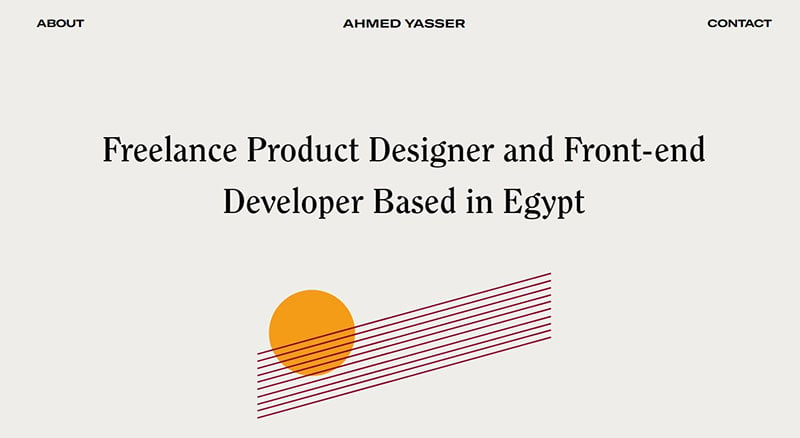 Not exactly a web design portfolio but close. This website presents a freelance product designer and front-end developer from Egypt.
MILL3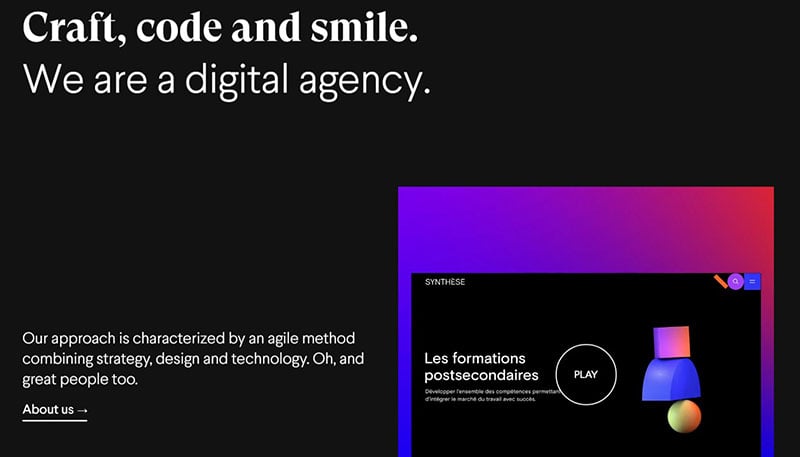 MILL3, from Montreal, creates digital products by focusing on the strategy, design, and development. This is an interesting take on a web design portfolio approach.
CRI$$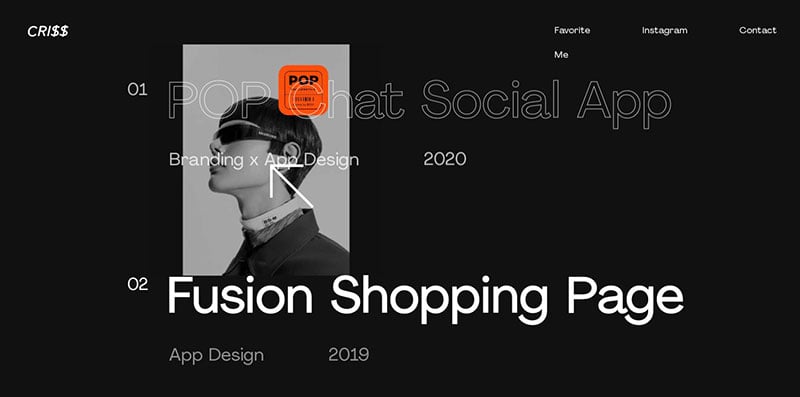 Cri$$ presents himself on his design portfolio as a designer of unique and quality web/app experiences.
DuallStudio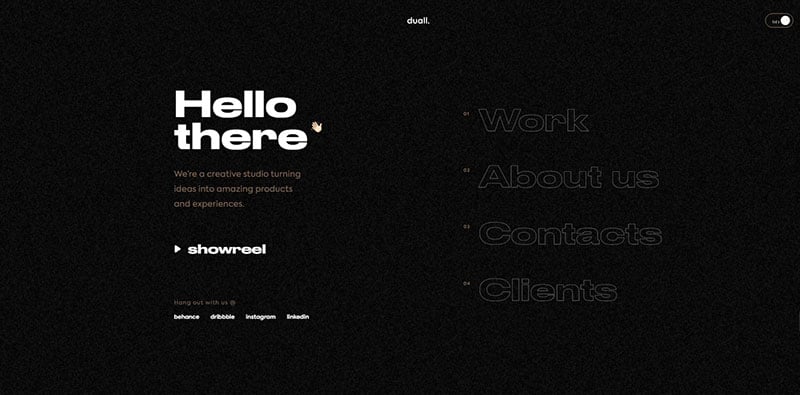 This Portuguese company is the creator of stunning digital products. This is one of the minimalistic design portfolios from our article.
Canyon Trail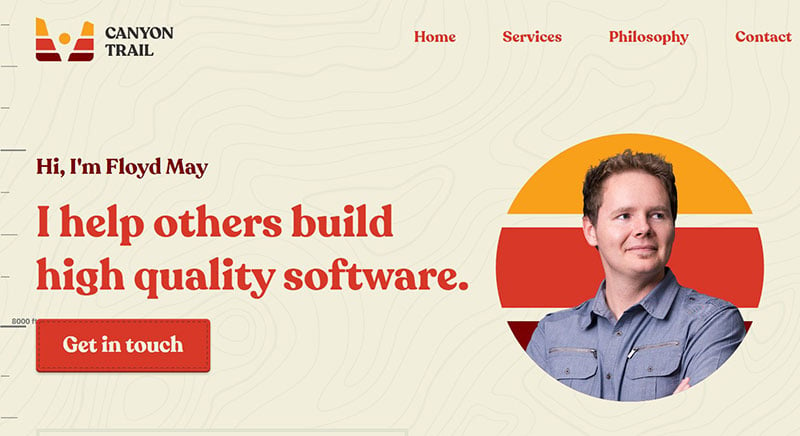 Canyon Trail, owned by Floyd May, has a trekking and climbing themed website. The company assists organizations in the development of their software needs.
Mark Appleby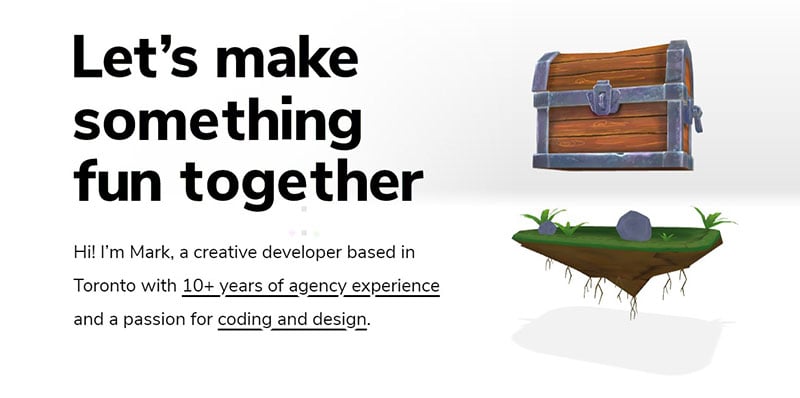 This site introduces Mark Appleby, a creative developer from Toronto. He has more than ten years of experience in coding and design.
Cathrine Understrup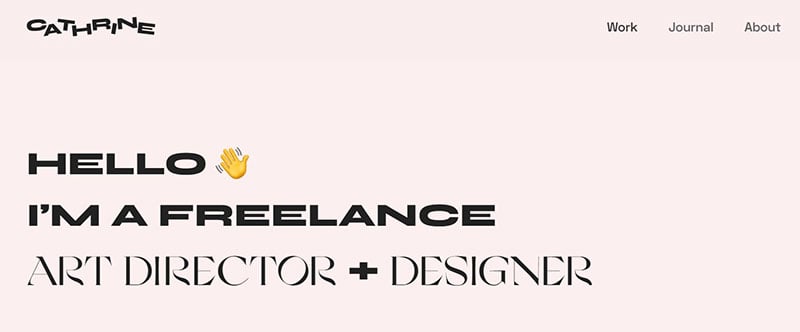 Catherine is an art director and designer from Copenhagen. She works in advertising and graphic design. Her specialization in tactile and visual design is reflected in her presentation.
Alex van der Lit – Portfolio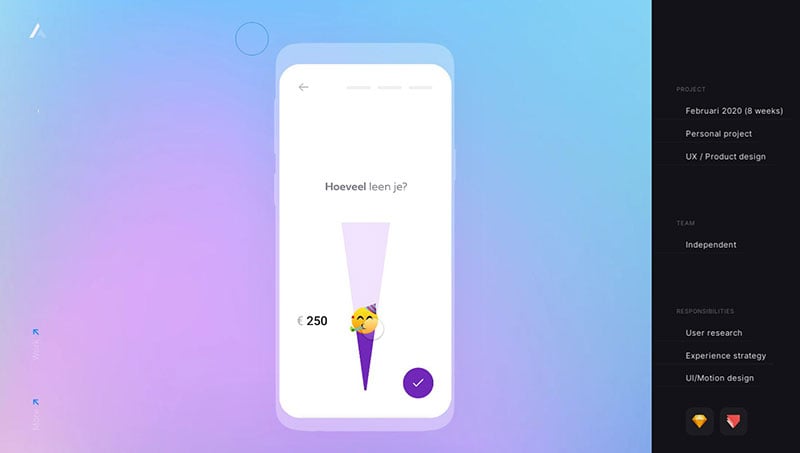 Alex van der Lit is interested in cursory behavior on websites. This fascination led him to design his portfolio page on the principles of meaningful motion.
Yu Rong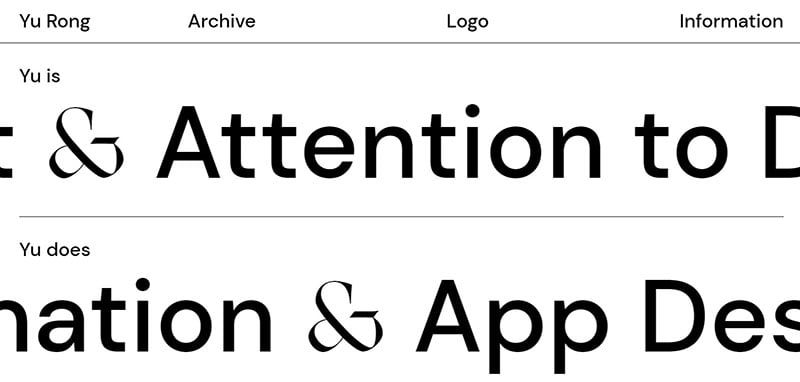 This is a page by branding and interaction design expert, Yu Rong, who currently works at AKQA in San Francisco.
Chris Wilcock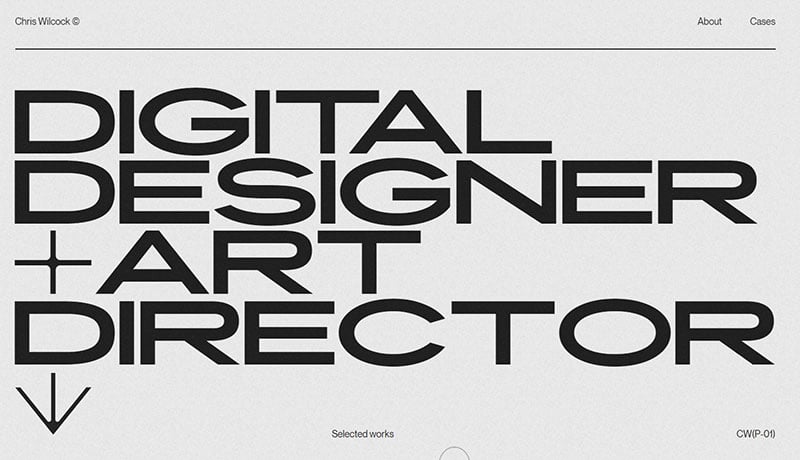 This is a portfolio page for a designer and art director.
Studio Bagaz'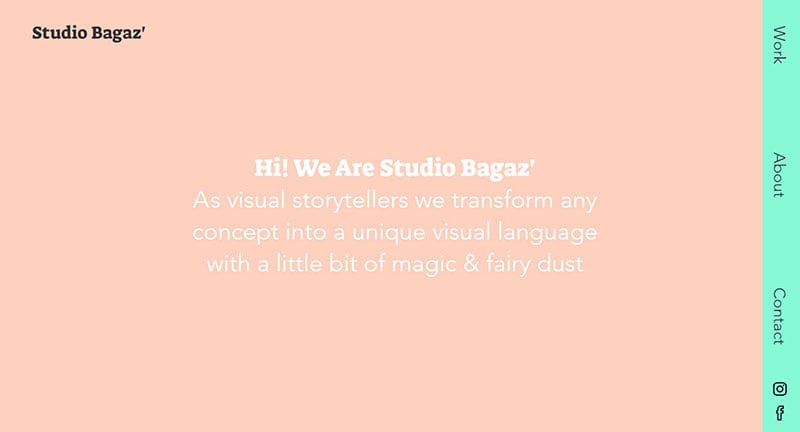 At Studio Bagaz' they love crisp aesthetics and their portfolio reflects that philosophy. Sophisticated simplicity, organized structure, and plain but stylish website navigation demonstrate this very well.
Grace Danico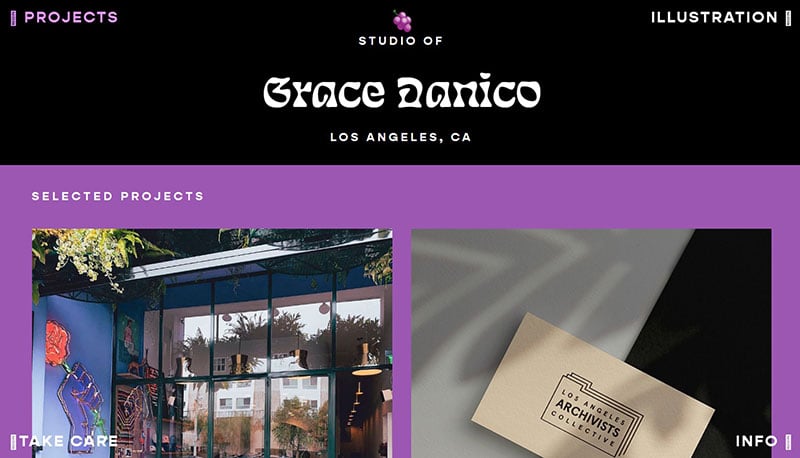 There are many sides to Grace Danico. She is a DJ, freelance illustrator, designer, and archivist from Los Angeles.
ANTIGIF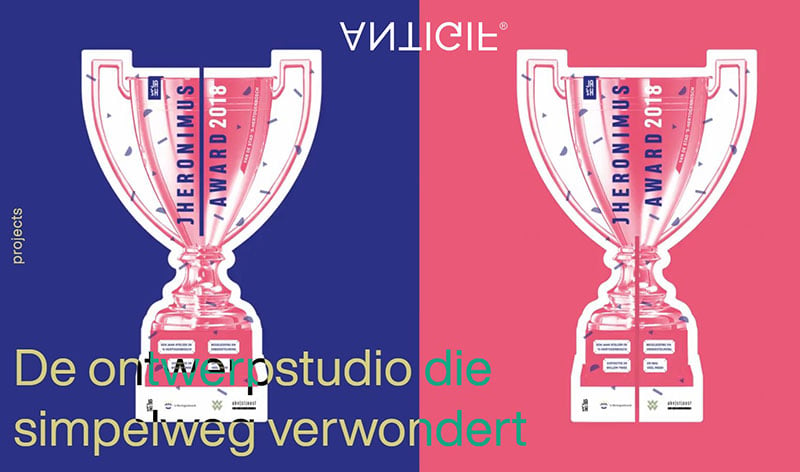 The focal point of graphic design studio ANTIGIF is identity and branding.
Emanuele Milella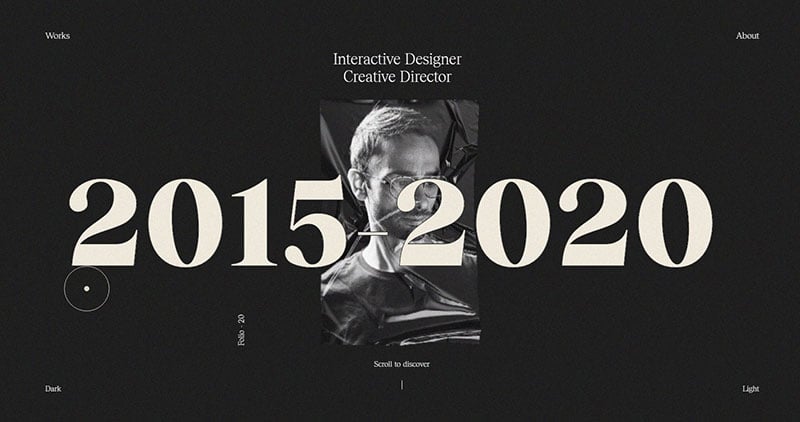 This is the professional website of Emanuele Milella, a creative director and interactive designer. Logically, this portfolio site focuses on web interfaces and interactive design. He presents his approach, from initial stages to the final product, and it deserves its place in this design portfolio examples collection.
Baruch Pi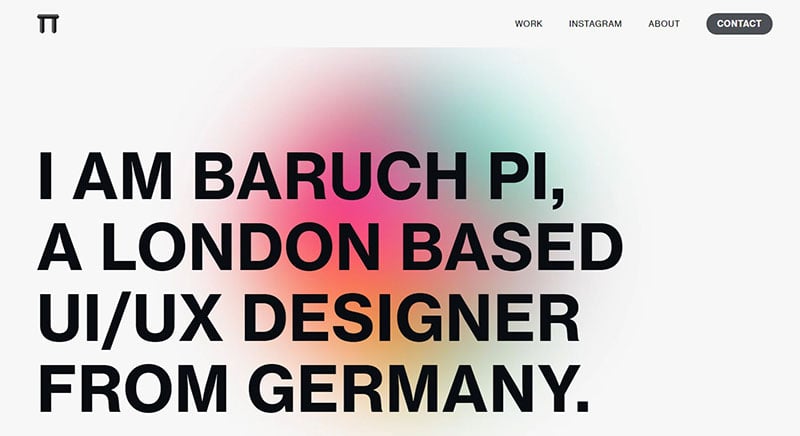 Baruch Pi's is a London-based freelance interface and interaction designer, originally from Germany. The screenshot gave that away too.
Raoul Gaillard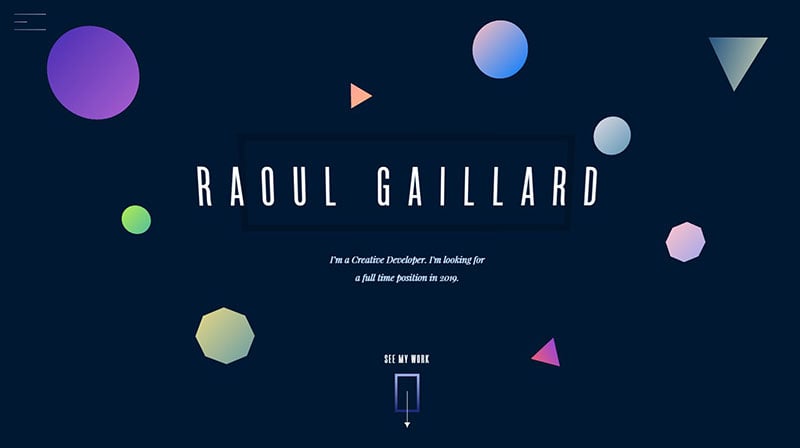 A web design portfolio sounds boring so this is Raoul Gaillard's creative developer portfolio.
Bien Joué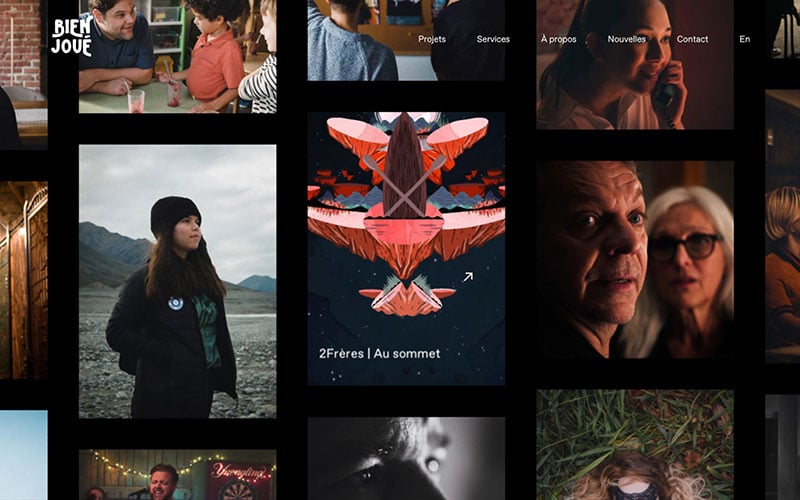 In their own words, Bien Joué designs impactful content for all digital platforms.
Shiyuan Ye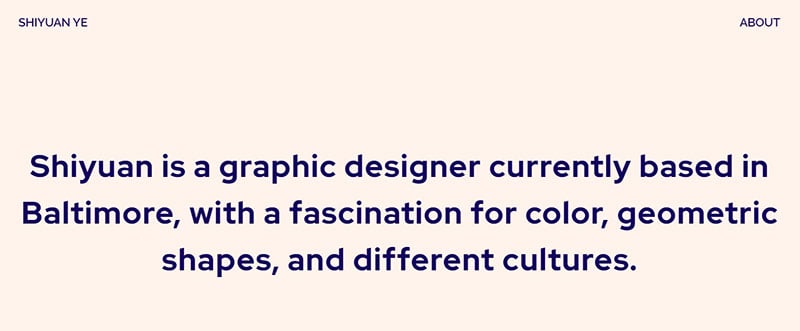 Shiyuan Ye's website combines the elements of playful, chic, and professional. This is reflected in the design and in the introduction that she provides. Movements and interactivity are seamlessly integrated into the design.
àtrio digital agency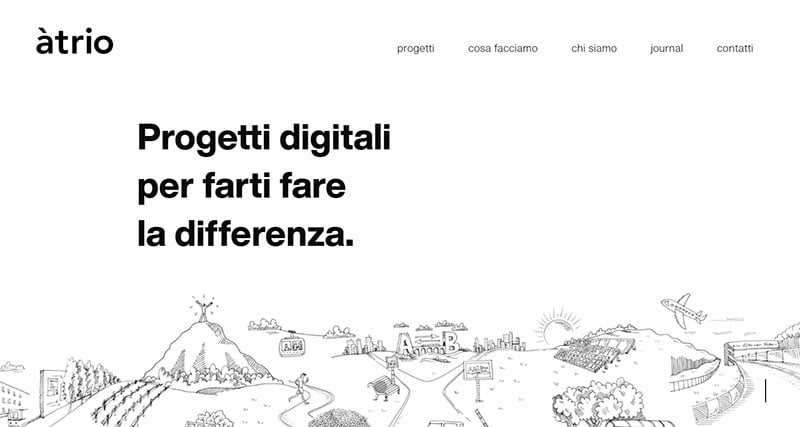 Àtrio is a digital creative agency from Treviso, Italy. It develops digital projects that center around constructing profitable relationships.
Stefano Peschiera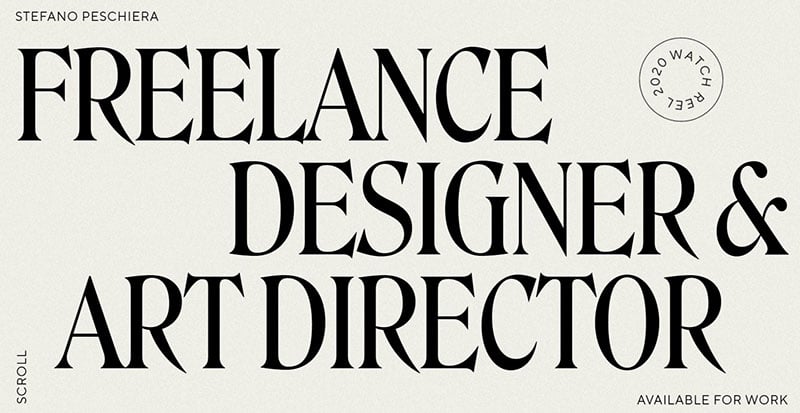 The digital landscape changes constantly, which is a challenge for many companies. Stefano helps brands to catch the customers' attention, and businesses to communicate more effectively and achieve their goals.
Viguier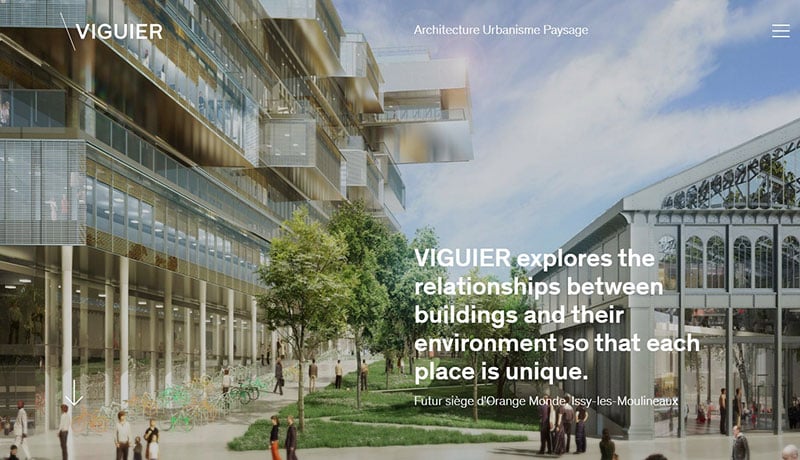 The agency portfolio of an international Paris-based architecture studio named Viguier. It specializes in landscape design and urban planning.
Timothée Mahuzier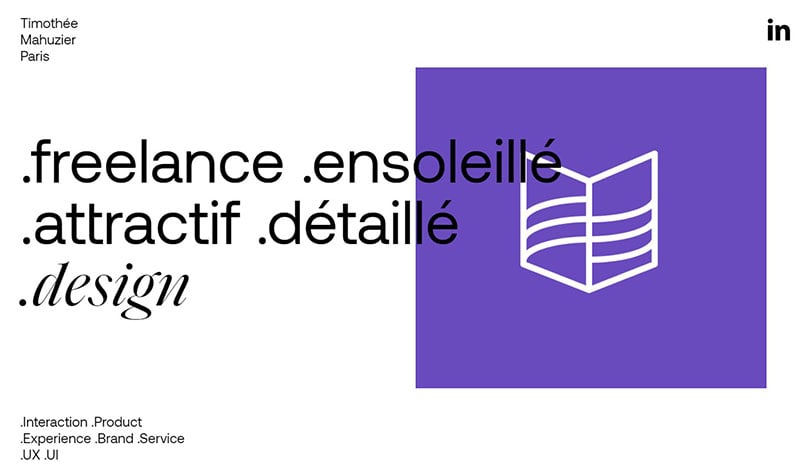 Freelance web designer? No, but rather a freelancer interaction and product designer. On his homepage, Timothée Mahuzier expresses love for design, with the human being at its core. Digital applications are developed with a central design in mind, resulting in an intense experience.
Indicius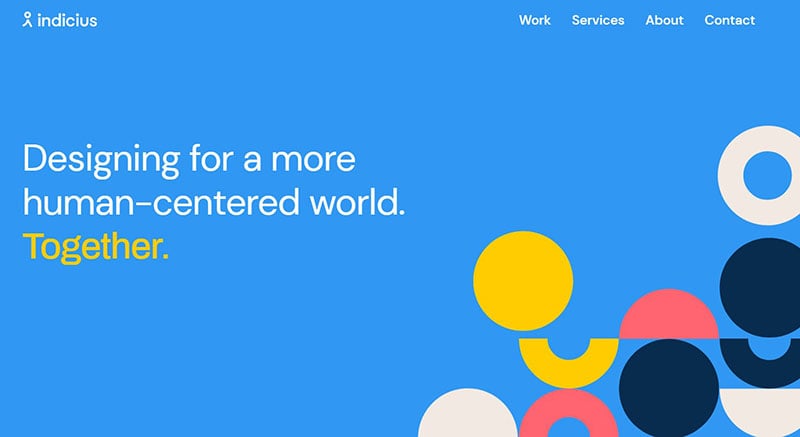 Jan Patawa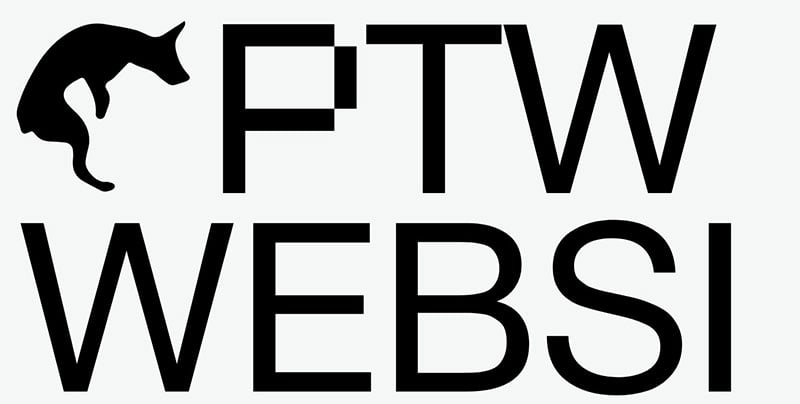 Jan Patawa is a Czech-based industrial designer who now works at BRAINZ Studios as a designer and creative director.
Kevin Mortensen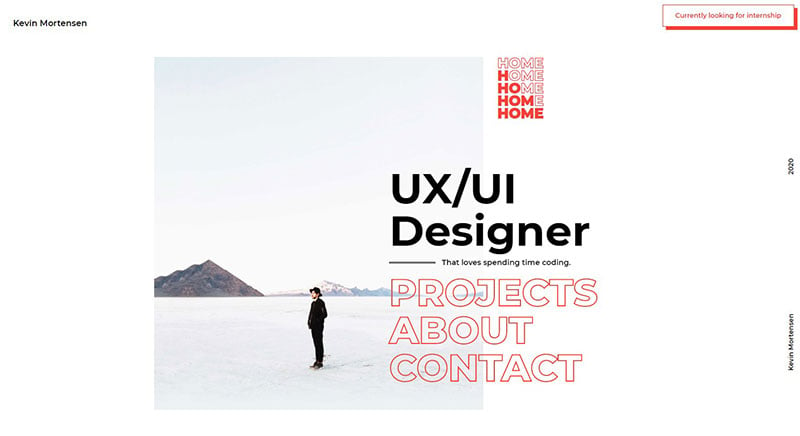 This is the website of a UI/UX Designer with a passion for coding.
Ajayns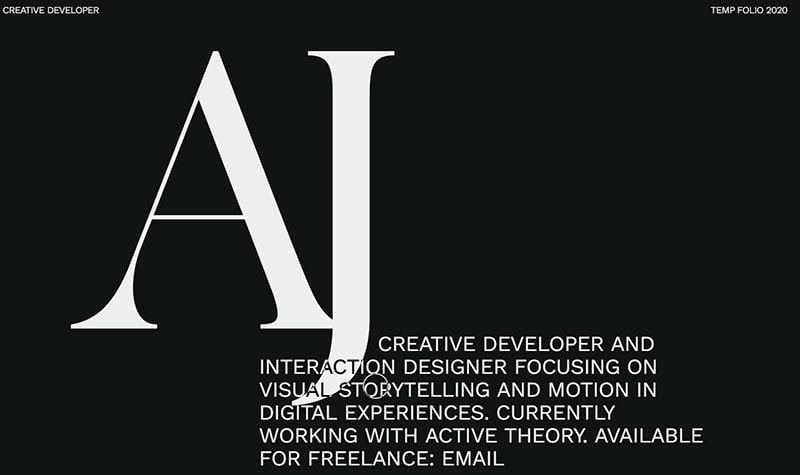 The portfolio site of AJ, who is a freelance interaction designer and creative developer.
Brando.ltd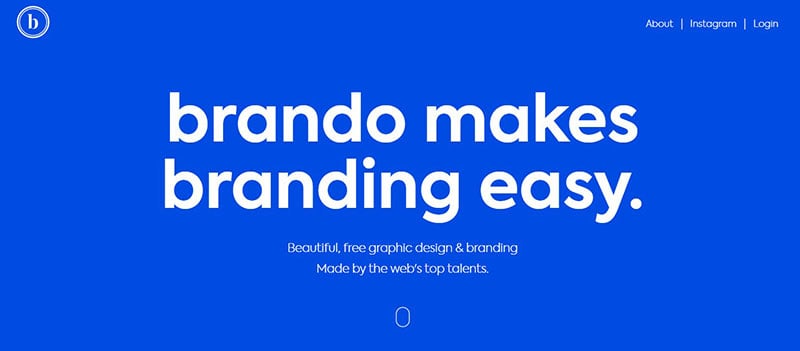 Brando is a design studio with a philosophy. They believe they have an improved way of creating amazing graphic designs. This helps the client to save time on searching for designs, images, colors, fonts, and videos for their branding projects.
Patrick David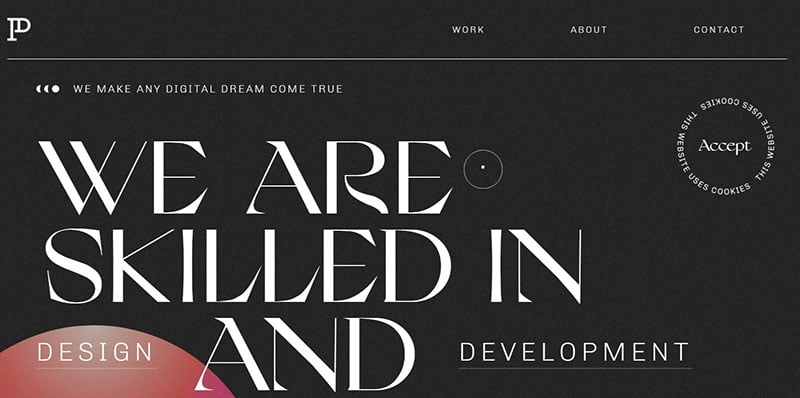 The design agency, led by Patrick David, tailors its products to the needs and requests of the customer. They specialize in building and operating integrated digital strategies. This is yet another one of the minimalist web design portfolio examples from the article.
Ajeeb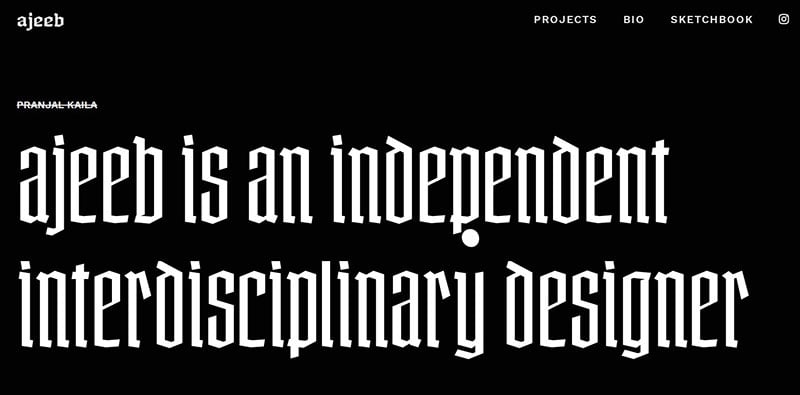 The portfolio of Ajeeb, who is an interdisciplinary designer from India.
Ehsan Noursalehi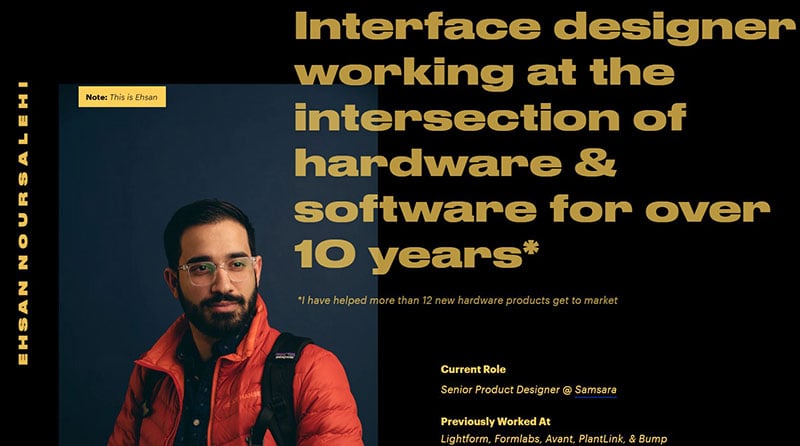 This is the presentation website of Ehsan Noursalehi, who describes himself as a multi-disciplinary product leader and designer. He has ten years of experience working with software and hardware.
Sonya Mudvex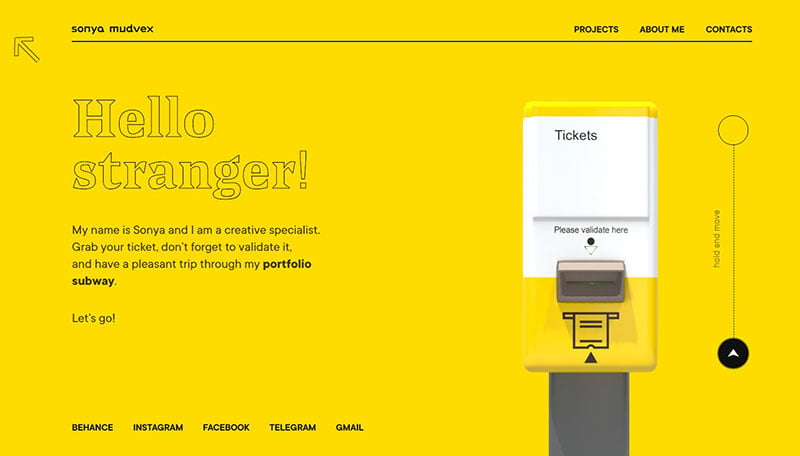 As a creative specialist, Sonya Mudvex specializes in copywriting, branding, and concept development. Take a look at her website and how she uses white space.
Sasha Agapov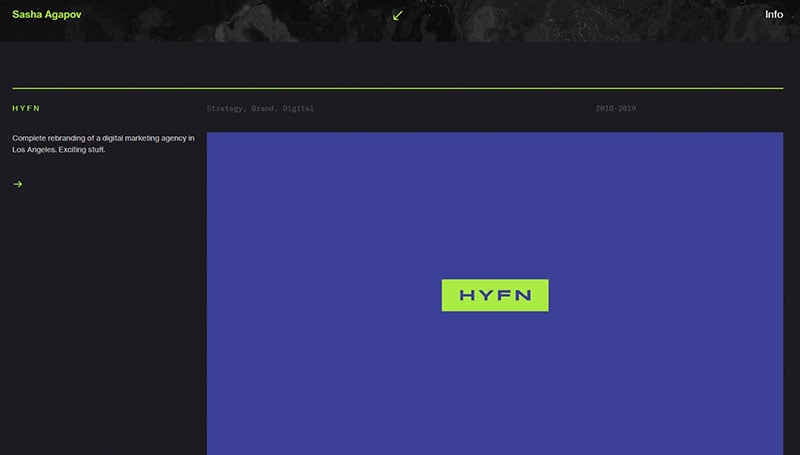 The portfolio site of a Los Angeles-based designer and creative director.
Allan Coutachot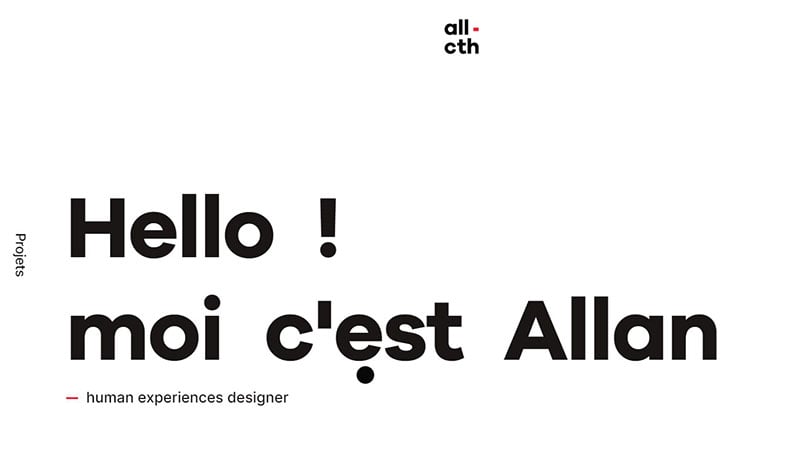 This is the website of the French designer Allan Coutachot.
Nick Jones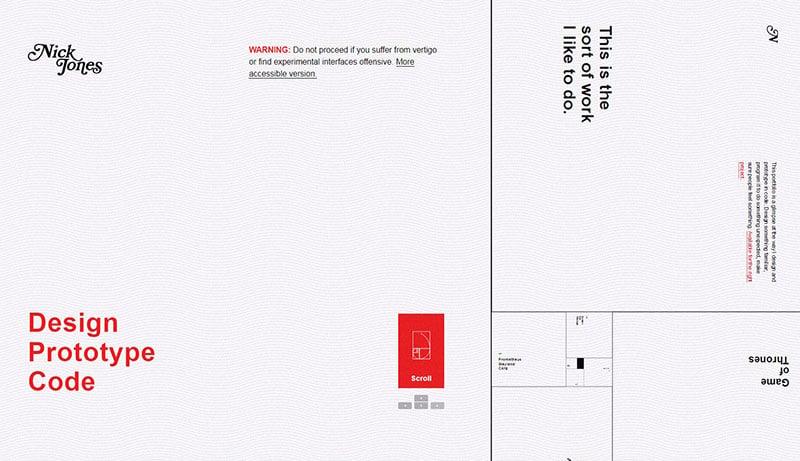 Nick Jones' site is completely based on Fibonacci numbers. It is built up from tiles that rotate into the reader's view by scrolling up or down. The tiles are arranged according to the golden ratio in a spiral staircase going up or down by scrolling.
Alex Dram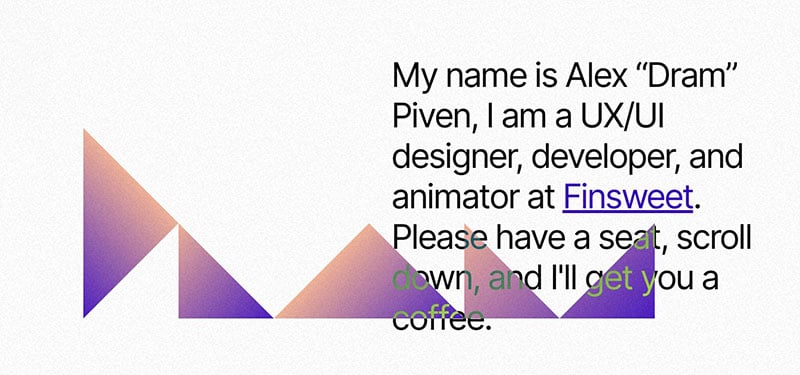 The portfolio site of Alex "Dram" Piven is a great source of inspiration for designing and digital experience. The site features seamless scroll animations, which lead the visitor straight towards Alex's design portfolio. The pointer interacts smoothly with the different parts of the web page, making the visit an exciting experience.
Kieran Baybutt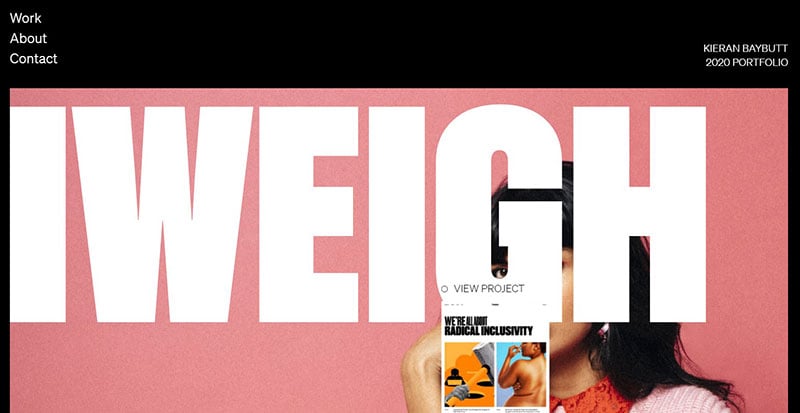 This is the portfolio of the interactive designer Kieran Baybutt from Manchester.
Carly Ayres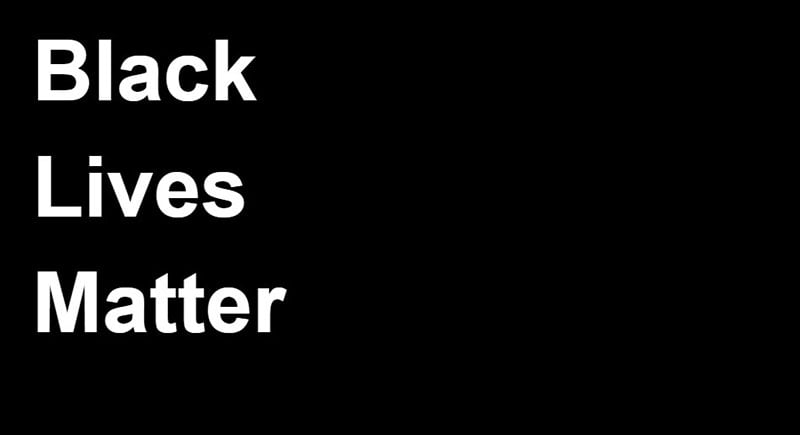 Most of us are familiar with Google Docs, for example, using it to make documents such as our resume. Carly Ayres used this idea to make her portfolio page with Google Docs. She lists her current job, projects, and contact details. The result is surprising and refreshingly simple.
HAWRAF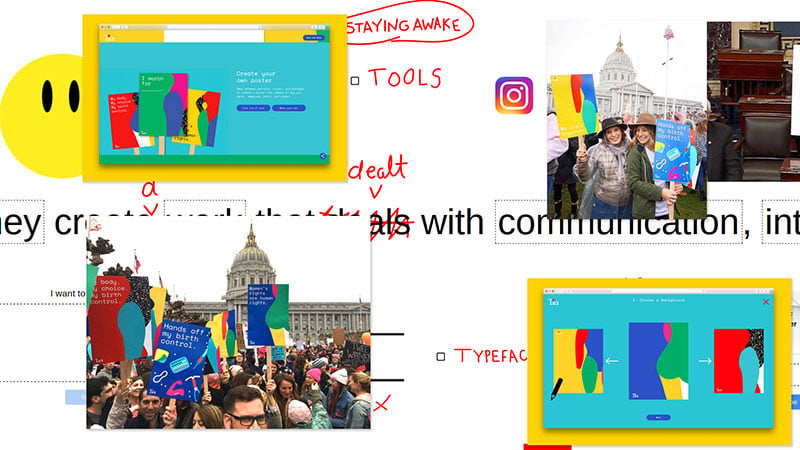 The website of HAWRAF contains some very interesting elements. For one thing, the cursor becomes a pencil, which allows the visitor to make notes in the portfolio. This well-designed website is horizontally orientated, which is something you rarely see.
Fleava Digital Agency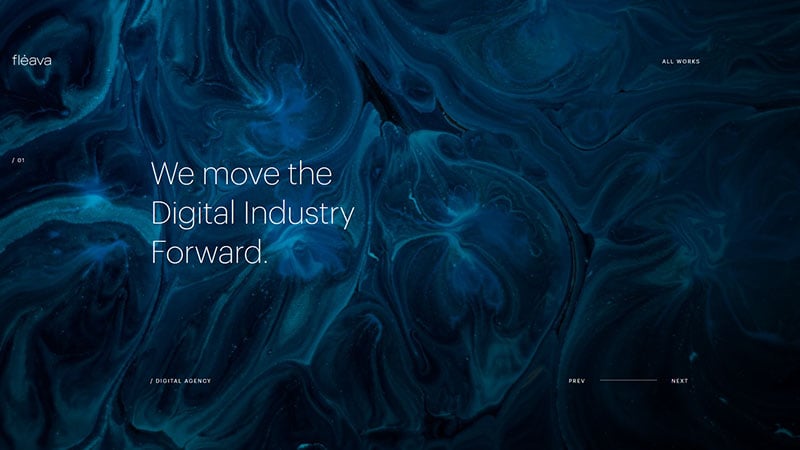 The branding agency Fleava creates memorable campaigns. They push the digital industry forward by endeavoring to change the way the audience view brands.
Jérémy Vitté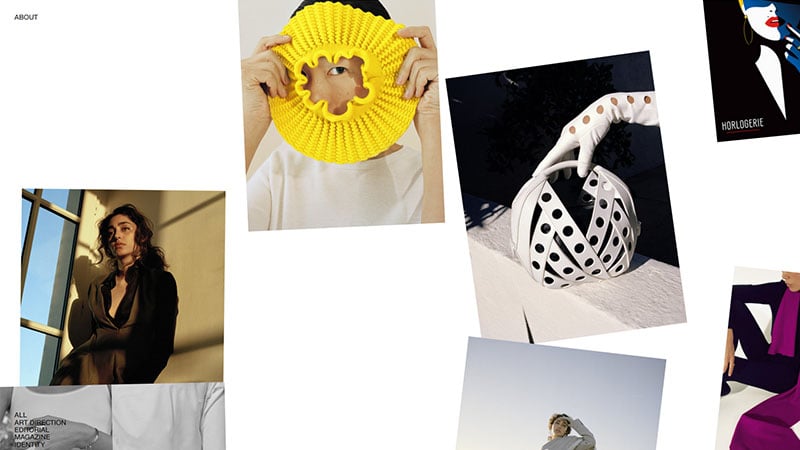 When scrolling down, Jérémy Vitté presents his magazine covers and pictures. However, they are not arranged in rows and columns. There are no straight lines, which gives the impression that the author spreads them in front of you on your coffee table. One of the strangest portfolio website examples from our list.
Saga Design Team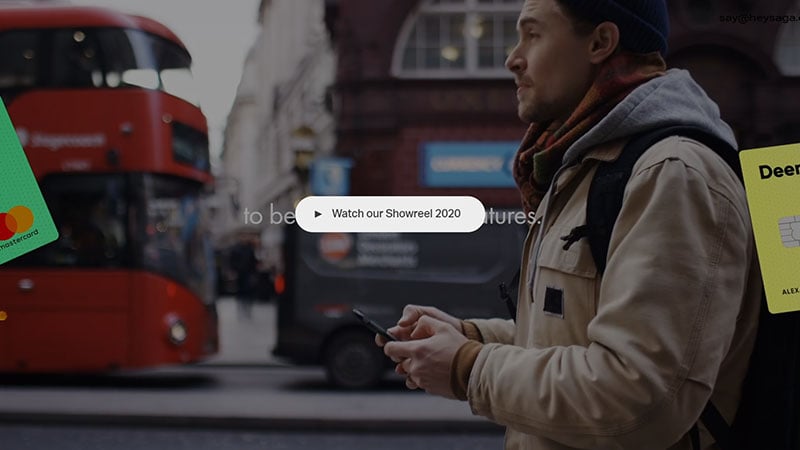 Timo Becker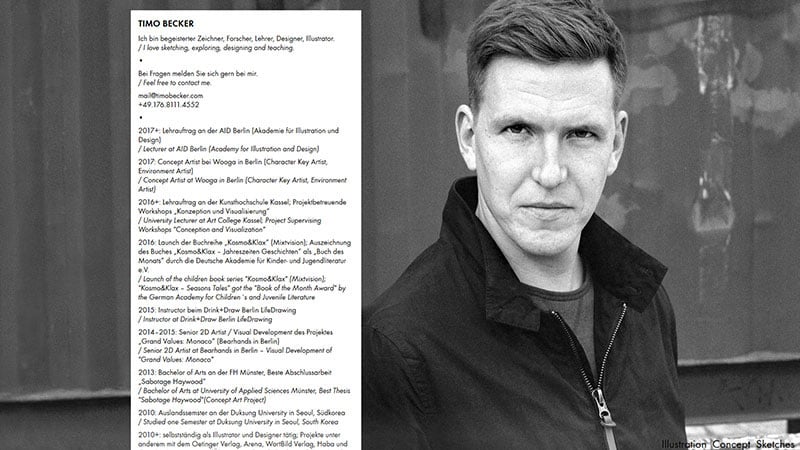 This interactive website is great fun. When opening the page, the illustrator Timo Becker, invites you to connect seven dots. The lines are then turned into a fun little doodle. You can do this as many times as you like.
Melanie DaVeid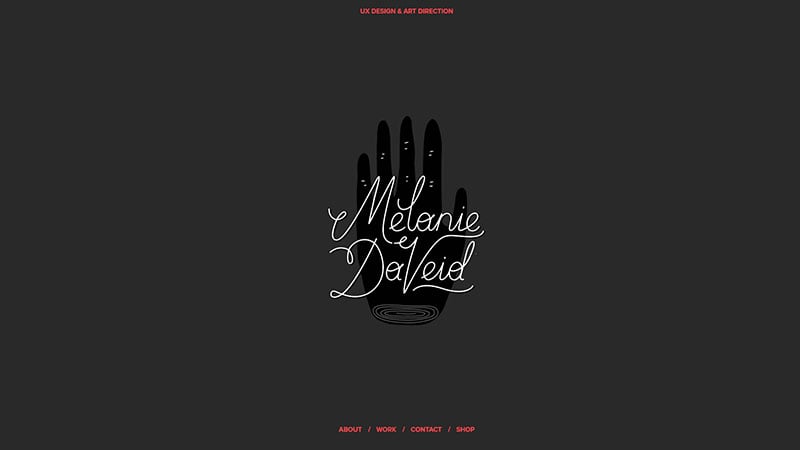 Melanie DaVeid is a UX designer whose website greets you with an animated logo of her name. Below that are the links to the different sections of the site. The whole website is an expression of her creativity and creates a visual impact.
Michal Škvarenina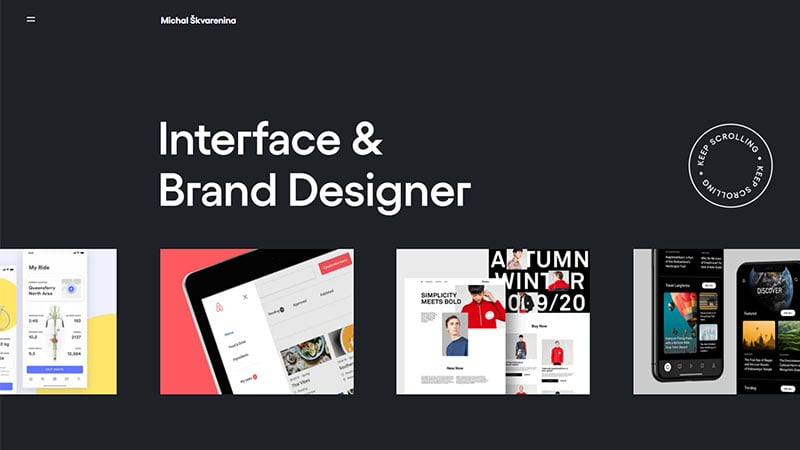 This is the portfolio of the interface and brand designer Michal Škvarenina.
Vide Infra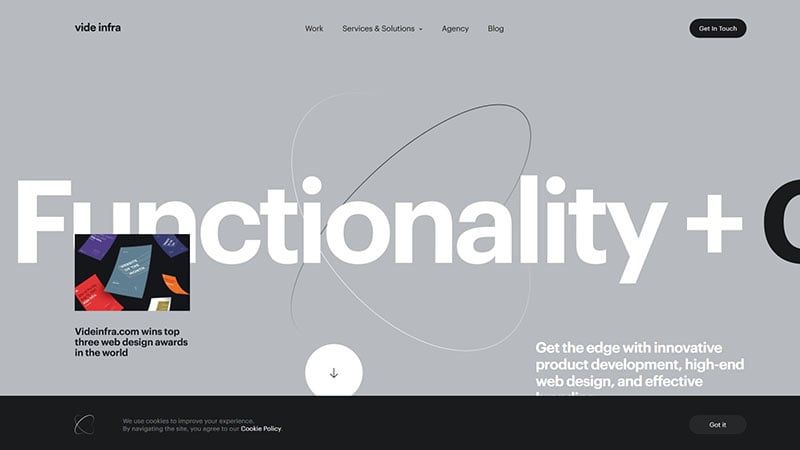 Vide Infra is a design agency with a really interesting web design portfolio.
RoAndCo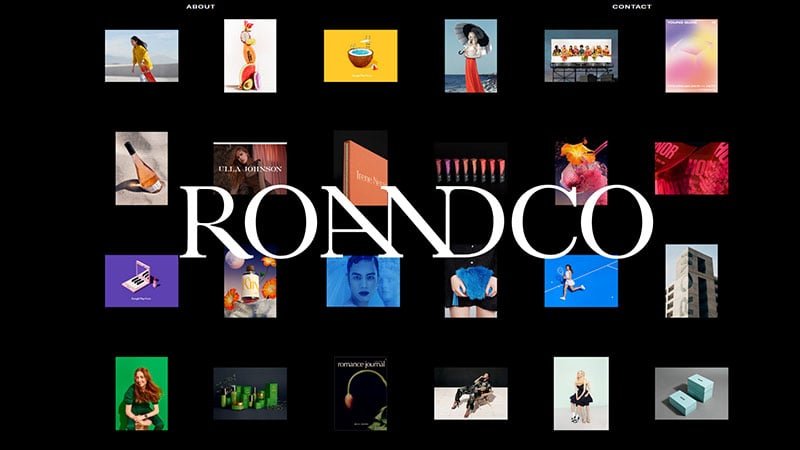 RoAndCo was founded in New York by creative director Roanne Adams. It now comprises a whole team of designers who offer branding and creative direction to clients. Their main business focuses on beauty, lifestyle, fashion, and tech.
Electric Brand Consultants
The website opens with a bold mission statement. This Russian creative studio wants to make brands and experiences that reinvent the digital industry.
Amber Xu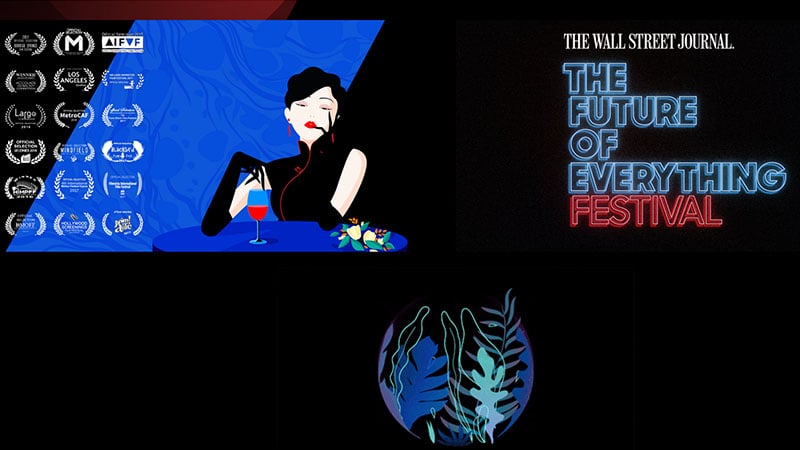 Amber Xu's page is not only aesthetically pleasing but also functions well and is easy to navigate. Xu is an illustrator and graphic designer. The website is ornamented with beautiful high-quality pictures. Hovering over them with the mouse gives additional information about the project.
Sweet Punk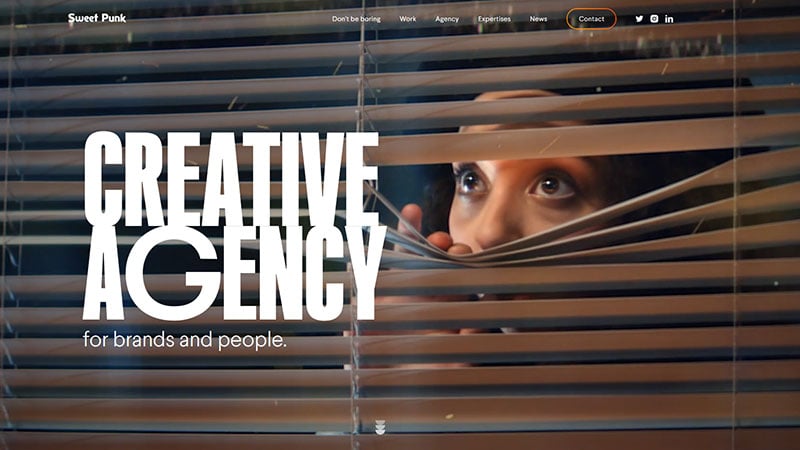 Sweet Punk has a new portfolio website. This creative bureau from France invites brands to outdo themselves with new identities and digital ideas.
Robin Mastromarino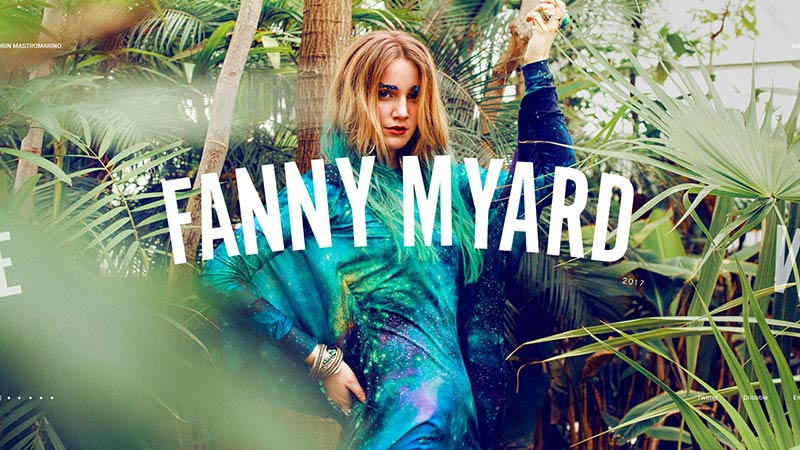 A fresh design makes this portfolio website by Parisian designer Robin Mastromarino worth a visit. The UI animations are very pleasant and satisfying. For example, the different sections and projects are arranged on a wheel that can be turned by clicking or scrolling. The project pictures are slightly highlighted when moving over them when navigating. This design is a great source of inspiration for those into UI.
Your Next Agency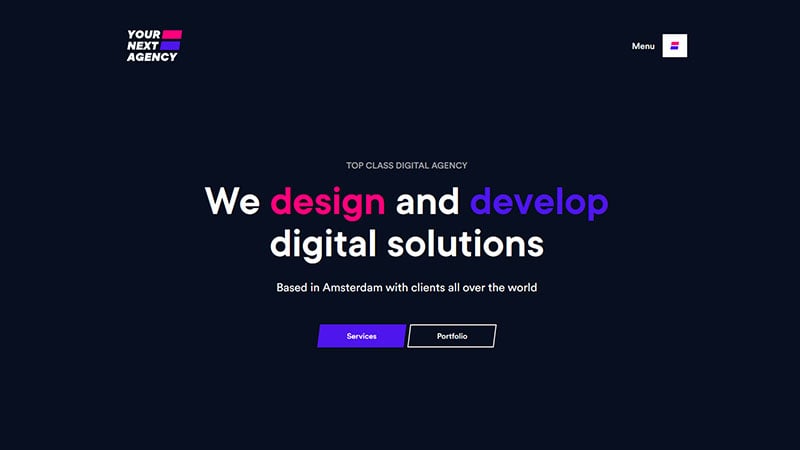 Your Next Agency presents a brand new business portfolio. They work to make impactful digital solutions for web and mobile applications. They believe that challenges should be turned into solutions.
Active Theory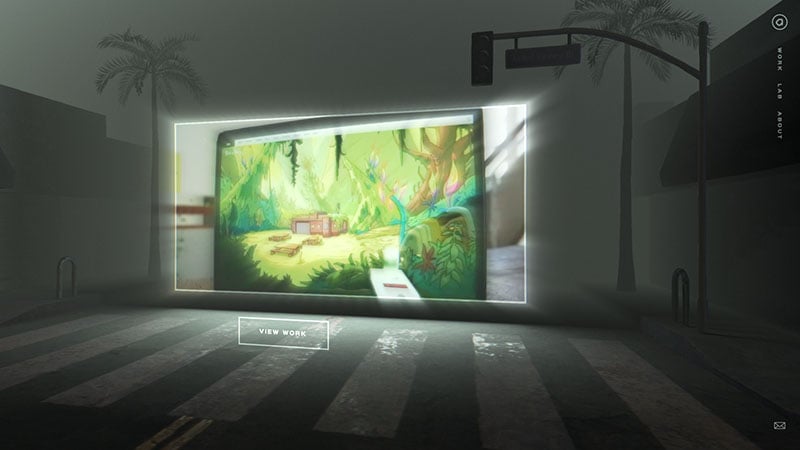 This is an aesthetically satisfying, dark, and futuristically designed presentation. It is like entering a different world. The opening page contains beautiful animations and there are exciting movement interactions. The whole site works perfectly together.
UPQODE 3.0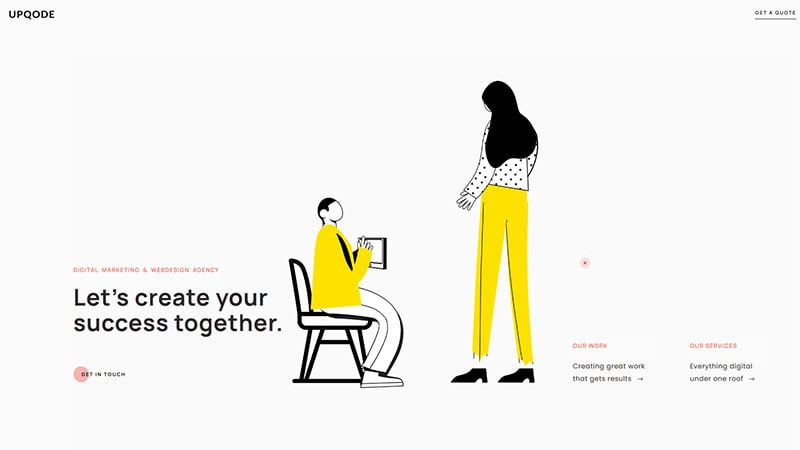 The digital marketing and web design studio UPQODE has been in business for over five years. They build fast and eye-catching websites. No wonder, their web design portfolio looks this good.
Nad Chishtie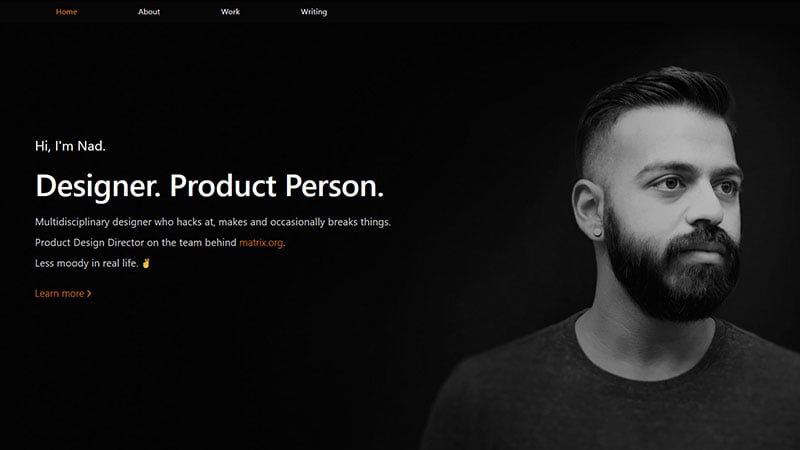 British designer of digital products Nad Chishtie expresses his personality in this portfolio. He gives an insight into his creative process. His unique website shows a calculated, but effective approach to his design. His honesty instills trust and attracts attention.
Seán Halpin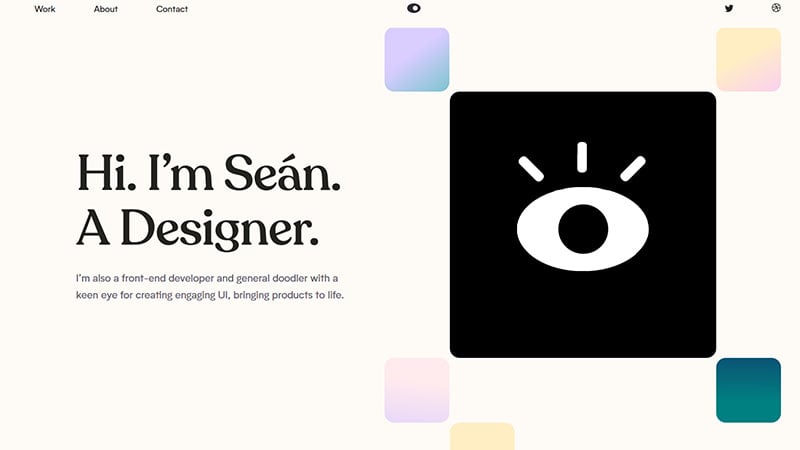 This is an outstanding web design portfolio, not just a list of his past work. It brings out the person's skills and personality as a creative individual. Seán Halpin shows off what he can do, but he also designs his own creative world. It reveals how he can assist you and what kind of person will be working with you.
Velvet Spectrum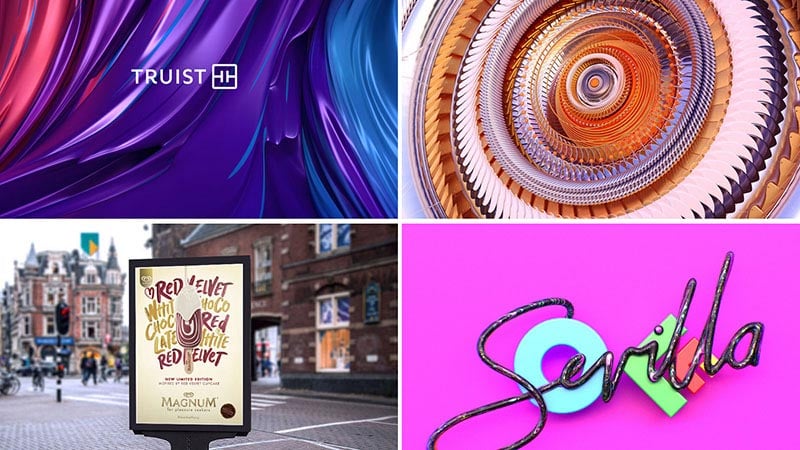 As a visual artist and designer, Luke Choice goes by the alias Velvet Spectrum. He maintains a simple website. The portfolio homepage displays a grid of bright and colorful sample thumbnails. Clicking on each will lead you to the details of the project and some stunning high-resolution images.
extra l'agence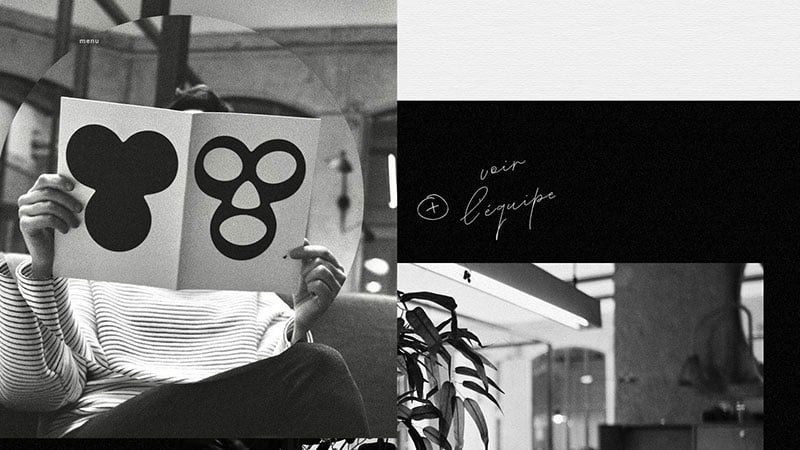 Locomotive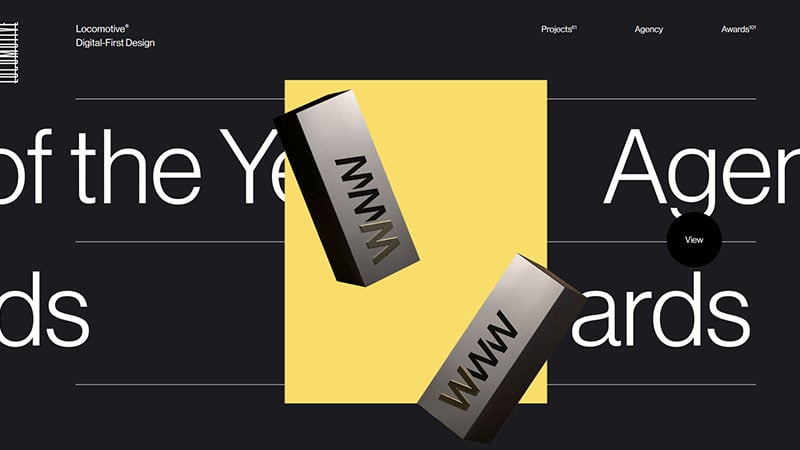 This is a splendid looking web design portfolio from Locomotive, a design company based in Quebec. With this glistening website, it is clear that it represents a team that specializes in building digital experiences. It is in part the playful animations that breathe life into the design of the website.
Claudia Moreira Salles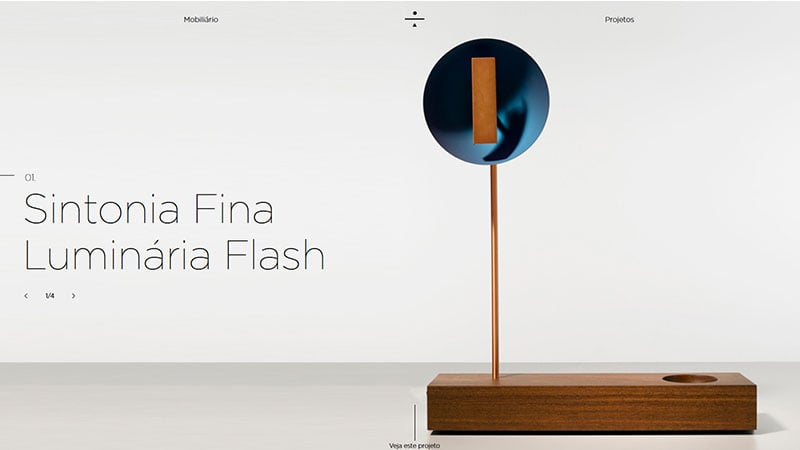 This website was designed and developed by Sandro Bianco and Luiz Rodrigues. They collaborated to bring together Claudia Moreira Salles' interior design work in this digital portfolio.
Studio Thomas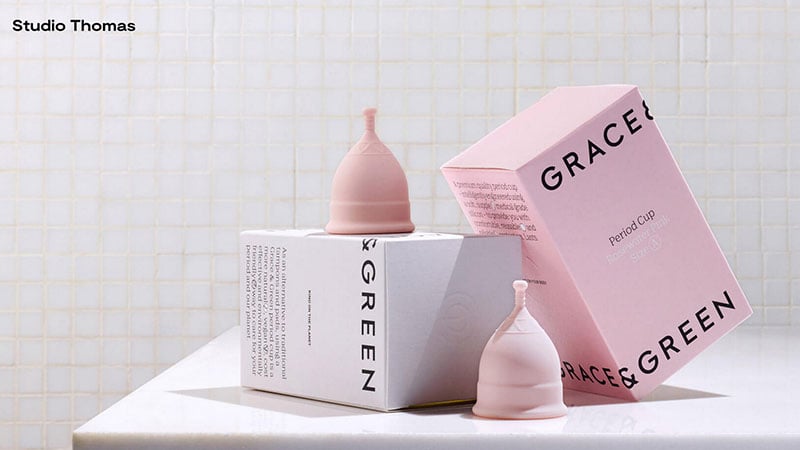 Studio Thomas owes its name to the first names of the two creative directors, Thomas Coombes and Thomas Austin. They are based in East London and focus their work on visual communication, both digital and physical. Their portfolio reveals that their work has an experimental and exploring character. They have many inspiring features in what is termed a brutalist design.
MØM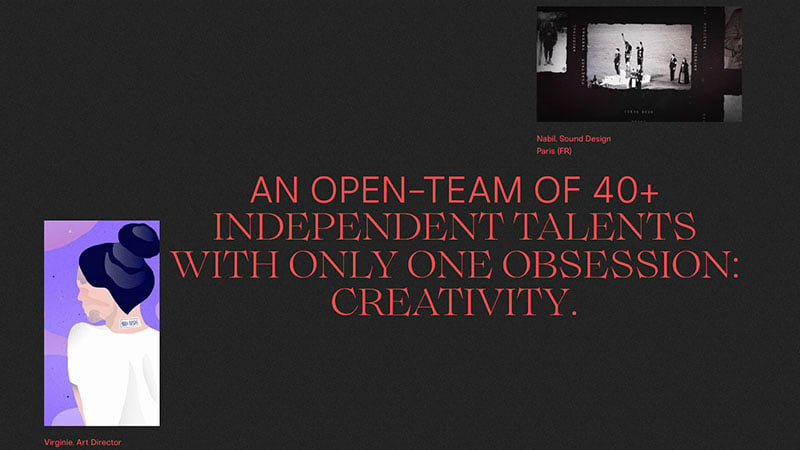 For those who want to outsmart the standards, it's worth looking at MØM, an independent creative agency.
Buzzworthy Studio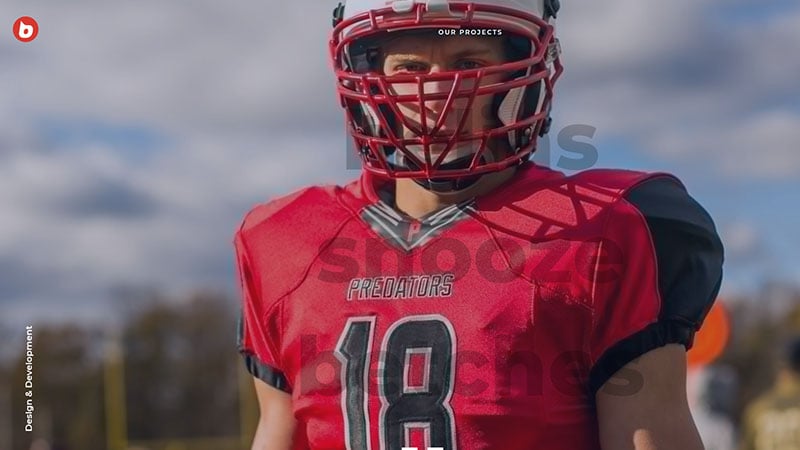 In their own words, a ¨badass digital studio¨, based in Brooklyn. Its website showcases brilliantly applied web techniques. Gorgeous typography is combined with striking animation, which together with the beauty of the pages, will engage prospective customers.
Tee Tran – Portfolio
Tee Tran is a Vietnamese American visual designer who lives in Australia. The portfolio was built by Clément Vion.
Radiant Studios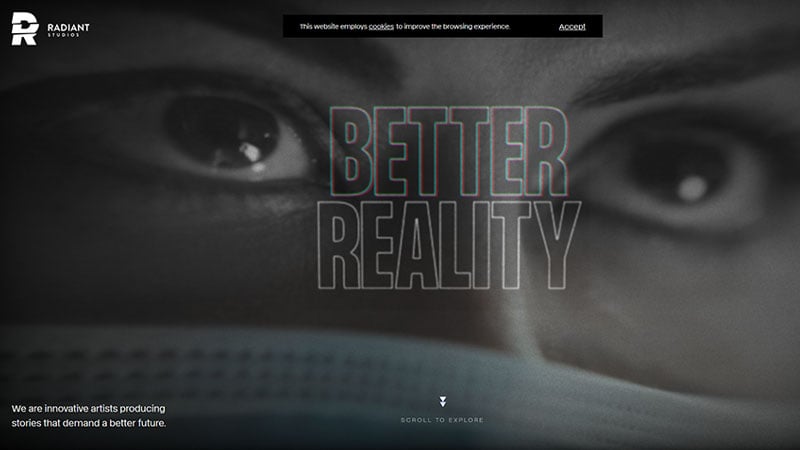 This video production studio uses entertainment and storytelling to build empathy and inspire communication.
Stereo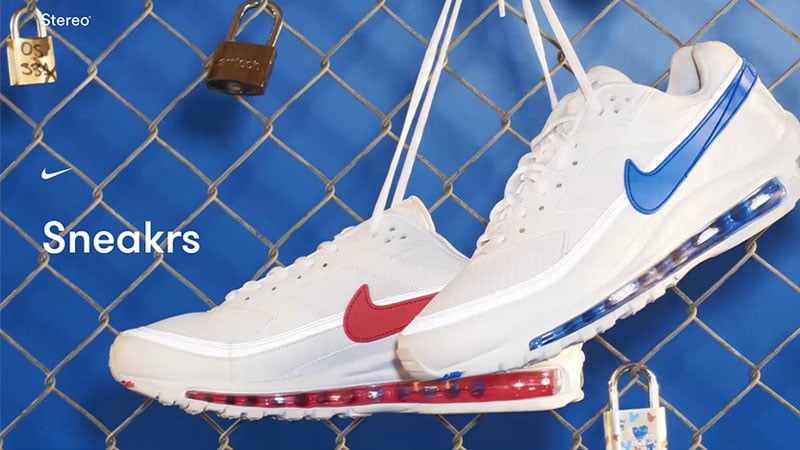 This is a striking, yet simple, professional website by Stereo Creative from London. The focal point of the site is the agency's work: large colorful images and videos. It aims at creating a deeper emotional connection.
Sweden Unlimited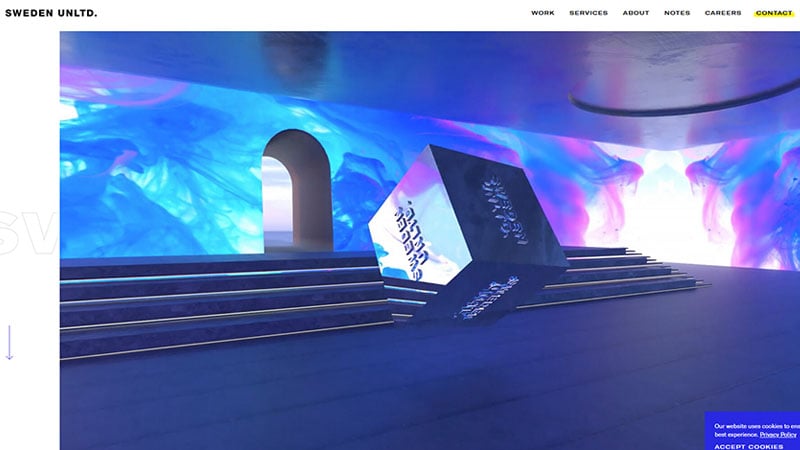 A creative agency that specializes in digital applications in content, branding, and eCommerce.
Xavier Cussó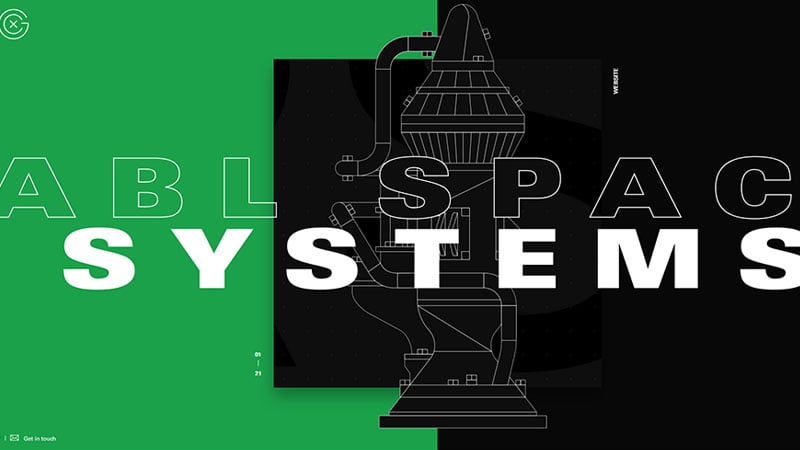 From Barcelona, designer Xavier Cussó used to be a senior art director at Vasava. He is now a full-time freelancer with an impressive digital portfolio. The site itself was built by Burundanga Studio. His work is displayed surrounded by bold colors, forceful typography, and a lot of animations.
Abstract Digital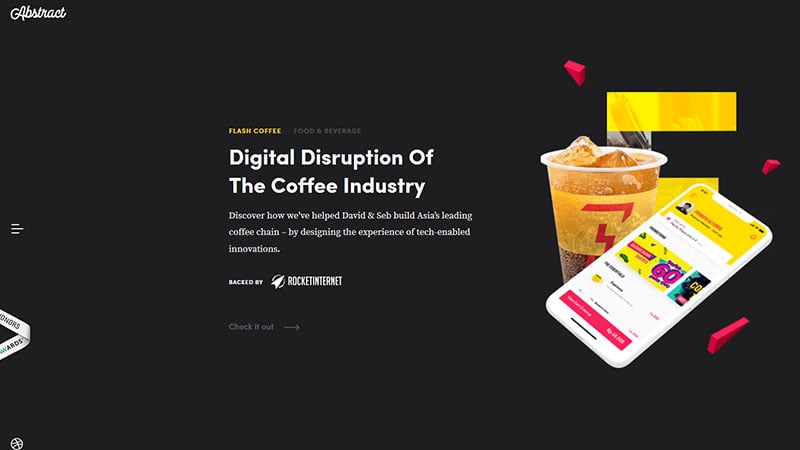 This website offers a presentation of Abstract Digital, a digital product design agency. They are experienced design sprints and startups with product strategy and innovation.
Elizaveta Porodina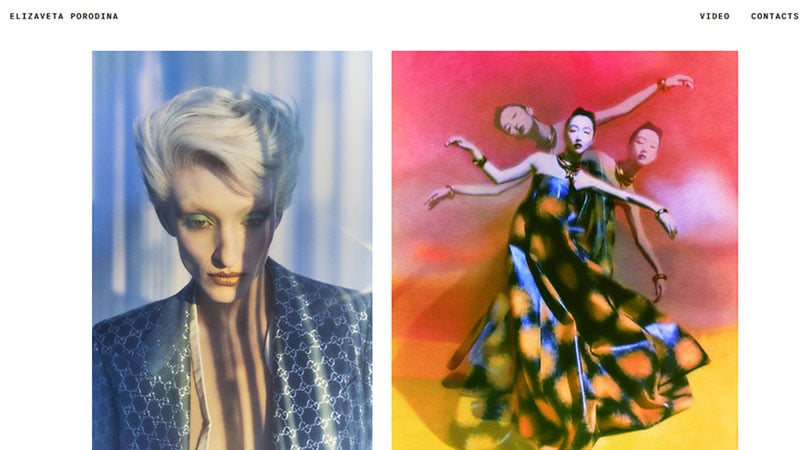 This is the portfolio of Elizaveta Porodina, artist and photographer.
Timothy Maurer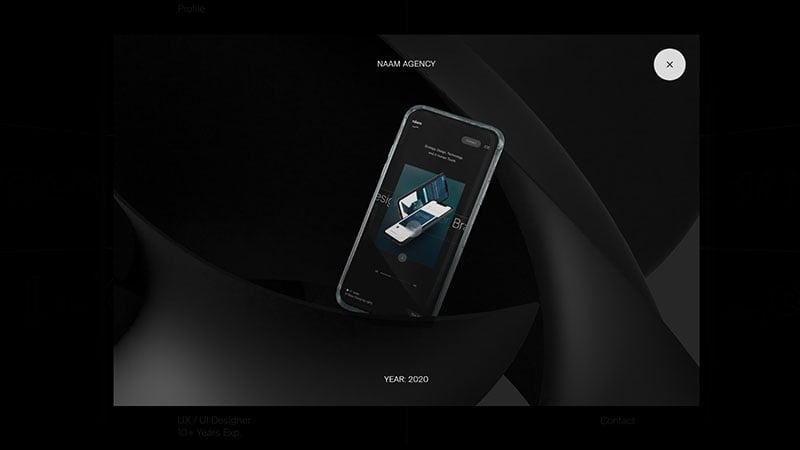 An inspiring example of a simple, clean portfolio that spotlights the work of one person. Timothy Maurer's minimalist portfolio makes clever use of design to engage the viewer and serves to introduce the rest of Timothy's work. Right on the landing page, the viewer is presented with an interactive animation, which brings out the strengths and personality of the author.
Jacob McKee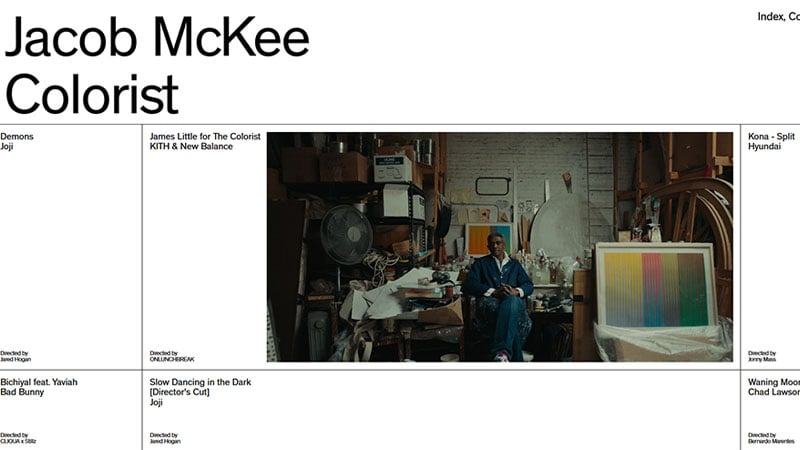 This website introduces the freelance colorist Jacob McKee from Los Angeles. It was produced in collaboration with the design agency Mouthwash Studio and the developer Jason Bradley.
Steven Mengin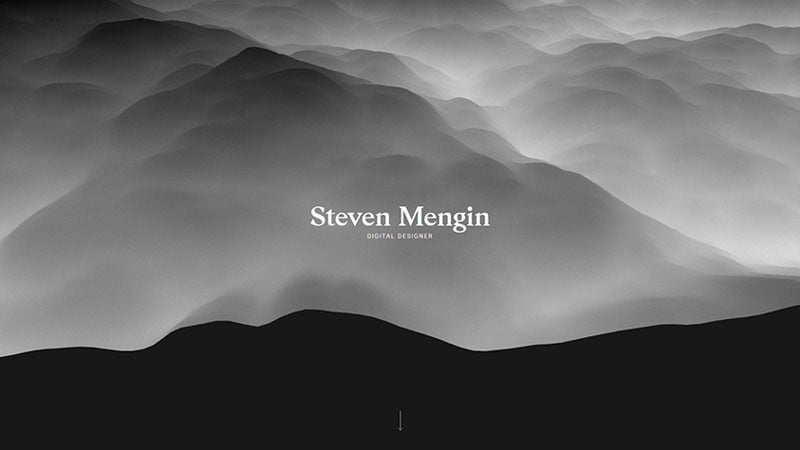 The core of Steven Mengin's portfolio is its strong visuals. The design and images give a strong impression of Steven's abilities and personality. The visitor is welcomed with a stunning cloudscape. It is a true pleasure to sit and relax watching the animation.
Rémi Clauss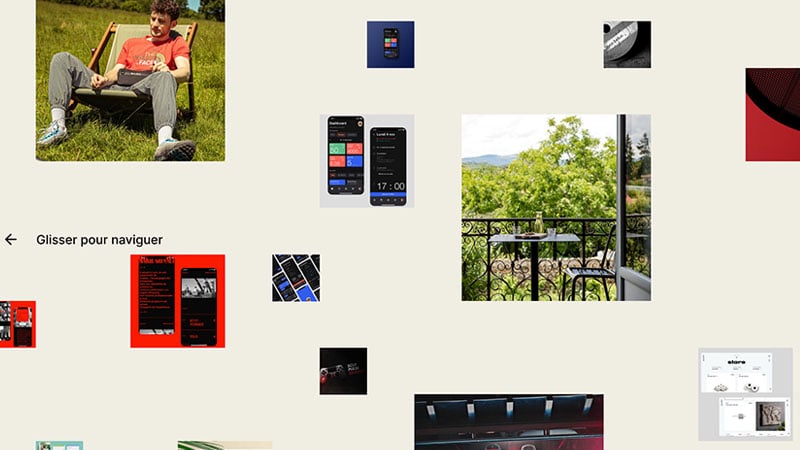 The last of these design portfolio examples is from Rémi Clauss. This UX freelance designer based in Lyon and Paris is passionate about shapes and technology. He combines those two elements on his portfolio page.
FAQs about cool portfolio websites
1. What elements should be included in a cool portfolio website?
Your name and a detailed explanation of your work should be on a stylish portfolio website. Additionally, it ought to include your work samples, an eye-catching bio, and a professional headshot. Contact information, links to social media sites, and any honors or accolades you have won are additional crucial components to include.
2. How can I make my portfolio website stand out from others?
Utilizing a distinctive design that expresses your personality and sense of style is one way to make your portfolio website stand out. You can also employ top-notch photos and videos to promote your efforts and make your website more user-friendly. Include customer testimonials as a further effective tactic to establish credibility and highlight the caliber of your work.
3.Should I use a pre-made portfolio template or design my own website from scratch?
Your objectives, abilities, and resources will determine whether you should create a website from scratch or use a pre-made portfolio template. Although pre-made templates can be a quick and simple way to get started, they might not offer the customization and flexibility you require. Making a website from scratch can take time and involve more technical knowledge, but it can produce something more distinctive and customized.
4. How can I effectively showcase my work on my portfolio website?
Use high-quality photos and videos that appropriately reflect your abilities and style to exhibit your work on your portfolio website. Additionally, you can incorporate thorough explanations and case studies that highlight your procedure and the outcomes you obtained for your clients. To make it simple for visitors to find what they're searching for, it's a good idea to categorize or projectize your work.
5. What are some best practices for portfolio website design and development?
The use of a simple, straightforward style, mobile optimization, and the use of high-quality photographs and videos are some best practices for portfolio website design and development. Additionally, you should make sure that your website loads quickly, use concise and clear copy, and make it simple for visitors to get in touch with you. Last but not least, you should constantly test your website to make sure it is usable, accessible, and error-free.
6.Should I include personal information on my portfolio website, such as my contact information or a brief bio?
Yes, personal information like your contact details and a succinct bio should be included on your portfolio website. This makes it simpler for potential customers or employers to contact you and find out more about your qualifications. By demonstrating that you are a real person with a professional history, you can also increase credibility and trust.
7. How can I optimize my portfolio website for search engines?
Use relevant keywords consistently throughout your content, including in your page titles, meta descriptions, and image alt tags, to make your portfolio website more search engine-friendly. To facilitate search engines indexing your website, you should also develop a sitemap and submit it to them. Finally, to increase the authority and exposure of your website in search results, you should build high-quality backlinks from other trustworthy websites.
8. Should I include testimonials or reviews from past clients on my portfolio website?
Yes, it's a great way to gain the respect and credibility of potential clients or employers to include testimonials or reviews from previous clients on your portfolio website. Testimonials offer third-party verification of the excellence of your work and the consistency with which you have produced outcomes. To give testimonials more credibility, be sure to provide the clients' names and jobs along with a request for permission.
9. How can I make my portfolio website accessible to people with disabilities?
Use alt tags for photos, offer text replacements for video and audio content, and structure your information using descriptive headers and subheadings to make your portfolio website accessible to those with disabilities. Additionally, you should check that your website can be used with a keyboard and offer precise instructions for filling out forms. Additionally, you can test your website's accessibility and make any necessary adjustments using tools like screen readers and color contrast checkers.
10. What are some common mistakes to avoid when designing a portfolio website?
When designing a portfolio website, common mistakes to avoid include using an excessive number of different fonts or colors, stuffing the page with information, and using low-resolution photos or videos. Additionally, you should refrain from using layouts with intricate navigation that make it challenging for visitors to find what they're looking for. Finally, make sure to regularly add new work and keep your content engaging if you want to keep your website current and relevant.
Ending thoughts on these cool portfolio websites
We hope you liked this collection of design portfolio examples and that it will help you create a great web design portfolio for yourself. There's a multitude of options that you can use for making it awesome.
For starters, you can use lots of white space for your potential employers to quickly scan the website. When hiring, a lot of managers view a considerable amount of design portfolios. Your web design portfolio needs to be easily scannable.
If you want to present only the best possible work, don't bother building a huge website. A one-page website might be enough.
However, if you want to make it a bit meatier, you should add a case study for each of your entries. In this way, potential clients will see your thought process behind creating your work. You won't be just another freelance web designer. You'll be the one that actually shows that he/she knows what is doing.
If you enjoyed reading this article with cool portfolio website examples, you should check out this one with CSS timeline examples.
We also wrote about similar topics like CSS gallery examples, HTML calendar snippets, awesome image sliders, automatic product carousels, CSS input text examples, CSS accordions, CSS animation examples, and styling radio buttons.
123 Portfolio Website Examples That Stand Out of the Crowd