In the 21st century, it is vital to have an online presence. This is especially so for large companies and corporations.
Although using social media is worthwhile, having a website is more advantageous. Websites introduce the company to potential customers.
On a website, the visitor can learn about the company's services, staff, ethics, and much more. A website is a customer's window into the company.
Thus a corporate website should reflect well on the company. It should demonstrate the level of professionalism that the company offers.
It should also be clean and organized. This helps potential customers to begin developing trust in the company.
The website should provide a smooth user experience and be responsive on all devices. It should also provide necessary information such as location, contact info, and services.
With so many requirements it may be daunting for a company to create a professional website. A simple solution is to use corporate website templates.
Corporate website templates are pre-made websites. Companies simply add their information into the template to create their own website.
Corporate website templates include the required elements and many other useful features. They enable users to build beautiful, professional websites with little expense and energy.
A website is important to a company's expansion. For this reason, website templates need to be well-designed and powerful.
This article lists several well-designed corporate website templates and their features. Feel free to peruse the following list to find the best corporate website template for you.
Corporate website templates to check out
Angled Business Website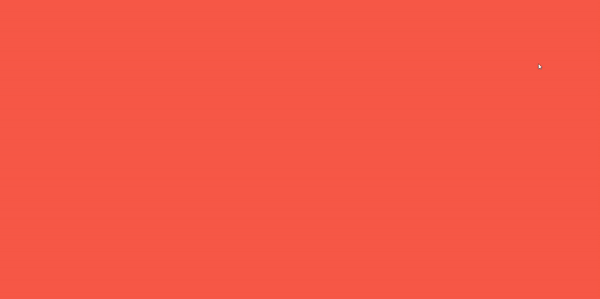 This corporate website template looks at business websites from a whole new angle. Here are some of its features:
one-page website
services section
testimonial section
navigation scroll guide
contact section
social media buttons
customizable colors
Corporate Website Template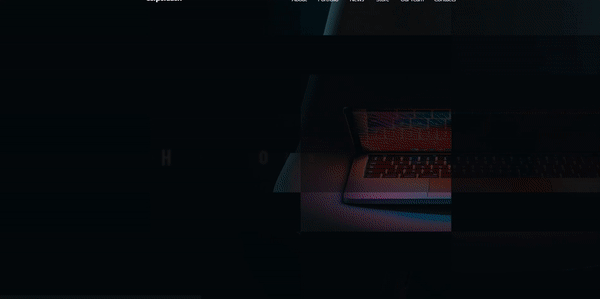 This template offers a one-page layout that would work well for any company. Its features include:
visible CTA
portfolio section
supports eCommerce
includes Google Maps integration
back to top button
text effects
Bebsa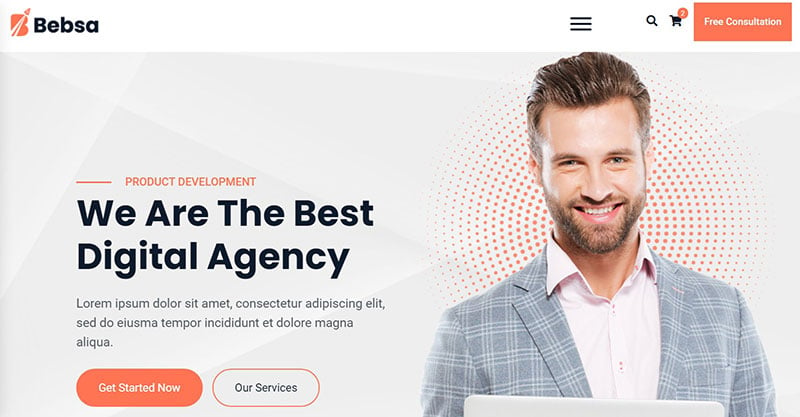 Bebsa is a powerful business website template. It is an HTML template built with Bootstrap, CSS3, W3C Validation, and Sass.
It provides a creative and customizable design layout. Other features include:
2 homepages
10 inner pages
working contact form
responsive
includes Google Fonts
modern design
supports video media
Vella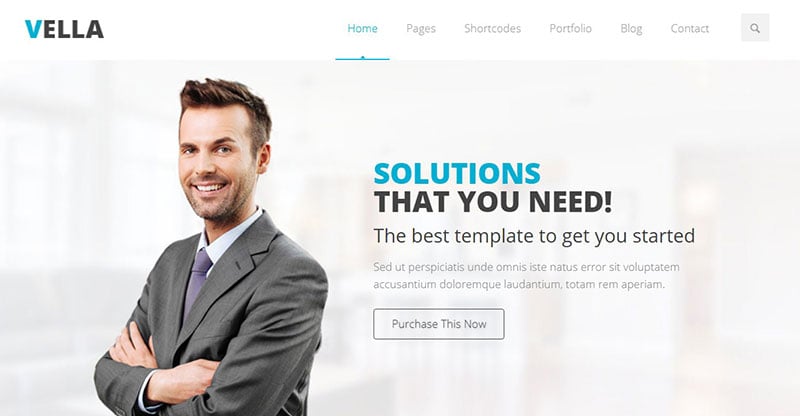 Vella is a modern business website solution that provides a minimal design layout. It is a fitting template for businesses, blogs, portfolios, and more.
Features are as follows:
based on Bootstrap
responsive
supports background images
sticky headers
provides 37 templates
includes Revolution Slider
shortcodes
touchable sliders and carousels
supports Google Maps
retina ready
13 color schemes
Canvas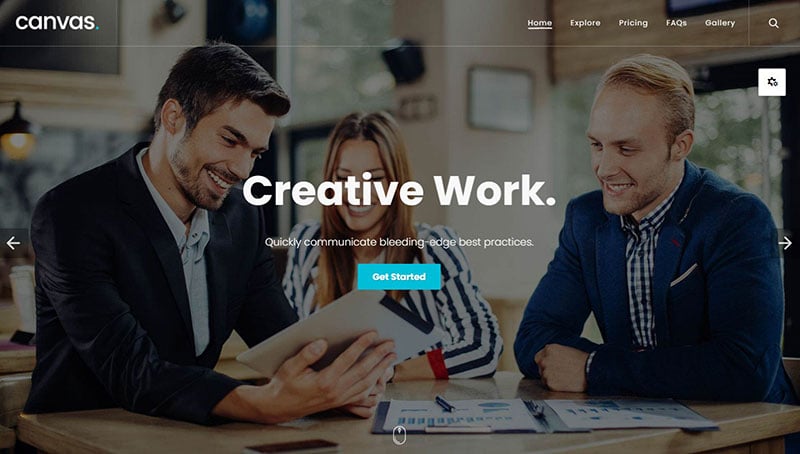 Canvas is a multipurpose website template. Be it a business, a media agency, or a blog, all can use this template to build a creative website.
The components include:
includes a total of 1200 templates in the package
pre-made homepages and inner pages
flexible
responsive
dark theme
based on Bootstrap 4
unlimited header styles
AJAX contact forms
Optimized for speed
Litho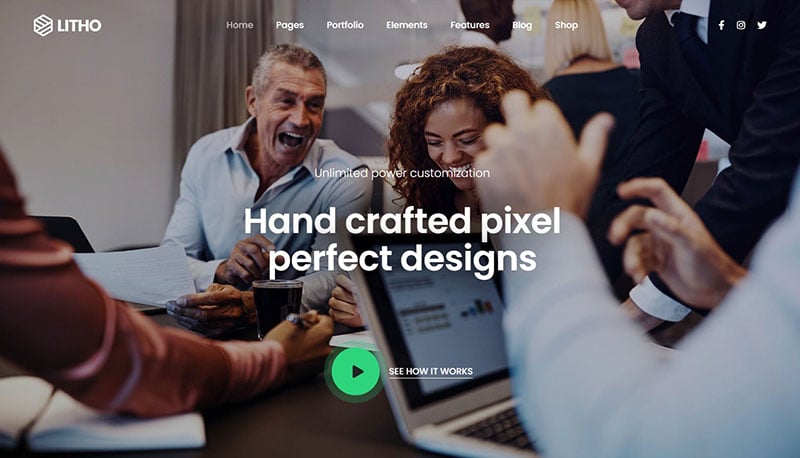 Litho is a modern, clean, and organized website template. It is suitable for multiple purposes.
Features include:
more than 36 homepage demos
200 elements
230 pre-made templates
10 portfolio styles
responsive
includes access to Revolution Slider
supports MailChimp
eCommerce compatible
Nabis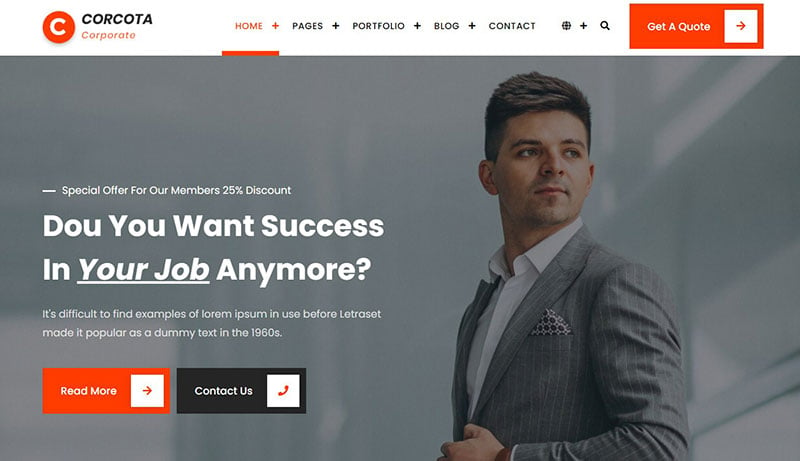 Nabis is another multipurpose website template. It works well for an agency, business, restaurant, landing page, and more.
It uses clean and quality code. Some of its components are:
more than 180 HTML templates
blog layouts
portfolio layouts
modern design
smooth scroll
cross-browser support
text animations
Moose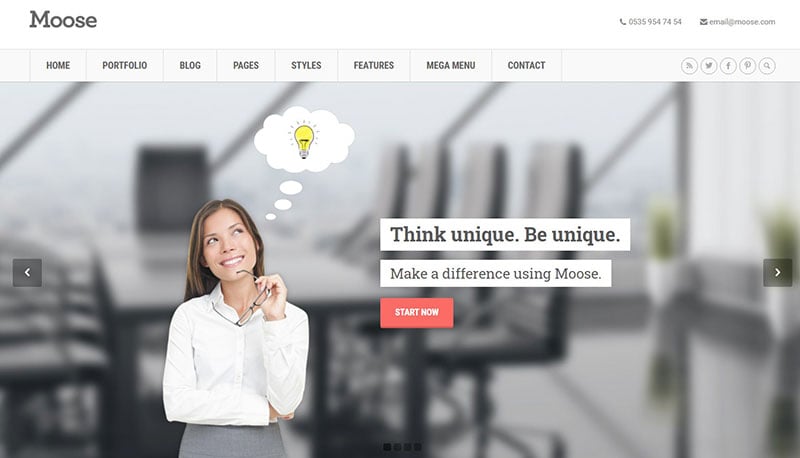 Here is a flat HTML template. It offers countless options that suit artists, businesses, and others.
Its main features are:
more than 50 HTML pages
responsive
14 homepage layout designs
2 header options
SEO optimized
8 color themes
based on Bootstrap
retina ready
Boston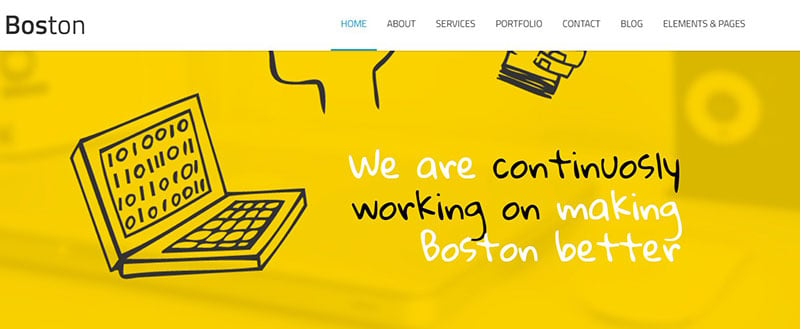 Boston is a premium HTML template focused on building modern and beautiful websites. It contains:
5 menu types
9 homepage styles
parallax effects
responsive design
AJAX loading
contact form
newsletter
Lightbox preview
supports video media
unlimited colors
Pofo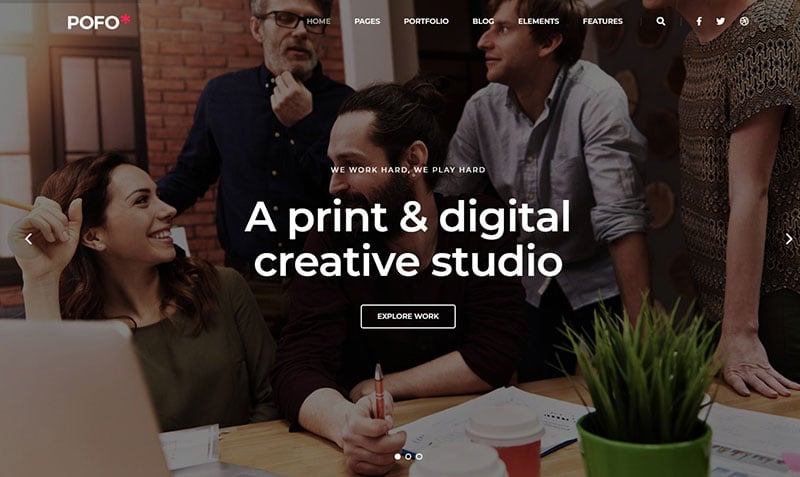 Pofo is a polished and interactive website template. It has clean code that is well documented so that users can use it for multiple purposes.
The following are its best features:
built with Bootstrap
HTML5 and CSS3 template
26 unique demos
210 templates
150 elements
responsive design
fast loading
SEO optimized
customizable
Fionca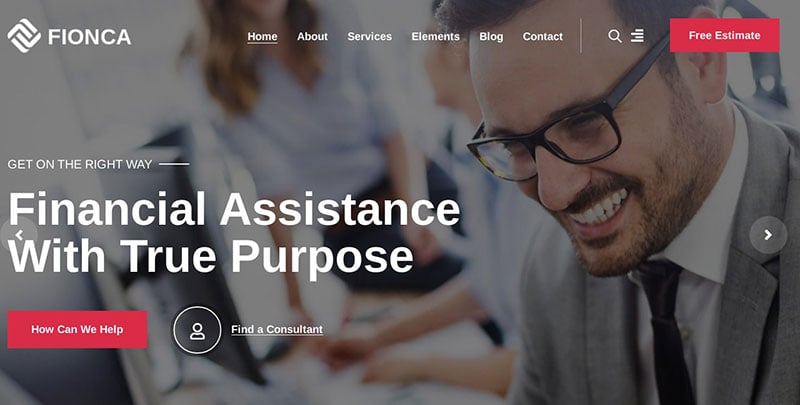 Here is another corporate website template that helps build professional-looking websites. It was developed with businesses in mind.
It includes features that help expand businesses such as:
responsive layout
blog pages
based on Bootstrap
has HTML, CSS, and JS framework
clean code
flat and modern design
footer widgets
advanced typography
includes Google Maps
parallax effects
Wesal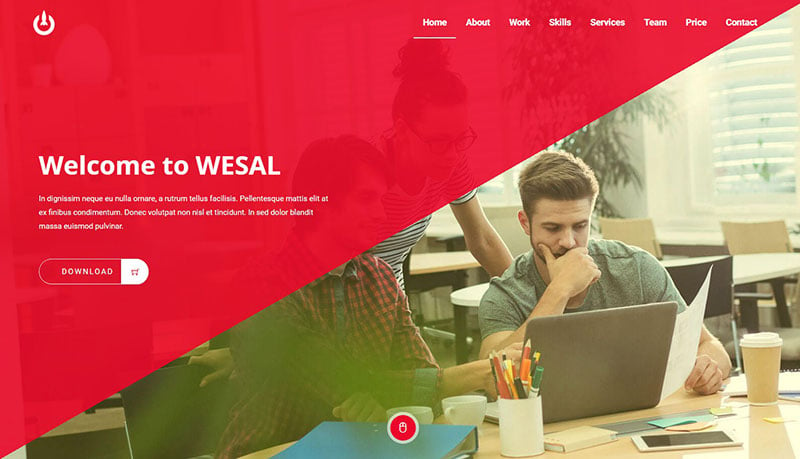 Wesal is a creative website template that assists users to build the webpage of their dreams. The included components build a quality website in little time.
Key features include:
Google Fonts
color management
Responsive layout
cross-browser compatible
working contact form
typography list
Themefy icons
Phoebe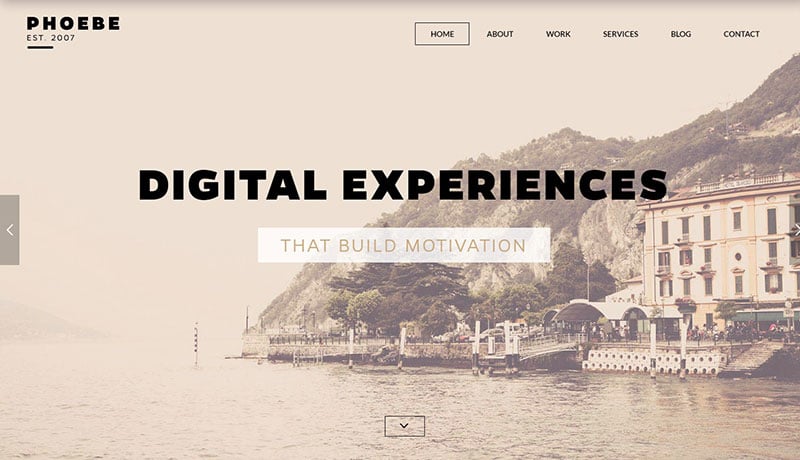 This is a good template for agency and company websites. It offers full-screen effects that immerse the visitor in beautiful images.
Some of its other features are:
fullscreen sliders
fullscreen videos
light and dark theme
option to group portfolios together
unlimited colors
parallax effects
retina ready
smooth scrolling
responsive design
supports video media
400 icons
animations
Tucson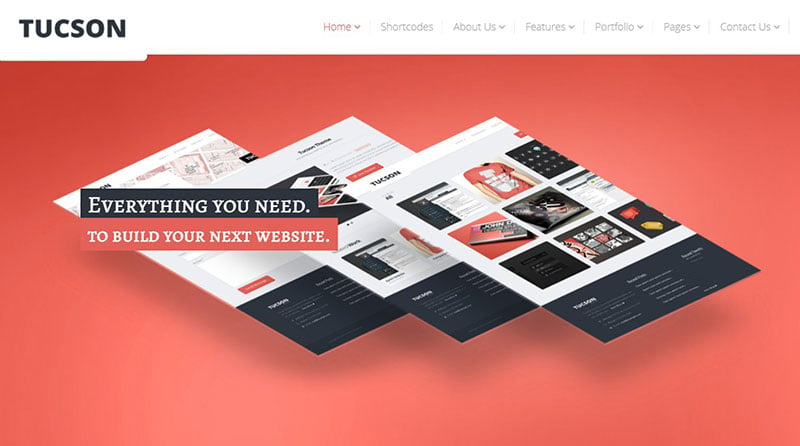 Tucson is a professional and customizable website template. It can build stunning websites that are perfect for any company.
Main components include:
built with Bootstrap
grid system
touch swipe support
retina ready
5 header styles
350 icons
Owl Carousel
SEO optimized
unlimited colors
unlimited layout variations
Nevia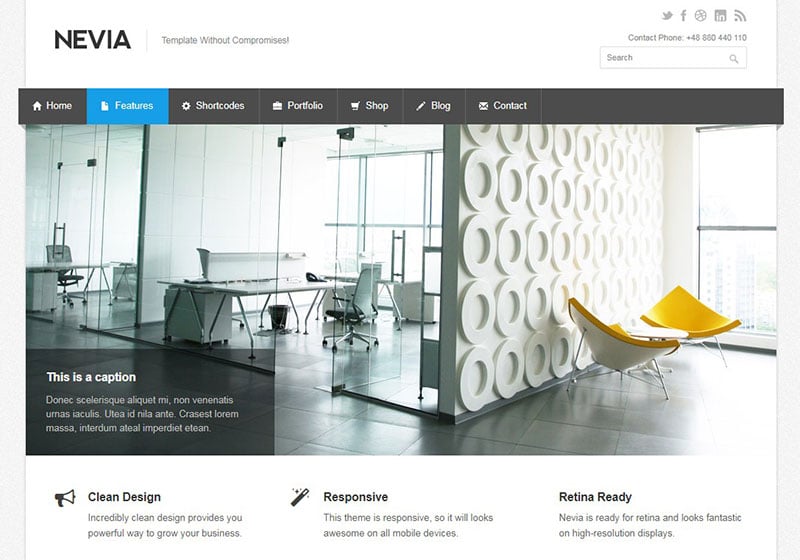 This HTML template helps to create a corporate website with a minimal layout. The features it contains are:
responsive layout
optimized for retina displays
mega menu
360 icons
working contact form
SEO optimized
clean code
shop design
unlimited menu levels
XeOne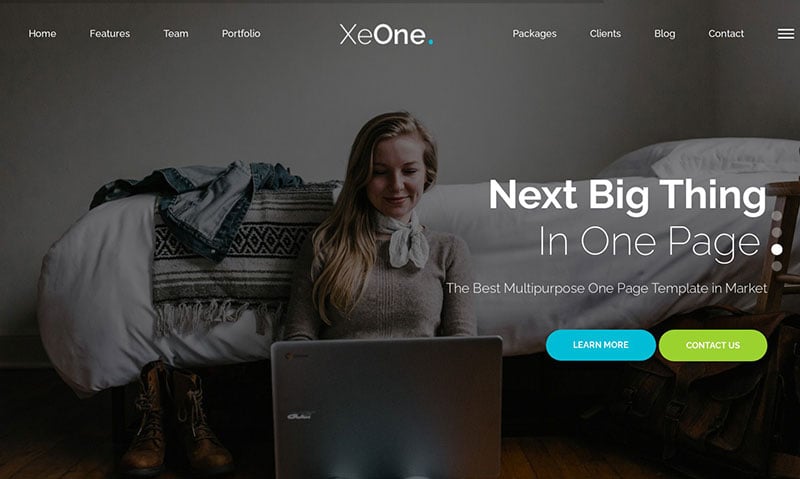 This is a one-page parallax template that is suitable for a business or creative agency. It is built with the latest Bootstrap for a powerful and stable code.
It offers many useful features including:
responsive layout
customizable
information sections
multiple navigation styles
CSS and JQuery animations
retina ready
well documented code
3o demos
Fondex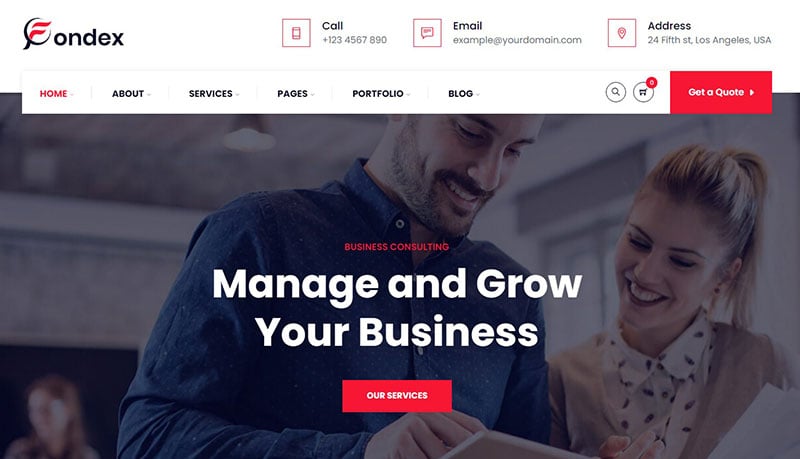 Fondex is a sleek corporate website template with a modern and simple layout. The developers built it with Bootstrap to provide a stable site.
Other components are:
3 premade homepages
5 header styles
unlimited colors
35 demos
retina ready
responsive design
multiple blog layouts
video backgrounds
ECOBIZ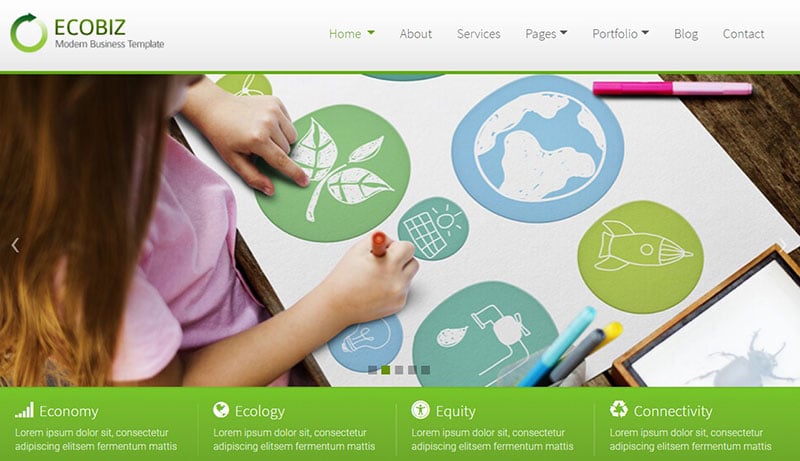 ECOBIZ is a modern, clean, and elegant HTML website template. It was particularly designed for businesses that are conscious of the environment.
Features include:
built on Bootstrap
responsive layout
retina ready
AJAX contact form
Google Fonts
commented code
clean layout design
BLISTER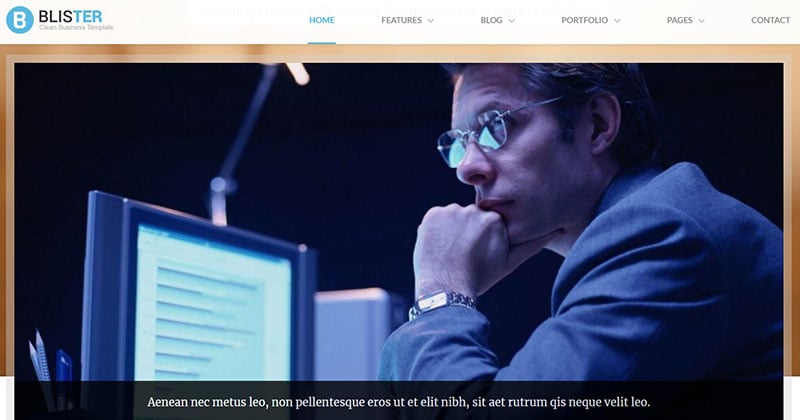 Another creative website template for a company or agency is BLISTER. It offers the following features:
built on Bootstrap
25 pages
Slider elements
animation effects
clean code
6 custom colors
3 homepage layouts
Swipebox photo gallery
includes FontAwesome
SEO optimized
cross-browser compatible
clean template layout
Utouch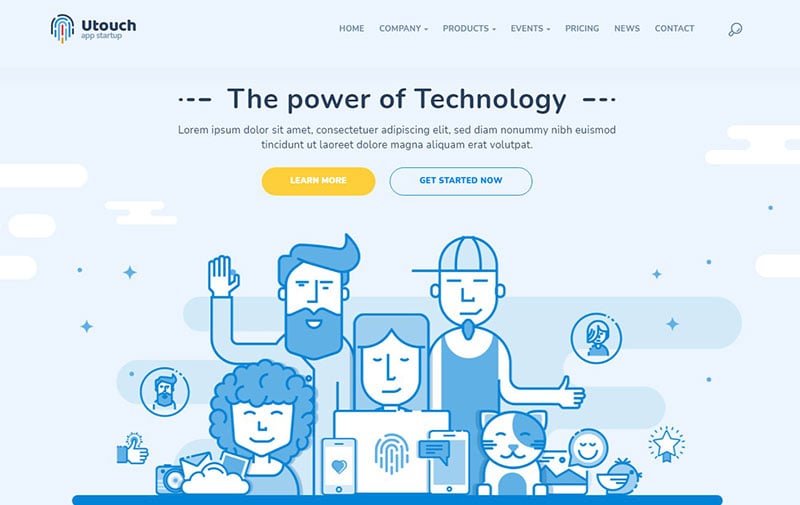 Utouch is a functional website template useful for companies or for displaying portfolios. Its main components are:
sticky headers
dropdown menus
footer parallax effects
row background variations
sliders
galleries
SVG icons
35 pages
supports eCommerce
clean code
Saasbox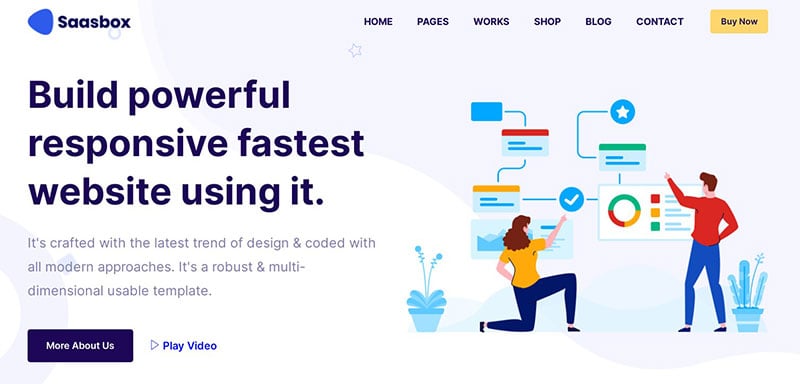 This website template is specifically built for a SaaS business or agency. It is up-to-date with the latest version of Bootstrap.
This produces a powerful website template. Its key features are:
4 homepage layouts
8 blog layouts
8 portfolio designs
16 inner pages
CTA
well organized code
commented code for customization
FAQ
Lightbox
pricing table
includes premium plugins
retina ready
testimonials
widgets
CorporX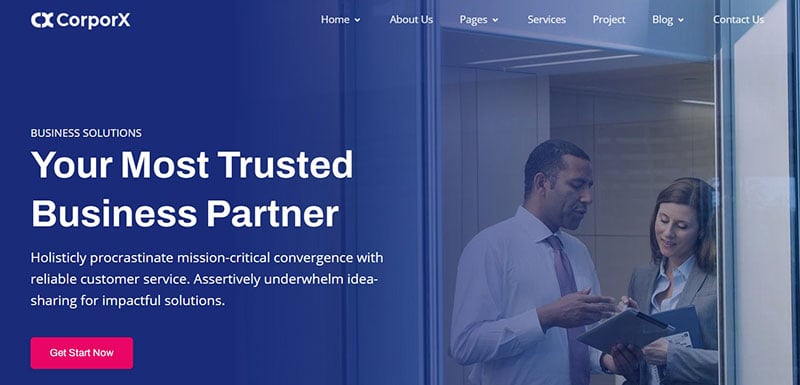 CorporX is another powerful template that is customizable to suit any situation. Some features are:
built with Bootstrap
SEO optimized
professional design
10 homepage layouts
27 inner pages
responsive
blog page layouts
cross-browser compatible
Elvyre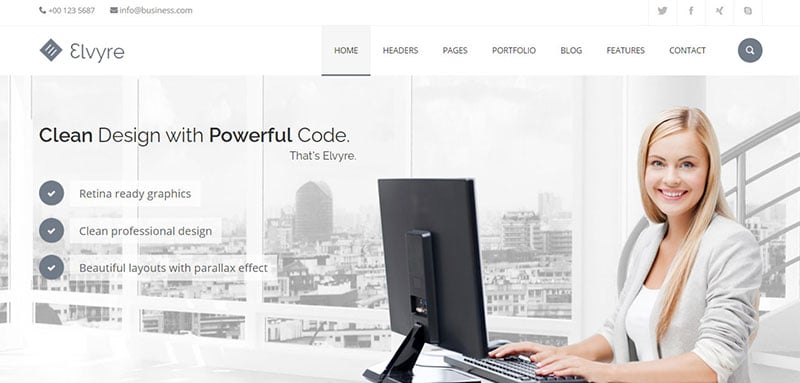 Elvyre has a wide range of features and comes with premium plugins. These allow users to create a professional and attractive website.
It is well documented for quick installation and customization. Its features include:
customizable
responsive layout
retina ready
parallax sections
multiple header options
pricing table
800 icons
8 custom photo streams
Twitter plugin
animate any element
Stark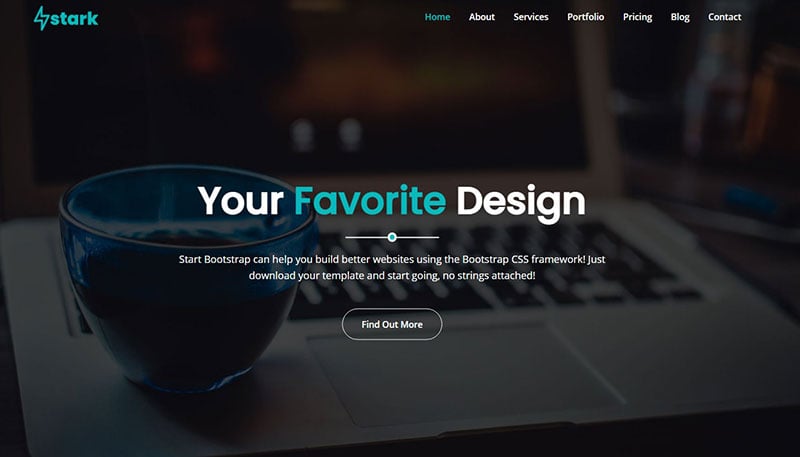 Stark is a landing page template built for all types of businesses and agencies. Key components are:
Bootstrap Framework
12 color schemes
shortcodes
portfolio layouts
parallax backgrounds
SEO optimized
lifetime updates
FAQs about corporate website templates
1. What are corporate website templates, and why are they important for businesses?
Business websites can be built on top of pre-designed website layouts known as corporate website themes. These templates frequently have options like image galleries, movable color palettes, and navigation menus.
Compared to custom web design, using a corporate website template can save businesses time and money while still giving them a professional online presence that can help them draw in and keep consumers.
2. What features should I look for when selecting a corporate website template?
You should seek elements in a corporate website design that complement your company's goals and ambitions. This could include features like mobile-friendly navigation menus, responsive design for mobile devices, and integrated SEO optimization.
Making sure that the template's design and general look are in line with your brand's identity and messaging requires additional consideration.
3. Are corporate website templates customizable, or are they limited to a set design?
The majority of corporate website templates offer some degree of customization, enabling organizations to alter the look, feel, and content to suit their unique requirements. The level of modification, however, may differ based on the template and the platform it was created on. While some platforms may require more technical know-how to make changes, some templates might be more adaptable than others.
4. How do I know if a particular corporate website template is suitable for my business needs?
The needs and objectives of your company should be taken into account before choosing a corporate website template.
You should consider the features and functionality you require as well as the overall design and feel of your website. Additionally, you can look up other companies in your sector to see what kind of websites they have and get ideas from those.
5. Are there any specific industries that require certain types of corporate website templates?
There are no strict guidelines, although certain businesses may profit from using particular website themes.
For instance, a law firm could desire a design that highlights its professionalism and competence, but a creative agency might favor a template that is more visually appealing and highlights its portfolio. In the end, the particular requirements and objectives of the firm should guide the selection of the template.
6. What are the benefits of using a pre-designed corporate website template as opposed to a custom-designed website?
Compared to custom web design, using a pre-made corporate website template can save firms time and money. Businesses can build an online presence more rapidly because to templates' quicker setup and often lower cost.
Additionally, templates give companies a strong base upon which to expand while still allowing for flexibility to modify and adapt the design to their requirements.
7. Can I modify a corporate website template after purchase, or do I need to have web design skills to do so?
Businesses can alter the majority of corporate website templates after purchasing them, though the technical expertise needed will vary based on the platform and template.
It is simple to modify the template without any coding experience thanks to the drag-and-drop editors that are available with many website builders. The use of a professional or some web design knowledge may be necessary for more sophisticated alterations, though.
8. Are there any restrictions or licensing issues when using a corporate website template for my business?
The majority of corporate website templates come with a license that specifies their use. Businesses should carefully read the license agreement to make sure they comprehend any restrictions or usage limitations. While some templates may only be usable on a single website, others may demand attribution or place limitations on the use of specific images or content.
9. Can I use a corporate website template for multiple websites, or do I need to purchase a new template for each website?
This is subject to the template's licensing terms. While some templates may be compatible with multiple websites, others might need a unique license for each one. It's crucial to thoroughly read the license agreement to ensure compliance and prevent any legal problems.
10. What kind of customer support is typically offered for corporate website templates, and how can I access it if needed?
Depending on the platform and template, the amount and kind of customer service provided for corporate website templates may change. To help with setup and customization, several website builders and template vendors provide online help centers, knowledge bases, and tutorials.
While some may also provide email or chat support, others might have a specialized support team that can help with more complex problems. Before buying a template, it's crucial to learn about the support options available and become familiar with how to use them.
If you liked this article about corporate website templates, you should check out this article about personal website templates.
There are also similar articles discussing dentistry website templates, consulting website templates, non profit website templates, and church website templates.
And let's not forget about articles on photography website templates, construction website templates, minimalist website templates, and portfolio website templates.
The Best Corporate Website Templates You Can Find