You need to wow your website visitors and a seamless user experience is the key to that.
Showing a post in a regular blog is not that easy. Many use a list view to show their posts, which is a little boring.
A grid layout gives you more flexibility. It is visually more pleasing and gives a creative impression.
Grid layouts are very handy and there are a variety of WordPress grid plugins available. These can help you to organize your content in a neat and orderly fashion.
They automate the display of a couple of posts in a grid, saving space and giving your pages a visual appeal. This can make content more readable and understandable.
In this post, you will find the WordPress grid plugin that is best for you. It collates a selection of the most popular ones and outlines the features of each one.
The best WordPress grid plugins
The best out there: Essential Grid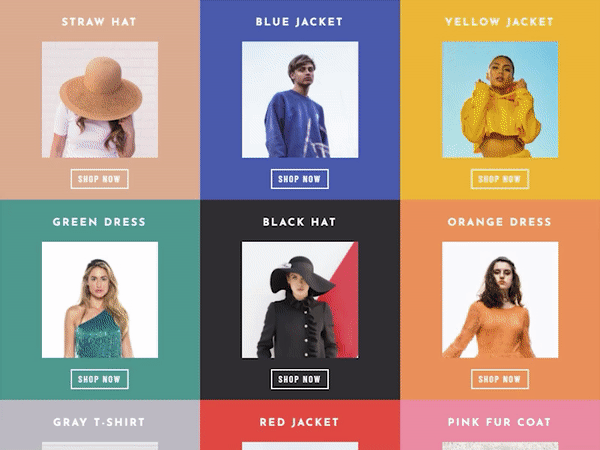 Essential Grid is hands down the best in the game. If there's one plugin that would make your website better more than others, it's this one.
Essential Grid lets you display your images in a gallery format, whether from the WordPress gallery, social media, or elsewhere.
The attractive, user-friendly interface makes customization and selecting your format tasks straightforward.
You can use images or add WordPress content, such as blog posts or other custom post types (including WooCommerce products). Also, you can connect to external services such as:
The visual skin editor creates gallery item layouts. For instance, when creating a gallery for WooCommerce, you can include:
Product price
Add-to-cart button, and more
And that's is not all. Once you get a license, you have access to quick FAQs and video tutorials that will walk you through the process of making your website look amazing with Essential Grid.
Key Features
Integration with other plugins such as WooCommerce
Multiple gallery layouts, including a template library with 50+ starter grids
Image, video, and audio galleries
Galleries from posts or custom post types
Create galleries from many different sources
Galleries from dynamic sources, including Instagram, YouTube, Vimeo, Twitter, Flickr, SoundCloud, and more
Here's a glimpse of what you can do with Essential Grid:
Present your blog posts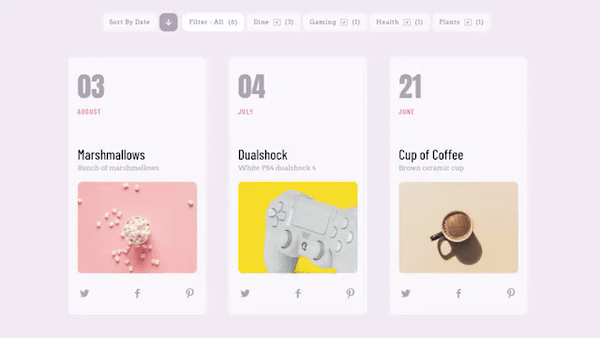 Showcase your portfolio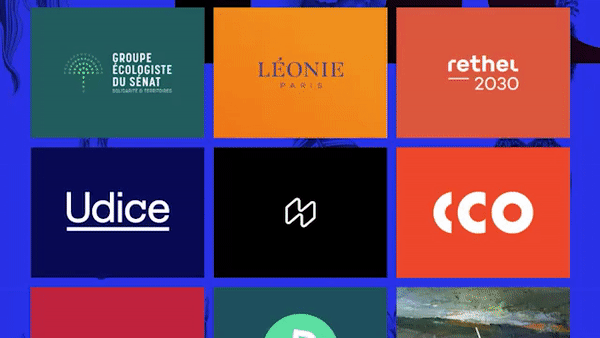 Display unique products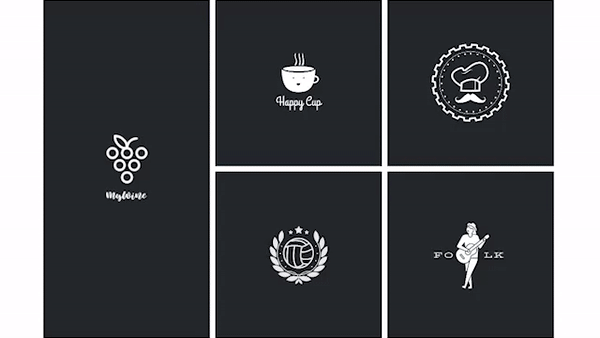 Share audio files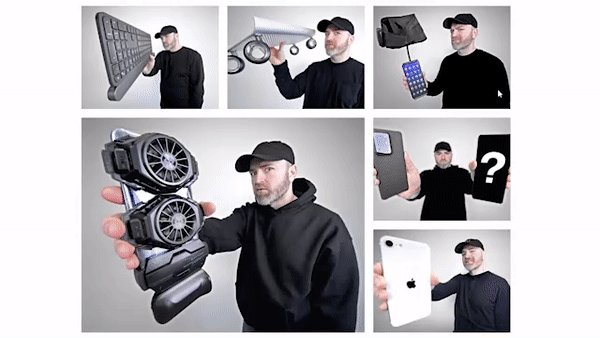 Display videos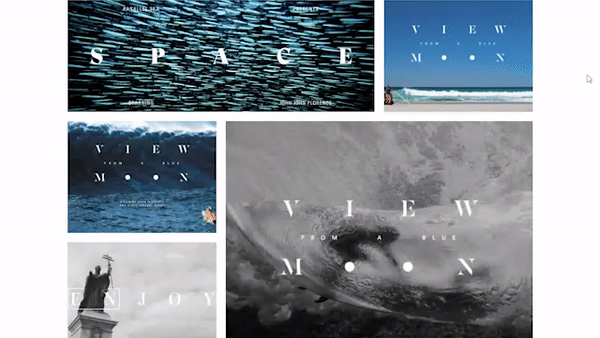 Show your Instagram stream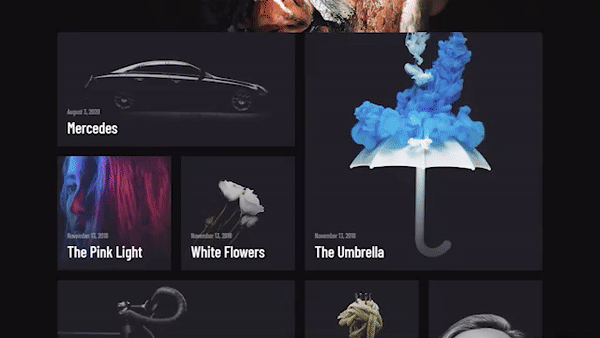 WP Ultimate Post Grid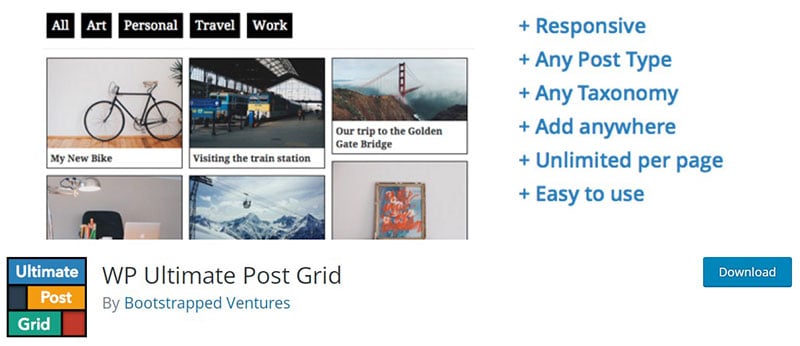 WP Ultimate Post Grid is full of user-friendly features that make your life easier. You can work and evaluate the changes you make in the same interface, thanks to the Live Preview feature.
This post grid plugin works with different content types. You can order your posts, custom posts, and pages in the way you like.
With this WordPress theme, you can see the results as you create and customize post grids.
When you finish customizing, WP Ultimate Post Grid generates a shortcode. You can paste this in any location on your page.
Key features that are worth mentioning include:
Grid pagination
Customize post content and order
Custom templates
WordPress post grid creation
Post grid layout customization
Customize the number of elements
Grid embedding with shortcodes
PostX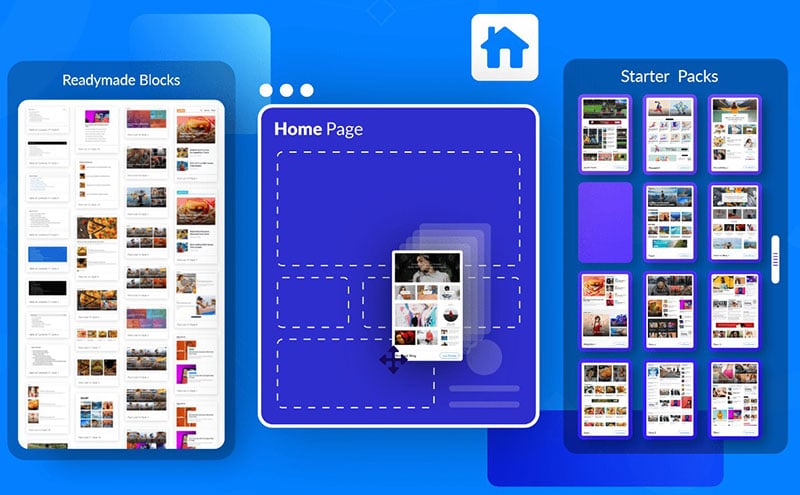 This WordPress theme for displaying post grids lets you edit Gutenberg blocks. Being able to add custom queries enables you to make more complex queries for post blocks.
After creating these post grids it's simpler to make a complete blog. PostX is a simple plugin for making blogs.
With PostX there are options for adding pagination and grid separators. You can control how the post grids and the lists display.
AJAX forms the technology behind the layout and you can add "Load More", "Next", and "Previous" buttons.
Besides that, there are many more features. Some of these include:
Premade Starter Packs
AJAX & Pagination Feature
Multiple Post Grid and List Options
Pagination & Infinite Scroll
Customization Options
Media Grid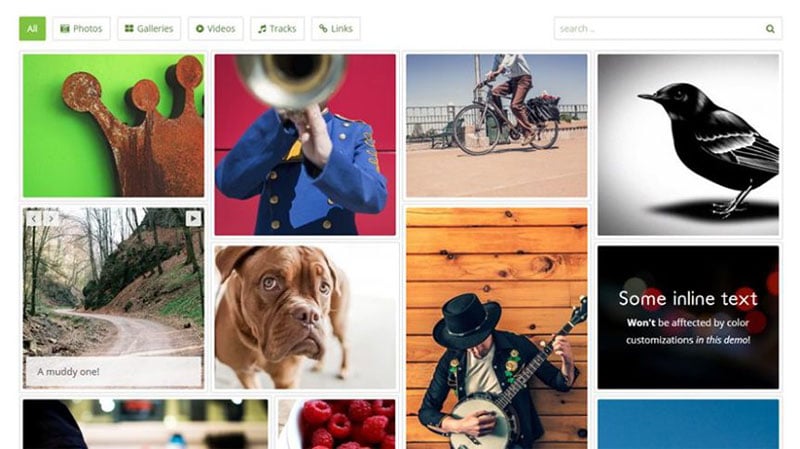 Thanks to its extended functionality, you can display various content on your website. With support for images, videos, and audio files, you can add almost any type of media content to your grids.
It's also easy to display WordPress content, such as posts and pages in your custom grid layouts. This helps to create stylish blog post archive pages for your website.
This versatile plugin allows you to display your WooCommerce stor products in different ways.
Media Grid has more than 30 item skins, over 13 pre-loading animations, and over 40 animation styles. This plugin supports all types of custom posts, including multiple social streams.
Key Features:
Dynamic Grids
Visual Grid Builder
Media support
Revolutionary Lightbox
Unlimited Attributes
Use your Posts
SEO Pagination
The Post Grid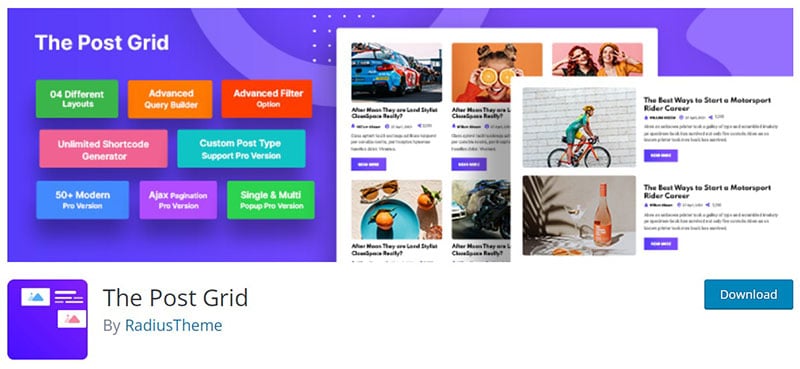 The Post Grid is a simple and free WordPress plugin. It enables you to display your posts and pages in a grid, list, and isotope format.
It's a responsive and mobile-friendly plugin.
You can create stylistic and great-looking grids within a few minutes. All this without requiring any coding.
You can use Post Grid to create grids for any type of content on your website. To that end, this plugin provides a lot of customization options for each element you create.
For example, you can select what order to display posts in, and even create custom layouts. You can also add JavaScript to your post grids, as well as search bars.
Key Features:
Custom JavaScript
Pagination and search options
Content-type selection for each grid
Create post grids
Style and layout customization for each post grid
Shortcodes for grid embedding
Latest Posts Block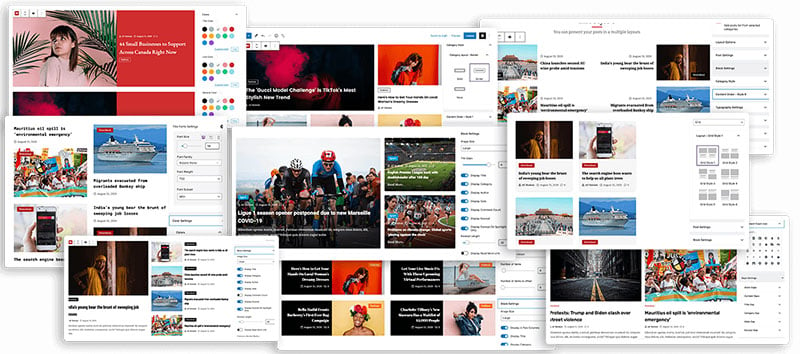 This WordPress grid plugin comes with several ready-made Gutenberg blocks. So you can apply them to your blog posts and pages straight away.
Latest Posts Block can add elegance to your blog by arranging it in grids, lists, or tiles. No need to worry about the best arrangement.
You can customize most post layout settings. You can adjust the spacing between the boxes, set text size, typography, and colors.
The post grid plugin helps you to make everything fit and match. Add extra details by using box shadows, realistic borders, or border radii.
Below is a summary of its key features:
Multiple posts query control. This includes category selection, number of posts, and order
Font weight and subset adjustments for more than 800 Google Fonts
30+ post box layouts
10+ content control choices
6+ pre-designed content orders
Category Style area for displaying appropriate designs
Choose and show posts with a predefined query filter
Post Grid By PickPlugin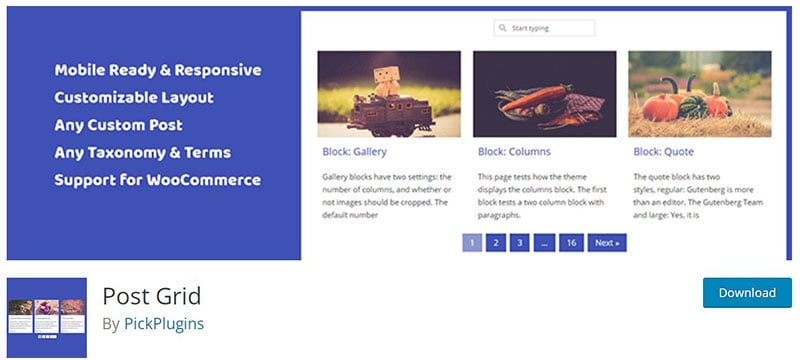 This post grid plugin makes generating a post grid easy. You can make something beautiful that does justice to your blog.
Arrange blog posts, archive posts, portfolio, and other work to impress your visitors.
Post Grid by PickPlugin allows users to edit styles with a special layout editor. The use of this editor requires basic knowledge of CSS.
This amazing plugin generates shortcodes for use anywhere on your WordPress site. In this way, you can show specific post categories, custom post types, and taxonomy.
Post Grid by PickPlugin has some amazing features:
Queries of any post type
Unlimited post grids
Display of multiple post types on a single post grid
Customizable grid width
Responsive and works well on any device
Toggle Pagination
Image Photo Gallery Final Tiles Grid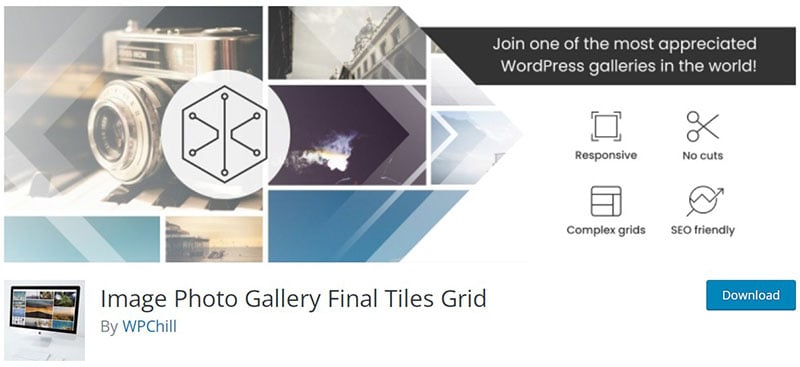 This popular plugin is a great solution if you want to make photo galleries fast.
The great thing is that this tool is responsive and the animations work well in any browser. You can choose from hover effects, lightboxes, and more.
Image Photo Gallery Final Tiles Grid includes these features:
One lightbox included and additional support for EverlightBox
Two layouts
Adjustable image rendered size
Adjustable margin between images
Social media sharing
Manual or random image sorting
Video gallery
Post Grid Pro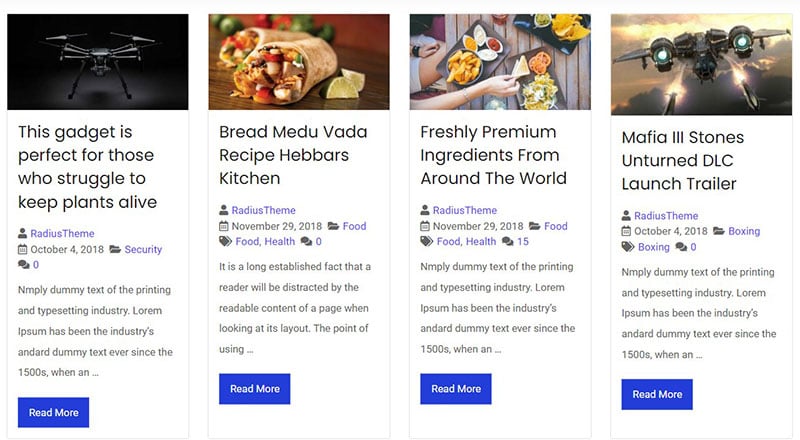 This responsive WordPress grid plugin is completely mobile-friendly. It works well for displaying pages, posts, and custom post types on a grid, or in a carousel or list.
The great thing is that you do not need to know any coding.
To make a grid with this WPML plugin you need to go to the admin panel. When complete, you can insert it into your blog posts and pages.
You can choose to display WordPress posts by category, keyword, or tag.
Here is a summary of Post Grid Pro's features:
Enable or disable pagination on your website from the WordPress dashboard
Customizable image sizes: thumbnail, medium, large, full, and custom.
Use posts, pages, and custom post type as the source to display on your website
Change text and button color and grid size right from the admin area
Ultimate Blocks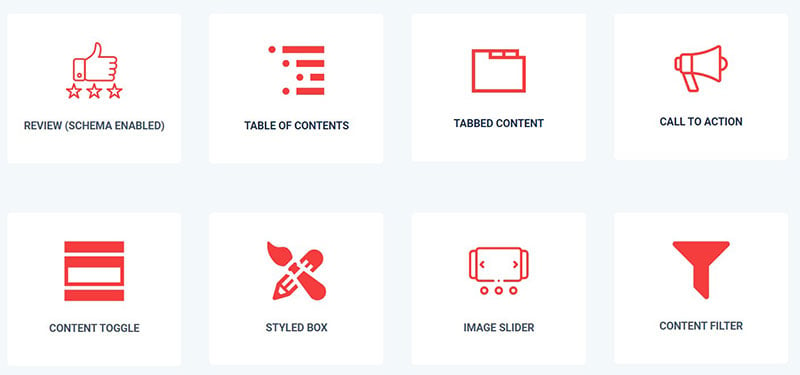 Ultimate Blocks is a Gutenberg post grid block plugin. It enhances Gutenberg's capabilities when it comes to adding custom blocks.
One of the most popular blocks it offers is the post grid.
This plugin also allows you to add amazing grids or lists to your blog posts. You can select what category of posts to display in the grids or lists.
On top of that, you can modify the order in which the list or grid displays them.
This post grid block plugin is 100% responsive. The grids and lists will come out perfect on any kind of device, from desktop screen to mobile phone display.
Additional features include:
Post category choice
Gutenberg-based
Showcase posts on grids or lists
Complete responsiveness
Three different layout options
Post Grid Elementor Addon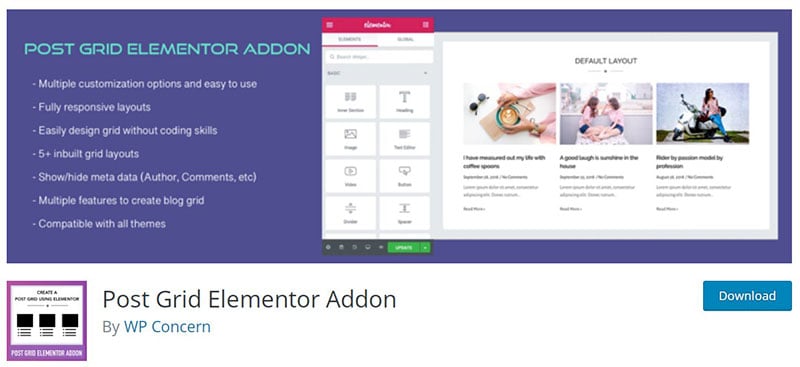 Post Grid Elementor Addon is a free plugin for WordPress. It creates post grids from articles.
Besides that, it has some useful options for creating and customizing blog post grids. The free version comes with five ready-made layouts and different customization options.
In the Query tab, you can select posts by categories or other parameters. You can also sort posts by date or title, or place them in random order on the grid.
Features that are worth mentioning are:
Choice of five suitable layouts
Stylish grid layouts
Easy creation of new sections
Customizable column structure
Customization of the excerpt, featured image, grid alignment, metadata, read more, and title
Customize the number of posts to show in one particular section
Display Posts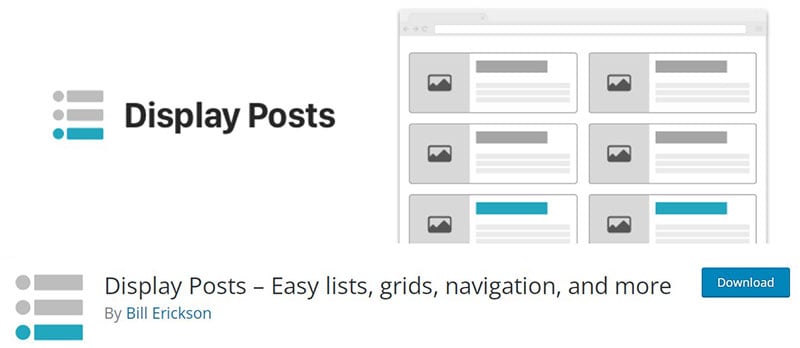 Display Posts is a handy plugin for gathering all your posts together in one place. You can also use it to show a specific selection of posts.
It has many of the features of other WordPress grid plugins. Howver, some notable features include:
Alphabetical report of scattered posts, broken down by letter
Article organization by month, year, or other parameters
Showcase post-template components to complement a theme's post listing
Category option for showing posts from a specific category
Control over the displayed information for each post with the Display Options
GS Posts Grid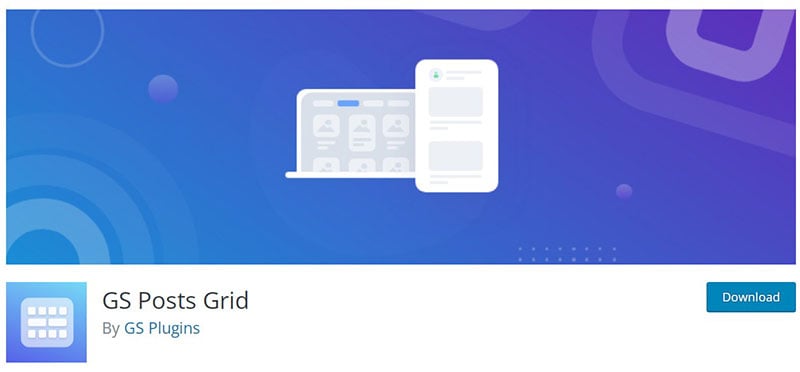 This WordPress grid plugin helps you make a portfolio display with a personal touch. You can make an unlimited number of different grid layout designs.
The Media Grids feature allows you to make custom layouts that display media or posts in a unique way. Additionally, you have the option of filtering posts and paginating them.
Below are some of the most remarkable features of GS Posts Grid:
Dynamic grids
Media support
Quick setup
Revolutionary Lightbox
SEO-friendly pagination
Unlimited attributes
Use your own posts
Visual grid builder
The Grid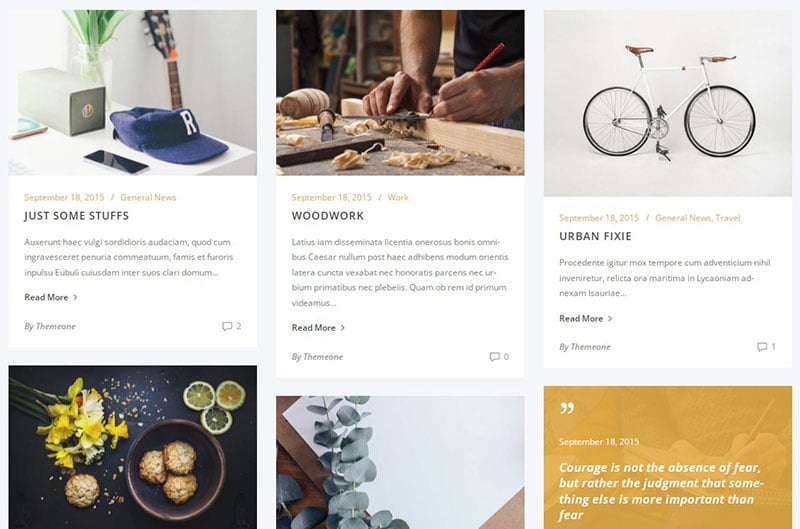 The Grid is a perfect choice if you want to add quality post grids to your WordPress website. This plugin helps you to make the grids and fill them with your content.
The Grid gives you those abilities by providing a couple of grid templates.
Besides creating the grids, you can sort and filter posts in the way you want. You can have up to ten rows and twelve columns.
It aligns the content as free, basic, centered, and force-centered. You can also consider an autoplay slider with adjustable speed.
Key features include:
Custom cache system for improved performance
Practical interface with drag-and-drop customization features
Three grid layouts and two modes
Several developer filters
Over 30 predefined and unique skins
Up to ten columns and twelve rows in horizontal slider mode
Visual Portfolio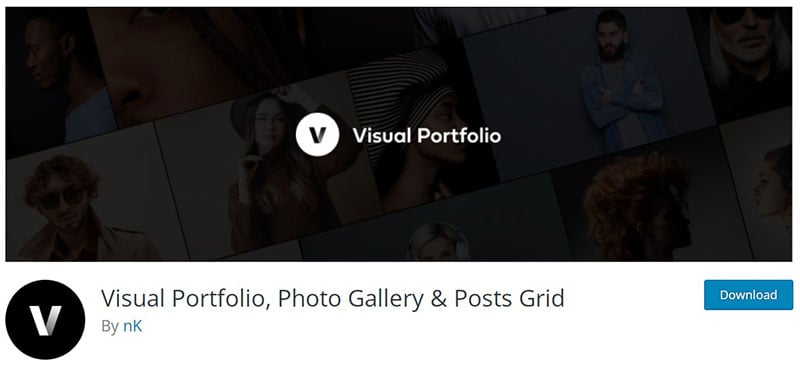 This post grid plugin offers some special features.
There is a Block Editor that helps you to customize the post grid blocks. One of the features has the name Grid.
The editor lets you pick the type of content to use on your WordPress website. You can choose basic posts according to their taxonomy, for example.
There is also an option to select the posts by hand if you prefer. Besides the content, the editor lets you modify block styles and even add custom CSS.
Key features of Visual Portfolio include:
Custom CSS
Select post grid content
Grid style customization
Creation of post grid blocks for posts, images, and social media content
Smart Post Show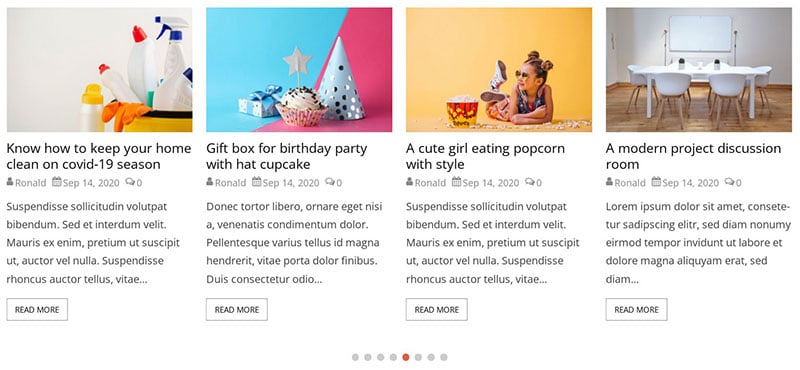 Smart Post Show is the rebranded version of Post Carousel. It is an excellent post grid plugin that allows you to filter and spotlight your WordPress posts.
You can display posts by category, tag, or format. To do this, Smart Post Show offers a grid layout or a stunning carousel.
The layout is easy to work with. Making a grid layout or a carousel does not require any coding.
Smart Post Show is completely responsive and incorporates some nice SEO tricks.
It allows you to decide how many columns and rows the page should display. You can adjust the numbers for mobile devices, tablets, and desktop screens.
Here are some important Smart Post Show features:
Customizable
Easy to use
Carousel, grid, and list layouts
Responsive
SEO optimization
Translation and RTL ready
Grid FX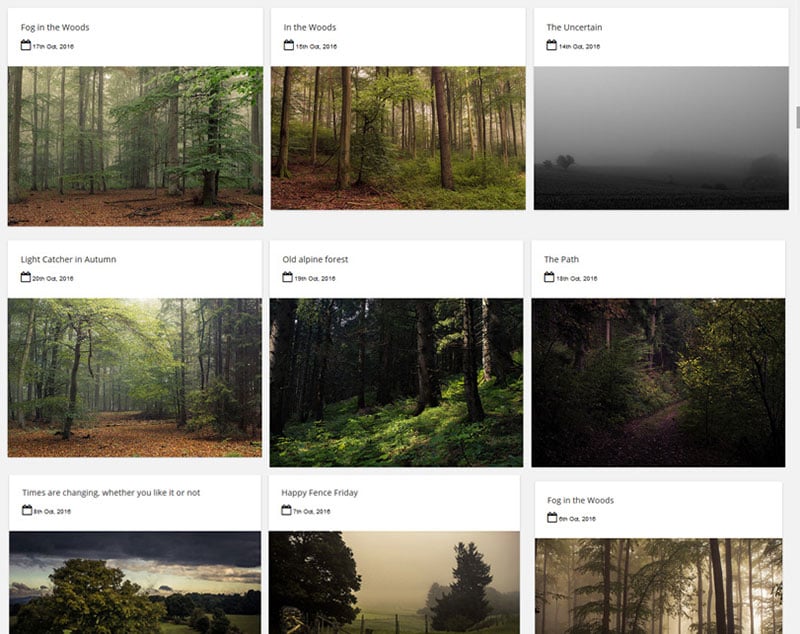 Continuing the list of WordPress grid plugins is this practical example. Grid FX enables you to create grids based on your WordPress media library and taxonomy.
There is a practical drop-down menu for sorting and filtering the categories. This feature saves a lot of time and energy.
Grid FX also gives you control over what will appear on your page.
Here's a summary of Grid FX's most relevant features:
Multi-language content support
Embed images and videos from social media sites (Facebook, Flickr, Twitter, Youtube, and more)
Display multiple grids on one page
Grid creation with custom styles
Combination of images, posts, and videos in one grid
Content Views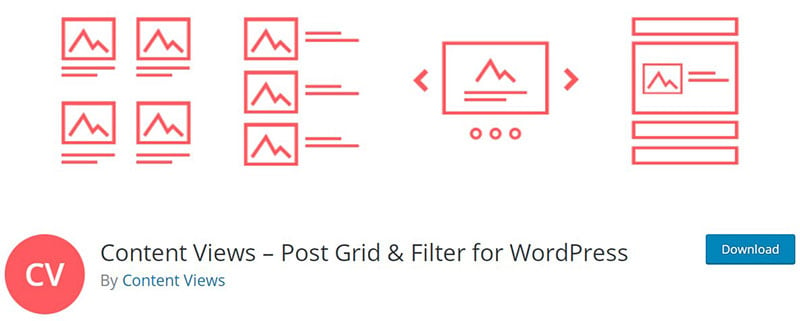 This plugin specializes in the right grid layout for your WordPress posts. It is simple and easy to work with while carrying all the important features.
After activating the plugin, you can choose the content to display. You can then feature it in a list or in a grid layout.
You can select the media or posts by date, author, or some other category.
Content Views goes beyond the very basics. It keeps it simple, but you still have control over what your site shows.
Further features offere with this plugin:
Grid layout configuration for desktop screens and mobile displays
Grid and list creation for posts and pages
Control over the fields a post should display in the grid
Embedding of grids using shortcodes
Grid pagination
News & Blog Designer Pack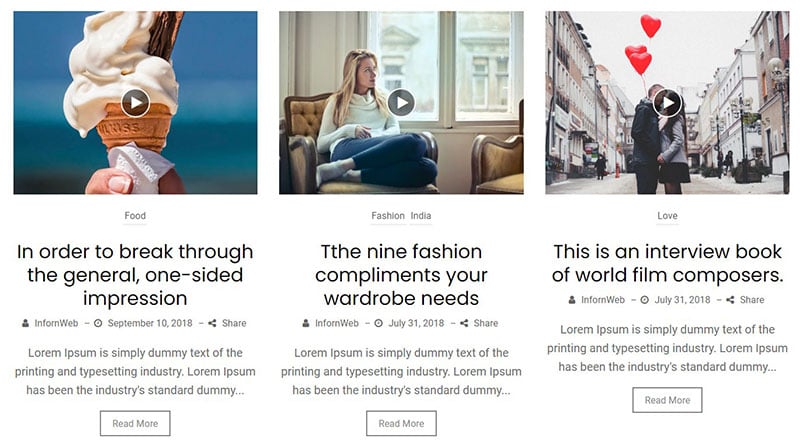 News & Blog Designer Pack is a responsive WordPress grid plugin. It comes with a couple of blog templates.
Thus, you can arrange your posts in a simple post grid or a fancy slider.
This grid plugin is compatible with all themes and most page builders. It works with Elementor, Gutenberg, Visual Composer, and WPBaker.
A major advantage of News & Blog Designer Pack is that it uses shortcodes. You can copy and paste these to add post grids anywhere you want.
Here are some of its key features:
Carousel or ticker display for featuring the latest posts
Custom post support
Hero Slider
Grid layout to create blog pages
GridBox Slider
List and Masonry layout for posts
Pagination
Post Timeline
Post Revolution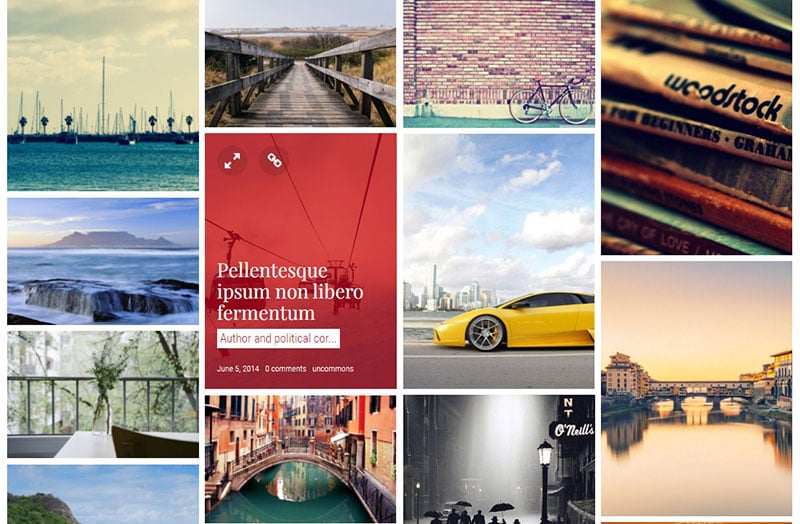 The last on this list of WordPress grid plugins is Post Revolution.
With this plugin, you can make your own custom layouts. You can feature posts, galleries, and WooCommerce shop items.
It supports Google Fonts, captions, excerpts, and has filtering options. On top of that, Post Revolution is 100% responsive.
There are three grid types to choose from. You can use them in combination with one of the eleven grid loaders.
Some of its other features include:
30 preloaded presets
Endless customization combinations
Full responsiveness
Gallery source ready
Item filtering by category
WooCommerce compatible
FAQs about WordPress grid plugins
1. What is a WordPress grid plugin and how does it work?
You can generate and display material in a grid format on your WordPress website with the use of a WordPress grid plugin. These plugins typically let you build unique grids that can show a variety of content, such as images, text, and videos. The majority of grid plugins feature simple user interfaces that make it simple to set up grid settings and add or remove grid objects.
2. What are some popular WordPress grid plugins available in the market?
The market has a number of well-liked WordPress grid plugins, including Jetpack, Essential Grid, WPForms, and WPBakery Page Builder.
A variety of grids, including galleries and portfolios, may be created with the flexible plugins Jetpack and Essential Grid. WPForms features a grid function, although it is mainly aimed toward making contact forms. A grid element is part of the drag-and-drop page builder plugin WPBakery Page Builder.
3. Can I use a WordPress grid plugin with any WordPress theme?
The majority of WordPress grid plugins are made to function with any theme. However, certain themes could have unique designs or layouts that clash with the grid plugin, necessitating a further adjustment to ensure everything functions as intended.
4. How customizable are WordPress grid plugins?
Although the degree of customization offered by WordPress grid plugins varies, the majority let you adjust the grid's layout, item size, spacing, and the number of items shown per row. Some grid plugins also include more complex customization features, such as the ability to add custom CSS or change item animations and transitions.
5. Are WordPress grid plugins compatible with mobile devices?
Yes, the majority of WordPress grid plugins are responsive and mobile-friendly, meaning they will adapt their layout to the size of the screen being used to view the website.
6. Can I use WordPress grid plugins to create galleries or portfolios?
Yes, the majority of grid plugins for WordPress are ideal for building galleries or portfolios. You can design a grid that attractively displays pictures or other types of media, and you can even give each item a caption or a link.
7. Are WordPress grid plugins SEO-friendly?
As long as you adhere to proper SEO practices, such as using descriptive alt tags for photos and reducing page load speeds, the majority of WordPress grid plugins are search engine friendly. Additional SEO possibilities, including the capacity to include personalized meta descriptions or schema markup, may be provided by some grid plugins.
8. Can I use WordPress grid plugins to create custom layouts for my pages and posts?
Yes, you may design unique layouts for your pages and posts with WordPress grid plugins. The grid can be used to present content in a distinctive fashion, such as by displaying a list of products or related posts.
9. Are there any performance concerns when using WordPress grid plugins?
When utilizing WordPress grid plugins, there can be some speed issues, especially if there are many items in the grid or if you're using high-resolution images or videos. Use a caching plugin, improve your graphics, or reduce the number of grid items that are shown to improve performance.
10. Can WordPress grid plugins be integrated with third-party services or APIs?
Yes, some plugins for the WordPress grid can interact with third-party services or APIs, such as social media or e-commerce sites. By using this, you might automatically gather content from other sources and show it in your grid. To learn more, it's vital to consult the documentation or get in touch with the plugin creator because not all grid plugins offer this capability.
Conclusion on the best WordPress grid plugin
As you see, there are many great tools for displaying posts. Showing them on a grid will impress your website visitors.
Most of the tools discussed above do more than arrange posts or other content. They select and accommodate what you want to display.
These features will make your job faster and easier.
If you enjoyed reading this article on the best WordPress grid plugin, you should check out this one with WordPress logo slider plugins.
We also wrote about a few related subjects like the WordPress plugins for photographers, best WordPress sliders, cool website header examples, the most innovative and creative websites, and full-page slider examples.
Are You Using the Best WordPress Grid Plugin for You? (20 Examples)